Hot on the heels of the all-new Cadillac Escalade, the new 2015 Lincoln Navigator has made a web appearance.  Unlike the Caddy, the 'Gator is not an all-new model but rather an updated version of the previous generation with a new engine and some new technology from Ford.
Looks-wise, the front and rear-end have been reworked, with the front feature a more in your face look and LED lights, that's about it.  Kind of a lazy effort on Lincoln's part, in my opinion; if Lincoln wants to compete with Cadillac, they're going to have to do much better than this… but I do hear there will be a real new Navigator in a few years, so maybe then they'll be able to compete with Cadillac.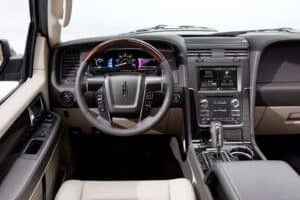 I'm not familiar with the interior of the previous generation Navigator, but from I've read, the new interior is also the same or very similar looking to the old one.  The interior does feature Ford's famous (or infamous) SYNC and MyLincoln touch system with an 8" touchscreen.  There are also two entertainment units, which look to be about 8" as well, in the front headrests.
What's new in the 2015 Lincoln Navigator is the turbocharged 3.5 liter EcoBoost V6 engine that produces "at least" 370 horsepower and 430 pound-feet of torque.  The old Navigator was powered by a naturally aspirated V8 engine that produced 310 HP and 365 lb-ft of torque.
Lincoln didn't provide any information on fuel economy or starting prices on the 2015 Navigator, we do know the 2014 model starts at $57,160.  The 2015 Navigator will be officially unveiled at the Chicago Motor Show in February and will hit showrooms in the fall.
If I was in the market for a large American SUV, I'll definitely be drawn to the Cadillac Escalade or even the GMC Yukon before even considering the Navigator.  Via: Lincoln
2015 Lincoln Navigator Photo Gallery