Back in the early 2000's, when gas was cheap and all the rappers were singing songs about their Escalades, I actually thought the Cadillac Escalade was a really cool SUV.  Then I grew up, stopped listening to rap and realized the Escalade was just a big unsophisticated boat with iffy styling and a cheap looking interior.  Well, Cadillac is trying to change that and bring their flagship SUV to the 21st century with the all-new 2015 Escalade.
I'd have to say they've done a pretty good job with the new Escalade; it looks pretty good based on the pictures, on the inside and outside.  The 2015 Cadillac Escalade is based on the new Tahoe/Suburban full-sized SUV's but gets distinct styling at the front and rear-end.
The front of the 2015 Escalade is very sharp looking and is in line with the rest of Cadillac's offerings.  It features sharp lines and vertical headlights with liberal use of LED lights.  The rear also has sharp lines with LED taillights that start at the bumper and go all the way up to the top of the tailgate.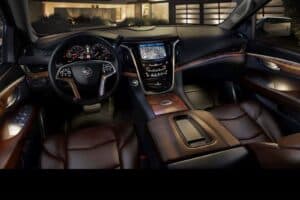 The interior is where the Escalade really differentiates itself from the Suburban and Tahoe.  The Escalade's cabin is very luxurious; this is a proper interior that a luxury vehicle in this price range should have.  The interior is fitted with soft-touch materials everywhere, real wood trim, and miles of premium leather.  The traditional gauges have been replaced with a 12.3" screen with reconfigurable gauges.  The center stack features Cadillac's signature CUE 8" touchscreen for controlling the climate, entertainment, navigation system etc.
The Escalade will be offered with 6 or 7 passenger seating and will come in two wheelbase versions; the regular model will be 203.9" long with a wheelbase of 116", while the LWB Escalade ESV will measure 224.3" in length with a wheelbase of 130".
Cadillac will initially offer the 2015 Escalade with one engine, a 6.2 liter direct-injection V8 producing 420 horsepower and 460 pound-feet of torque.  The vehicles will be offered with 2WD or 4WD and will come with 6-speed automatic transmissions.
Prices and other information will be available closer to the launch date, the 2015 Cadillac Escalade will show up at dealerships in the spring of 2014.  Via: Cadillac
2015 Cadillac Escalade Photo Gallery