I've written hundreds of posts on cars on Unfinished Man and a few other websites, and most of them have focused on high-end cars that most of us will probably never buy.  So I thought I'd write a post for the average man that still enjoys speed – a list of affordable sports cars.  And by affordable, I don't mean sub-20k cars because those don't exist anymore and the dollar isn't what it used to be.  The 5 affordable cars featured in this post are all priced below $50,000 and are in no particular order.
Dodge Challenger SRT8
The famous Dodge Challenger name was revived in 2008 and the car has been in production ever since with no major styling changes.  The car's design takes inspiration from the classic 1970's models but with a modern twist and a 21st century interior featuring accessories like A/C, Bluetooth, power seats, power windows, and keyless start 'n go.  The Challenger SRT8 is powered by a 6.1 liter HEMI V8 engine that produces 375 horsepower and 410 pound-feet of torque.  The Dodge Challenger SRT8 has a starting price of $45,420.
Nissan 370Z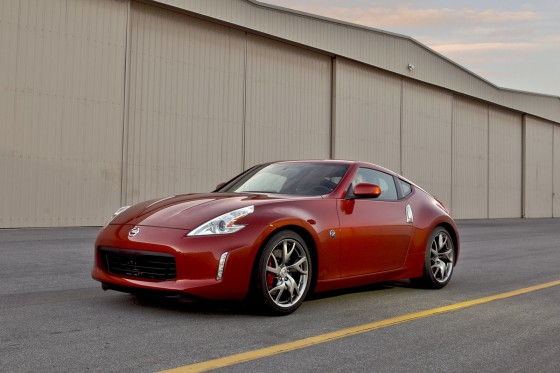 The Nissan 370Z is one of my personal favorite sports cars, the original 1970's Z Car is Unfinished Man's unofficial "official" car.  The 6th generation Z Car (Z34) has been in production since 2009 and is due for a major overhaul soon.  For 2013, the car does get a minor facelift with vertical LED daytime running lights on the front bumper that set it apart from the 2012 model.  The 370Z is powered by a 3.7 liter V6 engine that produces 332 horsepower and is mated to a 6-speed manual or optional 7-speed automatic transmission.  The 2013 Nissan 370Z has a starting price of $33,120.
Ford Mustang GT
The Ford Mustang is the only pony car that didn't go out of production since it was introduced in the 1960's and because of its popularity, forced Chevy and Dodge to bring back their pony cars.  The 2013 Ford Mustang GT is powered by a 5.0 liter V8 engine producing 402 horsepower and 377 pound-feet of torque, sending power to the rear wheels via a 6-speed manual or an optional 6-speed automatic transmission.  The Mustang GT has a starting price of $31,095.
Volkswagen Golf R
The Golf R has the least sports car look out of this bunch but don't be deceived by its looks, the Golf R packs a punch and can keep up with the best of them.  The car is powered by a 2.0 liter turbocharged 4-cylinder engine with direct injection; it produces 256 horsepower and 243 pound-feet of torque.  Power is sent to all 4 wheels via a 6-speed manual transmission.  The 2-door Golf R has a starting price of $33,990.
Scion FR-S/Subaru BRZ
The Scion FR-S (Toyota GT86) was developed with the help of Subaru and is the least expensive and least powerful of this group but it's an affordable rear-wheel drive car, something that has been missing in the marketplace for many years.  The FR-S is powered by a 2.0 liter 4-cylinder boxer engine that produces 200 horsepower and 151 pound-feet of torque sent to the rear wheels via a 6-speed manual or optional automatic transmission.  The Scion FR-S has a starting price of $24,995.
If you're on a limited budget but still want a sports car that will give you thrills every time you get behind the wheel, one of the above cars should do the trick.  However, if money is no object and you're looking for hair-raising speed, check out this great article on the top 10 fastest cars; the cars featured in the article are expensive, made out of exotic material, look great, and have one main focus – SPEED!