We all have a dream car or a project car that we would like to complete one day. For Unfinished Man team, that day is today. What do you get when you combine a few car enthusiasts, a Datsun 260Z, and a Nissan Skyline RB25DET engine? The result is a sharp looking, head turning, push you back in your seat monster.
The RB25DET is the third engine this 260Z has been mated with. The original L26 was a no go due to new emission regulations that were implemented and reduced the power of the 260Z back in 1974. The second engine was a modified L28 from a 280Z with Triple Mikuni carburetors, P30 Head, performance cam, pistons, and rods. Those parts were also complemented with Monza headers, downpipe, aluminum flywheel, and performance clutch.
Still, all those goodies weren't good enough so here we are with a 1995 Nissan Skyline RB25DET engine. Besides body work and paint, every aspect of the car has been improved in one form or another.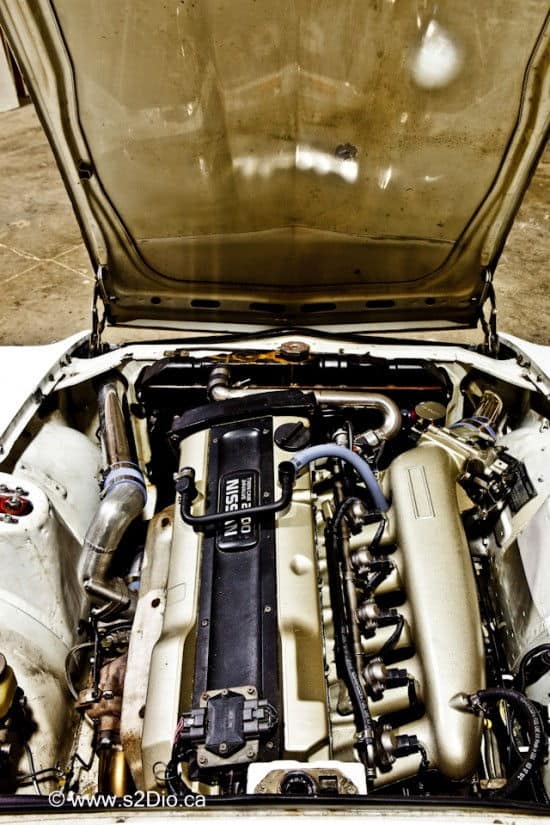 Before the new engine went in, the frame rails were reinforced and extended to handle the increase in power from the new engine. This strengthens the body and keeps the chassis nice and stiff. The drive line of the car was also swapped out to something more modern. A differential from a 300ZX TT with 4.10 ratio was installed along with a KAAZ LSD, custom companion flanges, half shafts, and heavy duty u-joints. Ground Control coilovers, tension tie rods, and adjustable front lower control arms from Techno Toy Tuning were also installed.
As for the engine, it features a full standalone HKS V-Pro Street fuel management system, front mounted intercooler, an overhauled high flow turbo at 14 psi, HKS sequential blow off valve, oil cooler, Q45 throttle body, and a 3000 CFM fan. A more efficient Greddy Intake Manifold was also added and is an improvement over the stock setup. A high flow electric fuel pump and new fuel lines are also added to deliver the goods to the engine. A six puck clutch and a lightened fly wheel is also added in addition to a custom drive shaft good for 1100 horsepower!
With the car pushing just over 300 horsepower, the brakes also had to be improved. This 260Z was treated to true 4 piston calipers from a Toyota and new rotors up front. The rear drum brakes were tossed and replaced with disc brakes from a Nissan 240SX. To make this car stop on a dime, a 240SX brake booster and Wilwood brake master cylinder were also installed.
The car is currently sitting on a 17″ x 8.5″ Rota RB-R wheels which have been painted gold and Yokohama S-Drive tires. The valve cover and intake manifold were also painted to complement the wheels.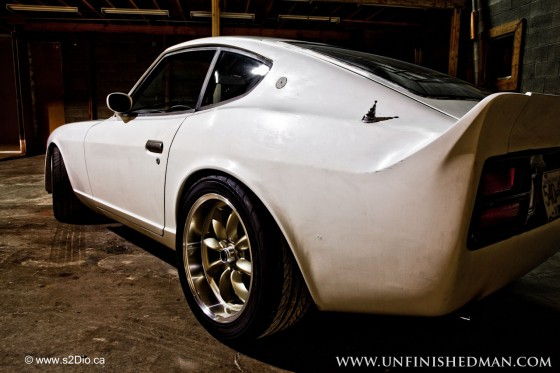 Hope you enjoy the gallery below. I'll do another post on this project car sometime in the spring of 2011 when the car goes in for a proper paint job and bodywork. I would also like to mention that if you are interested in donating some funds for this project, please do not hesitate to contact me. 😉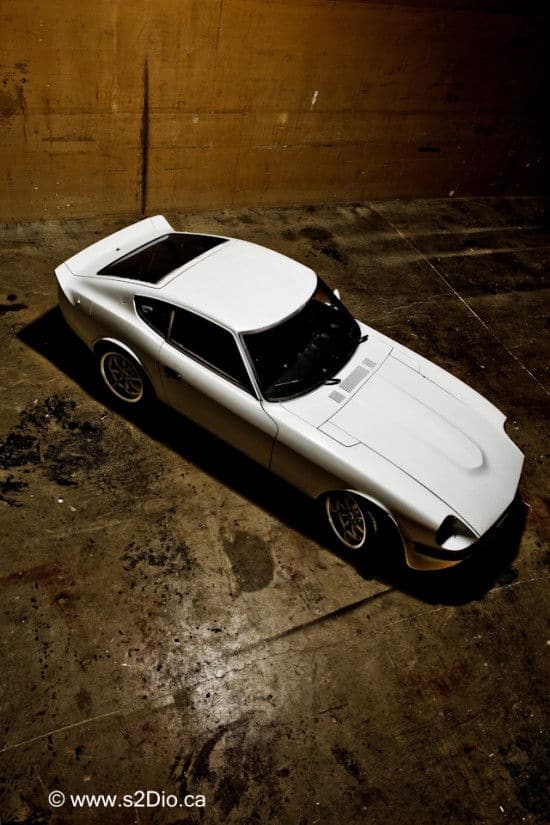 I would like to thank Danny Yee & Doddy Wijanta at s2dio for the awesome photography. Also a thank you to Nigel, Akira, and Phil over at Rise Auto Salon for the car build.
[Summer 2011 Update]
The black 280Z radiator pictured above has now been replaced with an aluminum radiator specific to the RB25DET. A catch can has also been installed for any excess over flow of coolant. This upgrade has made a significant difference and the engine temperature is now much lower.