It's hard to believe the Volvo XC90 has been around since 2015, in its current form. This is the second generation of this popular full-size Volvo SUV, with the first-generation starting production in 2002 and lasting until 2014. If we were to base the lifespan of the current generation XC90, based on how long the first generation XC90 was in service, it still has a few years left before a complete makeover.
Last week we had the opportunity to review a 2022 Volvo XC90 Recharge T8 AWD Inscription Extended Range. The XC90 shares its underpinnings with the S90 we reviewed recently, and like that car, the XC90 is also a plug-in hybrid.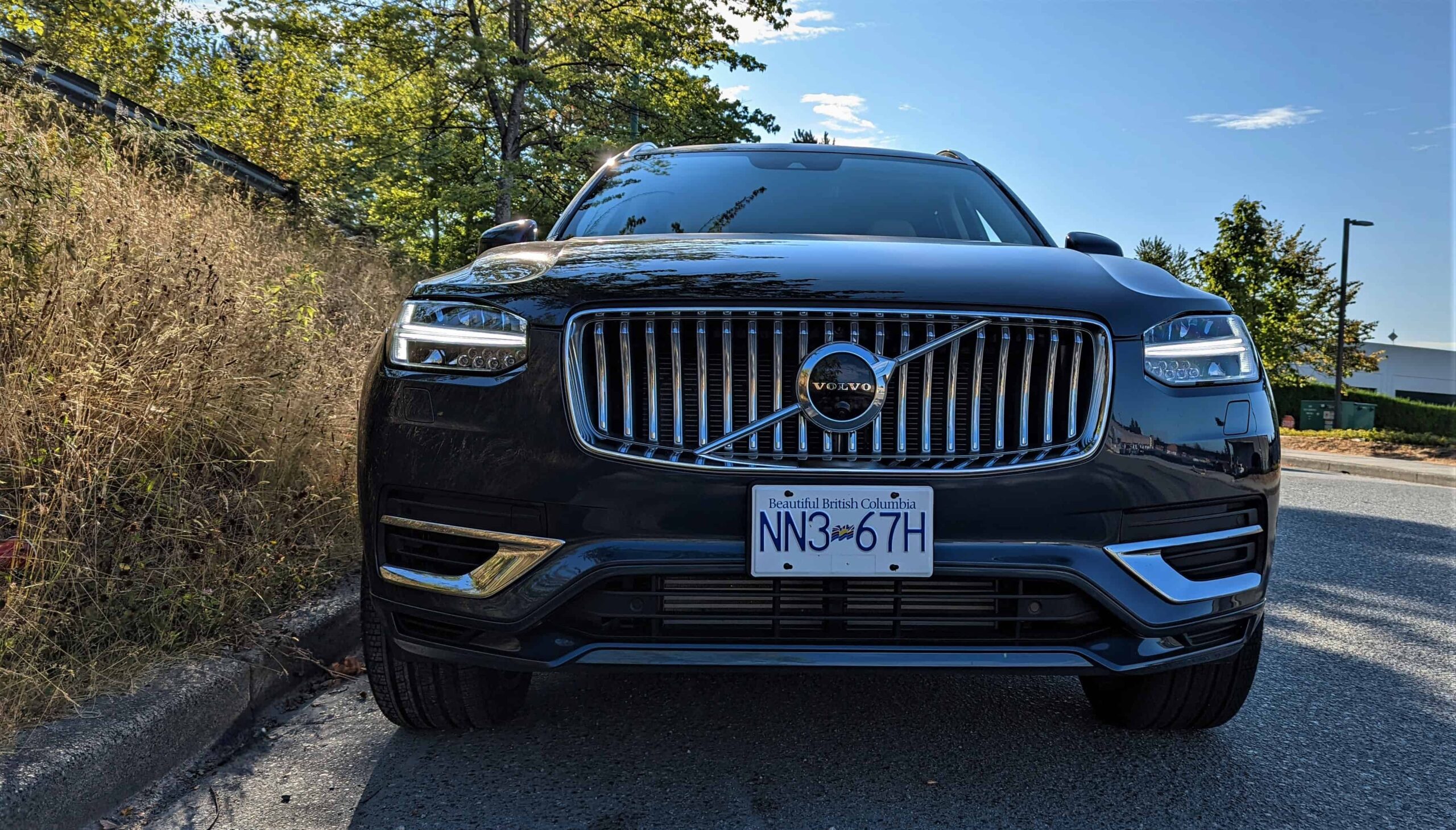 Like the S90, the XC90 is offered with a mild-hybrid gasoline powertrain, called the B6, and a plug-in hybrid powertrain called the T8. The XC90 B6 and T8 come in three trims, the base B6 Core trim has a starting price of $70,950; the Plus has a starting price of $76,700, and the XC90 B6 Ultimate has a starting price of $82,650.
The XC90 T8 Core has a starting price of $82,650, the T8 Plus has a starting price of $87,600, and the T8 Ultimate has a starting price of $93,550. These prices do not include optional packages and Freight & PDI.
Our review 2022 Volvo XC90 Recharge T8 AWD Inscription Extended Range had a price tag of $103,150 plus $2,015 for Freight & PDI. Below is a list of the optional packages our XC90 came with:
Lounge Package ($1,700)
Climate Package ($1,000)
Advanced Package ($1,850)
Metallic Paint ($900)
Bowers & Wilkins Premium Sound System ($3,750)
Park Assist Pilot + Park Assist Front and Rear ($250)
4-Corner Air Suspension w/ Four-C Active Chassis ($2,350)
Integrated, Center Booster Cushion, 2nd Row ($350)
21" 8-Multi Spoke Black Diamond-cut Alloy wheel ($1,000)
Like the Volvo S90 Recharge and other Volvo vehicles, the XC90 Recharge is powered by a 2.0-liter 4-cylinder engine that gets assistance from a turbocharger, a supercharger, and an electric motor. The gasoline engine produces 312 horsepower at 6,000 rpm, and the electric motor produces 143 horsepower at 5,900 rpm. The combined output is 455 horsepower. The gasoline engine produces 295 pound-feet of torque between 3,000 – 5,400 rpm, while the electric motor produces 228 pound-feet between 0 – 3,280 rpm, for a combined output of 523 lb.-ft. Power is sent to all four wheels via an 8-speed Geartronic automatic transmission.
Due to its shape and weight, the XC90's claimed all-electric range is 58 kilometers, slightly lower than the 61 kilometers range of the S90 Recharge. On the S90, I beat the claimed range by 9 kilometers, but on the XC90, I drove precisely the claimed range of 58 kilometers. As I mentioned in my S90 review, this is more than enough range for most Canadians' daily commutes. And if you do drive longer, the gasoline engine is waiting patiently to get you to your destination without any range anxiety.
Driving the XC90 T8 is a relaxing experience. It's a large SUV, with suspension tuning on the softer side for a comfortable ride on the road, and if you're brave enough to take it off paved surfaces, it should be more than compliant on rough gravel and rocky roads.
The electric motor is more than enough to motivate this large SUV in city traffic and can easily keep up with traffic on the highway. Pressing the accelerator hard will bring the gasoline engine to life to assist with acceleration. The transmission shifts gears smoothly and the transition from electric to gasoline power is smooth and unnoticeable. Overall, it's a relaxing driving vehicle that should transport the entire family in comfort and luxury.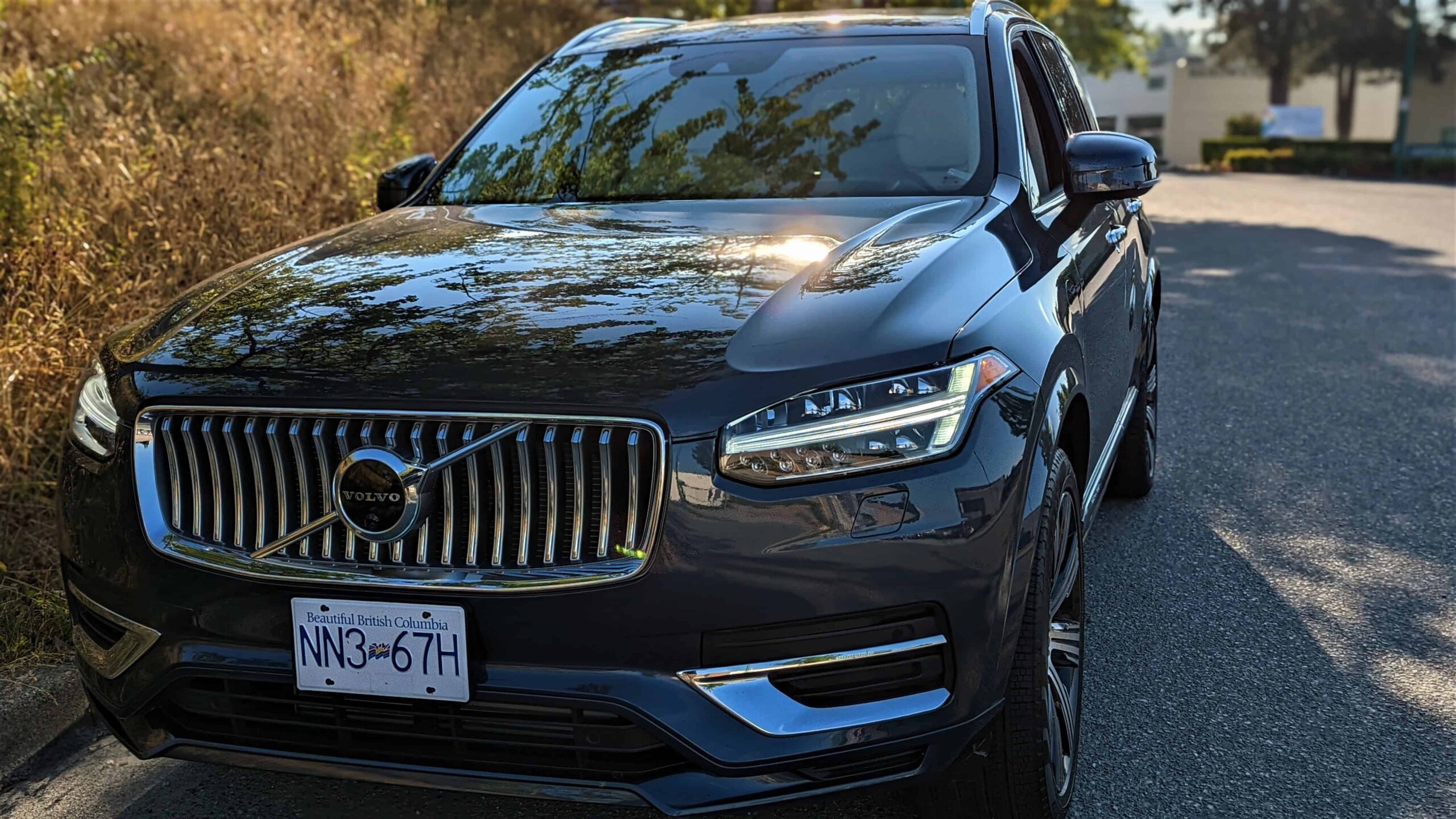 The 2022 Volvo XC90 might be an older design, but it still offers stylish good looks, the exterior design has aged well, and it still looks fresh after being on the market for 7+ years. It did see a minor refresh a couple of years ago, but the overall formula is still the same. The XC90 shares the same Volvo family design language, with "Thor's Hammer" headlights and an overall elegant style. The XC90 has a sleek and modern look. The front end is dominated by Volvo's signature grille, while the rear end features LED taillights. The vehicle rides on 20-inch wheels and has available roof rails for carrying cargo.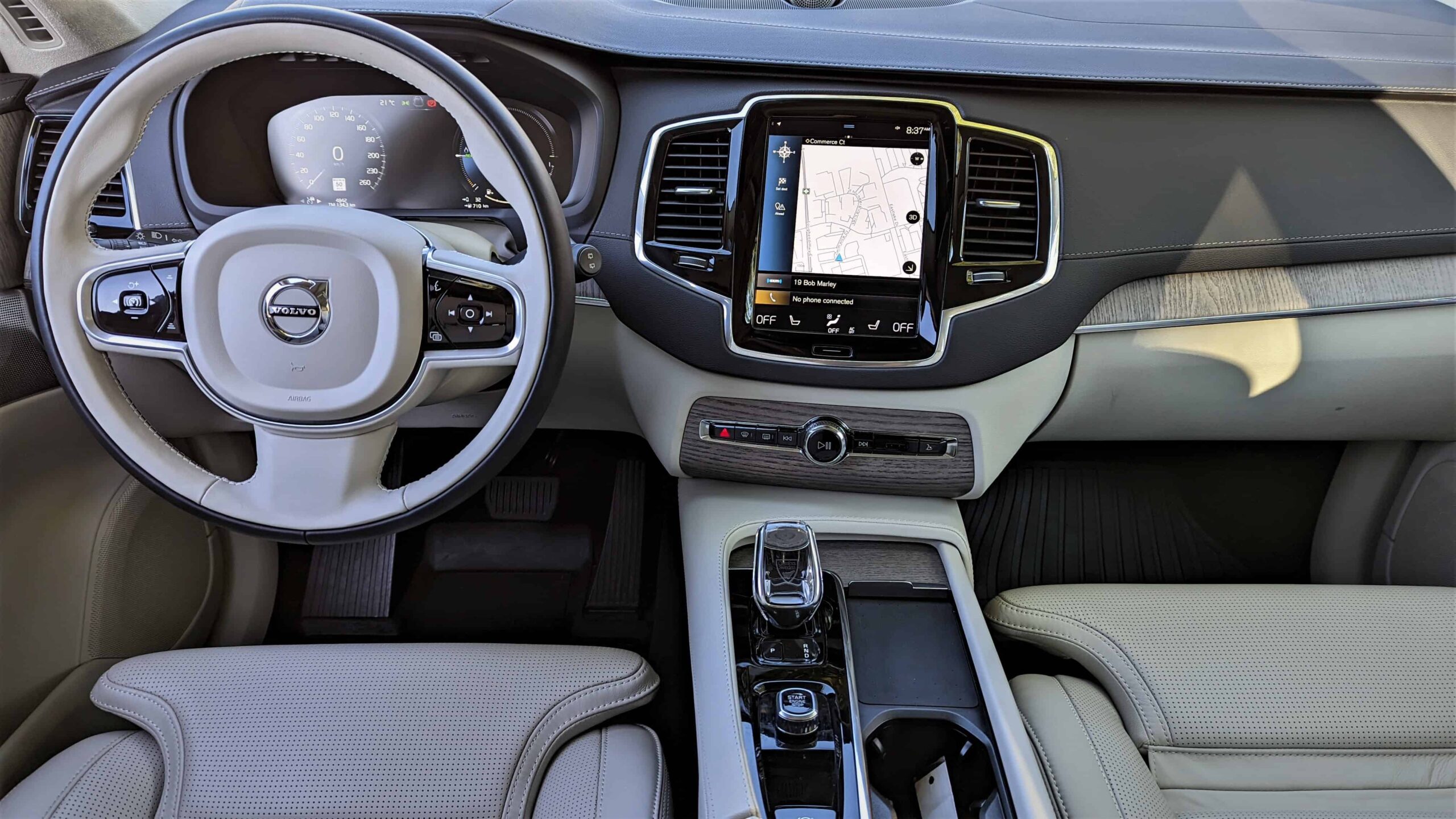 Inside, the XC90 is just as stylish as the outside. The cabin is spacious and comfortable, with plenty of room for passengers and cargo. The seats are upholstered in high-quality leather, and the dash and door panels are trimmed in brushed metal, wood, and leather. The XC90 comes standard with a 9-inch touchscreen infotainment system found on other Volvo products. The XC90 doesn't use Google UI for the infotainment system, which is used on other vehicles in their lineup, like the XC40, C40, V90, and S90 we reviewed over the last few months. I didn't mind the XC90's system; it's easy to understand and works as promised.
The interior is quiet and a comfortable place to be in. My niece and nephew called it a "mansion," which makes sense since it's spacious, quiet, and features high-quality materials. Our review car came with the optional "Lounge Package," which includes massage seats, making the interior even more luxurious.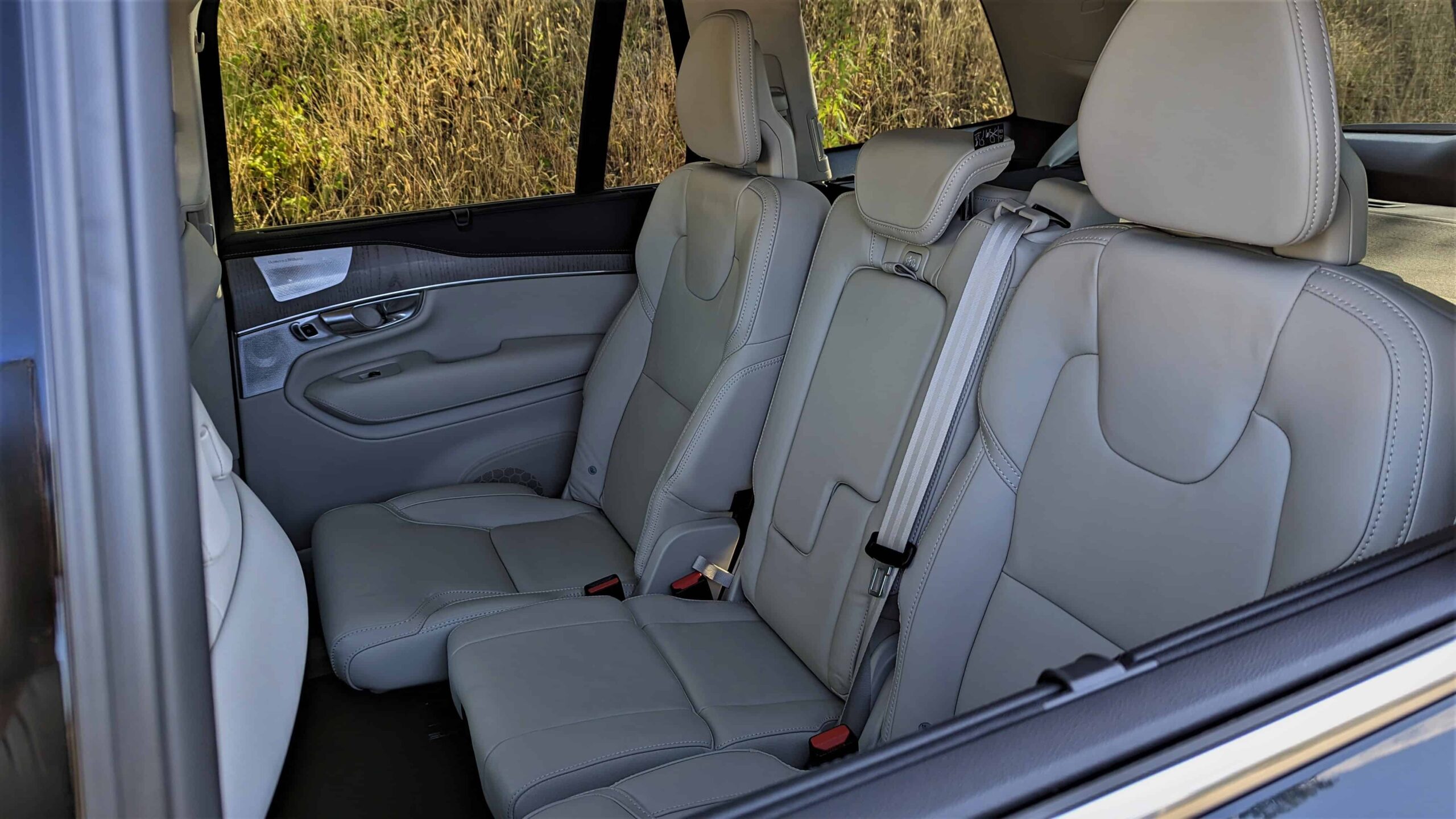 The front seats are extremely comfortable and can be adjusted to suit all body sizes. The second-row seats are also comfortable, and each of the three seats can be individually moved forward and backward. The third-row seats are better left for children, as the leg and headroom are at a premium.
The XC90 is also loaded with safety features; Volvo is famous for its focus on safety, and the XC90 comes with many standard features. For those looking for some extra comfort and safety features, there are several optional packages available. Below is a summarized list of what you can expect from your Volvo XC90.
Keyless Entry with Handsfree Tailgate Opening
Power Operated Tailgate
Power Heated/Ventilated Front Seats with Driver Memory
Passenger Seat Memory
12.3″ Driver Display
Navigation with Road Sign Information
2 USB Connections (Apple CarPlay / Android Auto)
Bluetooth Connection
Wireless Smartphone Charger
Harmon Kardon Premium Sound
Nappa Leather Upholstery
4 Zone Climate Control
Third Row Climate Unit
Panoramic Sun Roof
Automatically Dimmed Inner Mirror and Outer Mirrors
Power Operated Tailgate
Retractable Rear-View Mirrors
LED Headlights with Active Bending Lights
BLIS – Blind Spot Information System with Cross-traffic alert
Pilot Assist – Semi Autonomous Drive System w/ Adaptive Cruise Control
Collision Mitigation Support, Front & Rear
Lane Keeping Aid
Park Assist Camera
Park Assist Front and Rear
20" 10-Spoke Black Diamond-cut Alloy wheel
In addition to the above standard features, you can add extra packages to individualize your XC90.
Lounge Package
Climate Package:
Advanced Package:
Adventure Package
Final Thoughts
If you're looking for a stylish, luxurious, and efficient SUV, the Volvo XC90 should be at the top of your list. It's an excellent choice for families who want all the space and functionality of an SUV but don't want to sacrifice performance or fuel economy.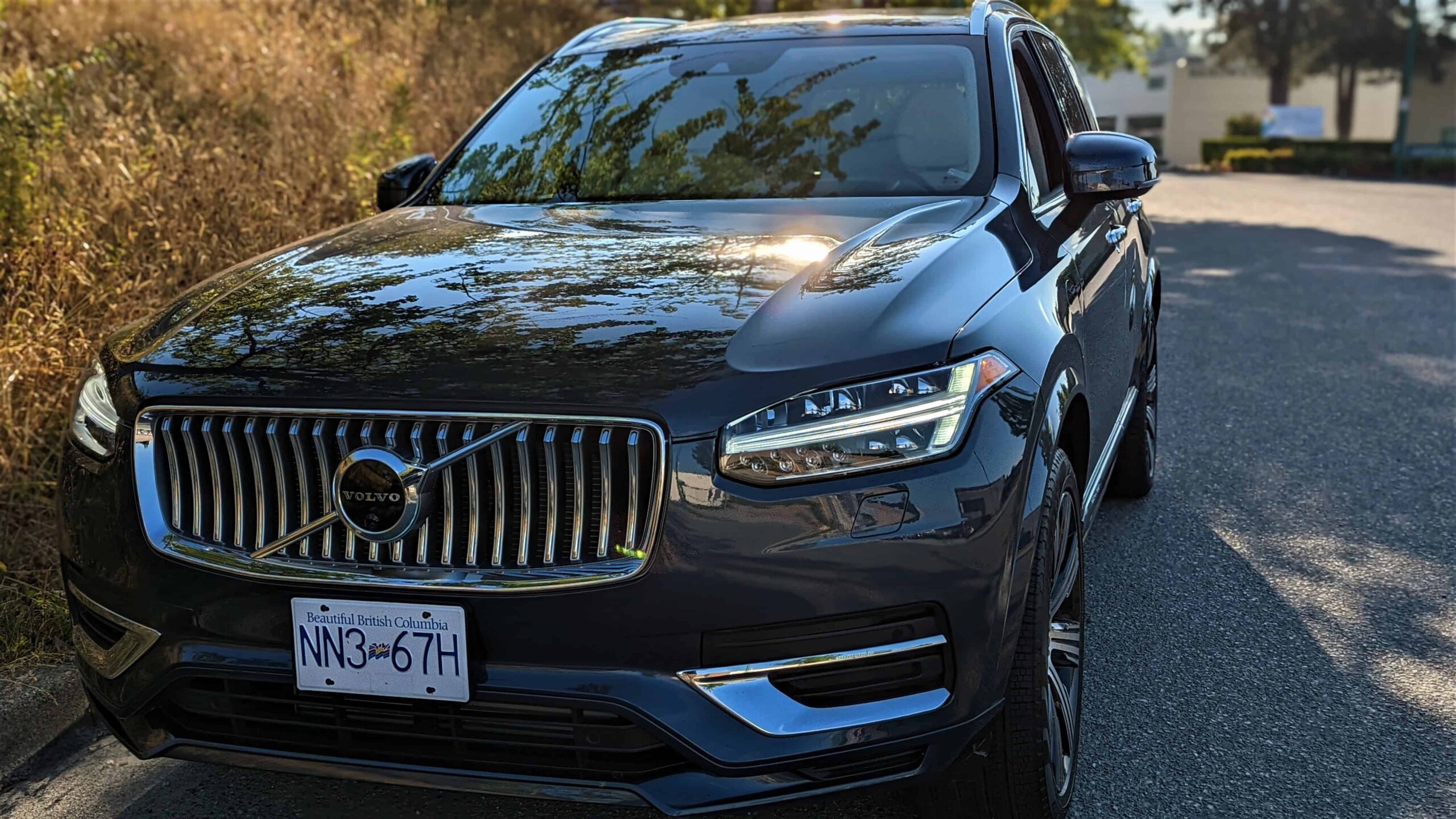 For more information on the XC90 and other Volvo vehicles, check out the Volvo Canada website.