In today's automotive landscape, SUVs/CUVs are the hot ticket items. Whether you're driving in the city or on a country road, in any part of the country, you'll notice there are more SUVs on the road than there are sedans. It is unfortunate, as sedans have so much better driving dynamics. Fortunately, there are many carmakers that are still producing sedans (we'll include wagons and hatchbacks in this category too).
A variety of sedans are available at the lower end of the price scale, all the way up to the luxury class. Luxury-class sedans are what we're most interested in because, with luxury, there usually comes good driving dynamics. There are many excellent luxury mid-size sedans, including the ever-popular Mercedes-Benz E-Class and the BMW 5-Series. Others in this segment include Audi A6, Cadillac CT5, Genesis G80, Lexus ES, and to a lesser extent, the Infiniti Q50. A car not often discussed is the Volvo S90 sedan, an excellent all-rounder with a lot of luxury and a decent amount of emphasis on sportiness. Last week I had the opportunity to review a top-of-the-line 2022 Volvo S90 Recharge T8 Inscription.
The Volvo S90 comes in a few different configurations. It can be had with a gasoline-only engine or a plug-in hybrid, and it can even be bought as a wagon. Although the wagon is called a V90, it shares the same underpinnings as the sedan. I reviewed the Volvo V90 Cross Country earlier this year; I enjoyed my time with that practical vehicle.
The Volvo S90 was first introduced in 2016 with a new name and design. We even wrote an introductory post on it back then. The S90 is one of the oldest designs in this segment; it has seen some minor updates over the years. The S90's predecessor was the 900 series of cars (940, 960, etc.); these cars were in production from 1990 to 1998.
2022 Volvo S90 Canadian Prices
The gasoline-only version of the S90 B6 starts at $70,100; this is the only trim available. Customers can add a few packages to make the car more luxurious and add additional tech features. This version of the S90 is a mild hybrid, but based on other Volvo hybrids we've driven, it's more like an extremely mild-hybrid (meaning, the car can't be driven using the batteries, it just comes with a stop/start system).
The plug-in hybrid version is called the S90 T8 Recharge; this version is a true plug-in. It has a starting price of $78,250; adding all the optional packages, the price reaches just over $90,000 CAD, before Freight & PDI and taxes.
Our review 2022 Volvo S90 Recharge T8 AWD Inscription Extended Range had a sticker price of $89,500 with all the optional packages; this price does not include $2,015 for Freight & PDI. Below are the optional packages our review car came with.
Climate Package ($1,000)
Advanced Package ($2,200)
Metallic Paint ($900)
Air Suspension ($2,400)
Bower & Wilkins Premium Sound System ($3,750)
20" 10-Spoke wheels ($1,000)
I'll go over the content of these packages in the tech section at the end of the page.
2022 Volvo S90 Engine & Driving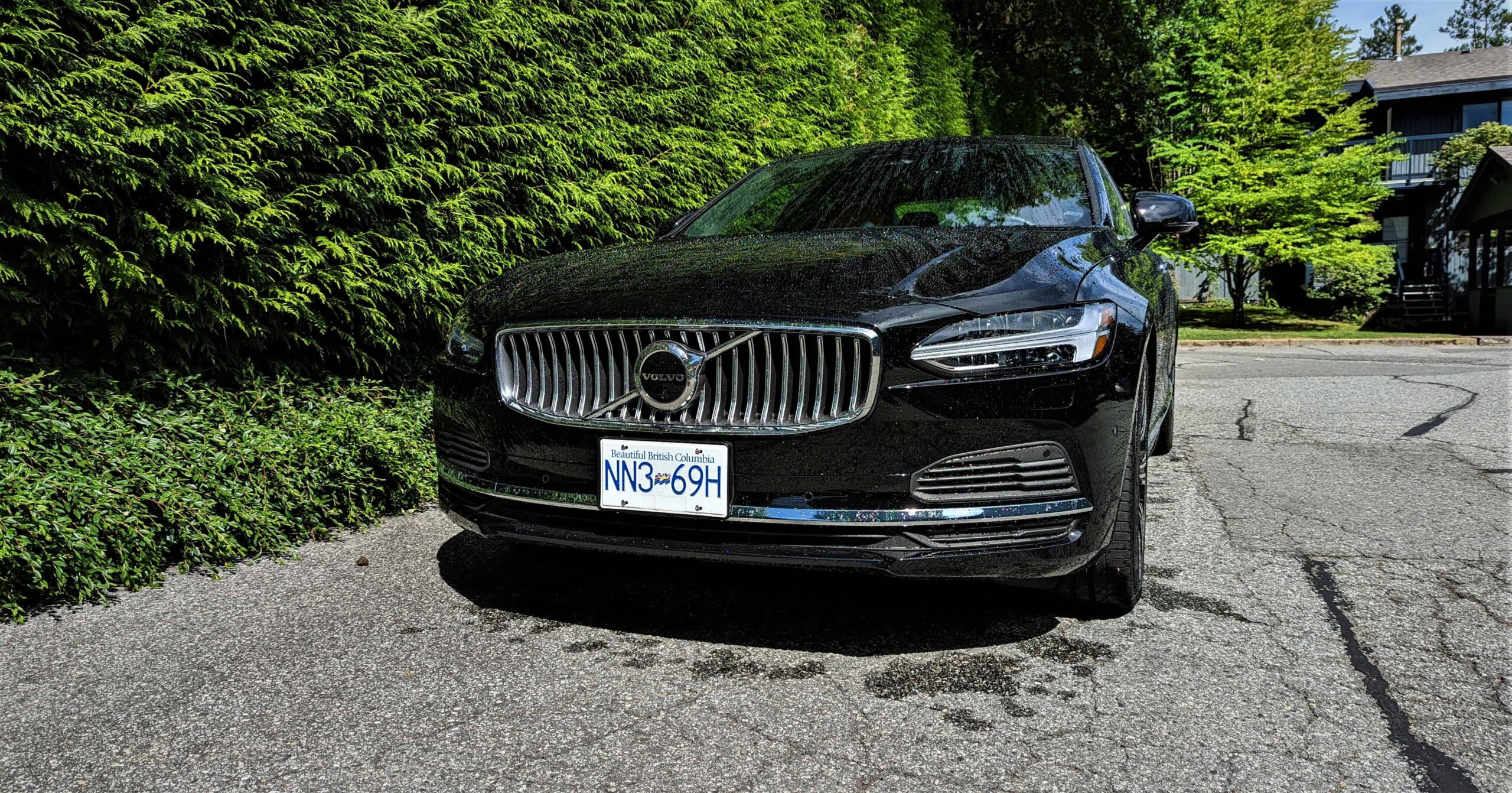 The Volvo S90 Recharge is powered by a 2.0-liter 4-cylinder engine that's supercharged and turbocharged, producing 312 horsepower at 6,000 rpm. But that's not all; there's also an electric motor producing 143 horsepower at 5,900 rpm. The combined output is 455 horsepower. The gasoline engine produces 295 pound-feet of torque between 3,000 – 5,400 rpm, while the electric motor produces 228 pound-feet between 0 – 3,280 rpm, for a combined output of 523 lb.-ft. The horsepower and torque figures differ when I searched online; the numbers above were provided in the spec sheet that came with our review car; however, Volvo's Canadian website says 462 HP, and other websites claim 400 HP and 472 lb.-ft of torque. Power is sent to all four wheels via an 8-speed Geartronic automatic transmission.
Since the S90 Recharge is a plug-in hybrid, it has a decent electric-only travel distance. The S90 Recharge is rated at 61 kilometers of electric range on a fully charged battery. I searched all over the place but couldn't find the exact size of the battery. I'll update this post if/when I can get that information. The original article I wrote back in 2016, based on the press release, said the battery was 9.2 kWh, however, I think it's bigger than that because of the longer driving range on the current model year.
With electric cars, you usually lose range in the winter; in my experience, you usually get more range than the claimed number in the summer. Our review took place in the summer, with temperatures in the high 20 to low 30 Celsius range; we had the AC and ventilated seats on for most of our driving. I was able to squeeze 70 kilometers out of the battery pack. 70 km is more than the average Canadian commute, so your trips to the gas stations will be quite rare, at least in the summer and as long as you have an average commute. On the day I fully depleted the battery, I drove around 80 – 90 kilometers, so that was the only time the gasoline engine came to life during my one-week review. I drove over 200 kilometers during the week, plugging the car in as soon as I got home. The onboard computer showed fuel consumption of 0.9 liters/100 kilometers with electricity and gasoline usage. Everyone's consumption will vary based on how much they drive, whether they religiously plug in the car and their driving style.
Driving the Volvo S90 is a comfortable experience; when in electric mode, it's dead quiet, as you'd expect from an EV. With the gasoline engine on, there's barely any sound making its way into the cabin, which is what you'd expect in a car in this price range. In EV mode, it is decently quick off the line with a normal amount of pressure on the accelerator pedal. If you want to take off quickly by pressing the accelerator pedal harder, the gasoline engine will come online to assist with acceleration. According to Volvo, the S90 T8 AWD does the 0 – 100 km sprint in 4.9 seconds, which is pretty impressive for a large sedan like this.
Unlike other Volvo vehicles we've reviewed recently, the S90 T8 does come with driving modes, which can be accessed using the touchscreen. The S90 comes with Hybrid, Power, Pure, and Constant AWD modes. The Hybrid mode is a mixture of both gasoline engine and electric motor; the Power mode uses both engine/electric motor for max performance; the Pure mode uses the electric mode only, as long as the battery has enough charge; and Constant AWD would be for slippery conditions.
You can also manage battery usage with Auto (the car decides what is good for you), Hold (hold the battery charge for later), and Charge (charge the battery using the gasoline engine).
According to Volvo, charging one of their plug-in hybrids should take 4 – 8 hours with a 220-volt AC charger or 3 – 4 hours with a 3.6 kW AC fast charger. Since I only had access to a 120-volt outlet, based on the onboard computer's estimate, it would take around 12 – 14 hours to charge the battery fully.
2022 Volvo S90 Styling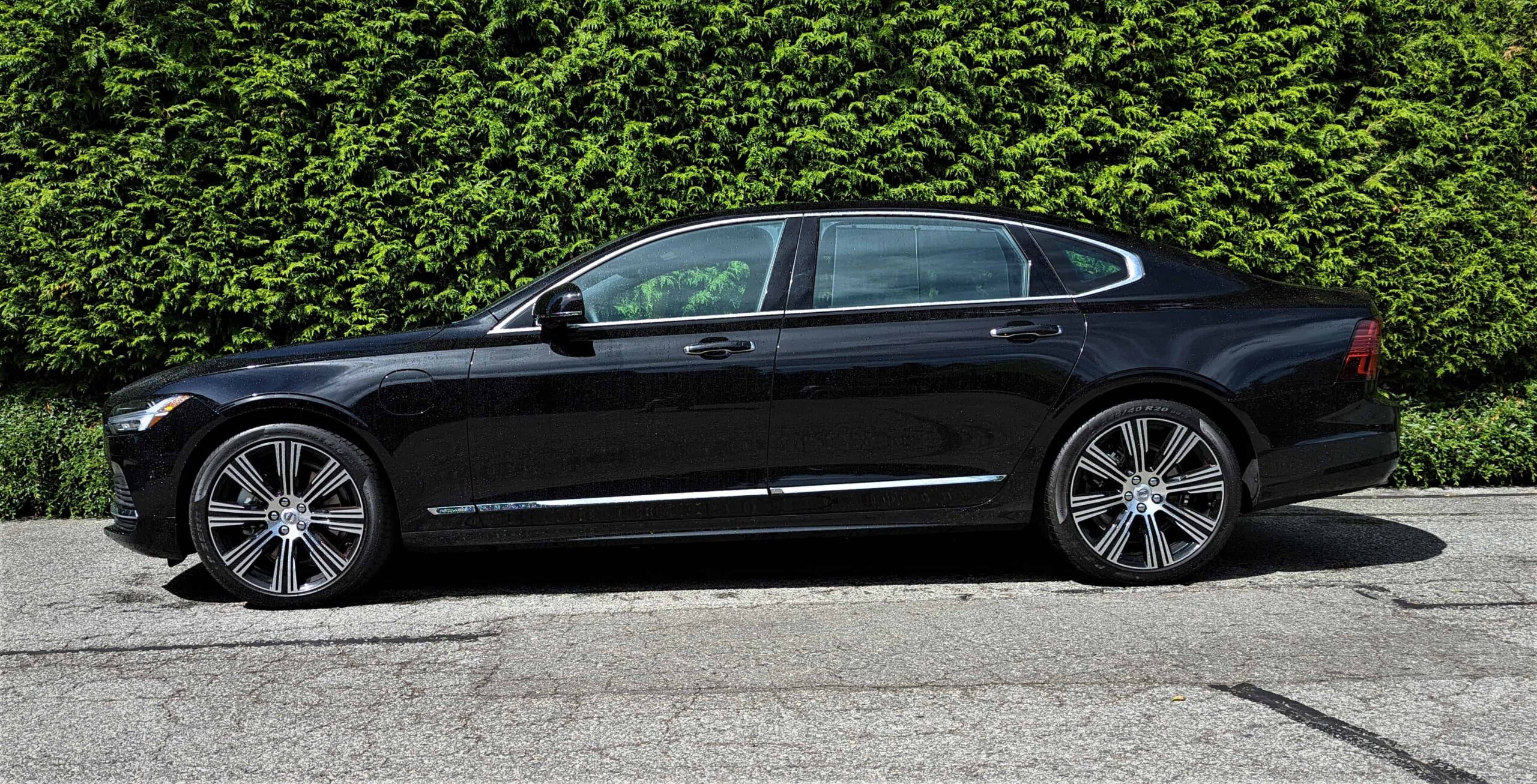 Styling on the 2022 Volvo S90 hasn't changed much, as far as I can tell, between when it was first introduced and the current model year. It is a conservative-looking car; however, it has a lot of road presence. Even though this car has been around since 2016, it still got peoples' attention wherever I drove it. There's something special about these large executive saloons (sedans); they just have so much road presence, which can never be matched by an SUV. I was a fan of the exterior styling; I think it's a sharp-looking car.
2022 Volvo S90 Interior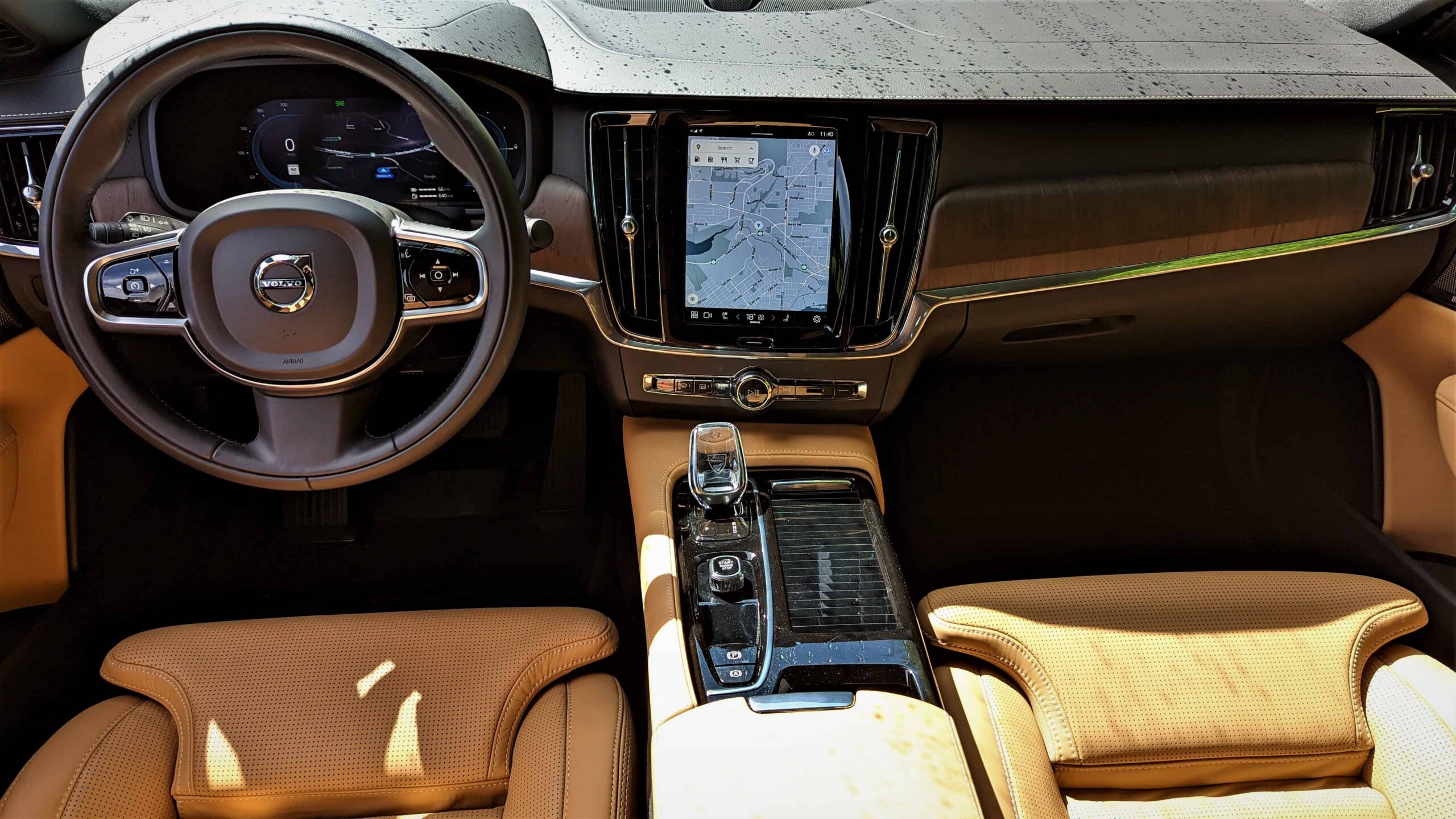 The interior also stays the same, for the most part. The only major difference I could see is the gear lever, now made out of crystal; this is also found on other Volvo vehicles. The interior has aged nicely over the years; it still looks modern.
At the center is a 9" touchscreen, which now uses a Google Android-based system. It's almost like an Android smart device; if you can use a smartphone, you won't have any trouble using this system. The 9" vertically laid out screen was quite large when it was first introduced, but in the ever-increasing infotainment screen war, where we're used to seeing 50"+ hyper screens, it seems small, especially for a car this size. This screen also became problematic when using the car's cameras since it's vertically laid out; if you use the front or rear camera, you only get a video output on half the screen, which limits visibility. I've used this same screen on other Volvo cars; however, for some reason, I found it to be inadequate in size on the S90 and even the XC90, which we'll review next week.
According to our press material, the S90 comes with wireless phone charging. However, I could not find it. I looked everywhere with no luck. Normally, Volvo vehicles have a wireless charging pad in front of the cup holders, but that was not the case. So, I'm unsure if it's not there or if I was blind to it.
The interior is a luxurious place to be; the materials are top-notch and mostly soft touch. The interior is quiet and comfortable, as it should be in a vehicle in this class. Our car's brown leather looked fantastic and felt incredibly soft. The seats are extremely comfortable, which is a signature feature of Volvo cars. The rear seats are also luxurious and comfortable, with loads of leg and headroom. The right-rear seat is the executive seat, with special buttons on the door that can move the front passenger seat forward/backward, close the sunroof and rear sunshade, and control both the rear windows. There's also a small ashtray in the rear right door, something I haven't seen in many years.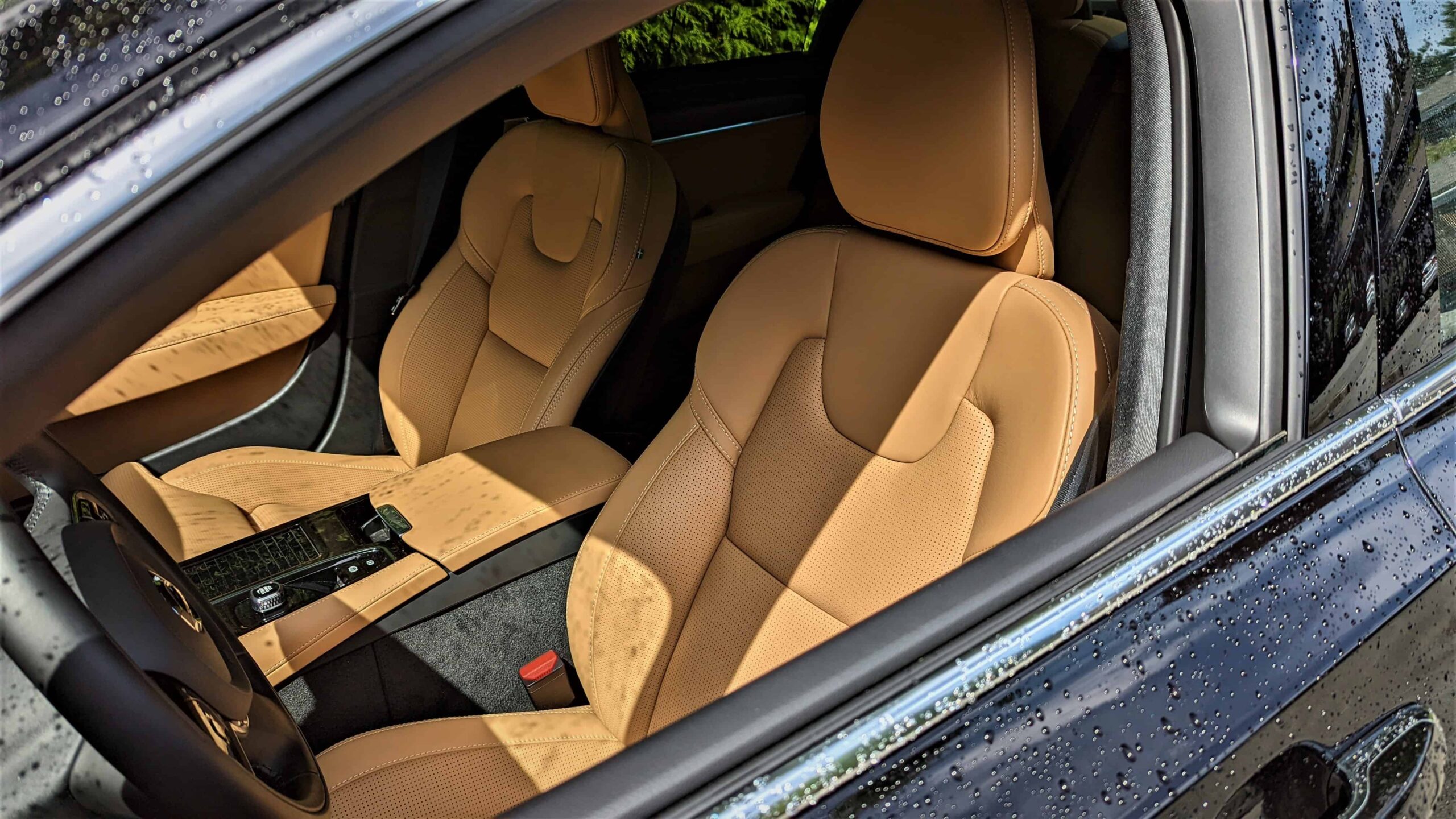 Safety, Tech, & Comfort Features
The S90 may be an older design, but it still packs all the modern tech, comfort, and safety features we've come to expect in modern cars. The S90 comes standard with many features, but you can also include more packages to add all the optional bells and whistles.
4 Zone Climate Control
Clean Zone
Panoramic Sunroof
Key Fob Remote Control
Keyless Entry with Handsfree Tailgate Opening
12.3 Inch Driver Display
Power Heated Front Seats with Driver & Passenger Memory
BLIS – Blind Spot Information System with Cross-traffic alert
Collision Mitigation Support, Front & Rear
4 Way Lumbar Support
Leather Steering Wheel
Automatic Dimming Inner and Exterior Mirrors
Retractable Rear View Mirrors
LED Headlights with Active Bending Lights
Pilot Assist – Semi Autonomous Drive System w/ Adaptive Cruise Control
Lane Keeping Aid
Park Assist Camera
Front and Rear Park Assist
Harmon Kardon Premium Sound
2 USB Connections
Bluetooth Connection
Road Sign Information (RSI)
Digital Services Package w/ 4 Year Subscription

Google Automotive Services w/ Google Maps, Google Assistant & Google Play Store

Volvo Cars App w/4-Year Subscription

Wireless Smartphone Charger

Sirius Satellite Radio w/3-Month Trial
Sunblind in Rear Side Window, Power Operated
Sun Curtain in Rear, Power Operated
Cushion Extension
19" 10-Spoke Silver Diamond-cut Alloy wheel (255/40R19)
Below are the optional packages available on the 2022 Volvo S90 Recharge:
Lounge Package ($3,350)
Front seat massage
Rear seat ventilation
Climate Package ($1,000)
Headlamp Cleaners
Heated Rear Seat
Heated Steering Wheel
Advanced Package ($2,200)
Power Operated Trunk
Head-Up Display
360° camera
Air Purifier
Standalone options
Rear Air Suspension w/ Four-C Active Chassis ($2,400)
Bowers and Wilkins Premium Sounds System ($3,750)
20" 10-Spoke Silver Diamond-cut Alloy wheel ($1,000)
Final Thoughts
In my opinion, the 2022 Volvo S90 T8 Recharge is a good car with a lot of modern tech, good looks, and a comfortable driving experience. However, it is an older design and it isn't cheap. It still turns heads and is extremely luxurious on the inside, with loads of room for the front and rear occupants. For more information, visit Volvo's website.