Earlier this year, I had the opportunity to review a 2021 Genesis G80 Advanced luxury sedan. My previous review G80 was equipped with the smaller 2.5-liter 4-cylinder engine, last week I finally had the opportunity to review the G80 with the 3.5-liter V6 engine. Below are my thoughts on the 2021 Genesis G80 3.5T sedan.
I had nothing but high praise for the newest entrant into the mid-size luxury sedan market. I thought the G80 was, and still is, a great package. And I was extremely surprised at how well the turbocharged 2.5-liter 4-cyliner engine was able to handle this large vehicle. However, I'll never say no to a more powerful engine when offered.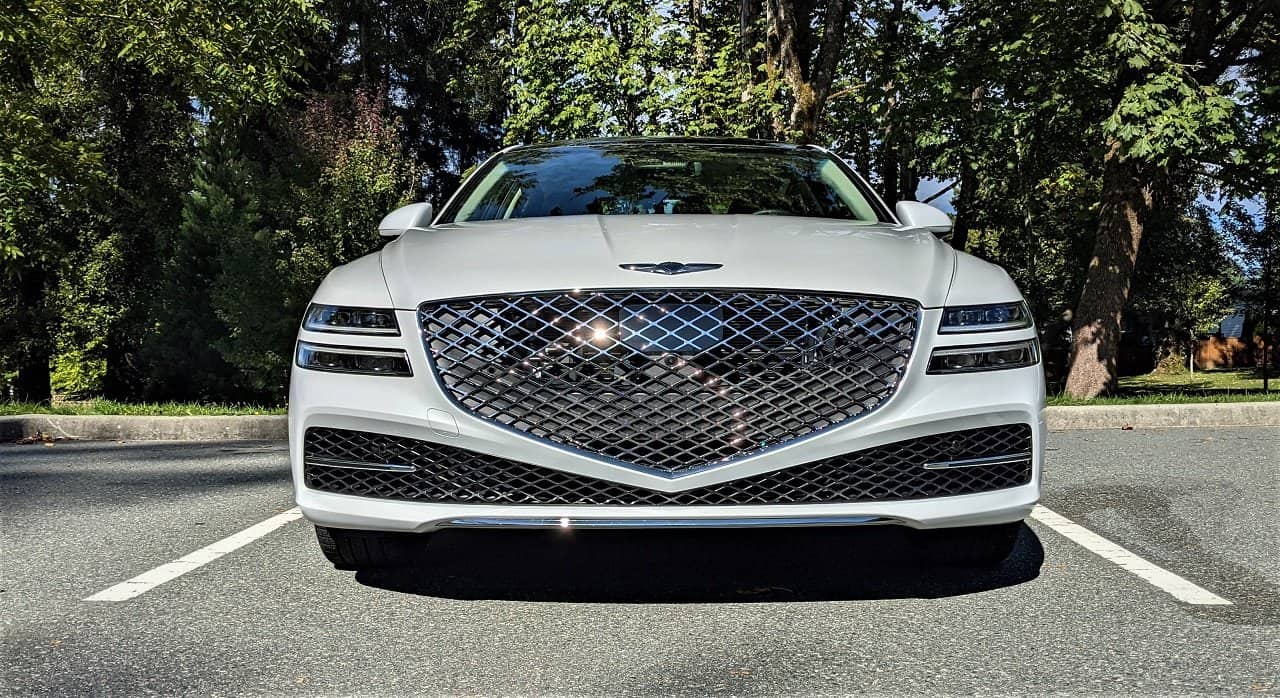 In Canada, the 2021 Genesis G80 is offered in two trims only; the base trim, if you can call it that, is called the G80 2.5T Advanced and has a starting price of $66,000. The fully loaded trim is called the G80 3.5T Prestige, priced at $76,000. Unlike the Europeans, there are no pricey options and 10's of packages to add, what you see is what you get. And you also don't need to figure out Freight & PDI, it's all included. All you need to add is the taxes. I love it!
The 2021 Genesis G80 is offered with either a turbocharged 2.5-liter 4-cylinder engine or a turbocharged 3.5-liter V6, the same two engines found on the GV80. The 2.5-liter engine produces 300 horsepower at 5,800 rpm and 311 pound-feet of torque between 1,650 – 4,000 rpm. The 3.5-liter engine produces 375 horsepower at 5,800 rpm and 391 pound-feet of torque between 1,300 – 4,500 rpm. Both engines require premium fuel. Both trims come with AWD and 8-speed automatic transmissions.
According to Genesis, the G80 3.5T AWD should consume 12.9/9.0/11.2 L/100 km. The onboard computer showed 13.7 L/100 km over the life of the car.
As far as power is concerned, us car guys/girls always want more of it, but I think the 4-cylinder was more than enough of an engine to motivate this mid-size sedan. But it's nice to have the oomph of the V6 engine, cars with this engine also come with a few extra goodies not available on the Advanced trim. Personally, if I wanted to save some money, I would go with the 4-cylinder engine.
The twin-turbo 3.5-liter V6 is a great engine. It's smooth and quiet and delivers power in a gentle and relaxed manner. The engine pulls hard under heavy acceleration but is generally geared to give you a more of a relaxing driving experience. Genesis is going the luxury route with the G80 as opposed to a pure sports sedan, like what the BMW 5 Series used to be (is the 5-series still a sporty sedan? I don't know, I haven't driven one in ages).
The G80 Prestige is equipped with "Preview-ECS", which is an electronically controlled suspension that uses a front camera sensor and navigation data to automatically adjust the suspension damping. What this means is that the G80 has an extremely smooth ride, this system adjusts the suspension based on the above two features, to soak up as much of the road bumps as possible. The ride quality is buttery smooth, adding to the already luxurious feel of the G80.
The steering has a nice weight to it, but there isn't much of a feel to the steering. This is normal for most new cars, especially cars that are not performance oriented. The steering feel does firm up as you move up the driving modes from Eco to Sport.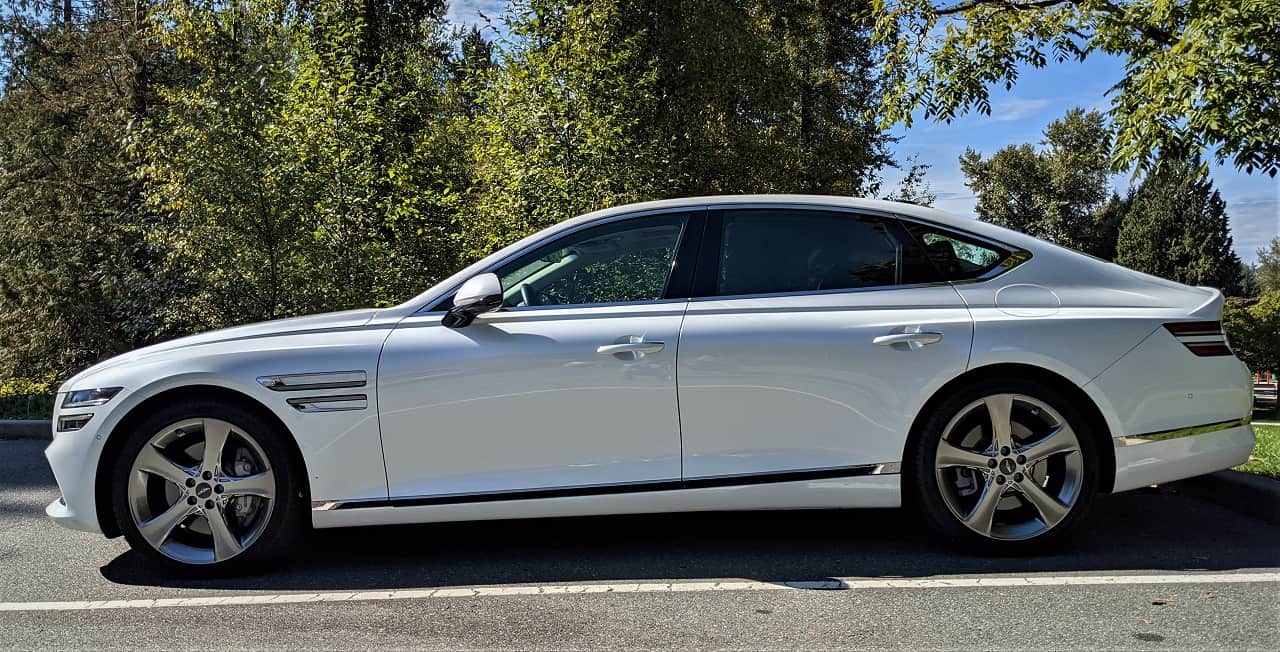 I'm a big fan of the styling on the second-generation Genesis G80. It looks pretty good in pictures, but I think it looks much better in person. It has the signature quad-headlights at the front with a massive diamond-shaped grill, which doesn't look obnoxious and actually suits the car. The headlight design extends to the side with dual side-markers, and goes onto the rear with quad-taillight strips. The overall design looks extremely good, to me at least.
The overall shape of the G80 is athletic, with sweeping rear window. The trunk features a subtle integrated lip spoiler. The bumpers feature dual exhaust tips, which feature the same diamond shape found on the front grill. It looks quite sporty, however, as I mentioned above, the driving dynamics are more on the relaxed luxury side.
The G80 is quite a head turner, it gets looks from young and old and both sexes seem to appreciate the beauty of this Korean luxury car. It also helps that this is a relatively new car on the market and the bright white paint looks fantastic.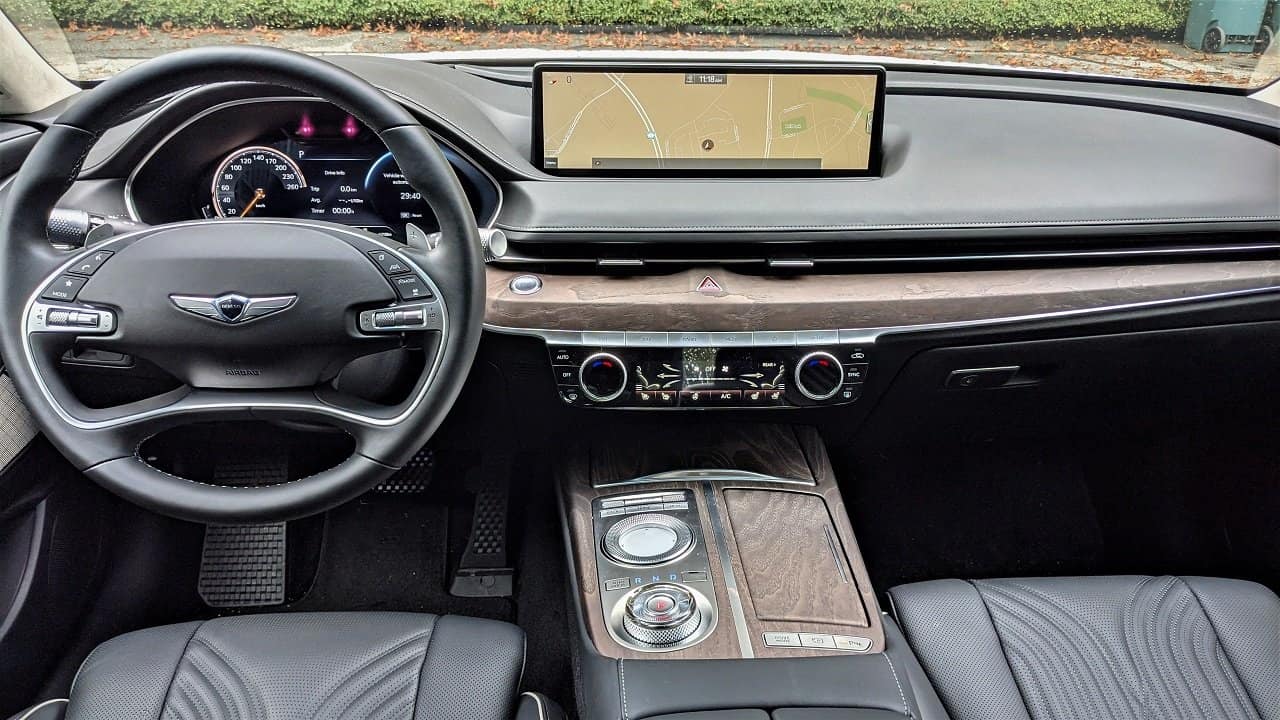 The interior on the G80 Prestige is no different than the G80 Advanced, however there is some added equipment that takes the Prestige trim to the next level. For starters, the Prestige trim comes with soft Nappa leather, which feels really great to sit on and to look at. The headliner is upgraded to microfiber suede instead of cloth. This trim also benefits from 16-way power driver seat (as opposed to 12-way on the Advanced trim) and comes with "Ergo Motion" seats, which is kind of like a massage feature, but not quite a massage feature. This feature gives a lighter version of a car massage, Genesis calls it stretches rather than massage. There are three different types of these stretches: Pelvic Stretching, Lumbar Stretching, and Whole Body Stretching. The Prestige trim also uses real open pore wood instead of aluminum inserts.
The gauge cluster is all digital on the G80 Prestige, featuring a 12.3" 3D digital cluster. The 3D digital cluster is really impressive, giving the 2D gauges real depth that looks like analogue gauges. I don't think I've seen this in another car. The 3D effect can be turned off with the click of a button. I really liked the way the 3D gauges looked, however, I have a bit of a depth perception problem with my eyes, so the gauges looked a bit fuzzy to me (other people didn't have this problem with our review G80), so I kept the gauge cluster in 2D for most of the time.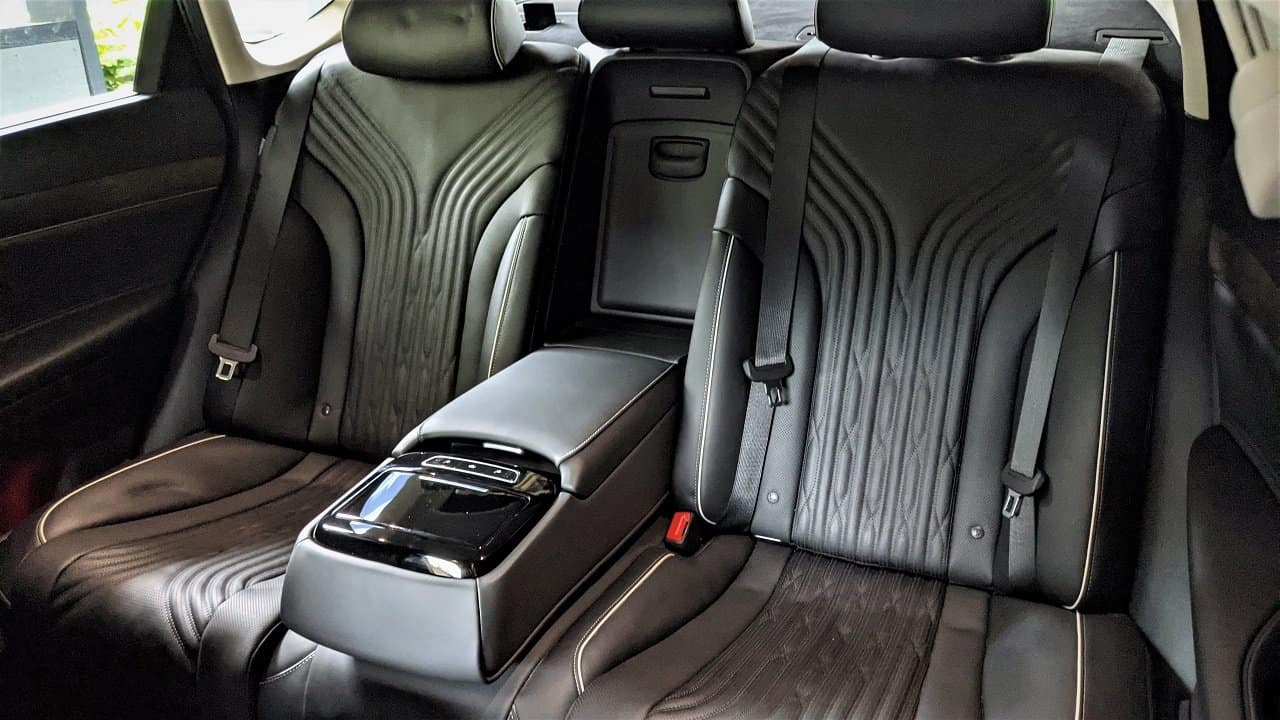 The Prestige trim comes with Remote Smart Park Assist, which is a useful feature for getting in and out of tight spots without the worry of damaging the beautiful paint on your G80. This feature has made it into quite a few of Hyundai products and it has come in handy on a few occasions.
The Genesis Prestige comes with soft-close doors, which is a huge luxury feature in my opinion. There's something special about soft-close doors, which doesn't really translate into words well, you just have to feel it for yourself. The one thing I was disappointed not to find on the Genesis G80, both trims, is the lack of sensors on the back door for locking/unlocking them. Even a lot of non-luxury vehicles have the ability to lock/unlock from all four doors, so I would expect this in a car that's competing against the likes of Mercedes-Benz and BMW.
Another feature I would have liked to see is power rear window shades. The G80 does come with rear window shades, but they're manual, which takes away from the luxury feeling of this car. However, the GV80 SUV, which is based on the G80 platform does come with power rear window shades. The G80 does come with a power rear glass shade.
Putting aside the above two minor complaints, the Genesis G80 Prestige is an amazing luxury car. The interior is extremely luxurious and is up to par with competitors like Audi, BMW, Mercedes-Benz, and Lexus. The interior is comfortable and whisper quiet, it's roomy, and every surface is soft-touch and looks and feels high quality.
To compete in the luxury market, you need to offer the latest and greatest in tech/safety/convenience features, and the 2021 Genesis G80 doesn't disappoint, our Prestige trim was loaded with everything Genesis has in their inventory, below is a list for your viewing pleasure:
Full LED Headlights
Automatic Headlights
High Beam Assist             
LED Daytime Running Lights       
LED Taillights     
LED Outside Mirror Turn Signal Indicators            
Power-Folding Mirrors
Auto-dimming Side Mirrors         
Panoramic Sunroof with Tinted Glass
Acoustic Laminated Glass (Noise Reducing)
16-way Power Driver Seat
12-way Power Passenger Seat including 4-way Power Lumbar
Front Passenger Seat Walk-in Device
Heated Front Seats
Ventilated Front Seats
Heated Rear Seats
Rear Center Folding Armrest with Dual Cup Holders
Lexicon premium audio system with 21 High speakers
Android Auto & Apple CarPlay
4 USB slots
Bluetooth Hands-free Phone System      
Touch type Dual Zone Climate Control
Fully Automatic 3 Zone Climate Control
Smart Cruise Control with Stop & Go      
Wireless Charging Pad   
Proximity Key with Push-Button Start     
Rear view Camera with Parking Guidelines           
Surround View Monitor
Blind Spot View Monitor
Head-up Display
Power Hands-free Smart Liftgate w/ Auto Open
Soft-close Doors (Prestige)
Remote Smart Park Assist (Prestige)       
Vehicle Stability Management (VSM)     
Electronic Stability Control System (ESC) with Traction Control System (TCS)        
Anti-lock Braking System (ABS) 
Brake Assist (included with ESC)
Hillstart Assist Control (HAC)      
Parking Distance Warning (4 sensors in front and rear)   
Blind-Spot Collision-Avoidance Assist (BCA) and Rear Cross-Traffic Collision-Avoidance Assist (RCCA)         
Parking Collision Avoidance-Assist Rear
Lane Departure Warning (LDW)
Lane Keeping Assist (LKA)
Lane Following Assist (LFA)         
Forward Collision-Avoidance Assist
Driver Attention Warning (DAW)
Forward Attention Warning (Prestige)
10 Airbags
Overall, I was once again, extremely impressed with the 2021/2022 Genesis G80. This time we had the more powerful and fully loaded version of this excellent mid-size luxury sedan and it has set the bar even higher than the Advanced trim, which had already set the bar pretty high. The German luxury carmakers really need to start taking notes, Genesis is not messing around.
The Genesis G80 has won numerous awards around the world, including AJAC's Canadian Car Of The Year award.