Station wagons may not have the sales volume of SUV/CUVs nowadays, but they were quite popular a few decades ago. Automotive journalists love station wagons and most guys I've talked to have a soft spot for these practical vehicles (also known as long roof).
Unfortunately, everyone seems to want to buy an SUV or a CUV and the number of available station wagons has gone down considerably. But, the number wagons currently available in the market is not zero, which is a good thing. Thanks to the European carmakers, there are still limited offerings. Particularly Volvo, offering four station wagons in Canada. Volvo currently offers the V60 (my personal favorite wagon currently available), V60 Recharge (hybrid), V60 Cross Country, and the V90 Cross Country. There used to be a V90 Wagon, which was a regular version of the Cross Country but it's currently not offered by Volvo.
Last week we had the opportunity to review a 2022 Volvo V90 Cross Country, competing in the same segment as the Mercedes-Benz E 450 All-Terrain we reviewed a few weeks ago.
Like the E450 All-Terrain, the V90 CC is blend of a CUV and a Wagon. It rides a bit higher than the standard V90, but is lower than the XC90. It satisfies the CUV crowd while also keeping the wagon/sedan crowd happy.
2022 Volvo V90 Cross Country Canadian Prices
The base V90 CC B6 AWD has a starting price of $65,950, clicking all the optional package boxes (including premium paint, wheels, and Nappa leather) will take the price to just shy of the $80,000 mark, not including accessories, and fees and taxes.
Our review 2022 Volvo V90 Cross Country had a sticker price of $77,450 plus Freight & PDI of $2,015. The optional packages included Climate Package ($1,000), Lounge Package ($3,850), Advanced Package ($2,000), Bowers & Wilkins Premium Sound System ($3,750), and $900 for Metallic Paint. Our review car also came with additional accessories listed below:
Protection Package
Protective Steel Grille
Exterior Scuff Plates
Bumper Cover
Cargo Cover
What Powers the Volvo V90 Cross Country?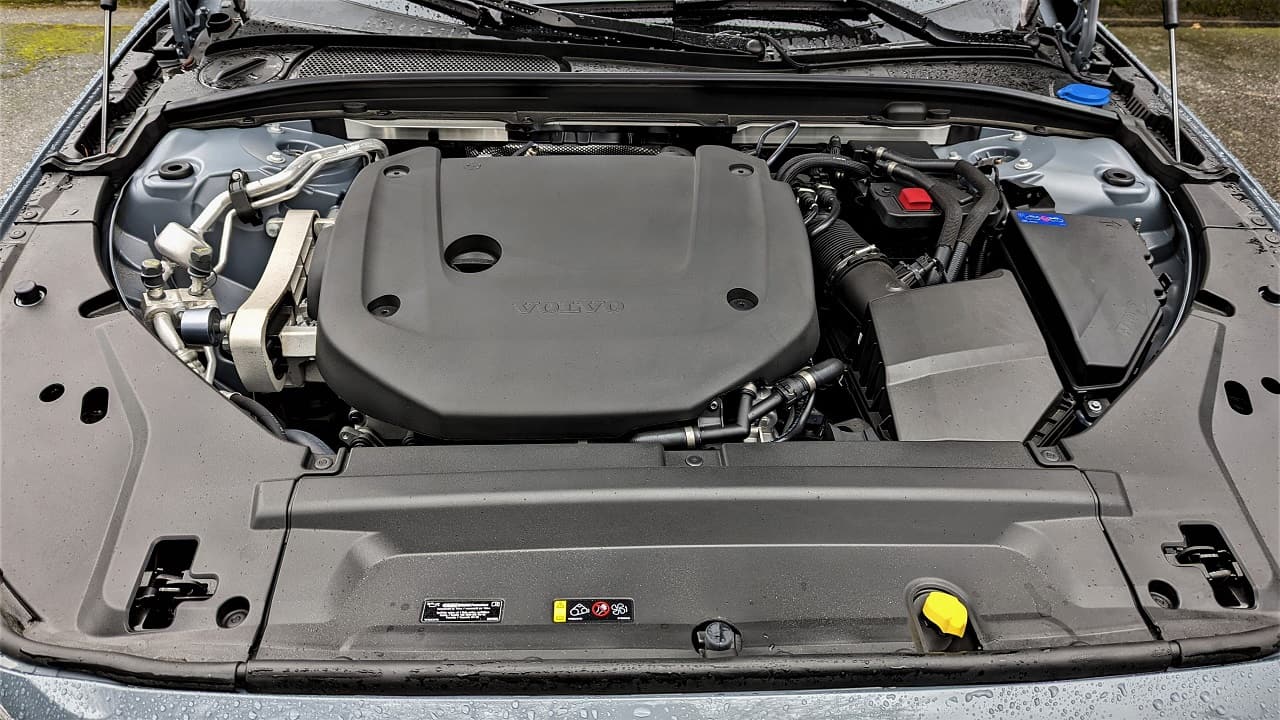 The Volvo V90 CC is a mid-size vehicle, so you'd expect a decently big engine. But that's not the case, the V90 CC is powered by a 2.0-liter 4-cylinder engine. You're probably asking yourself, is that enough of an engine for a vehicle this size?
The answer is a resounding yes. You see, the 2.0-liter engine isn't just any plain old 4-cylinder, it features direct injection, it's turbocharged, and supercharged. But that's not all, there's also a 13 horsepower Integrated Starter Generator (ISG), giving you a total output of 295 horsepower at 5,400 rpm and 310 pound-feet of torque between 2,100 – 4,800 rpm. Power is sent to all four wheels via an 8-speed Geartronic automatic transmission. The prior year models had a more powerful version of this engine, which produced 316 horsepower and 295 pound-feet of torque.
The end result is a 0 – 100 km sprint of 6.4 seconds, which is not too shabby for a family hauler this size. According to Volvo, the V90 CC should consume 10.6/8.1/9.6 liters/100 kilometers in city/highway/combined driving. We averaged 12.0 L/100 km in pure city driving, with temperatures ranging from -5 to 5 C on the various days, which involved a lot of idling time while the car warmed up and ice was removed from the windows.
Driving the Volvo V90 Cross Country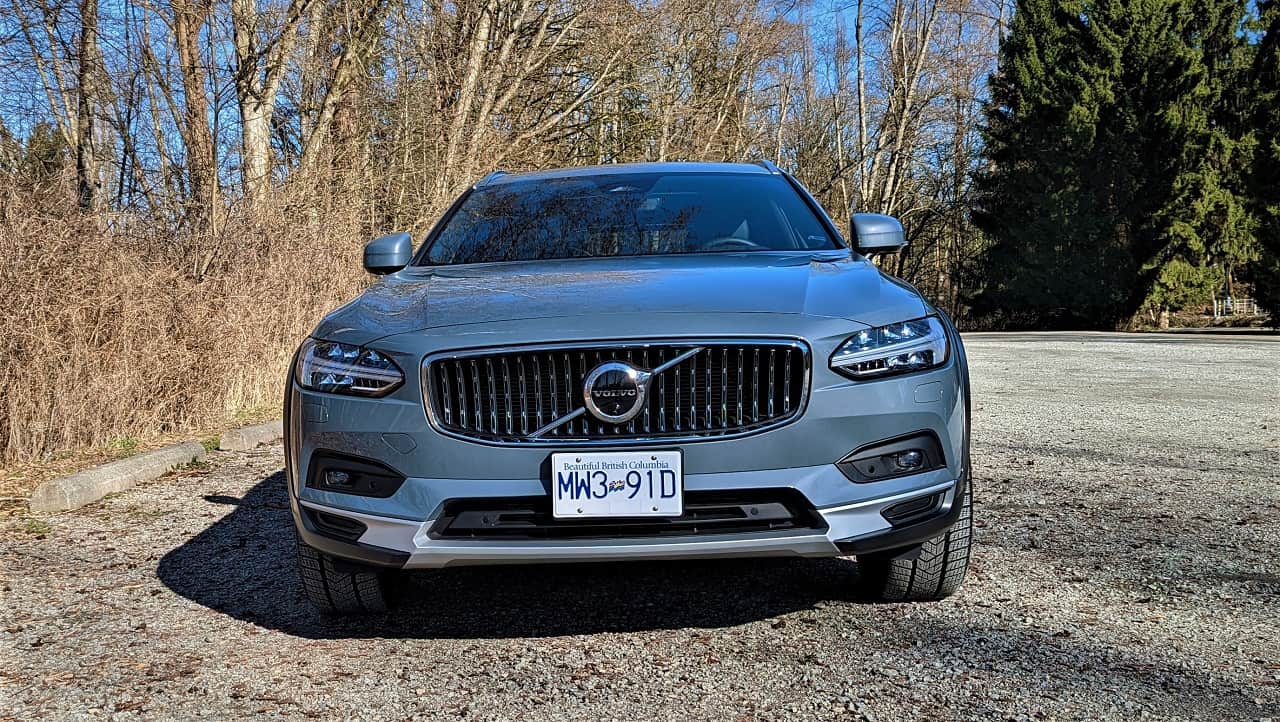 Although the 2022 V90 CC is down on HP from the 2021 model year, it has more torque, which is what gets the car moving and is more useful measure of day to day driving ease. When you accelerate from standstill, you're feeling the torque push you back into the seat, not the horsepower.
The 2022 Volvo V90 Cross Country is a fine driving machine. It accelerates quickly off the line and keeps building speed smoothly. The 8-speed automatic transmission goes through gears without any drama, it's a smooth shifting transmission. The V90 CC is quite a large vehicle, but the way the engine delivers power makes it feel like a much smaller and lighter car. I'm not sure how to explain it, but the way the engine revs up quickly and freely, it feels like this is a subcompact hatchback. The engineers have done a great job at creating some kind of a magical formula; the engine just keeps wanting to rev freely. The combination of supercharging and turbocharging gives it this feeling, I've never felt anything like it and I'm really having a hard time describing it. You really need to drive this car yourself to feel what I'm talking about.
One feature potential owners might find missing is the drive mode selector. Most new cars, especially luxury cars, come with driving modes like "Eco", "Comfort", "Sport", "Snow", "Mud/Ruts" etc., depending on the vehicle and its intended use. I spent quite a bit of time trying figure out where this mode selector is located, but I wasn't able to find it. The reason for this is, the 2022 V90 Cross Country doesn't come with different driving modes. The computer is smart enough to figure what you want and it'll do all the thinking for you. I'm not sure what percentage of owners use these driving modes in their cars? Maybe Volvo knows not many people use this feature? Personally, I do like to make use of the modes depending on the driving conditions and what kind of mood I'm in on that particular drive.
With the added ground clearance/height, the V90 CC glides comfortably over rough roads. The ride quality is great, the V90 CC rides like a blend between a CUV and a sedan/wagon, with a bit more emphasis on being more like a car. The V90 CC will be mostly driven on paved roads and it will occasionally make a trip on rough roads, like a trip to the cabin where the last bit of road might be a logging/unpaved road.
The steering feel is pretty soft, it feels more like an SUV/CUV. There is a setting for steering feel in the menu, I had it on and off and didn't feel any difference between the two settings.
Volvo V90 Cross Country Styling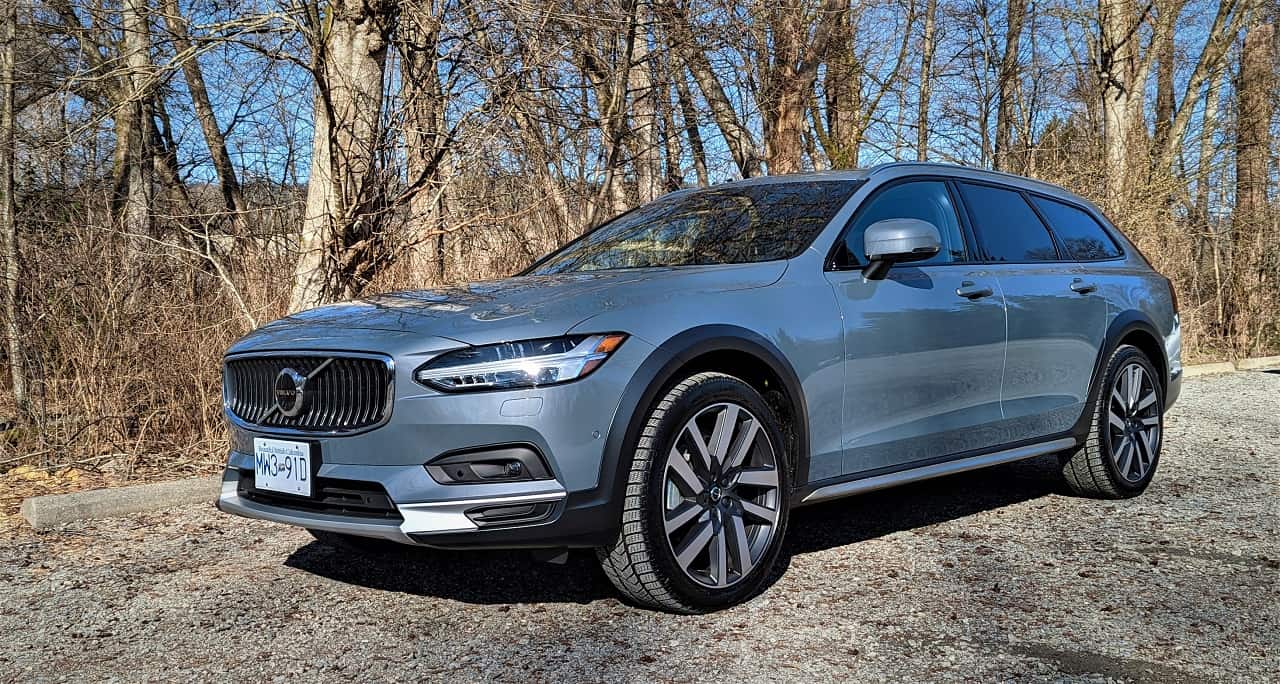 Styling is a subjective matter; each design will have its pros and cons in different people's eyes. Personally, I'm a big fan of Volvo designs, especially their wagons. I love wagons in general, but I think the V60 and V90 are the most attractive looking wagons currently available in North America.
The V90 keeps the look of the rest of the Volvo family of cars. It features the beautiful looking "Thor's Hammer" headlights. The body is long and sleek, with a long hood. The Cross Country sits higher than the standard V90 wagon, with 204 mm (8.03") of ground clearance and features black plastic molding around the wheel arches for added protection from rock chips. The rear end features the classic Volvo taillights, which start at the rear hatch and extend all the way up the D-pillar.
Volvo V90 Cross Country Interior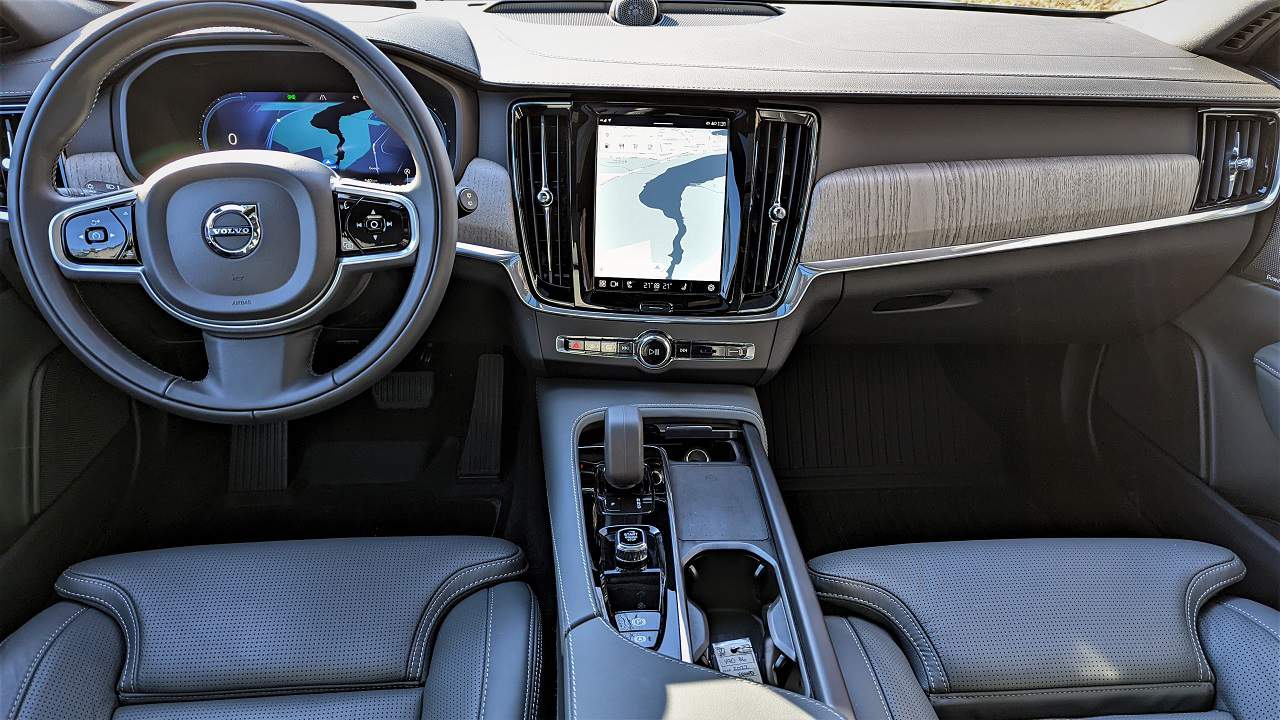 The interior design philosophy is the same as the exterior, simple and elegant with an emphasis on minimalism. The interior is not quite Tesla-level minimalism, which is a good thing in my opinion. At center stage is a 9" touchscreen, which houses most of controls for the car. 9" may not seem large in today's offering of 12" and larger screens from other manufacturers, but Volvo's screen is vertically integrated, so it looks decently large. The system uses an Android based UI, which is great if you're familiar with an Android phone, but if you're not, it doesn't take too much time to get used to.
Unlike Tesla's interiors, there are a few buttons below the touchscreen. I found these buttons to be quite useful, as they are some of the most used buttons, like volume knob, track forward/backward, front and rear defrost.
The center console features a small gear lever, a wireless charging pad to the right of it, the start/stop knob, the parking brake and auto hold button. To the right of these is a pair of cup holders, I found them to be on the smaller size. The cup holders and the wireless charging pad can be hidden by sliding two little sliders that feature the same wood material found on the doors and dashboard trim. With the sliders in close position, the interior has an even cleaner look.
Because of the lack of buttons, it does take a bit of time to get used to all the different features and how to change them. But after a week with the V90 CC, I was pretty comfortable with how everything worked.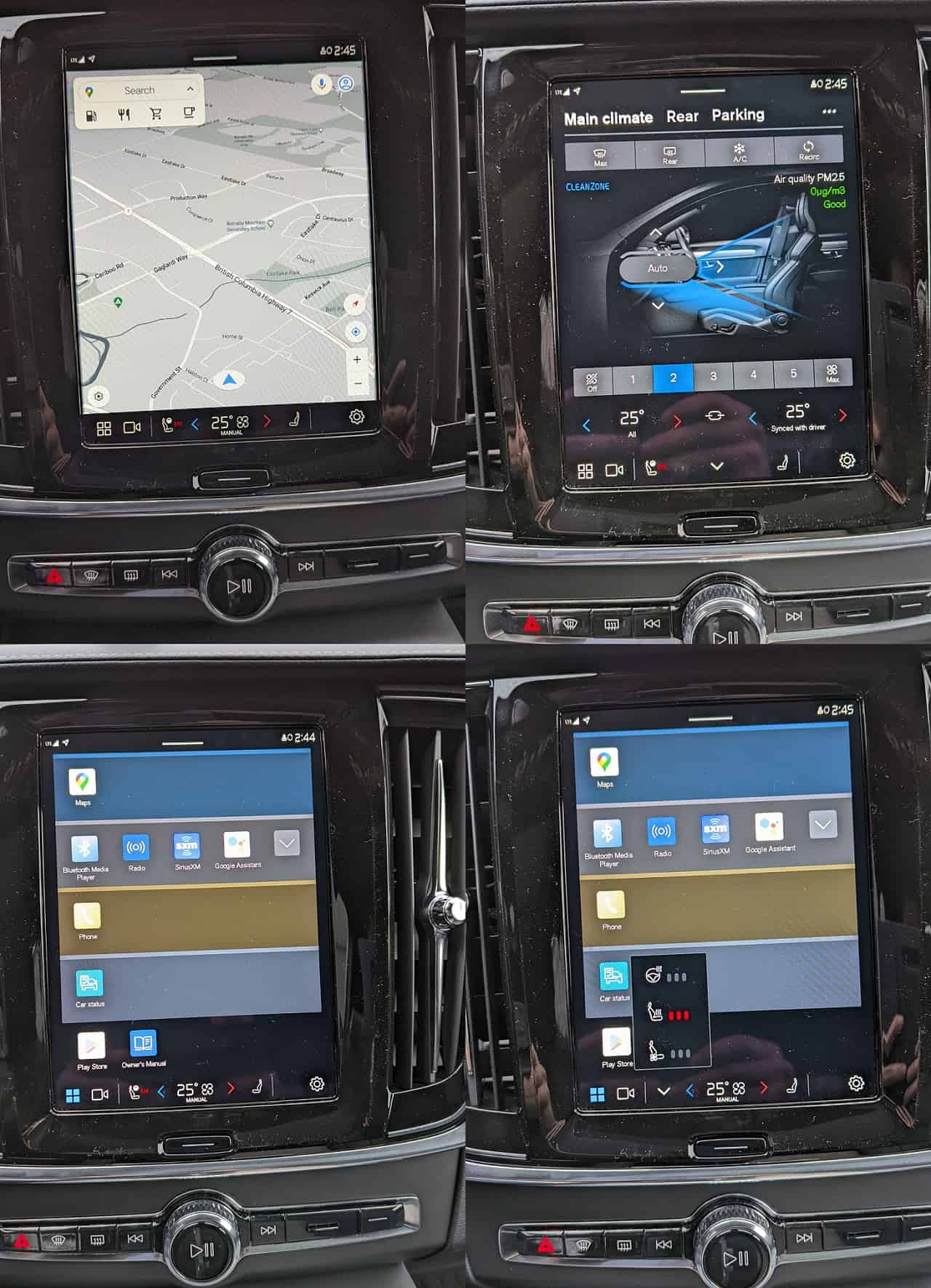 The main screen looks like an Android smart device. It features a bunch of apps like Googles Maps, Radio, Phone, Google Assistant, and even the Google Play Store. As an owner, you'll just sign in with your Google account and use it somewhat like an Android device. Below all these apps are shortcut keys (not physical buttons) for the camera, heated seats/steering wheel, climate control, and settings. Clicking the seat icon brings up the heated/cooled seats and heated steering wheel options. You can choose between three levels of heating for the steering wheel and seats and three levels of cooling for the front seats. The temperature can be adjusted by touching the two arrows, but if you want more customization like fan speed and airflow direction, pressing or sliding up the area where the temperature is brings up the display in full screen giving you more options.
Behind the steering wheel is a 12.3" digital display, showing the gauges. I could only find two different layouts for this, one with a digital speedometer/tachometer and an empty center and the other featuring the same outer area and a map in the middle section. See image below. I would have liked more customization options for this screen, unless I'm mistaken and there are more options available, but I couldn't find them.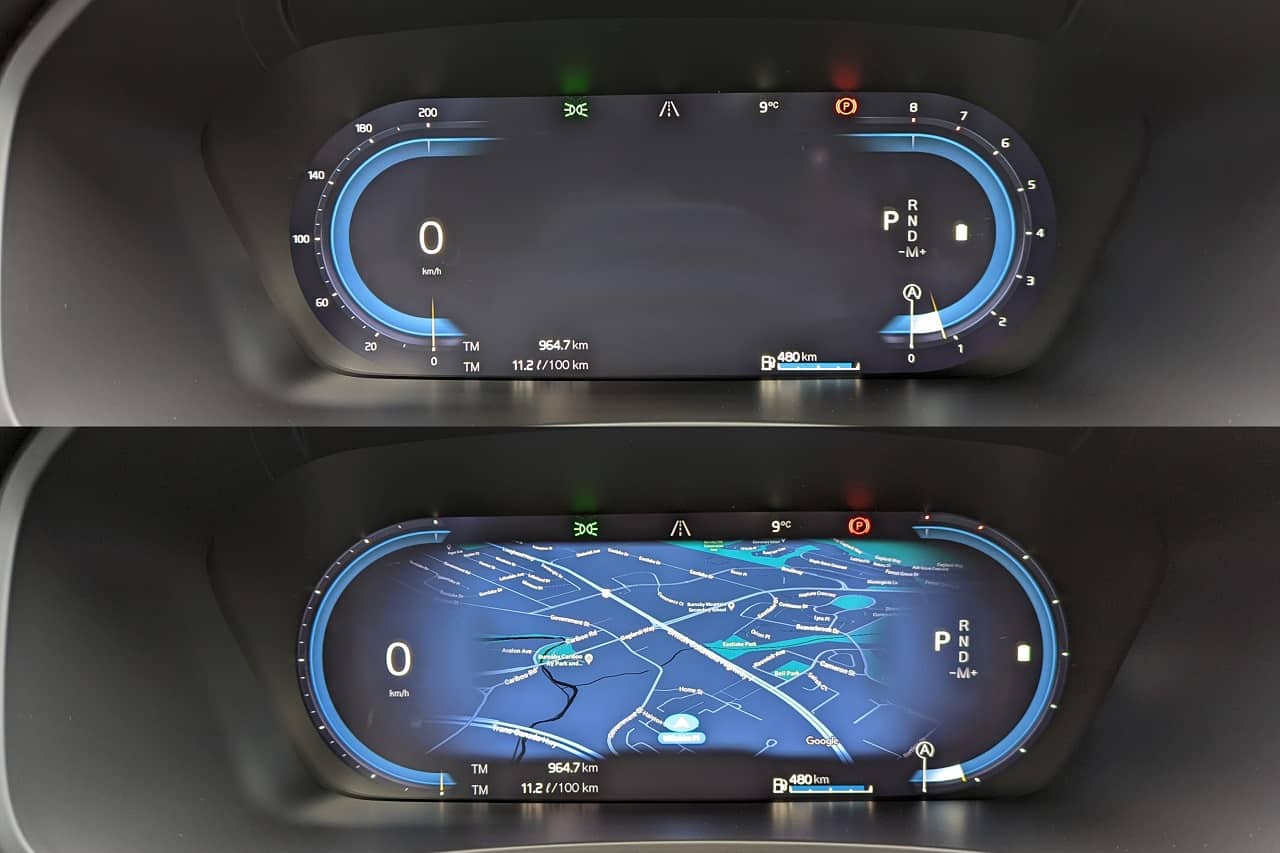 The build quality and interior materials on the Volvo V90 CC are top notch. All of the surfaces you'd normally touch are soft-touch materials and our car was equipped with supple Nappa leather. The seats are comfortable, our car had the optional massage seats, which offered 5 different types of massages with 3 levels of intensity and speed. The massage feature was quite good, not as good as real Swedish massage, but good enough for a car massage.
The second-row seats are comfortable and offer a lot of head and leg room. With the front seats set for my 5'8" frame, I was comfortable in the back seat with many inches of spare leg room. The trunk offers loads of cargo area and if you need more, simple fold the second-row seats and you have more than enough room to satisfy all your shopping needs.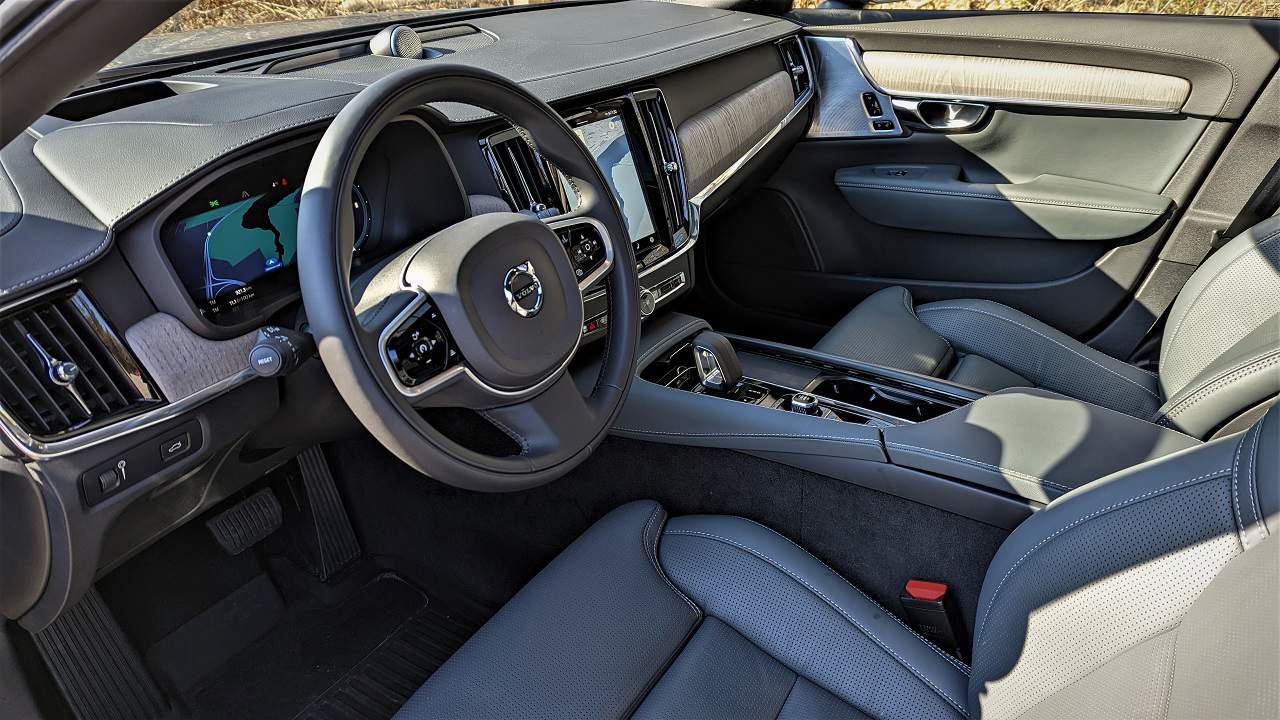 Tech, Safety, & Convenience Features
Volvo cars have always been known for their safety features. The 2022 Volvo V90 Cross Country B6 doesn't disappoint. In base form, it's quite well equipped but you can always add additional packages to just the way you'd like your V90 CC to be. Below are highlights from a long list of standard features and optional packages.
2 Zone Climate Control
Panoramic Sunroof
Keyless Entry with Handsfree Tailgate Opening
12.3 Inch Driver Display
Power Heated Front Seats with Driver Memory
BLIS – Blind Spot Information System with Cross traffic alert
Collision Mitigation Support, Front & Rear
2 Way Lumbar Support
Leather Steering Wheel
Automatic Dimming Inner and Exterior Mirrors
12V Outlet in Luggage Area
Power Operated Tailgate
LED Headlights with Active Bending Lights
LED Front Fog Lights with Cornering
Pilot Assist – Semi Autonomous Drive System w/ Adaptive Cruise Control
Lane Keeping Aid
Park Assist Camera
Front and Rear Park Assist
Drive mode glass button switch CSD (Off-Road Option Only)
2 USB Connections
Bluetooth Connection
Road Sign Information (RSI)
Digital Services Package w/ 4 Year Subscription
Google Automotive Services w/ Google Maps, Google Assistant & Google Play Store
Volvo Cars App w/ 4 Year Subscription
Wireless Smartphone Charger
Wireless device mirroring, CarPlay & Android Auto
19" 5-V Spoke Graphite Diamond-cut Alloy wheel (235/50R19)
Climate Package ($1,000)
Headlamp Cleaners
Heated Rear Seat
Integrated Booster Seats (Optional & Replaces Heated Rear Seat)
Heated Steering Wheel
Lounge Package ($3,850)
4-Zone Automatic Climate Control
Sun Curtains Rear Side Doors
4-Way Lumbar Support
Massage Front Seats
Memory, Passenger Seat
Tailored Instrument Panel
Cushion Extension
Advanced Package ($2,000)
Head Up Display
360° camera
High Level Interior Illumination
Air Quality with Advanced Air Cleaner
Bowers & Wilkins Premium Sound System ($3,750)
Final Thoughts
After spending a week with the 2022 Volvo V90 Cross Country B6 wagon, I was quite impressed with it. It's a large vehicle, so there's lots of passenger and cargo space, it's sits higher than a standard sedan or wagon, so it does give you a bit of CUV feel without sacrificing the driving dynamics. The V90 CC drives like a much smaller car and the 4-cylinder engine is more than capable enough for a vehicle this size, thanks to its turbocharger and supercharger.
If you are in the market for a vehicle that's not quite a CUV and not quite a sedan/wagon, then the V90 Cross Country is what the doctor ordered. For more information on the V90 Cross Country and other Volvo vehicles, head on over to Volvo Canada.
2022 Volvo V90 Cross Country B6 Review Photo Gallery