Whether you like it or not, electric cars (EV) are taking over the automotive industry. Personally, I quite like EVs; I mean they don't provide the same sensation as a nicely tuned gasoline powered sports car with their amazing exhaust sounds, but not too many people are buying sports cars nowadays. Most consumers are buying CUV/SUVs and those brave enough to go against the grain are opting for sedans. While driving an SUV/CUV, you just want a vehicle that's comfortable, quiet, and easy on the wallet. Electric cars have all of these properties (well, maybe not so easy on the wallet when you buy it, but you don't have to pay for gasoline, which is super expensive right now). And as a bonus, EVs provide loads of acceleration that can't be matched by an average mass market sedan or SUV.
A week ago, I had the opportunity to review the Volvo XC40 Recharge, Volvo calls their electrified vehicles "Recharge", whether they're fully electric or plug-in hybrids. I haven't driven too many fully electric vehicles in my reviewing career, but that's changing as more and more options are available. The most recent EV I reviewed was the Hyundai Ioniq 5, which is what I'll use as a point of reference, although they're not going after the same customer.
2022 Volvo XC40 Recharge Canadian Pricing
In Canada, the Volvo XC40 Recharge has a starting price of $59,950 for the Core trim. The Plus trims adds $9,000 to that, with a starting price of $68,950, and the top-of-the-line XC40 Recharge Ultimate has a starting price of $71,800. These prices do not include Freight & PDI and other dealer fees and taxes.
Our review car had an as tested price of $76,315 which included the Climate Package ($1,500), Heated Steering Wheel ($100), 20" 5-V spoke wheels ($1,000), Metallic Paint ($900), and Freight & PDI ($2,015). A fully loaded gasoline only XC40 is priced about $20,000 less than the fully loaded XC40 Recharge.
There are federal and provincial incentives for EVs, but the Volvo XC40 Recharge doesn't qualify for those. The way the incentive works is like this: there are two incentives for electric vehicles. There's a federal incentive of $5,000 and provincial incentive, which ranges from $0 to $8,000. Some provinces offer no incentives, British Columbia offers $3,000 and Quebec offers $8,000 ($7,000 as of April 1, 2022). To qualify for these incentives, the base price of the vehicle must be less than $45,000 and the highest trim must be less than $55,000. Adding different optional paint, wheels, and "packages", which would increase the price, does not disqualify the vehicle from receiving the incentives.
2022 Volvo XC40 Recharge Battery/Motors
All trims of the XC40 Recharge come with a 78 kWh Lithium-ion battery pack, which is good for 359 kilometers of range (the 2021 came with a range of 335 km). The XC40 Recharge comes with a pair of 150 kW electric motors, one for the front wheels and one for the rear wheels. The combined output of 300 kW translates to 402 horsepower and 486 pound-feet of torque, all available from 0 rpm. The XC40 Recharge tips the scales at 2,150 kg (4,730 pounds), batteries are heavy. You may think the XC40 Recharge will be slow weighing this much, but that's not the case. The XC40 Recharge does the 0 – 100 km time in only 4.9 seconds, which is really fast for a compact SUV, but that's the beauty of EVs. In real world driving, it feels much faster than 4.9 seconds.
The biggest concern for people new to the EV world is the range of the vehicle. The Volvo XC40 has a driving range of 359 kilometers on a fully charged battery. However, so much depends on your driving style and weather conditions. EVs are notorious for losing range in colder temperatures and add in the use of the heater to heat up the cabin, you lose even more range. Our review happened in a warmer spring week, so we didn't see any range loss due to cold temperatures, but based on other EVs I've read about and reviewed, you can lose up to 20%.
After range, the next question a potential EV buyer has is the time it takes to fully charge the battery. The XC40 Recharge can be charged from 10% to 80% in 33 minutes at a 150 kW DC fast charger; again, this time also depends on the outside temperature, the car's battery temperature, and the condition of the charger. Also, if you can find a DC fast charger in the first place.
The State of Chargers in the Vancouver, BC Area
I have complained about the lack of DC fast chargers in the Vancouver area in my review of the Ioniq 5, this complaint is not specific to any car brand, but just the overall lack of fast chargers locally. I could not find any DC "super-fast" chargers close to where I live (or even much farther out). The only ones I've found were the 50 kW chargers. I used the BC Hydro DC fast charger, close to my house, but the experience wasn't that great. The app showed two chargers were available, but by the time I got there someone had taken the spots so I had to wait 40 minutes for them to get done, and then I could only charge for 40 minutes due to that location's time limits, which kind of makes sense, these chargers are there to top up your battery, not fully charge it.
In the Vancouver area, there are plenty of "slow chargers", and a lot of them are free to use (for now at least). That is if you can find one available. These are great for topping up your EV when you're shopping or out for dinner etc. In the future, I can see malls and big box retailers/grocery stores having 10's (100's?) of these installed in their parking lots; top up your batteries while you shop. At least that's what I'm hoping for and maybe it's not so simple?
Of course, the best way to charge an electric vehicle is at home. Even using a standard 120-volt outlet is more than enough if you have an average commute, which is a number I could not find. But I'll assume 50 kilometers round trip per day. I was able to gain just around 4 kilometers of range per hour when the XC40 Recharge was plugged into a 120-volt outlet. 14 hours of idle time before/after work should give 50+ kilometers of range daily. If you have a plug at work then that increases your range even further.
However, if you're already spending the money to buy an electric car, you might as well spend the extra $2,000 (it could be less or more depending on the home charger you choose and electricians' rates in your location) to install a 220-volt home charger. According to Volvo, using a standard 220-volt home charge should take between 4 – 8 hours to fully charge the battery and 3 – 4 hours with a 3.6 kW AC fast charging wallbox.
As electric cars become more popular, hopefully the charging infrastructure is going to get better. Tesla had it right from the beginning, they have a huge advantage with their supercharger network. I'm optimistic there will be plenty of places to charge your EV in the future.
Driving The XC40 Recharge
Getting in the Volvo XC40 Recharge, you'll notice the lack of a start/stop button. So how do you turn on the Volvo XC40 Recharge? Just like Tesla, you don't need to press a button to start the XC40, as you enter the car with the key with you, it's already ready to go. You just need to select Drive or Reverse and off you go. A few of the other journalists I talked to, said it took them a few minutes to figure out how to get the XC40 Recharge going.
I don't mind this system; it takes one step away from the driving process. The thing I didn't like was the fact that there is a plastic plug covering the place where the start/stop button is on the gasoline XC40. It just looks weird; I would expect a better finish (completely removing that area and having it smooth with no sign of a button ever being placed there) from a $75,000 car.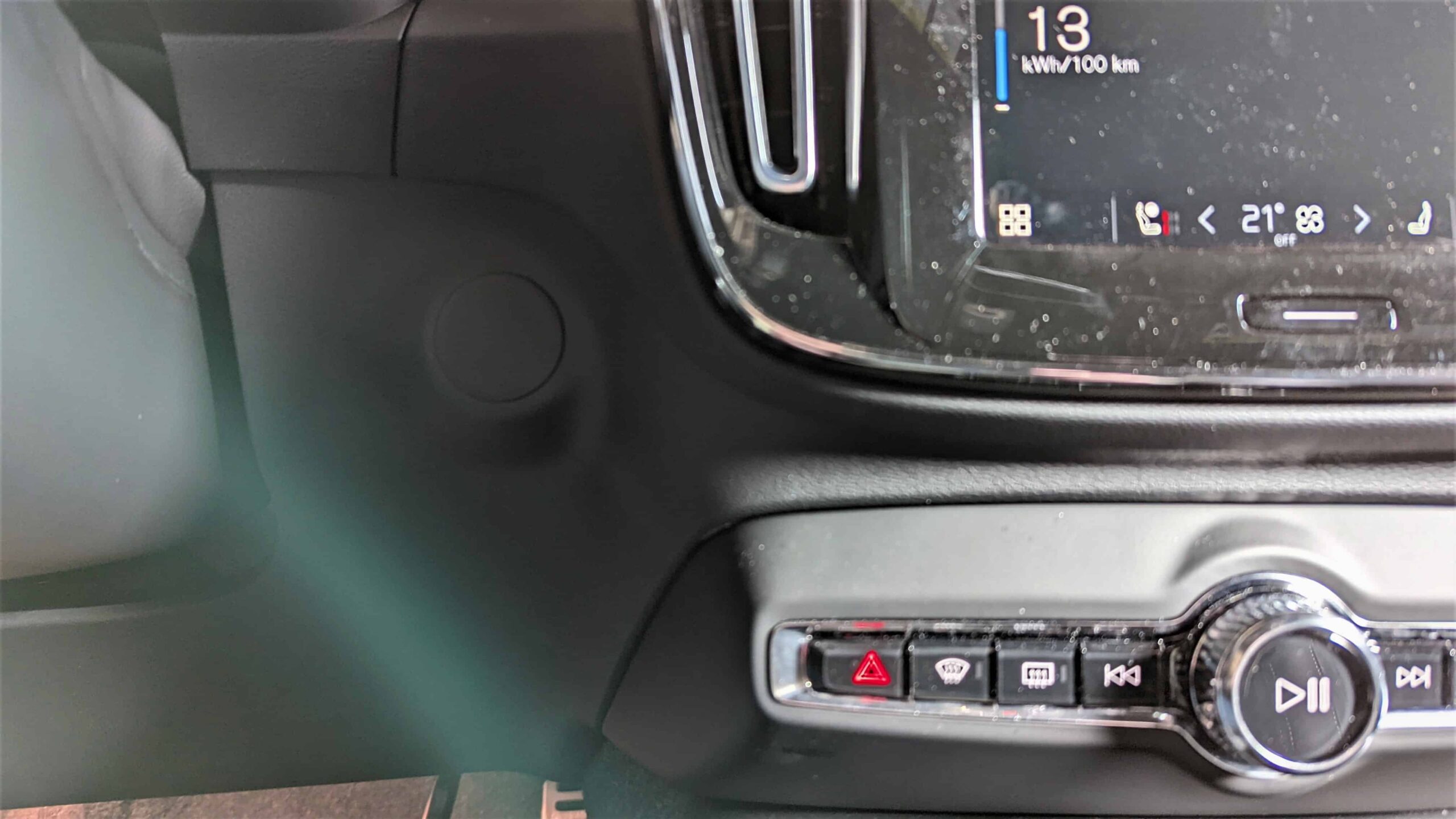 Driving the XC40 Recharge feels like a "normal" gasoline car, it's just much quieter. However, if you put your foot down, all the available torque and horsepower shoot you like a bullet out of a gun. I know electric cars have amazing acceleration, but I was still surprised by the immediate response and how fast I was going within such a short time. The 4.9 second 0 – 100 km/h seems like a much more conservative number than the XC40 Recharge can achieve in real life. Of course, this was just my gut feeling and I didn't have a gadget to measure these times, but we'll take Volvo's word for it.
The suspension is set up quite nicely, it is comfortable and sporty. I didn't feel much body roll on the XC40 Recharge. This is still an SUV body style, so there's bound to be some body roll, but because of the low center of gravity, it seems to hug the road quite well and doesn't bounce around like an average CUV/SUV in this segment.
2022 Volvo XC40 Recharge Styling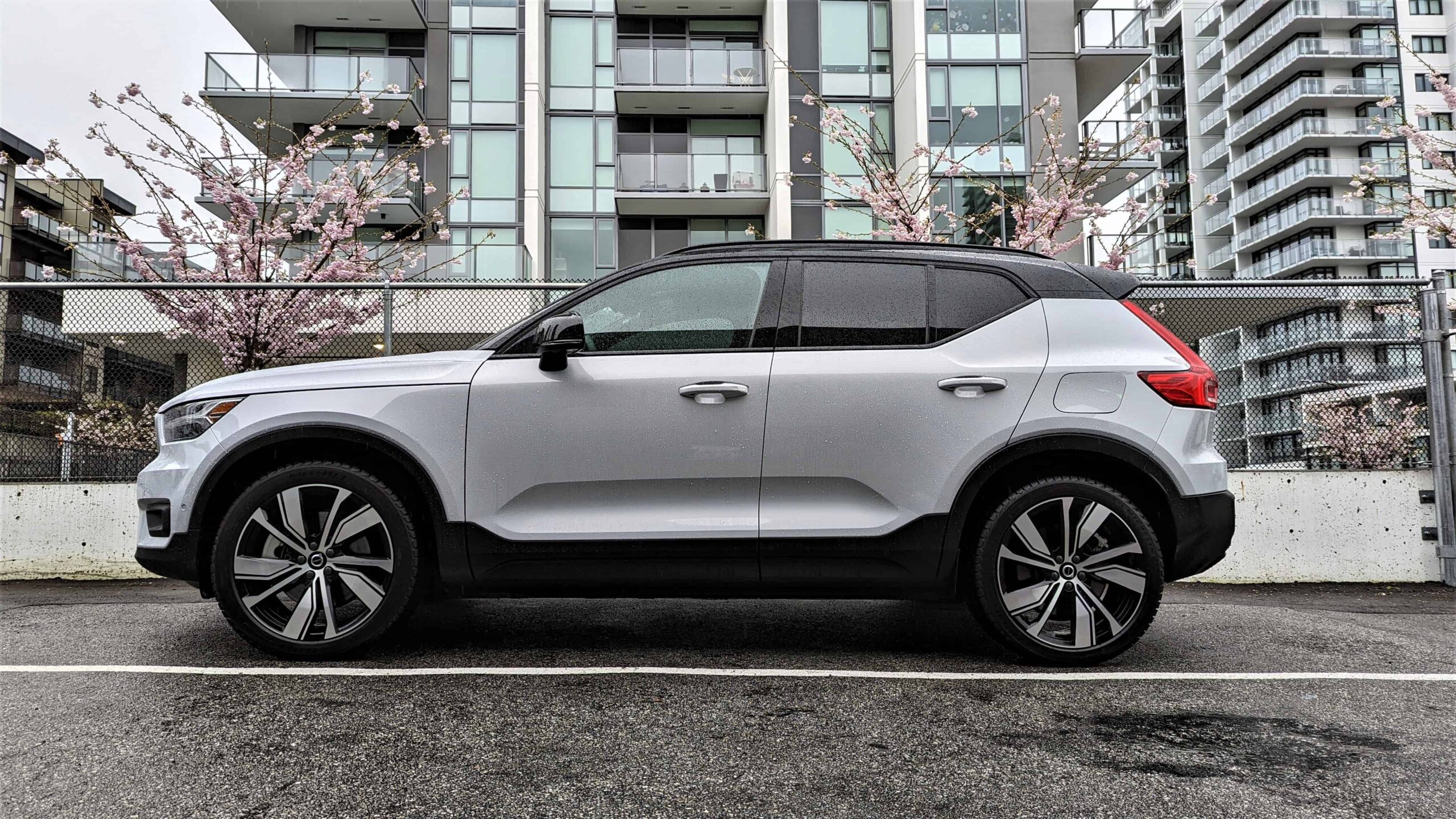 You'd be hard pressed to notice a difference between the gasoline and electric versions of the XC40, if you aren't a total car nut. The biggest difference between the two is the removal of the front grill, in its place is a sold body color piece of plastic/metal. If you were to paint that black, it would become even less noticeable.
Personally, I liked the way the XC40 looks, in both gasoline and EV form. The XC40 has a cute look, reminding me a bit of the Fiat 500, but in a bit of a different way. I would've liked some funky colors to bring out the personality of this fun looking car.
2022 Volvo XC40 Recharge Interior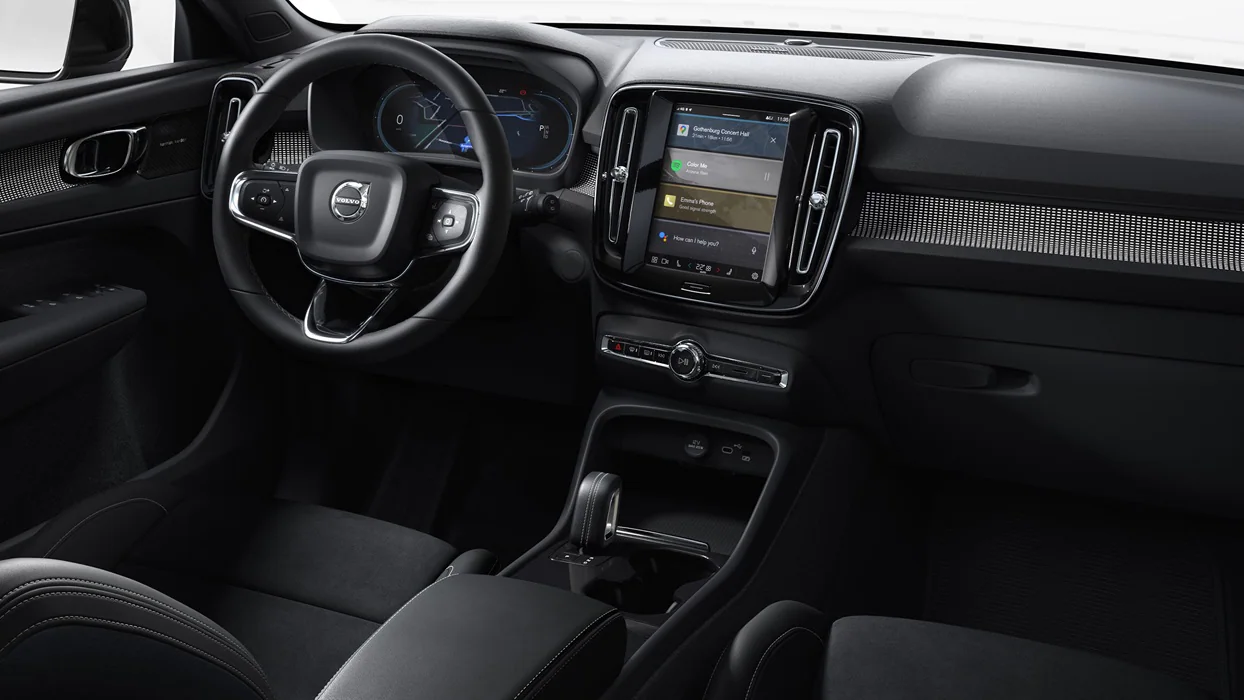 The interior uses the same minimalist design found on all Volvo vehicles. The design is quite nice and clean looking, although some people might find using the infotainment system a bit hard at first because most of the functions are controlled through it. Thankfully, all Volvo cars now use Google's Android system, which is easy to use and the voice command is excellent. You just say "hey Google", like you would on your Android based phone and then tell it what you want to do, like turn on heated seats, change cabin temperature, look for a charging station nearby, look for a coffee shop etc.
Unfortunately, the materials on the interior are mostly hard plastic, I would expect a lot more soft-touch materials in a $75k vehicle. But then again, you are paying about $20,000 for the battery pack.
The interior is quiet thanks to the lack of engine noise and sound deadening materials. Our Canadian highways are smooth, so generally there isn't much road noise in most cars. I did take the XC40 Recharge on American highways, since they use concrete blocks, which are generally quite loud but the XC40 kept the interior noise to a minimum. The seats are comfortable and there's a good amount of room for the front and rear passengers. Unlike other EVs that are built as EVs from the ground up, the XC40 Recharge does have a transmission tunnel in the middle of the back seats, which takes away quite a bit of leg room if you have a passenger in the rear middle seat.
Final Thoughts on the XC40 Recharge
The XC40 Recharge is Volvo's first fully electric vehicle and I think they've done a really good job with it. It is on the expensive side, I know batteries are expensive and Volvo is a premium brand, but I would still have liked the price to be lower, especially for the top trim.
The XC40 Recharge is quite fun to drive and the acceleration is addictive. It has a good amount of range for normal driving, taking on a road trip shouldn't be too much of a problem, as long as you can find fast chargers in your area.
Overall, I had a fun week with the XC40 Recharge and I'm looking forward to what Volvo will have on offer as they transition to a fully electric brand.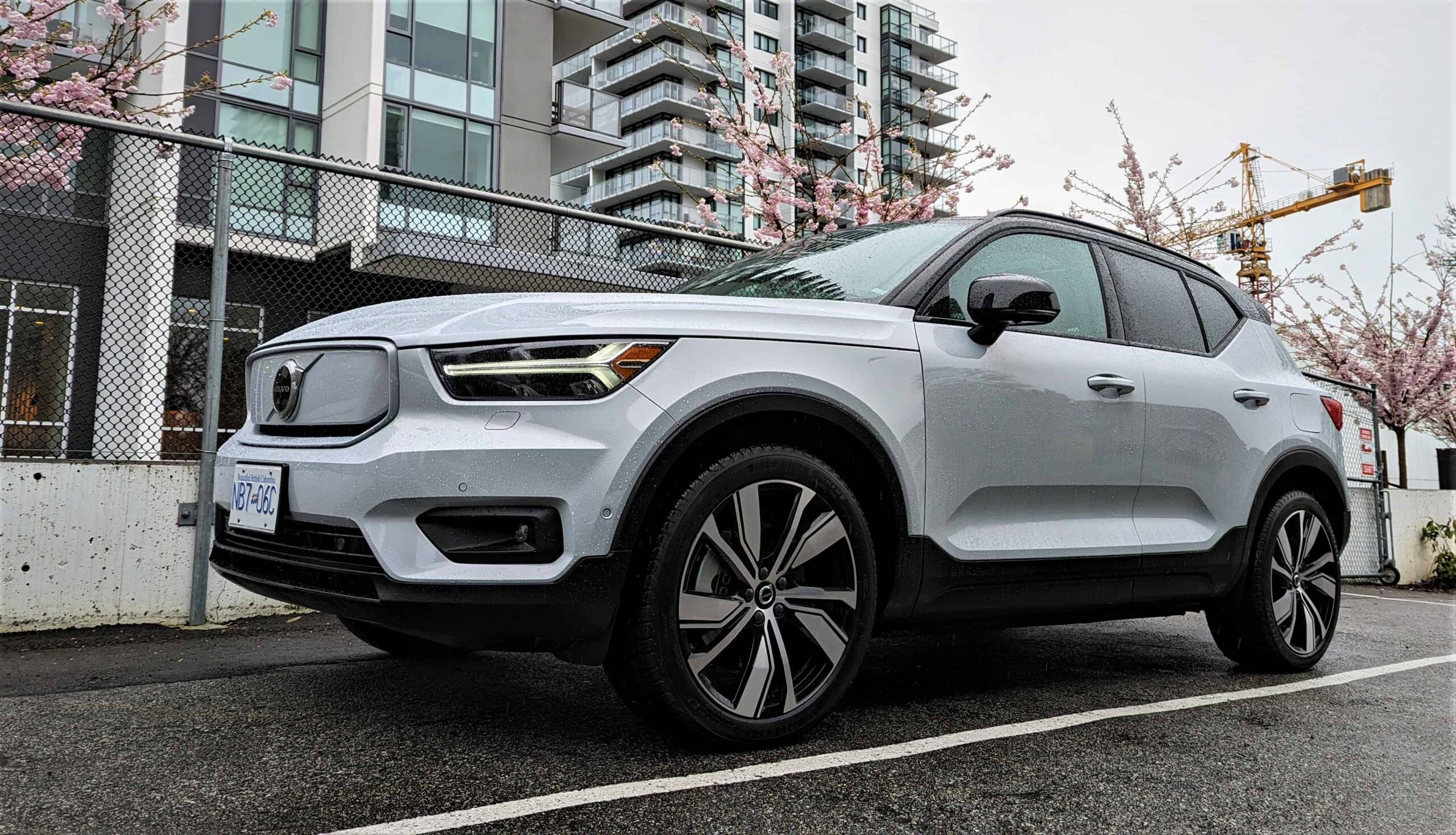 For more information on the XC40 Recharge, please visit Volvo Canada's official website.