There are many iconic small cars that were very popular back in the day, but only a few of them were brought back to life by their manufacturers to take advantage of their popularity. Cars like the Volkswagen Beetle, Mini Cooper, and the Fiat 500. All three cars are bigger than they were back in the 50's and 60's, but the Beetle and Cooper have grown in size after they were reincarnated, the Fiat 500 on the other hand, is still relatively small and is sticking to the same formula of a very small car.
Last week we were given the keys to a 2016 Fiat 500 1957 Edition, to experience first hand why these cars are so popular in Europe and even in Canada. Canadians love small car, and the Fiat 500 can be seen everywhere in the busy streets of Vancouver.
The original Fiat 500 or Cinquecento, was in production from 1957 to 1975, selling almost 4 million units worldwide. The car was given a second lease on life in 2007 in Europe and it started selling in North America in 2010, it has been selling quite well in Europe and here. The overall design of the 500 remains the same, however, there have been minor tweaks along the way and lots of different special editions, like our "1957 Edition".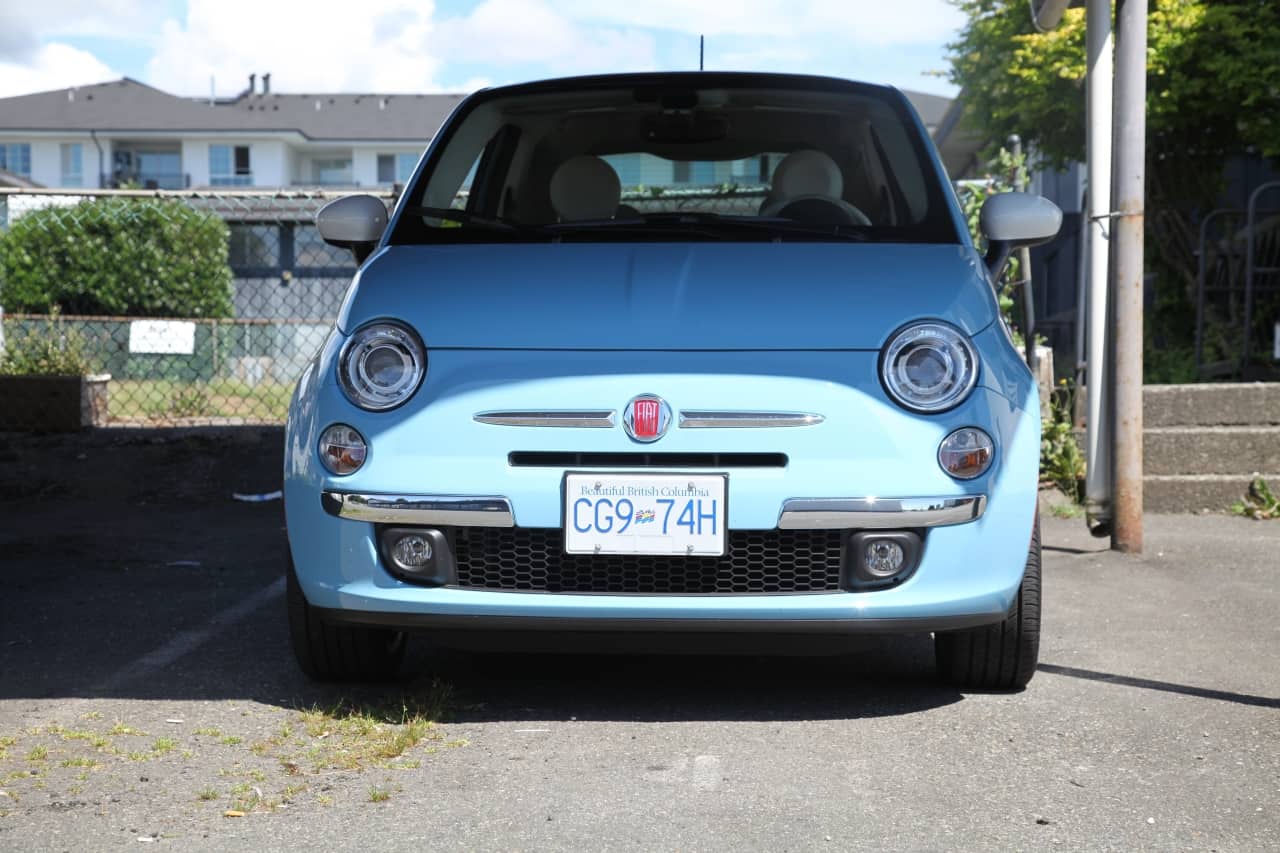 Fiat 500 Pricing
The Fiat 500 is available in quite a few configurations, including the regular 500, turbo, convertible, and Abarth. The regular Fiat 500 is available in four trims: Pop, Sport, Lounge, and 1957 Edition. Prices start at $18,995 for the 500 Pop, $21,995 for the Sport, $23,995 for the Lounge, and $25,995 for the 1957 Edition.
Our test vehicle (1957 Edition) had a sticker price of $28,775. Price included options such as Customer Preferred Package 21F ($2,000), which includes leather seats and steering wheel, retro package, and white mirror caps, Sunroof ($750), Navigation ($495), Compact spare tire ($295), Rear Park Assist ($375), AC tax ($100), and Destination charges ($1,745).
Fiat 500 Engines
The regular Fiat 500 is powered by a naturally aspirated 1.4 liter MultiAir inline-4 engine, producing 101 horsepower and 98 pound-feet of torque, mated to either a 5-speed manual or a 6-speed automatic transmission. There are more powerful engines available, a turbocharged 1.4 liter engine (available on the 500 Turbo), producing 135 horsepower and 150 pound-feet of torque, and the Abarth 500 with its 1.4 liter producing 160 horsepower and 170 pound-feet of torque (manual), and 157 HP and 183 lb-ft of torque (automatic).
According to Fiat, the 500 hatchback with the naturally aspirated 1.4 liter engine should consume 7.6 Liters/100 kilometers in city driving, 5.9 L/100 km on the highway, and 6.8 L/100 km combined. Fiat Canada website doesn't state whether these numbers are for manual or automatic transmission equipped cars. Our week long review netted us 7.8 L/100 km in combined driving (70/30 city/highway) with some very enthusiastic driving. I also did my test loop of about 24 kilometers with 50/50 city/highway driving, with normal speeds etc, the computer showed a combined consumption of 6.3 L/100 km.
Design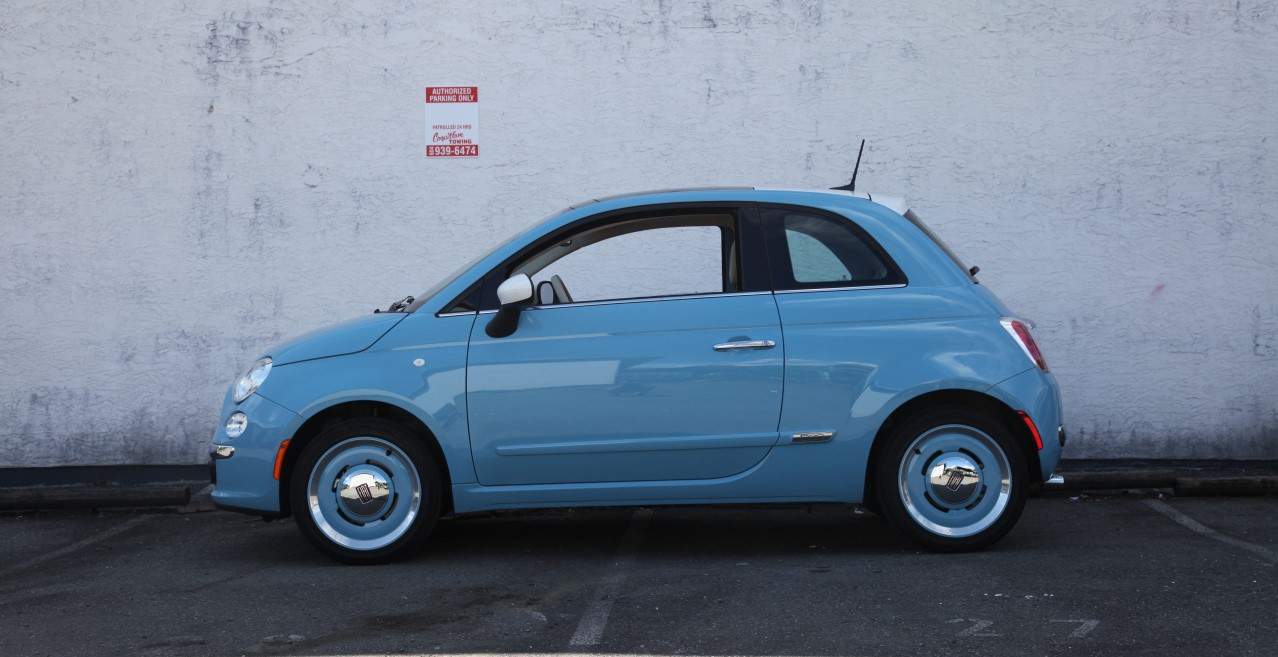 Let me start off by saying I absolutely loved this car. Sure some people might say this is a girls' car, but I'm man enough to admit my love for this car's design. The Fiat 500 already is a very retro looking car, add in the special "1957 Edition", which pays homage to the original 500 from 1957, it looks like it came into this century in a time machine. It looks absolutely fantastic with the 1957 Edition retro themed colors, which consists of a white roof and mirror caps, and very retro body-color matching steel wheels.
The Fiat 500 1957 Edition is like a little puppy, it made me smile every time I saw it in the parking lot, and my wife loved it even more than I did. We nickname the car "cutie" or "QT".
Driving
The Fiat 500 is offered with an automatic and, thankfully, a manual transmission. I was very happy to see the car we reviewed came with a manual transmission. In my opinion, a manual is the only way to go on small engines like these, a manual transmission really optimized the available power and gives you more control.
I was expecting the drive to be pretty boring on the Fiat 500, I mean 101 HP is not much power by today's standards. However, I was very surprised to find out how much of a blast it was to drive around in this peppy little car. I liked driving this little hatchback as much as I liked looking it at.
The Fiat 500 is not a fast car by any means, but it is so much fun to drive once you understand the power delivery. Because of its small size and very short wheelbase, zigzagging in and out of city traffic is very fun; the 500 just loves to be tossed around. It is a perfect car for crowded city streets, which is especially true for Vancouver. Finding parking spots becomes quite easy with this little car.
Speaking of parking, the Fiat 500 was so easy to park that it was kind of hard at the beginning. Yes that doesn't make sense. But let me explain, every time I tried to park, my mind would use the bigger size of cars I'm used when I'm parking, so the Fiat 500 would end up all crooked in a spot. It only took a day to get used to the smaller size and my brain accepted how easy it was to park, after day one I could even park the 500 with my eyes closed (not recommended).
The 101 horsepower seems to enough for city runabout, the manual really helps with delivering the right amount of power, with that being said, I would like to drive the 500 Turbo to see how much the extra power helps. Below 2,000 rpm there isn't much power, but revving the engine above 2k rpm makes it quite peppy and fun to drive, driving like this obviously isn't going to get you the posted fuel economy.
The gear shifts on the 5-speed transmission are buttery smooth and the clutch is very light. I would have liked to see a 6-speed manual, but the 5-speed does a decent enough job. The suspension is also quite nicely tuned, it isn't too soft or hard, it's comfortable and sporty at the same time.
I had quite a blast driving around in the Fiat 500, and drove the car a lot and only needed the smallest excuses to get out and go somewhere, this type of thing normally only happens to me when I'm reviewing a fun sports car.
Interior
The interior the Fiat 500 is very retro looking, just like its exterior, and with the extra "retro-ness" of the 1957 Edition, the result is a beautiful looking retro Italian interior. The brown leather seats look absolutely fantastic and are very comfortable. The brown leather on these seats looks high quality and the beige stitching and the embroidered "500" really gives the interior a luxury feel. The front seats are very comfortable and easy to get in and out of due to their height. The rear seats are pretty easy to get in and out of, and there is more room back there than I expected. I'm 5′ 8" tall and I could sit behind myself, with my knees touching the back of the front seat. However, the back seats are pretty hard and head room is limited, my hair was touching the headliner; it will not a comfortable place on long journeys.
The interior has a pretty simple and easy to understand layout. The dashboard is painted in gloss beige and houses a small touchscreen for the navigation system. Below it are the climate control buttons, buttons for the windows, and the gear lever. The gauge cluster is very simple with one round screen that shows rpm, fuel economy, and some other relevant information.
Impressions
Overall, I really enjoyed my week with the 2016 Fiat 500 1957 Edition. I had a lot more fun than I thought I would. The car is quite a head turner and is very cool looking. It's pretty fuel efficient and has a decent amount of power for city driving, its size is perfect for the busy streets of large cities where parking is at a premium. My only major complaint is its price, $28k seems like a lot of money, even though it is a very cool car and it's also Italian.
For more information and configure your very own Fiat 500, visit fiatcanada.com.