The Genesis brand was launched as an independent brand in 2015, it's the luxury brand for the Korean automaker Hyundai. In the first few years, Genesis was only producing sedans, however in today's market conditions, an automotive brand will find it hard to survive just on cars. For 2022, Genesis gave us Canadians and American's the GV80 mid-size luxury SUV. I reviewed the GV80 2.5T earlier this year and was really impressed with it. Last week I had the opportunity to review the top-of-the-line GV80 3.5T Prestige, below are my thoughts on the more powerful version of this luxury SUV.
2022 Genesis GV80 Canadian Prices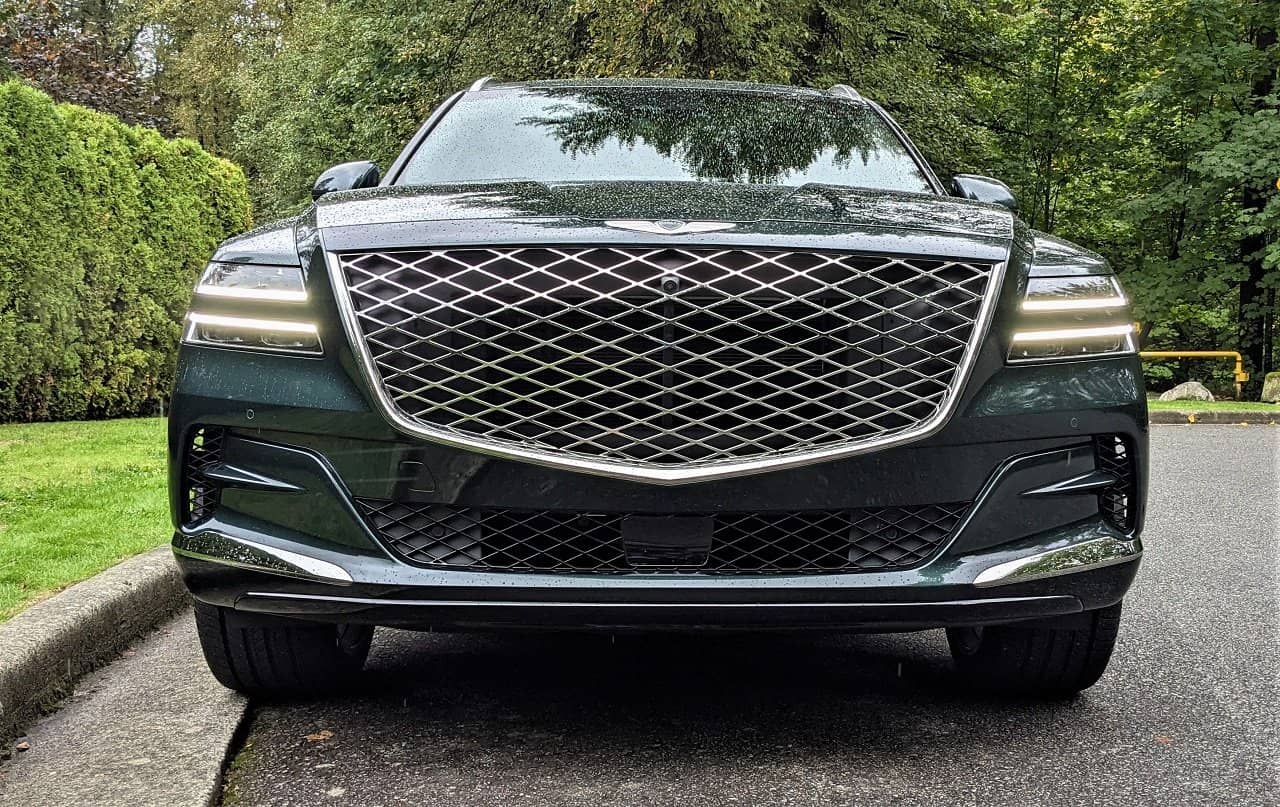 Unlike the Genesis G80 3.5T Prestige I reviewed last week, which is offered in only two trims, the 2022 Genesis GV80 is offered in four trims. The base trim is called GV80 2.5T Select AWD and has a price of $65,000. The next trim is the 2.5T Advanced AWD and is priced at $70,500. The other two trims come with V6 engines, the 3.5T Advanced AWD has a price of $77,000 and the 3.5T Prestige AWD is priced at $85,500. Our review car is the $85k version, it's not cheap but you do get a lot for your money. A similarly equipped Mercedes-Benz GLE is priced about $15,000 more.
All of the trims, except for the 3.5T Advanced, are $500 more than the 2021 model year. The 3.5T is $3,000 cheaper than the 2021 model year, however, it loses the 21-speaker Lexicon audio system.
A Mercedes-Benz GLE 450 might have a lower starting price, but they will nickel and dime you to death and raise the prices about 50 – 60% when you're done ticking all the boxes. The beautiful thing about price of Genesis vehicles is, they don't nickel and dime you. Genesis has made it really simple, pick the trim you want, pick the exterior color and interior material (if more than one option is available), pick a couple of accessories, and pick an extended protection plan, and you're set. The price also includes Freight & PDI, you just pay local sales tax on top of the price.
2022 Genesis GV80 Lease Price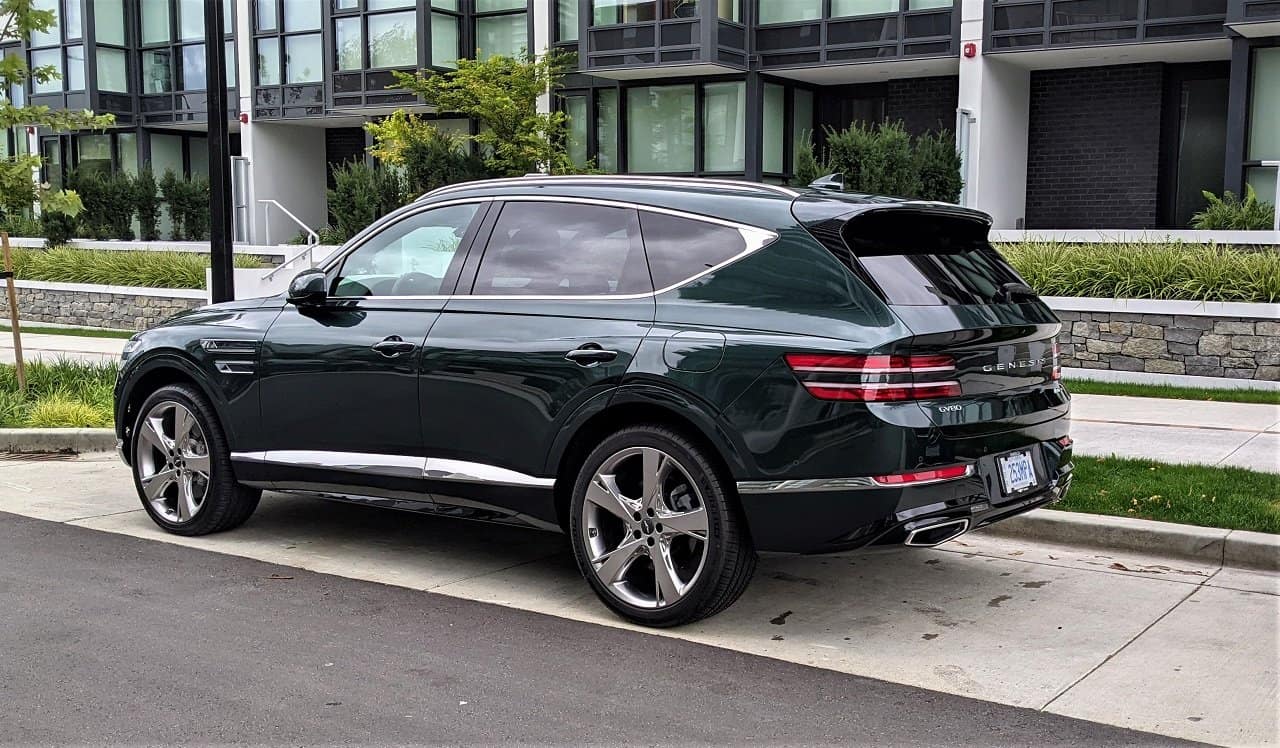 Alternatively, instead of buying a GV80 outright, you have the option of taking on a Genesis GV80 lease. In my experience, most people lease luxury vehicles rather than outright buying them; they write it off as business expense, if they own a business.
The Genesis GV80 lease price for our top-of-the-line trim is currently $1,087.34 per month with an interest rate of 3.90% for 60 months, with $1,000 down payment. Financing a GV80 is also available at 2.90%, which works out to $1,518.98 per month for 60 months with $1,000 down payment. These prices are pre-tax and might change as interest rates rise or fall.
If you own a business or are somehow able to write if off, then a Genesis GV80 lease makes quite a lot of sense.
Genesis GV80 Engines
The 2022 Genesis GV80 is offered with two engine choices, a turbocharged 2.5-liter 4-cylinder and a turbocharged 3.5-liter V6. The 2.5T produces 300 horsepower at 5,800 rpm and 311 pound-feet of torque between 1,650 – 4,000 rpm (on premium fuel). The 3.5T produces 375 horsepower at 5,800 rpm and 391 pound-feet of torque between 1,300 – 4,500 rpm. Power is sent to all four wheels via an 8-speed automatic transmission on both engines.
According to Genesis, the 2.5T equipped GV80 should consume 11.3/9.5/10.5 liters/100 kilometers in city/highway/combined driving. The 3.5T equipped GV80 should consume 12.9/10.4/11.8 L/100 km.
Driving the 2022 Genesis GV80 3.5T
In my last review of the GV80, I was extremely surprised and impressed with the power produced by the 2.5T 4-cylinder engine. The twin-turbo 3.5-liter V6 is even more impressive and downright fast, like really fast. For some reason, I felt the GV80 was faster than the 3.5T equipped G80 sedan, which should be lighter than an SUV. 375 HP and 391 lb-ft of torque are impressive numbers, but I was still surprised by how fast the GV80 felt and I mostly left it in Eco mode, I didn't even feel the need to go into the Sport mode.
Speaking of modes, the GV80 comes with Comfort, Smart, Eco, Sport, and Custom modes for on-road driving. It also comes with off-road or "Terrain" modes, which include Snow, Mud, and Sand. I highly doubt anyone will take their GV80 off-roading, but the snow mode should come in handy in Canadian winters.
The GV80 is easy to drive in the city and highway driving and passing is a breeze. Just put your foot down and you're doing illegal speeds in no time, the cabin is so quiet, you don't even realize how fast you're going. The transmission shifts gears smoothly, it's not some super quick shifting transmission, but this is not a sports car. The suspension is soft but not floaty, it perfectly suits the GV80's personality of relaxed driving. And just like the G80 Prestige, the GV80 Prestige comes with "Preview-ECS", which is an electronically controlled suspension that uses a front camera sensor and navigation data to automatically adjust the suspension damping.
The Genesis GV80 3.5T is rated at a maximum towing capacity of 6,000 pounds, however, the 2.5T is also rated at 6,000 pounds. I would've expected the smaller engine to have lower capacity, but I guess the 3.5T would have a much easier time towing that much weight.
Styling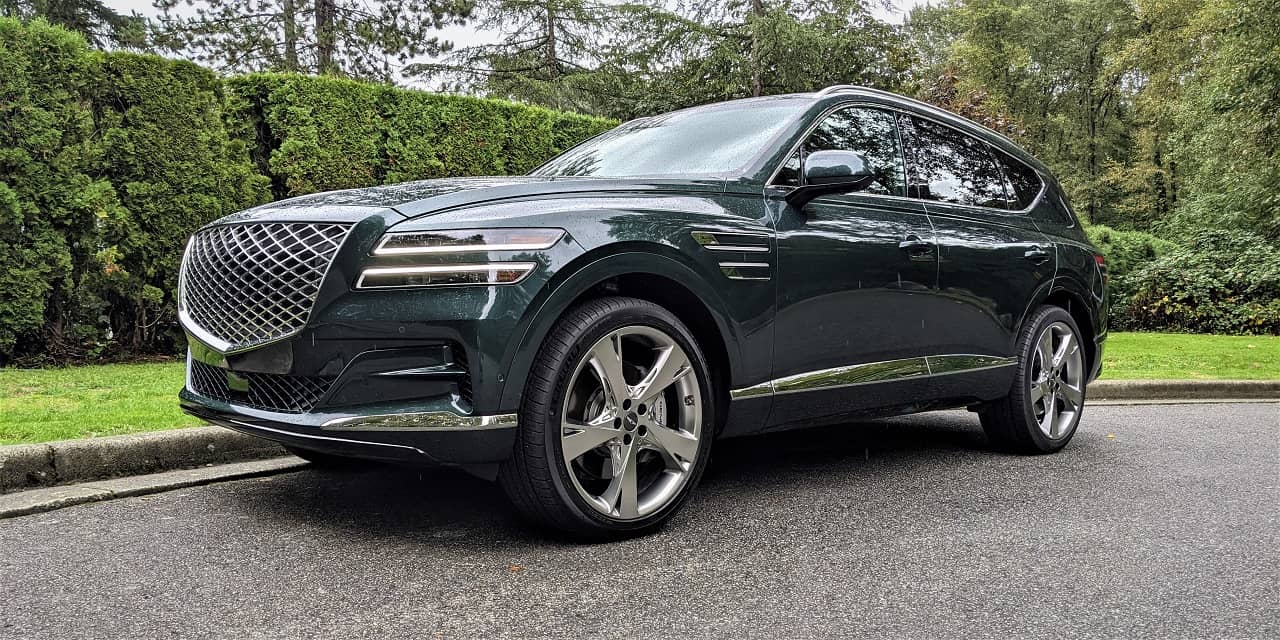 I didn't notice any differences between the 2.5T and 3.5T GV80 styling; the 3.5T GV80 Prestige does come with bigger wheels, which are 22" compared to 20" wheels on the 2.5T Advanced trim. I personally liked the overall look of the GV80 and still do, it's quite the head turner and has a lot of road presence.
Interior & Features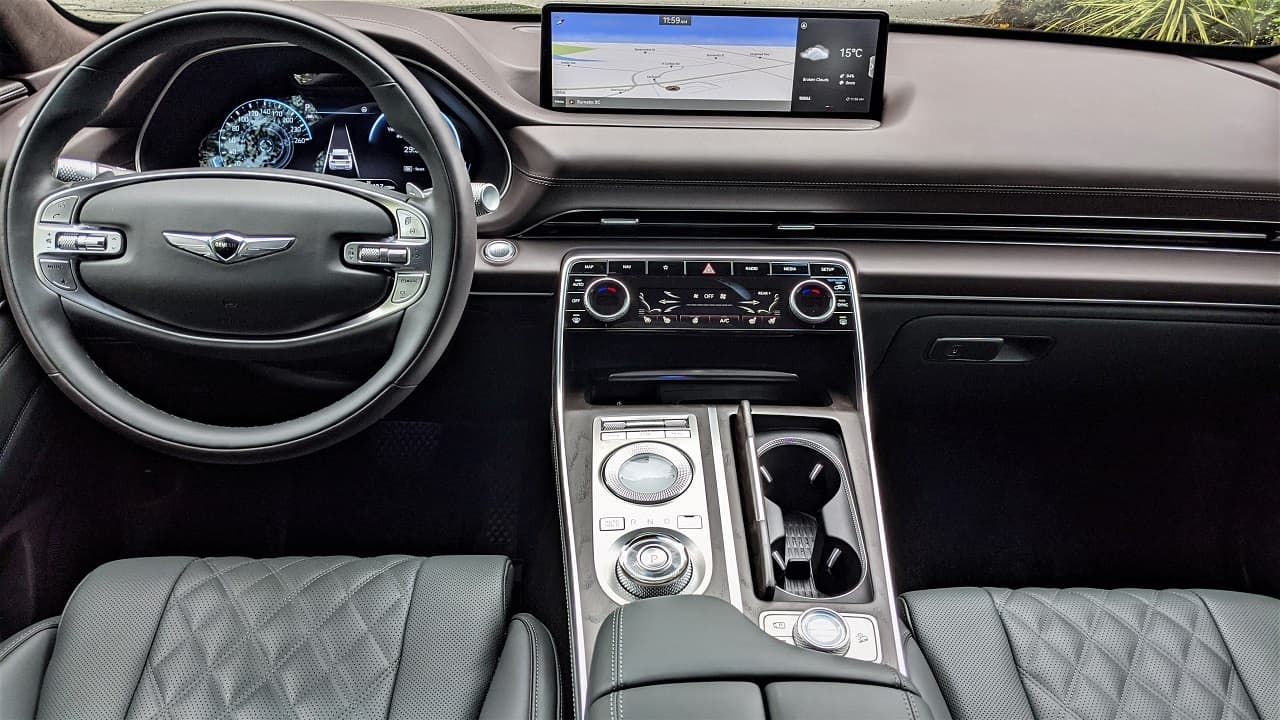 The GV80 Prestige interior is identical to that of the GV80 Advanced, in terms of layout and the overall look. But since the Prestige is the top-of-the-line trim, there are some differences. The biggest difference is the addition of a third-row seat, which might come in handy when you have an extra passenger or two. The GV80 is a mid-size SUV, so the third-row seats are tight. Getting in and out is easy enough and I found decent enough leg room, however, it was uncomfortable for my feet as the second-row seats are quite low and I couldn't tuck in my feet. The head room is also limited and I was touching the headliner, at 5' 8", also there isn't much thigh support. These seats are best left for kids or a short trip in an emergency situation.
The GV80 Prestige trim comes with Nappa leather, which come in a variety of colors depending on the exterior color. The headliner is upgraded to microfiber suede instead of cloth. This trim also comes with 16-way power driver seat (as opposed to 12-way on the Advanced trim) and comes with "Ergo Motion" seats, which is kind of like a massage feature, but not quite a massage feature. This feature gives a lighter version of a car massage, Genesis calls it stretches rather than massage. There are three different types of these stretches: Pelvic Stretching, Lumbar Stretching, and Whole Body Stretching. The Prestige trim also uses real open pore wood instead of aluminum inserts.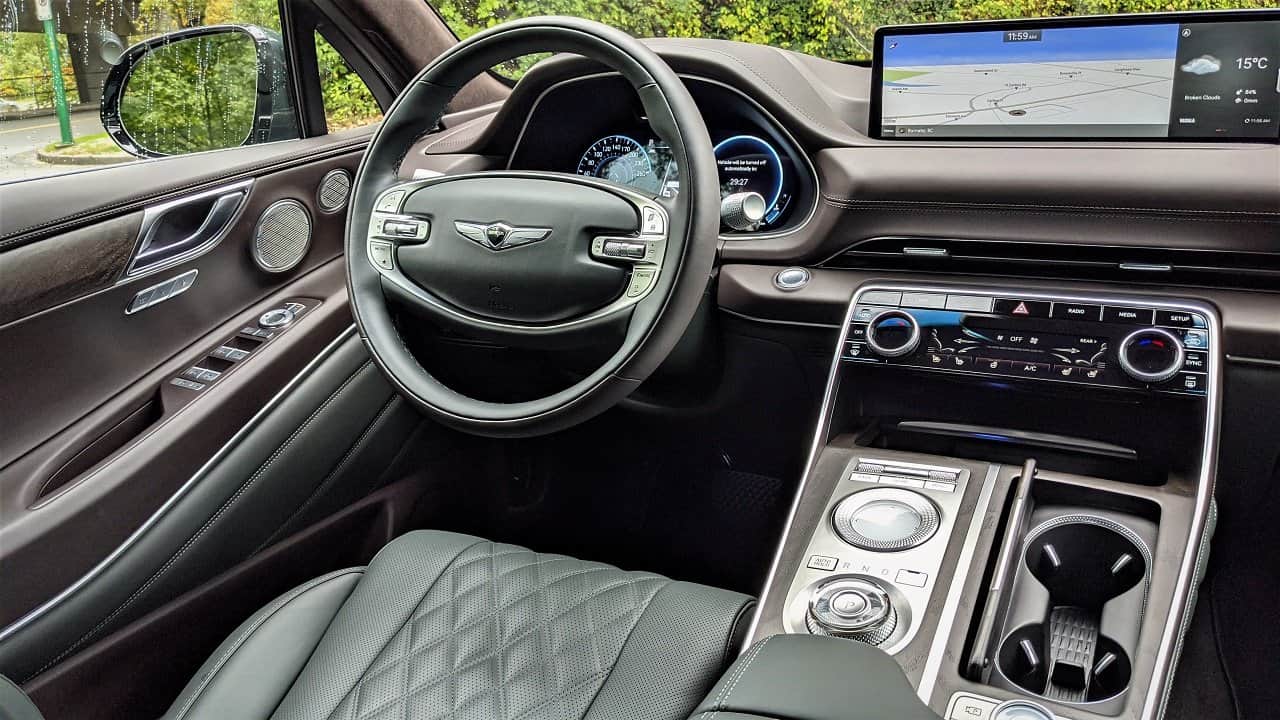 Like the G80, the GV80 Prestige comes with a 3D 12.3" digital gauge cluster. The 3D digital cluster is really impressive, giving the 2D gauges real depth that looks like analogue gauges. Unfortunately, it doesn't really show in pictures, you'll have to see it in person to truly appreciate it. I also mentioned in my G80 review that I didn't use the 3D feature too much, it can be turned off, because depth perception issues with my eyes.
Like many other higher-end Hyundai (and Genesis) products, the Prestige trim comes with Remote Smart Park Assist, which is a useful feature for getting in and out of tight spots without the worry of dinging the wall or other cars near you. Parking spots and garages are quite large in North America, but there are times you actually use this feature.
The GV80 Prestige comes with soft-close doors but it doesn't come with lock/unlock sensors on the rear doors. Even a lot of non-luxury vehicles have the ability to be locked/unlocked from all four doors, so I would expect it in a luxury SUV that costs over $85,000. However, unlike the G80 Prestige, the GV80 does come with power rear window shades, which is something I complained about on the G80 sedan.
Like the previous Genesis vehicles we reviewed, the interior on the GV80 has a clean layout and features all the latest tech and gadgetry we've come to expect from modern cars. At the center of the interior is a 14.5" widescreen touchscreen that displays the standard navigation, radio/media information, and front, rear, and side cameras' output. The graphics on this screen are crisp and it's very responsive. It is a touchscreen but it's set quite far and isn't the easiest to reach. I've noticed some manufacturers are doing this, I'm presuming to stop you from touching the screen and taking your eyes off the road and hands off the steering wheel. Instead of touching the screen, you can use the large circular touchpad to control the pointer on the screen. This touchpad can be used to write letters/numbers for adding in address to the navigation system. I've never been a fan of writing letters/numbers, as I always mess it up and that's when I'm parked, I think it's impossible to use it while you're driving. Your next alternative is using voice command to insert an address.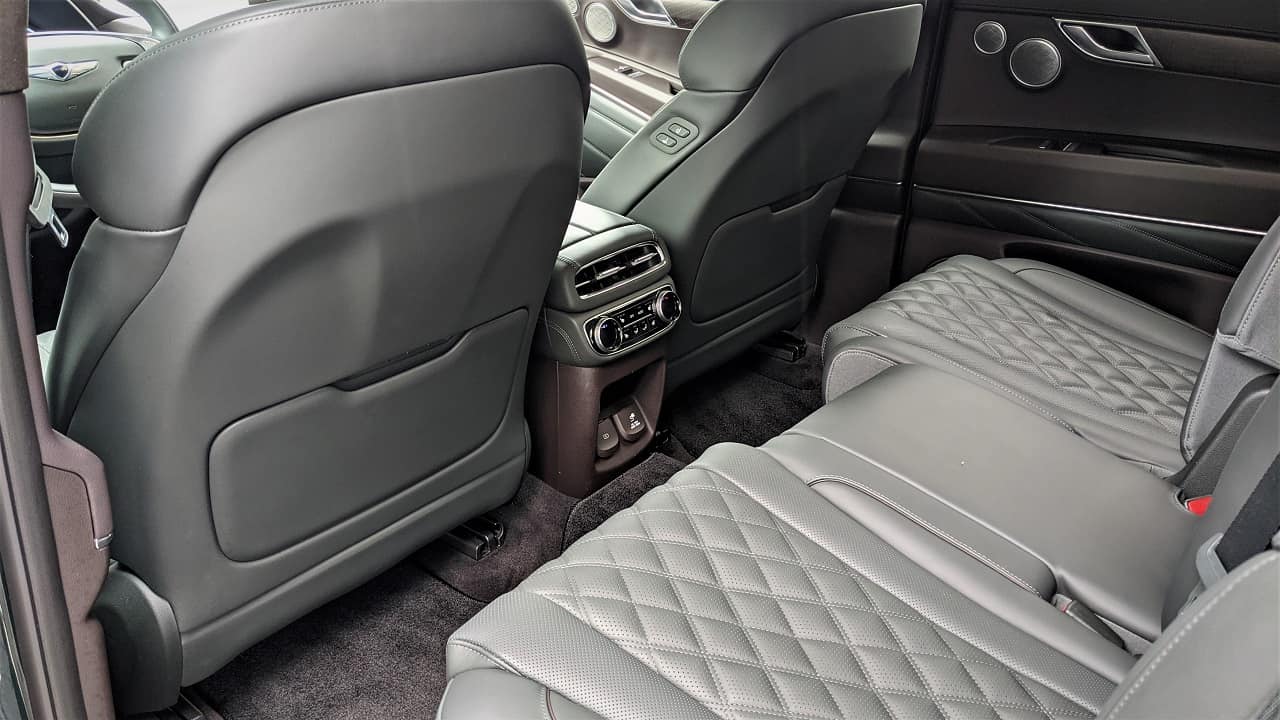 The interior is extremely quiet, as you'd expect in a luxury vehicle, and it's really comfortable. The seats are supportive and come with heating and cooling, perfect for long journeys. The second-row seats are also just as comfortable as the front seats and offer more than enough leg and head room. As I mentioned above, the third-row seats are better left for children.
Below is a list of some of the convenience, tech, and safety equipment our GV80 Prestige came with.
Full LED Headlights
Automatic Headlights
High Beam Assist
LED Daytime Running Lights
LED Taillights
LED Outside Mirror Turn Signal Indicators
Power-Folding Mirrors
Auto-dimming Side Mirrors
Panoramic Sunroof with Tinted Glass
Acoustic Laminated Glass (Noise Reducing)
16-way Power Driver Seat
12-way Power Passenger Seat
Front Passenger Seat Walk-in Device
Heated and Ventilated Front Seats
Heated and Ventilated Rear Seats
40/20/40 Split Folding Rear Seats
Rear Center Folding Armrest with Dual Cup Holders
Lexicon premium audio system with 21 High speakers
Android Auto & Apple CarPlay
4 USB slots
Bluetooth Hands-free Phone System
Fully Automatic 3 Zone Climate Control
Smart Cruise Control with Stop & Go
Wireless Charging Pad
Proximity Key with Push-Button Start
Rear view Camera with Parking Guidelines
Surround View Monitor
Blind Spot View Monitor
Heads-up Display
Power Hands-free Smart Liftgate w/ Auto Open
Remote Smart Park Assist
Vehicle Stability Management (VSM)
Electronic Stability Control System (ESC) with Traction Control System (TCS)
Anti-lock Braking System (ABS)
Brake Assist (included with ESC)
Hillstart Assist Control (HAC)
Parking Distance Warning (4 sensors in front and rear)
Blind-Spot Collision-Avoidance Assist (BCA) and Rear Cross-Traffic Collision-Avoidance Assist (RCCA)
Parking Collision Avoidance-Assist Rear (All trims except Select)
Lane Departure Warning (LDW)
Lane Keeping Assist (LKA)
Lane Following Assist (LFA)
Forward Collision-Avoidance Assist
Driver Attention Warning (DAW)
Forward Attention Warning (All trims except Select)
10 Airbags
Final Thoughts
I was a huge fan of the Genesis GV80 2.5T and I'm an even bigger fan of the more powerful 2022 Genesis GV80 3.5T. Hyundai has done an amazing job at creating a luxury SUV that looks good, has a lot of power, and is ultra luxurious on the inside. For more information on the GV80 and other Genesis vehicles, please visit genesis.ca.
2022 Genesis GV80 3.5T Prestige Review Photo Gallery