I love project cars, and I'm always checking out on-line tuner communities where people discuss the projects that they are working on. It's a great way to meet locals with similar interests, as well as getting cool ideas for your own project. Every car forum out there seems to have one person or a small car shop who takes things to the extreme and pulls off a project that seems… ridiculous.
A perfect example of this would be this 1000HP Fiat Coupe from the 1990s that has been tricked out to the max by a Russian tuner, Totalcar. They took the tiny Fiat Coupe and decided that it would be a great idea to stick a 3.0 liter turbo V6 from a Mitsubishi 3000GT. Sure, sticking a 320hp engine in a tiny car should be more than enough and it would be considered a pretty good "sleeper".
1000HP Fiat Coupe from Mother Russia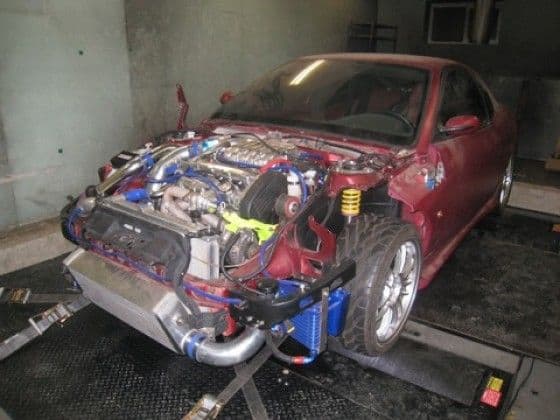 320 horsepower is good, but not good enough. How about close to 1000 ponies? Yeah, that sounds about right. There is nothing stock about the heavily modified 6G72 V6 engine which has been rebuilt from the ground up. I should also mention that the FWD Fiat Coupe is now an AWD. Although the build is not very practical, I do appreciate the time and money that was put into the project. Once the tires actually grip, this thing must be an absolute rocket on the highway. If you can read Russian, check out Totalcar or Drive2 for more pictures of the build.