Few things in a man's wardrobe are as versatile and stylish as a blue cashmere sweater. Whether wearing it with jeans and a tee for a casual look or dressing it up with slacks and a dress shirt, a cashmere sweater is always appropriate. Blue is an incredibly handsome color on any man, and wearing it shows that you're confident enough to break the mold. Plus, there's just something about blue cashmere that makes it feel luxurious… like you're wrapping yourself in a cloud of comfort. It's the perfect fabric to keep you warm on chilly days, but it's also light enough that you won't get overheated indoors.
So, if you're looking for a new go-to sweater this fall, make it a blue cashmere. We promise you won't regret it. Here are just a few of the reasons why:
1. It shows that you're sophisticated. A blue cashmere sweater is the kind of clothing that shows you know a thing or two about style. You don't have to be a fashion expert to rock one, but it shows that you care about your appearance.
2. It's perfect for any occasion. A blue cashmere sweater is dressy enough for a night out on the town and comfortable enough to wear around the house. You'll never have to worry about whether or not you're dressed appropriately for the occasion.
3. It keeps you warm without being too hot. There's nothing worse than being too cold or too hot. A cashmere sweater is the perfect middle ground. It will keep you warm without making you sweat.
4. It's a great conversation starter. Let's face it; most men are terrible at starting conversations with women. But if you're wearing a cashmere sweater, you can be sure someone will comment on it. Use this as an opportunity to start a conversation and get to know someone new.
5. It's timeless. Fashion trends come and go, but a well-made blue cashmere sweater will last you for years. You'll be able to wear it year after year, and it will never go out of style.
Where To Buy A Cashmere Sweater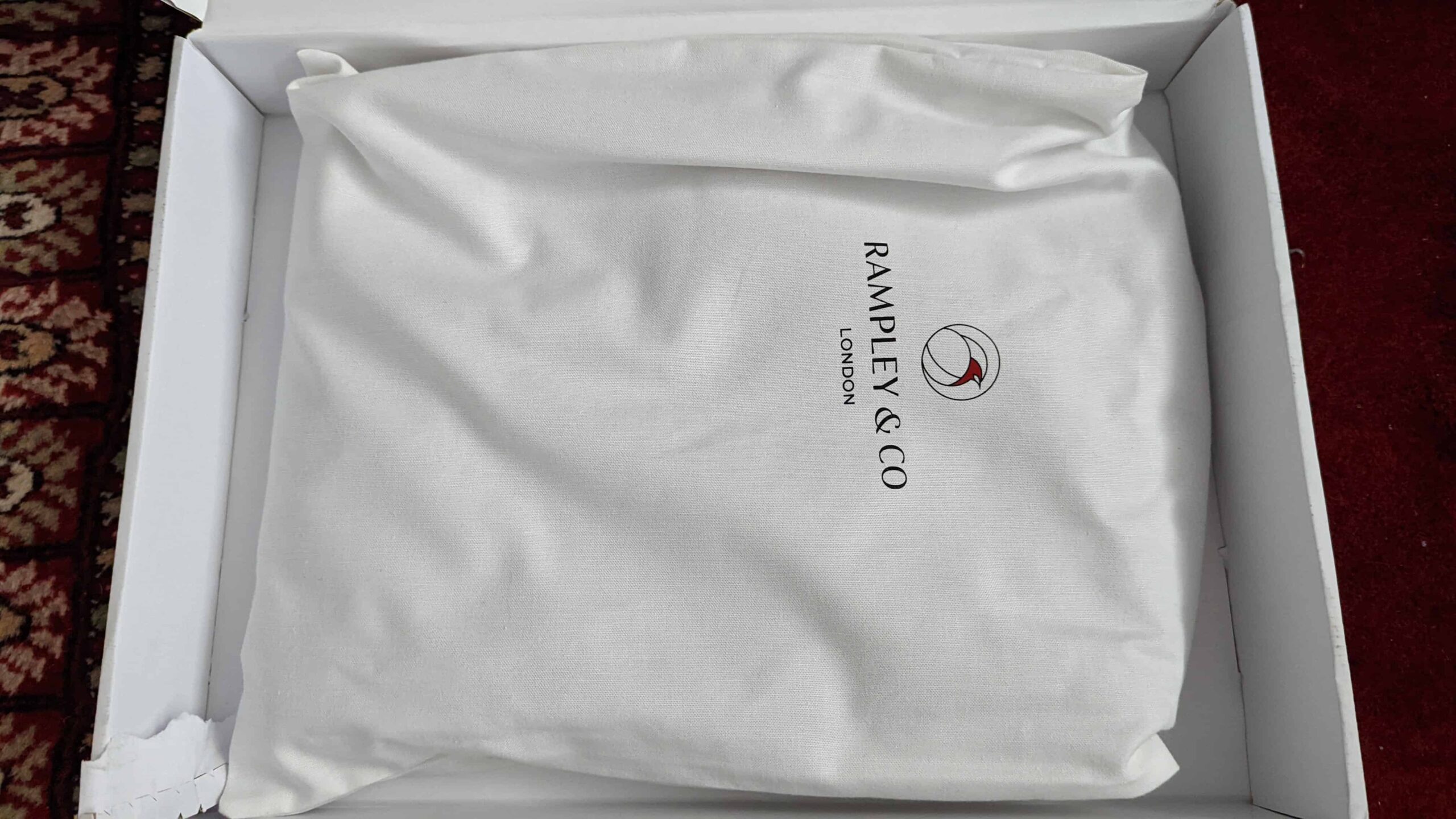 You can't just walk into any department store and expect to see cashmere sweaters everywhere. Cashmere sweaters are luxury items, and they're usually sold at luxury stores. Rampley & Co., a London-based men's luxury goods store, is one of my favorite places to buy cashmere men's goods.
Rampley & Co. Explained
Rampley & Co. offers a wide variety of luxury goods that look good and feature high-quality materials that should last years and maybe even decades. The company goes against the grain of "fast fashion," where you buy something and then throw it away after a few washes because the shirt has lost its color and shape, adding to landfills and wasting resources.
Some men's luxury clothing items you might find at Rampley & Co. include tailored jackets, waxed jackets, polo shirts, socks, pants, cashmere sweaters, scarves, and gloves. Rampley & Co. also offers luxury luggage goods like leather briefcases, backpacks, weekenders, and bags. The company also sells accessories like pocket squares, ties, and jacket linings.
Rampley & Co. ship their luxury men's goods worldwide, with most orders qualifying for free shipping. Using global express shipping, most customers can expect to receive their ordered items within 1 – 4 business days for most locations.
Navy Blue Cashmere Sweater from Rampley & Co. Reviewed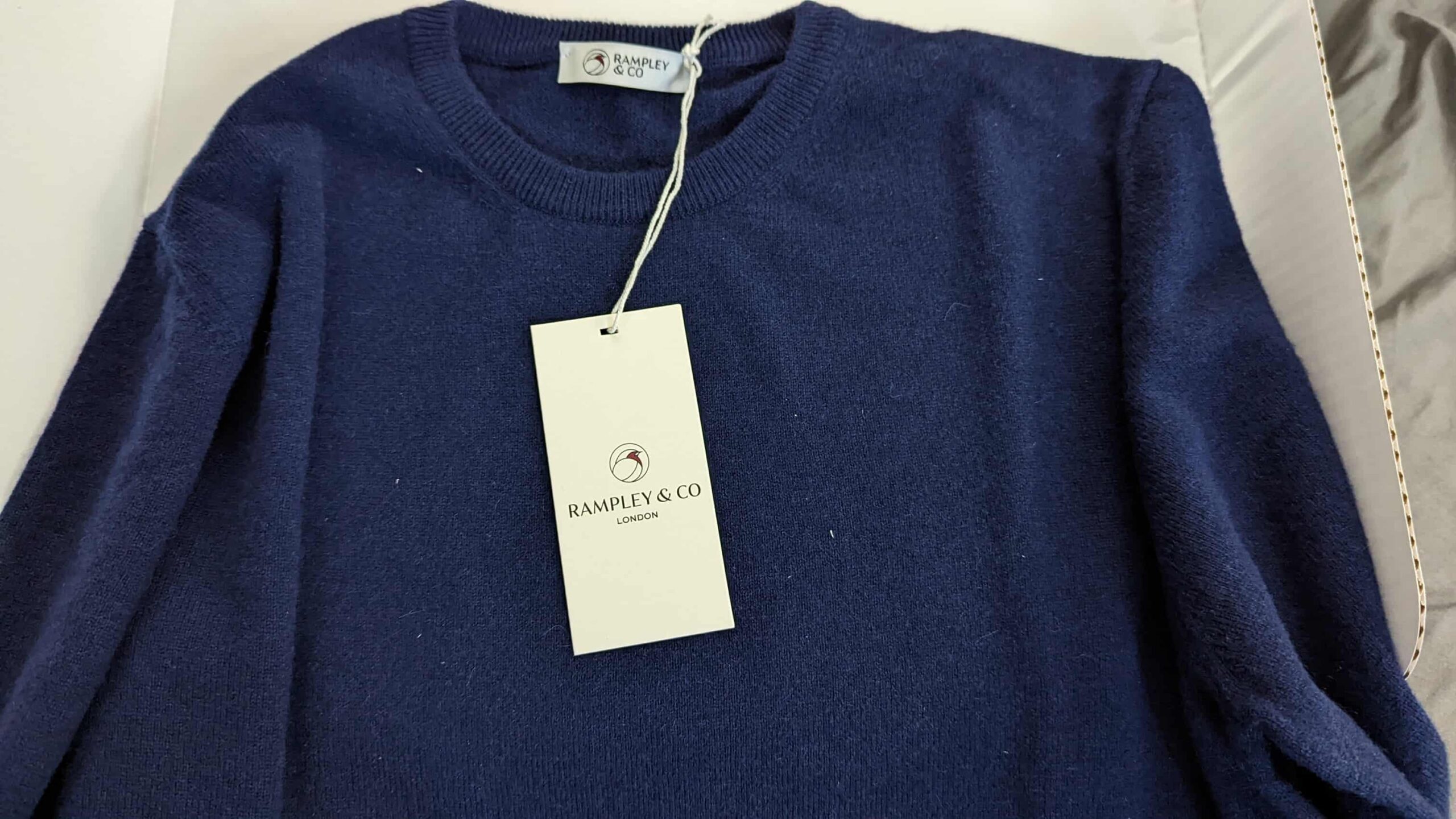 I received a navy-blue cashmere sweater from Rampley & Co. The sweater is made out of soft grade A cashmere, sourced from the mountain regions of Inner Mongolia and finely crafted into a sweater by craftsmen in Italy.
The navy cashmere crew neck jumper is soft and fits me perfectly. I love how the cashmere feels against my skin, it feels luxurious, and I can tell the quality and craftsmanship that went into making this sweater. The sweater is priced at $365 US, which might seem like a lot of money for a sweater, but this is no ordinary sweater that lasts a season or two. I'm sure I'll wear this sweater for a long time, as long as I take care of it.
What Is Cashmere and Why Is It So Expensive?
Cashmere is one of the most luxurious fibers in the world. It's soft, light, and warm, making it perfect for cold-weather garments. But all of this luxury comes at a price. Cashmere is expensive, often costing hundreds or even thousands of dollars for a single sweater.
So why is cashmere so pricey? There are several reasons. First, cashmere is made from the downy undercoat of Cashmere goats. These goats live in harsh conditions in the mountains of Central Asia, and their downy coats keep them warm during the cold winters. To harvest the cashmere, workers must gently comb the goats (a process called "de-hairing"). This is a time-consuming process that can only be done by hand.
As a result, there is a limited supply of cashmere fiber. And since there is high demand for cashmere garments, the price of fiber has risen over the years. In addition, it costs more to produce cashmere clothing than other types of woolen garments. For example, a cashmere sweater must be carefully hand-washed or dry-cleaned to avoid damaging the delicate fibers.
So, if you're looking for a luxurious and warm winter garment, be prepared to pay a high price for cashmere. But it's worth it! Cashmere clothing is an investment that will last for years.