The Lincoln Navigator and Cadillac Escalade were two vehicles that seemed to be in all the rap videos in the late 90's and early 2000's. These were big luxury vehicles that were favored by rappers, and of course families across the United States and Canada. These vehicles were big, had room for a lot of people and cargo, were luxurious, and were affordable enough for the average family (from the upper middle class) to buy one.
The Navigator has been on sale since 1998, and for 2018 gets a full redesign, making it the 4th iteration of this giant SUV, and yes, this is a real body on frame SUV. We had the opportunity to review a fully loaded 2018 Lincoln Navigator Reserve.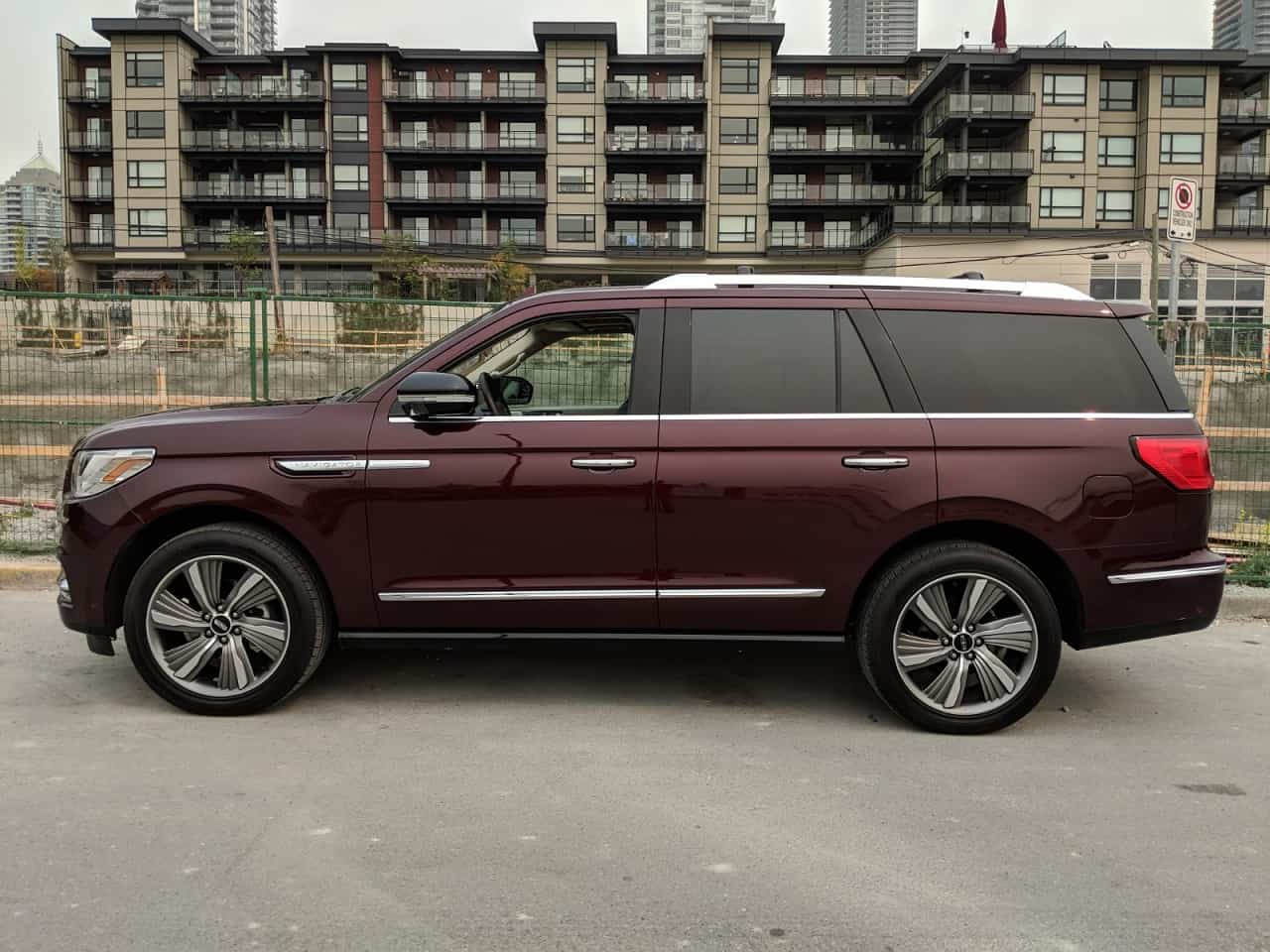 Price
The 2018 Lincoln Navigator comes in two trims and two wheelbases. The two trims are Select and Reserve and they can be had in the regular and "L" wheelbases. The Select trim has a starting price of $88,150, the Reserve starts at $91,150, the Select L starts at $91,150, and the Reserve L starts at $94,150.
Our review car for the week was the 2018 Lincoln Reserve with the regular wheelbase, the sticker price on our test vehicle was $101,300 plus $2,000 for destination and delivery. Some of the notable options were Burgundy Velvet paint ($700), Heavy Duty Trailer Tow ($2,000), 22" wheels ($1,000), Technology Package ($3,000), Perfect Position 30-Way Driver and front Passenger Seats with Massage ($1,000), and Lincoln Play-Rear Seat Entertainment ($2,350).
The Technology Package consists of the following:
Active Park Assist
Adaptive Cruise Control with Stop-and-Go
Auto High Beams
Heads-Up Display
Lane Keeping Assist
Pre Collision Assist with Pedestrian Detection
Engine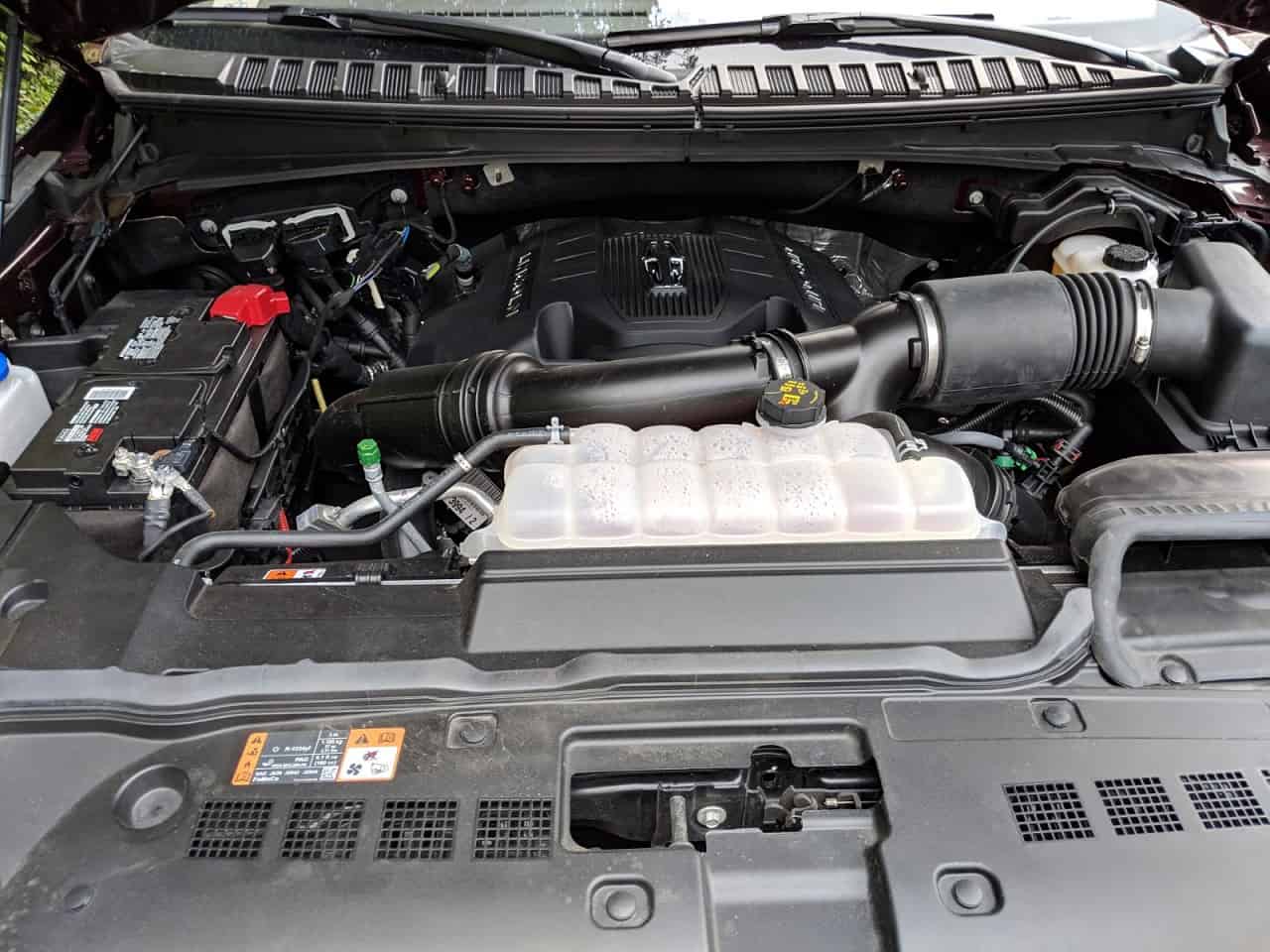 Unlike the previous three generations of the Navigator, the 4th generation doesn't offer a V8 engine, which is a sign of the times. The only engine offered now is the EcoBoost 3.5 liter twin-turbo V6, producing 450 horsepower and 510 pound-feet of torque (on premium fuel, regular fuel can be used for slightly less power). Power is sent to all four wheels via a 10-speed automatic transmission that is controlled by push-buttons on the dashboard. With the optional tow package, the Navigator can tow up to 3,810 kilograms (8,400 pounds).
According to Lincoln, the 2018 Navigator should consume 14.9/11.3 L/100 km in city/highway driving. For our weeklong review, the onboard computer showed 15.3 L/100 km in 70/30 city/highway driving, this is an impressive number for a very large and heavy vehicle with 450 horsepower, however, my wallet thought the Navigator was thirstier than what the onboard computer showed.
The Navigator does come with auto stop/start feature, to save fuel. I found it a little gimmicky, as it didn't always shut off the engine when I came to a full stop.
Driving
Driving the 2018 Lincoln Navigator is actually quite fun and not as intimidating as I thought it would be. It is a big heavy vehicle, but all that power produced by the V6 engine makes it very fast. Getting up to 100 km/h happens very fast and you don't even realize how fast you're going because of the quietness of the engine/cabin, it's easy to get a little carried away and get a speeding ticked (which I did not, but I can image it would happen quite often if I owned this vehicle).
The transmission is very smooth shifting, it's the same one used in the Ford F150. At highway speeds, it quickly shifts into the highest gear possible but if you need to pass someone, it quickly shifts from 10th to 5th gear, skipping all the gears in between without any lag in power. I liked this transmission on the F150 and I like it here, I expected it to be a hassle (on the F150) when you needed to go down multiple gears to accelerate but I was pleasantly surprised.
The Navigator comes with six driving modes, but the Navigator doesn't come with mere driving modes, the driving modes come with very elegant descriptions. Modes include Normal which is "effortless and balanced", Normal 4×4 Auto which is "confident and secure", Conserve which is "efficient driving", Excite which is "responsive and engaging" and so on. Each of these modes comes with a different graphic displayed in the TFT gauge cluster. Very cool.
I tried to drive the Navigator in the "Conserve" mode mostly, because gas is very expensive. However, one of my pet peeves with the Navigator was that it always started off in "Normal" mode, I would have liked it to start in the mode I left it in.
The ride quality is very soft, it's an American luxury vehicle after all, the ride feels like a smooth boat ride. Which is also normal on body on frame vehicles. The suspension soaks up bumps comfortably, this would be great for long trips.
Interior/Tech/Features
The interior on the 2018 Lincoln Navigator is an opulent place to be in, every surface is covered with beautiful soft leather. The layout of the interior is very elegant and screams luxury. There is liberal use of wood and chrome on the inside, normally I don't like too much chrome, but on the Navigator it just works. I really liked the interior, I prefer the interior on the Navigator over the Range Rover Autobiography.
The interior is very quiet, like a proper luxury vehicle. The interior is also very comfortable and of course, very roomy. There is a lot of room for the front occupants, rappers (and even tall basketball players) would have no problem fitting in the front or rear seats. Our review vehicle came with the optional 30-way power adjustable front seats, which we first saw on the 2017 Lincoln Continental sedan. These seats have so much adjustability that it can get overwhelming, thankfully there are three memory settings, once you figure out what seating position works for you, have it memorized and never touch the settings again. These seats are very comfortable and come with the usual heating/cooling, and also massage feature.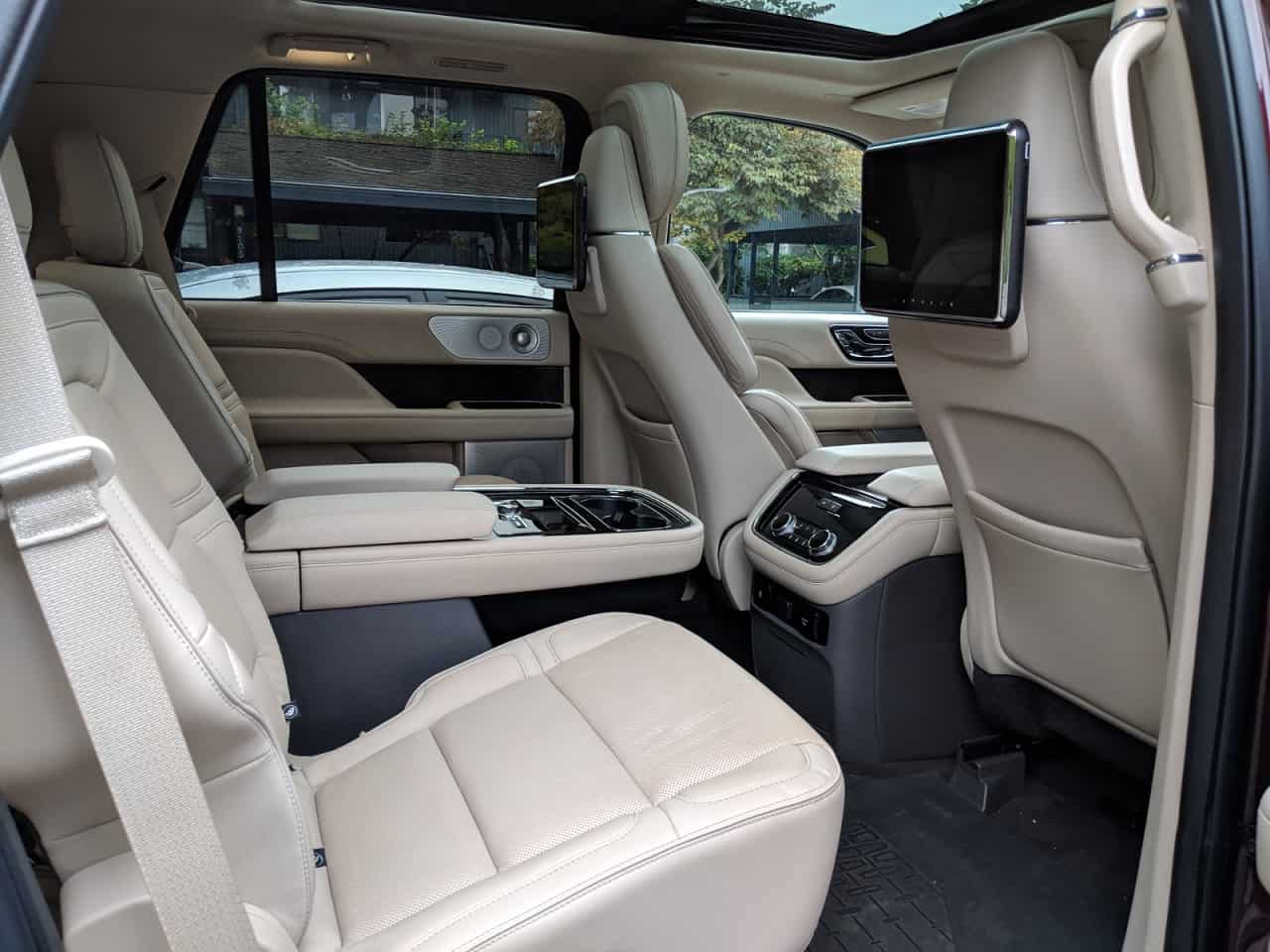 The second row seats are also very comfortable, unfortunately the seats from the Continental RSP are not offered here, but maybe in the future they will be offered. Our test car had the optional rear seat entertainment package, which came with 2 screens for the second row passengers. These would be great for long drives, especially for the kids. The third row seats are easy to access and I had plenty of leg room, headroom back there would be tight for people taller than 5' 10".
The interior features pretty much every tech feature you'd expect in a luxury vehicle in this price range and above. Some of the highlights of the tech include a large TFT screen for the gauge cluster, which can display various outputs, an optional HUD system which displays a lot of information like speed, posted speed limit, time, temperature, fuel range, and navigation directions.
Other tech features included on our test vehicle were blind spot monitoring, lane keep assist, adaptive cruise control, front and rear cameras with 360 degree view, automatic parallel and perpendicular parking, automatic high beams, hands free trunk opening, SYNC 3, and rear seats entertainment system (optional).
Styling
Taste in styling is a subjective matter, personally I liked the look of the 2018 Lincoln Navigator. The front is very familiar looking because it shares the same grill shape found on other Lincoln vehicles like the Continental, MKZ, and MKC. There is liberal use of chrome, again, I'm not a big fan of lots of chrome, but on the Navigator it works.
The optional 22" wheels look size appropriate on the Navigator, and the overall look of the Navigator has a lot of road presence, which it should, this is a very big vehicle.
Overall Impressions
I wasn't expecting too much from the Lincoln Navigator when I first picked it up, I'm not that big of a fan of giant vehicles but I really fell in love with it over the week I had it for our review. If I had a need for a large vehicle in this class, I'd definitely be picking up a Navigator over its European competitors, like the Range Rover Autobiography, which costs about $60,000 more than the Navigator. I'm not saying the RR is a bad vehicle, just that the Navigator pretty much ticks all the boxes at a much lower entry price.
I think the 2018 Lincoln Navigator is an excellent vehicle for people that are looking for large luxury SUVs, it has a lot of road presence, it's very luxurious, it's also very powerful, and the price is not too bad.
For more information on the 4th generation Lincoln Navigator, check out lincolncanada.com.