It has been over 15 years since Lincoln produced the Continental sedan, for 2017 model year, the Continental has been resurrected, making it the 10th iteration of this car. The earlier Continentals were quite the cars, with the most famous model year being the fourth generation Continental with the suicide doors (1961 – 1969), after that things went downhill, in my opinion.
But Lincoln is trying to change that and make the brand relevant again, with quite a few new cars and SUV/CUVs over the last few years, Lincoln is hoping to put the brand on luxury buyers' shopping list again.
We spent two weeks in a pair of brand new 2017 Lincoln Continental sedans, both were top of the line models, however, the second one we reviewed came with the "Rear Seat Package" (RSP).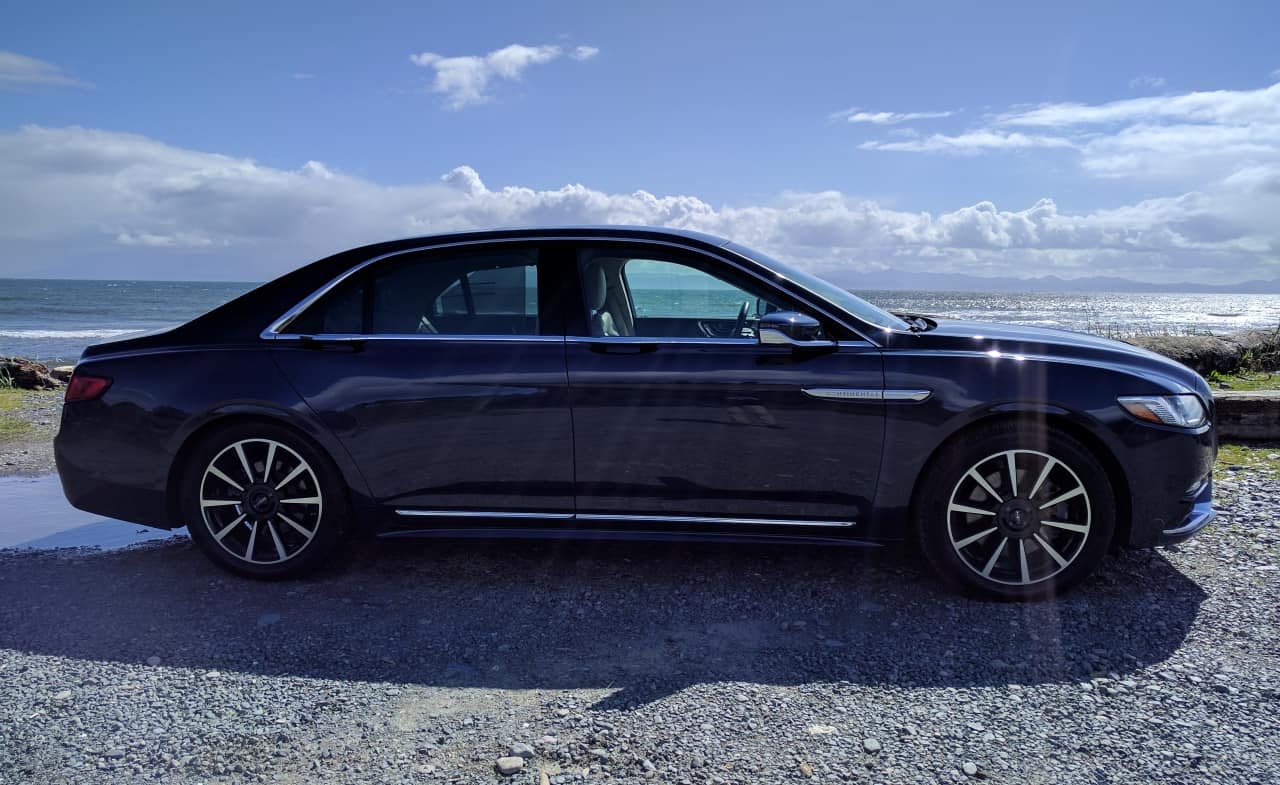 Prices
The 2017 Lincoln Continental has a starting price of $55,900 for the "Select 200A" and $59,400 for the "Select 300A", kind of weird names for the trim if I may say so. Prices for our review Continentals came to $75,750 and $77,850, before destination and delivery of $1,900 and taxes.
Options included were the 3.0 liter V6 engine ($3,000), Luxury Package ($5,500), which includes LED headlights and Revel 19 speaker audio system, 30-way multi-contour seats ($750), Twin Panel Moonroof ($2,200), this moon roof is also part of the RSP, making that package cheaper. Rear Seat Package ($5,000) which includes power rear seats that are heated and cooled, sun blinds, twin-panel moonroof, and rear seat controls in the middle arm rest. Technology Package ($3,000), which includes auto dimming rear mirrors, active park assist, adaptive cruise control, 360-degree camera, pre-collision assist, and lane departure warning.
Both cars were exactly the same, with the exception of the Rear Seat Package. If you're looking at a 2017 Continental and are looking to add the moonroof, then getting the RSP for an additional $2,800 is totally worth it.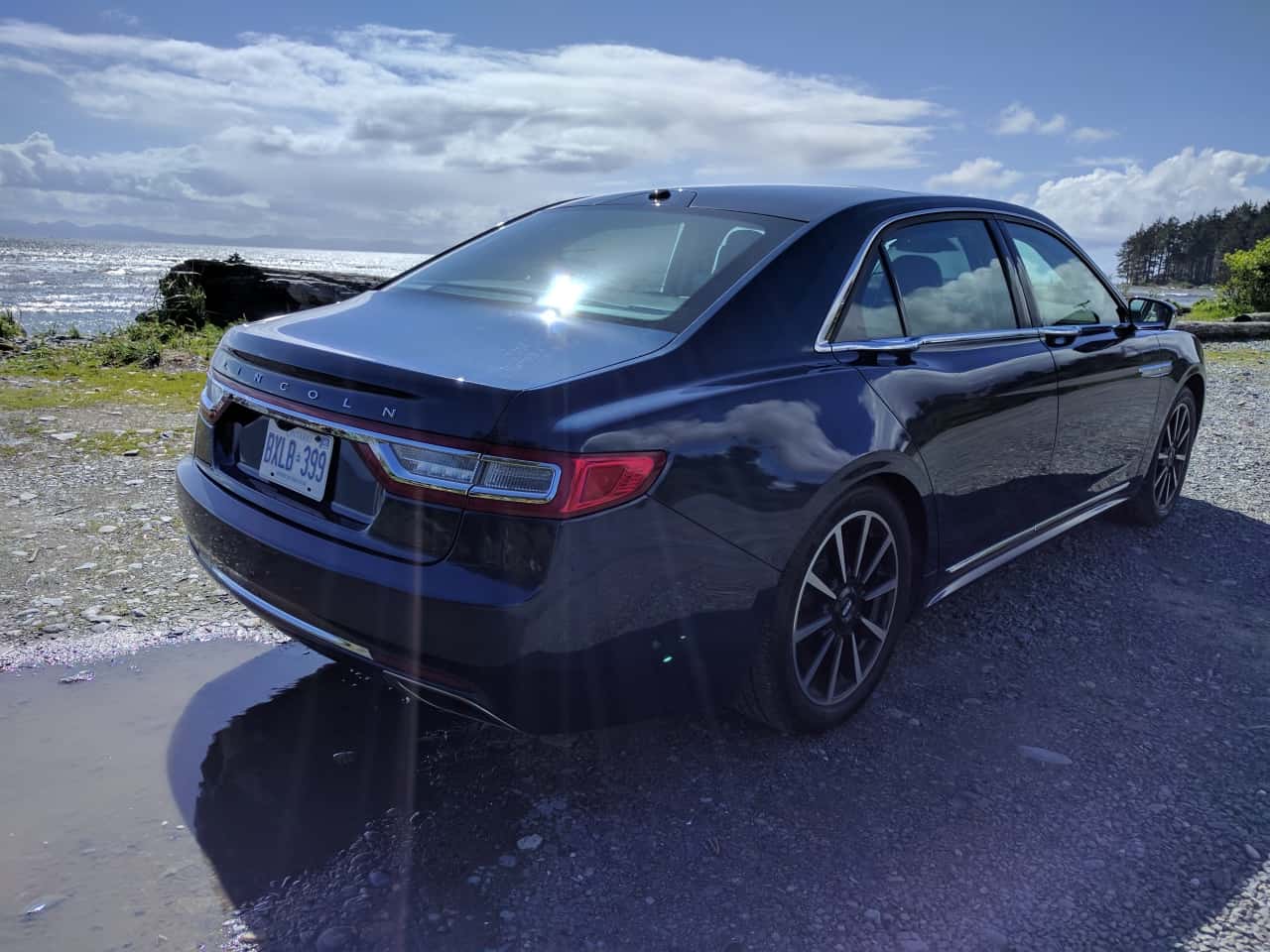 Engine
The 2017 Lincoln Continental is offered with two engine choices, a 2.7 liter turbocharged V6 and a 3.0 liter turbocharged V6 engine. The 2.7 liter engine produces 335 horsepower at 5,700 rpm and 380 pound-feet of torque at 3,500 rpm. The 3.0 liter engine produces 400 horsepower at 5,750 rpm and 400 pound-feet of torque at 2,750 rpm. Power is sent to all four wheels via a 6-speed automatic transmission with steering wheel mounted paddle shifters.
Both of our review Continentals came with the 3.0 liter GTDI V6 engine, it would've been nice to compare both of the engines, however, I can't really complain about having the more powerful engine. According to Lincoln, our review car should have consumed 14.4 L/100 km in the city, 9.7 L/100 km on the highway, and 12.3 L/100 km in combined driving. During our first week with Continental #1, we drove mostly city and I actually got better fuel numbers than the posted numbers, the computer showing 14.0 L/100 km in pretty much all city driving. With Continental #2, we took a 700+ kilometer road trip with mostly highway driving and the computer showed 10.0 L/100 km. These numbers were very close to the posted figures, which is surprising as I never get close to posted numbers with turbocharged engines.

Performance
The 400 HP V6 is more than capable and the power is more than enough, you'll never be asking for more power. Thanks to the turbochargers, maximum torque is available at 2,750 rpm, put your foot down and the Continental is at illegal speeds in a very short amount of time, and since the interior is so quiet, you don't notice how fast you're going.
The transmission is okay, it's not the best, and I felt it was a bit jerky especially when cold. I wouldn't expect that in a luxury car, hopefully in a year or two, Lincoln will start using the 10-speed transmission found on the F150, which was very smooth and should also improve with fuel consumption. Also, the transmission uses buttons to shift gears instead of a traditional lever, this layout isn't bad, but when you're doing a 3 point (or more) turn in a tight spot, it does take the transmission to go back and forth between "D" and "R", it's not as fast as a traditional lever transmission in these situations. You have to give it a second or two when you continuously switch between D and R in this situation.
As far as handling is concerned, the Continental doesn't try to be a sports sedan. It's a big heavy American luxury car, with a soft ride. It's not like the old American cars where you felt like you were driving a boat, it's still precise but not very sporty. Also, this car is a front-wheel drive at it's heart, FWD is not offered in Canada, but in America it's available. So the front end does produce quite a bit of understeer when pushed hard. On our road trip, there were some very twisty roads, the Continental was able to cope with them but it didn't give me that sporty feeling.
However, like I mentioned above, the Continental doesn't pretend to be a sporty car. There are some "sport" settings, which include "performance in sport" and "handling in sport", but since this is not a sporty car, those menus are well hidden. I had to go through quite a few screens to be able to change those settings, I actually had to look up how to change those settings, which was quite annoying.
Overall, performance-wise, this is a car that's meant to be taken on long road trips, with the occupants arriving fresh because they didn't suffer because of the car's sporty (uncomfortable) suspension.
Styling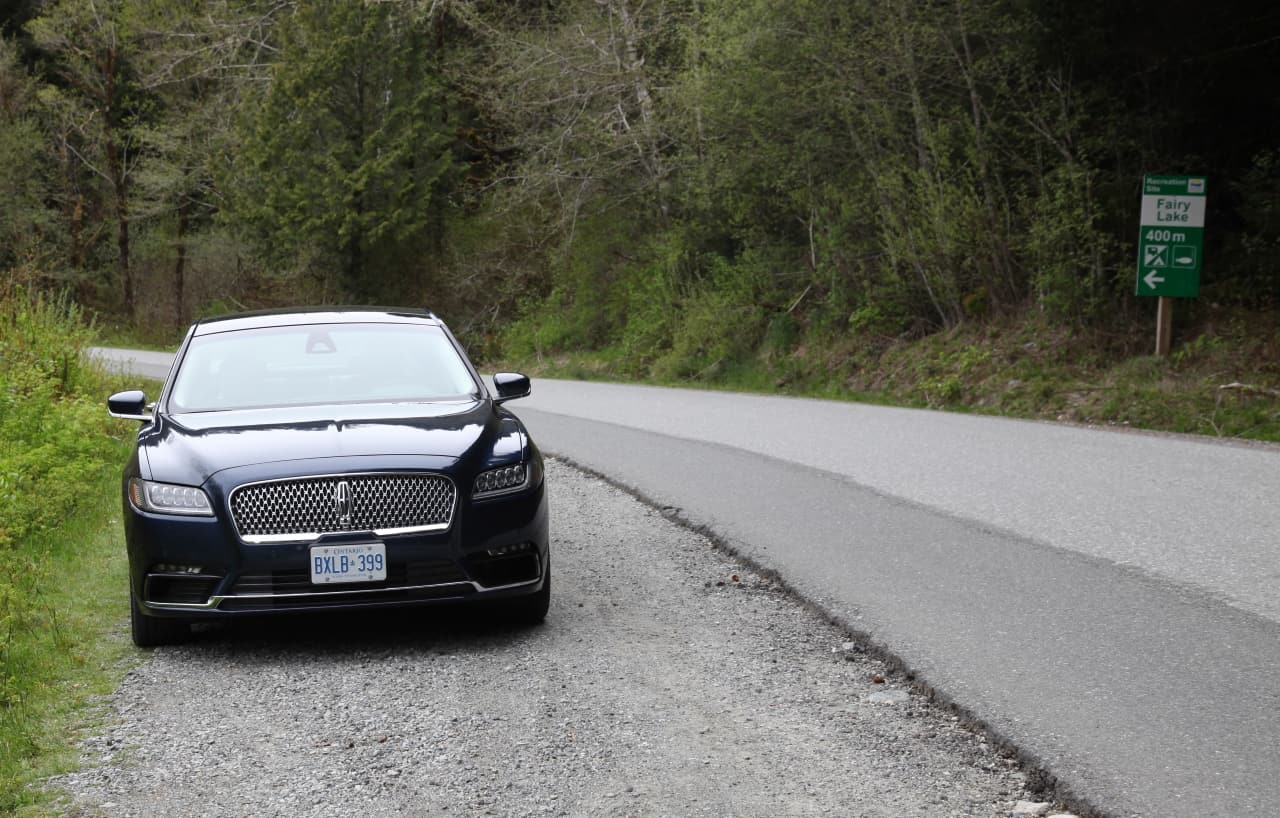 The Lincoln Continental concept was showcased at the New York Auto Show a few years ago, I really liked the car but didn't really like the front of the car too much. The production Lincoln Continental is very close to the concept but a bit toned down. I like the overall look of the car, it does look substantial but I'm still not a big fan of the front end. The front end looks small, to me it doesn't have presence, there's just something off about it. The front end looks like it belongs to a smaller and much cheaper car, I don't know, maybe you guys like it? Other than the front, I really like the rest of the car.
If you look closely at the Continental's door, you'll notice the door handles are not where you'd traditionally find them, instead they're right below the window on the chrome strip. It's a unique take on door handles, I guess in a way this could be some sort of homage to the suicide doors of the most famous Continental, or is that too much of a stretch?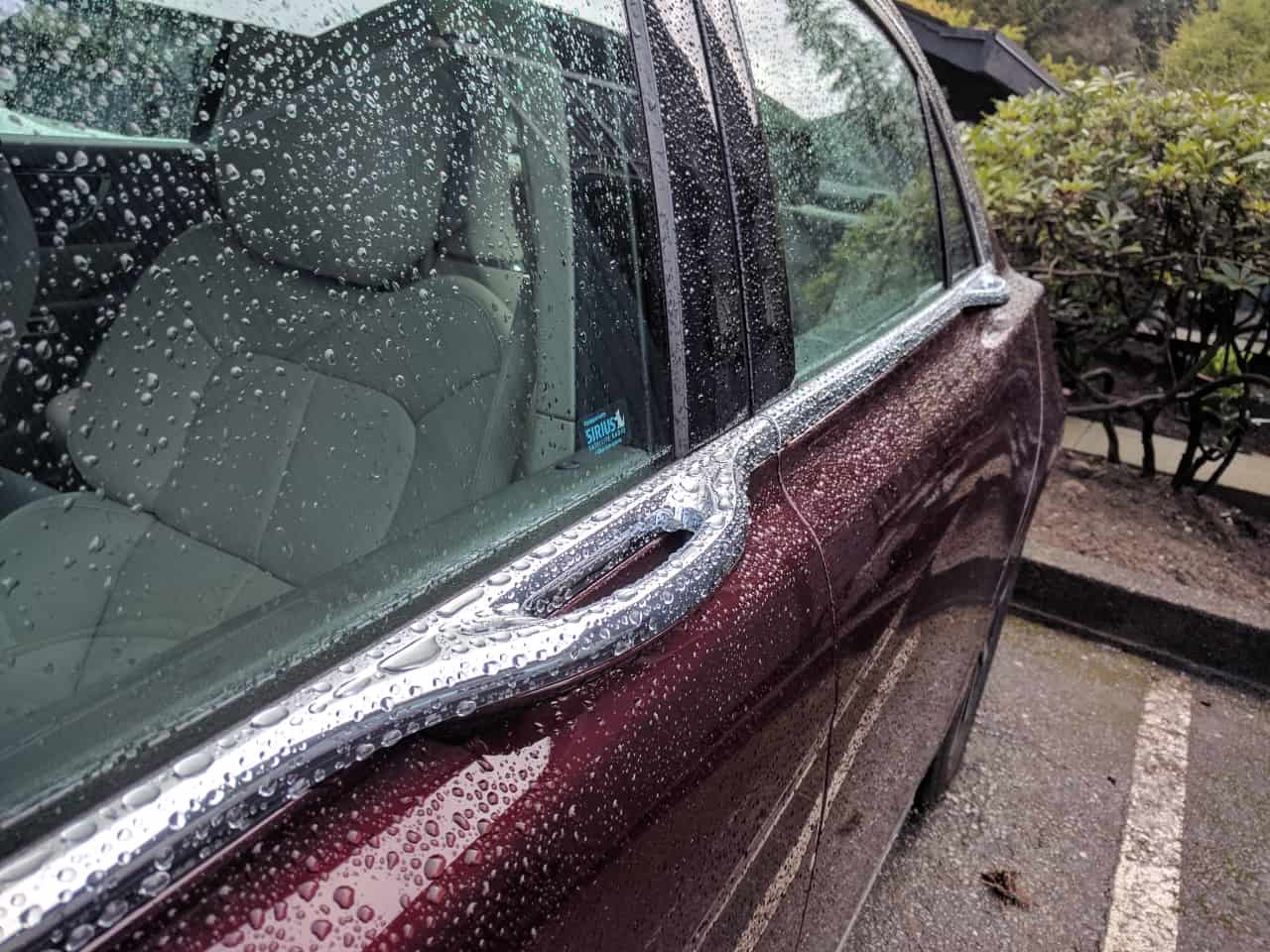 Interior
Like the exterior door handles, the interior also doesn't have traditional door openers. Instead, the Continental utilizes a small button to pop door open, placed on the handle where you'd put your hand to push the door open. At first this seemed like a gimmick, but the placement is such that it really makes sense to have the button there, I keep looking to press that button on other cars after I gave the Continental back.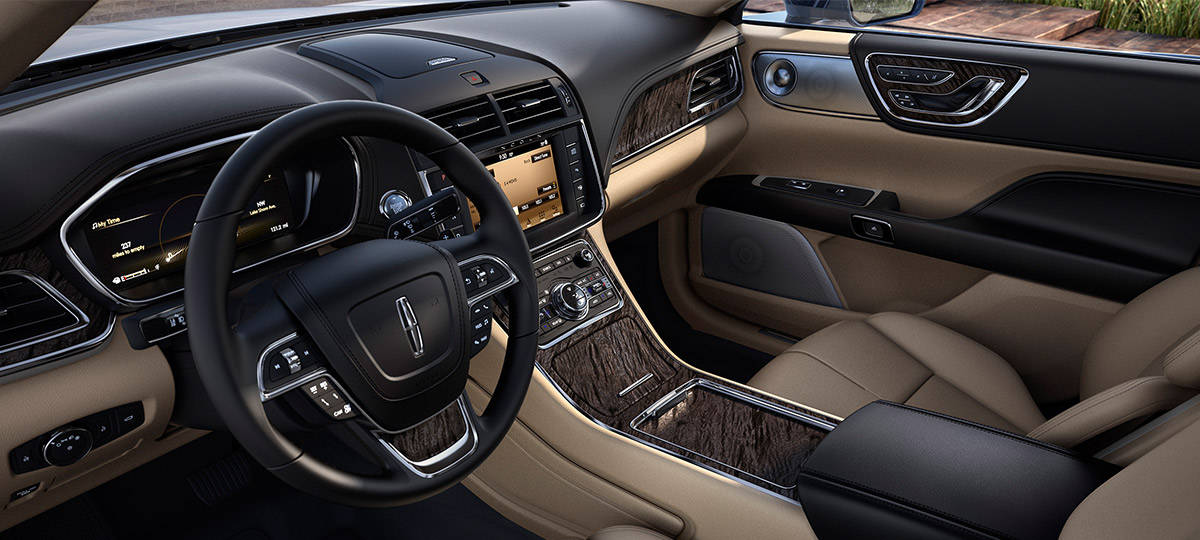 The Lincoln Continental shines when it comes to interior quality and comfort. This is a large sedan, so there is no shortage of space, all the occupants in the car will be perfectly comfortable with leg room, the panoramic roof does take away from headroom at the back, it was fine for me (I'm 5′ 8").
All the materials used are soft-touch and the leather is very comfortable, there is liberal use of some very nice looking real wood throughout the cabin. The layout is pretty clean with mixture of buttons on the center stack and controls through the 8" touchscreen. There are some buttons on the steering wheel that take you to the menu, I wasn't a fan of these buttons as they took you through too many menus to get to your final menu. These buttons on the steering wheel control functions on the large TFT screen placed in place of traditional gauges. There are three different layouts you can configure your "gauges".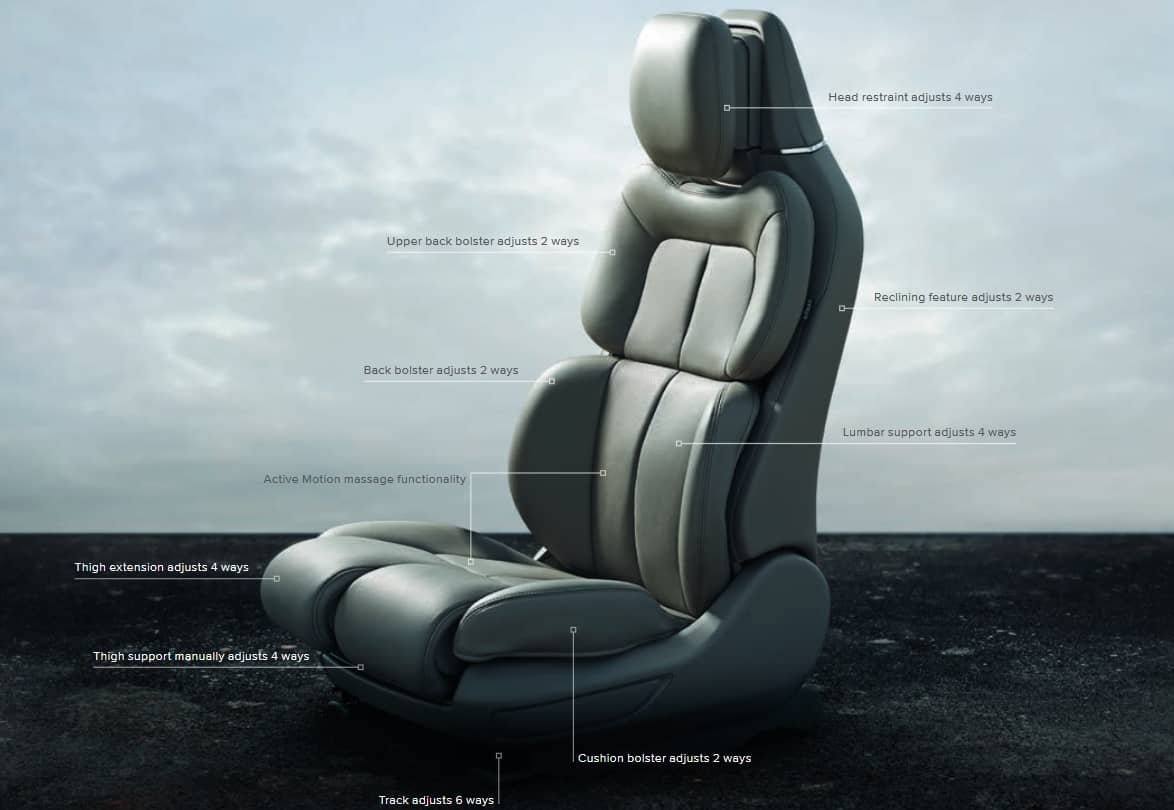 The big talking point of our review Continentals was the seat, which are 30-way power adjustable. These seats were pretty amazing, I don't think I've ever reviewed a car that had this many possible adjustments. It can get a little overwhelming when adjusting all the different settings, but thankfully there are three memory settings, once you've figured out your optimal seating position, save the setting and don't mess with it again. These seats also come with massage feature, which I find is a bit of a gimmick, but then again, I go for monthly massages to a registered massage therapists, so maybe I'm a little spoiled. The seats also look very cool, the seats look like there's a bucket seat on top of a regular seat.
The rear seat has a lot of let room, and I could easily stretch my legs. The second Continental with the RSP took things even further, with heated/cooled rear seats that also recline and they also have massage. The rear passenger can also control the entertainment unit from the foldable middle armrest, this armrest also includes controls for the rear climate and the rear shade. The right rear passenger also has control over the front passenger seat, the rear passenger can move and even fold the front passenger seat, to give themselves extra leg room. The Continental without the RSP also has separate controls for the rear climate, but they're placed at the back of the center console, at the bottom where the middle passenger's feet would be.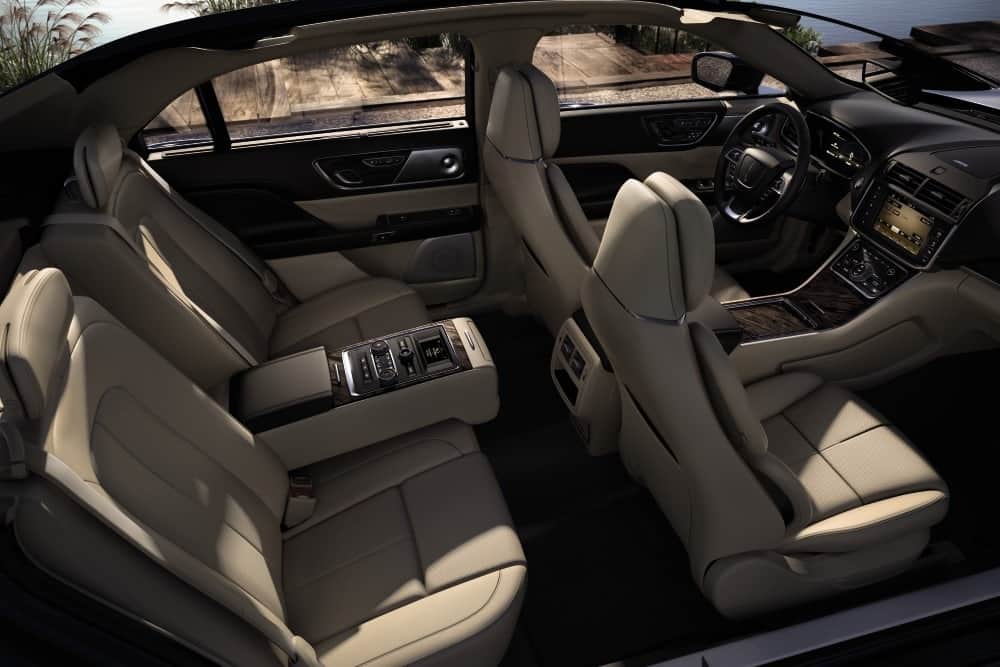 The interior on the Lincoln Continental is very quiet, as you'd expect from a luxury sedan in this class. We enjoyed our trip a lot thanks to the comfortable interior.
Technology
Our fully loaded Lincoln Continentals came with all the bells and whistles we've come to expect from modern cars and cars made by Ford/Lincoln.
Adaptive steering
Automatic on/off headlamps
Forward and Reverse Sensing Systems
Hill start assist
SYNC 3
Android Auto
Apple Carplay
2 smart-charging USB ports
Acoustic-laminate side door glass
Adaptive HID headlamps and LED daytime running lamps
E-latch door handles
SoundScreen acoustic windshield
Auto Brake Hold
Intelligent Access with push-button start
Push-button shift transmission
Remote Start System
Steering wheel-mounted controls for audio and cruise
Universal garage door opener
Power rear-window sunshade
Rear seat smart-charging USB ports (2)
Tri-zone electronic automatic temperature control
SiriusXM Satellite Radio
Power-tilt/-telescoping steering column with memory
Power windows with one-touch-up/-down and global open/close
Individual Tire Pressure Monitoring System
Blind Spot Information System with cross-traffic alert
Soft close doors
Hands-free power trunk lid
Heated and cooled front seats and rear seats
Heated steering wheel
360-Degree Camera with front camera washer
Adaptive Cruise Control with Stop-and-Go
Pre-Collision Assist with Pedestrian Detection
Enhanced Active Park Assist System
Lane-Keeping System
Driver Alert System
Rain-sensing windshield wipers
Overall Impressions
I really enjoyed my two weeks with the new 2017 Lincoln Continental sedans. These sedans are very comfortable and great for long distance driving. They come with a choice of engines, which have more than enough power to haul these large sedans around.
2017 Lincoln Continental Review Photo Gallery
For more information on the 2017 Lincoln Continental, please visit lincolncanada.com.