We've already gone over some of the reasons that a woman will fudge the truth when it comes to her man; yesterday I overheard a conversation between two men that made me realize that a lot of guys think that they're required to have the same skills. When should a man tell the truth to his girl, and when should he be fabricating a little extra to cover his ass? One of these guys walking ahead of me was talking about how his girlfriend looked awful in a dress, and asked the others' opinion. The response he got? "Just lie. Lie as hard as you can, lie about everything- lie until she's out the door." I wanted to jump into the conversation and punch the advice giver in the mouth, but I prefer to be crazy only on the internet…wouldn't want to blow my cover out there in the real world. Read on for tips on when the white lie actually does more harm than good.
When Men Should Tell the Truth – Of Course Honey, I'm Absolutely Listening to Every Word You Say, Especially When It's About Your Cat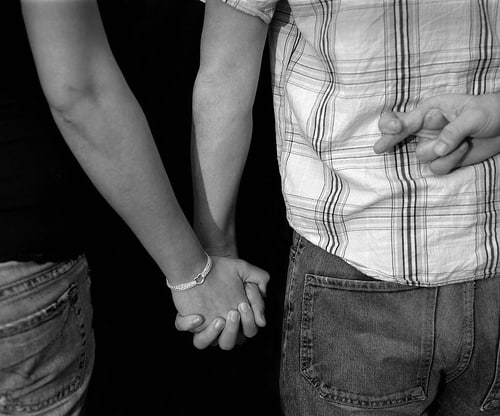 Let's just get something straight- you'll never be able to tell the truth and nothing but the truth, so help you. In a perfect world, everyone would be all knowing and understanding, but one truth that will never change is that we aren't. The flare ups of emotion and the ensuing confusion are what makes us human, and what makes us miserable; there's nothing we can do to change it, and that's why you're looking for dating tips right now. So, you simply can't adopt an absolute honesty is the best policy attitude, but you can't count on lying every time you open your mouth, either. Here are a few examples of times you may think about lying because you think it will be easier… and the reasons you shouldn't and it isn't.
The Guilt Trip – Stuff You Don't Want To Do
There are going to be a lot of times when a woman will ask you to do something you don't want to, and it will usually come couched in a ridiculous question like: "Do you want to drive to my parents house, or should I?" or "You won't mind if the girls come over to watch the Notebook on your day off during the hockey game will you? Good!" Questions like this are wheedling and designed to make it harder for you to say no, and a lot of men feel like they have to grit their teeth and try to choke out "of course, dear" while trying to keep their fists from clenching around her throat. While lying and going along with something might save you some small trouble by way of an argument, the resentment you'll both feel about it (not to mention the pain you'll be in during the task in question) simply isn't worth it. Instead of lying, tell the truth- provided you can be charming and reasonable about it. "I'm sorry, I just can't get into that, but I'll make it up to you" is going to go over a lot better than "Fuck no, woman!" Be willing to compromise occasionally on the important-yet-boring stuff, and stand your honest ground on the frivolous-and-stupid stuff, but don't lie about your likes and wants.
Embarrassment – She'll Thank You Later
Contrary to popular belief, women don't only ask the question "do I look fat in this dress?" because they're fishing for a compliment. Most women are confident enough that they don't need to be constantly reassured that they're gorgeous creatures- though it never hurts- and are actually using you more like a magic talking mirror for that last check before they leave the house. She may be wearing the most matchy-match perfectly trendy celebrity outfit straight off of the pages of her favorite magazine; what she's asking for is a real world opinion, because everything else that influences her can't critique her on the look she's sporting. While every strand of her hair can be in place and her outfit can cost hundreds, when it comes to what you as a man like, she could look like a twat. She respects and likes that you find her attractive, and knows that most guys will have a similar opinion, so be honest and tell the truth. Don't be a dick about it, but if you look at her and see that something's just not right, don't hesitate to tell her. If she looks back on pictures later, or a girlfriend points it out instead, you're dead meat…and you didn't even like the way she looked in the first place. Instead of being a douche, offer something complimentary and constructive: "that hem is in a weird place. Maybe wear the black skirt instead, your legs look amazing in that."
Loaded Questions – Any Answer Is Wrong
Hopefully, you don't come up against too many of these, but when you do, lying sure won't help. If she's going to ask you something as stupid as "do you think she's prettier than me?" then she'd be even stupider to expect you to lie about it. Why? Because you're going to find other women attractive. You're a man, and that's what you do- and she'd be just as big of a liar if she said "I think you're the most handsome man in the whole wide world!" Answering with a lie doesn't help her or you any, because all it does is tell her that you're a liar and even if you mean to be good, that's not going to sit well with her. Your best bet is to be honest, tell the truth, and to be complimentary all around. "She's good looking, but so are you, and you've got the personality to match. I love having the total package." She won't (or more realistically, shouldn't) care that you think other girls are attractive, provided that you value her. On a slightly scuzzy side note, there's no harm in the very infrequent reminder that there are lots of lovely women in the world- a little friendly competition keeps us at our A game. Just remember that doing this continuously and excessively drooling over women to push at her means you're an asshole, and on the road to getting dumped.
Honesty isn't always the best policy, but when it comes to when men should tell the truth, the answer is more often than not. Just remember that the truth doesn't have to be wielded like a giant club to bash over her head- you'll get much better results with your real opinions as long as you take a bit of extra care in how you present them. And if you have a girl who expects you to lie to her to keep her happy, or who doesn't want your actual opinions, then the truth might just be that it's time for you to hit the dating scene again.