Pure chaos
You haven't partied properly until you've been to an Oktoberfest in Munich, Bavaria, Germany. It takes place annually, with usually more than six million attendees. It's basically pure drunken chaos for 16 to 18 days, but that's not all it's known for.
On another sort-of-related note, Germany has such a great language which tends to have words for phrases that Americans may have never thought of. For example, in Oktoberfest there's "Festspezl" which roughly translates to having a best friend during the event. A best friend that you didn't know beforehand, and you won't see them ever again afterwards. Sort of like a 'what happens in Vegas, stays in Vegas' kind of thing. So it's safe to assume that if you find some Oktoberfest girls and throw this word around, you may end up somewhere interesting.
The NSFW implications
Oktoberfest isn't all just an ocean's worth of beer, Bavarian food, and traditional Lederhosen and Dirndl for guys and girls respectively. It's also somewhere where you can easily (un)safely lose your virginity in public. At least you'll have six million witnesses if your friends say you're making it up. There's an enormous amount of sex going on at these events, mostly because everyone is absolutely hammered and pretty much down for anything.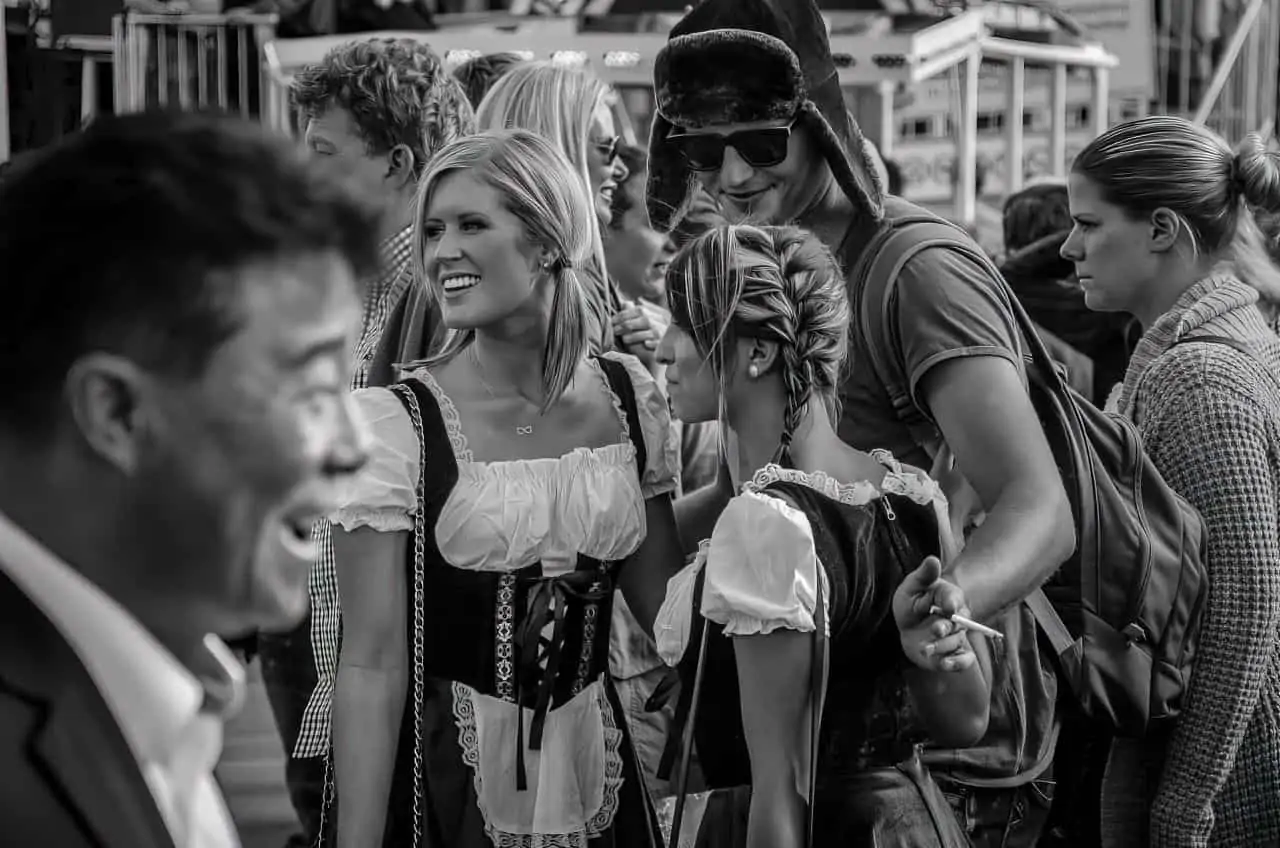 From naked guys being thrown across tables, sliding on floors, climbing the structure of the tent like monkey bars, to girls with nothing under their skirts, or just practically see-through clothing, everyone there is available. Not to mention that part of the tradition in Oktoberfest girls' clothes is to have a knot on the Dirndl as an indicator of the woman's marital status. The girls are there to kiss strangers and give sad handjobs, and the guys are there to be those strangers, and snort lines of cocaine off their Festspezl's penis. Why? Who knows, or even cares?
Walking through this massive tent, you get the feeling that it's less of a drinking event and more like a competition to see who can do the craziest thing at the event that everyone will tell stories about. Sometimes it's finding out who can hurt themselves the worst by falling over (or being thrown over something), or who is able to find what they're looking for under a dress. You'll be able to tell by her reaction if you find it or not, by the way.
Substances galore
Besides all the sex and glory, there's plenty more to see if that's not all you came for. The hottest Oktoberfest girls serve beer throughout the festival, often carrying up to 10 of these 1 litre beers all at once, sometimes just for one person to chug. The beers last for a short time until more are ordered, and the skirts are even shorter than that. It's bliss for the eyes, and even more for the hands.
There may be a great amount of cocaine on many tables, or even body parts. But if you're not into that, there's actually a minty powder which is sold at various places around Oktoberfest. It'll wake you up, and tastes like mints, so there's nothing to be afraid of. Although, don't get it mixed up with other people's minty powder because that's likely to actually be cocaine. Not to worry though, if it's not drugs, it'll just be "Wiesn Koks", which is just glucose mixed with menthol and will just clear your sinuses, so it's completely harmless. You'll find Oktoberfest girls doing either one, or both, and you're welcome to join in regardless of which they're doing, and that friendly Bavarian nature only makes them hotter.
Everyone is friendly
Singing, smiling, laughing and kissing all day, every day, is the culture that Oktoberfest has attracted, and you'll find it easy to be welcomed into all the fun and games, surrounded by plenty of women – and great guys too! Oktoberfest girls and guys alike are there for one reason: to have a blast, whether it's because they want to be fingered, or just to raise their glasses and get plastered. Whether you get your private parts wet, or just join in with the festivities of at least ten thousand people in each huge tent, you'll get your money's worth either way.
Germany takes their fun rather seriously, and Oktoberfest is the way to do it. It's got to be annual, otherwise they'll invade Poland again, so this festival is a good alternative.