As someone who loves attending Oktoberfest every year, I have always been fascinated by the outfits of the attractive women who work at the festival. The traditional German attire of the Bavarian women looks elegant and sexy, and many of them have perfected the look with their own unique style. I've always wondered why these women look so good in the Oktoberfest outfits, so in this article, I'm going to take a closer look at why they look so great.
What is Oktoberfest?
I remember the first time I attended Oktoberfest; it was one of the most incredible experiences of my life. Not only were the celebrations a huge fun affair, but these beautiful girls everywhere selling beer and dressed up in traditional costumes made my heart race. From then, I told myself I had to find out what makes Oktoberfest girls so hot.
Oktoberfest or Wiesn (as locals endearingly know it) is a traditional German festival that runs from late September to early October each year and is celebrated mainly in Bavaria. It has become a worldwide phenomenon, with millions of people around the world donning their traditional costumes and drinking their favorite beers to join in on this special occasion that pays homage to Bavarian culture and traditions.
In Germany, the locals have looked forward to Oktoberfest every year since 1810. It started off as a royal wedding followed by 5 days of horse racing competitions attended by thousands of citizens of Munich. Nowadays, it continues to be celebrated with even bigger enthusiasm in multiple cities around the globe:
The Appeal of Oktoberfest Girls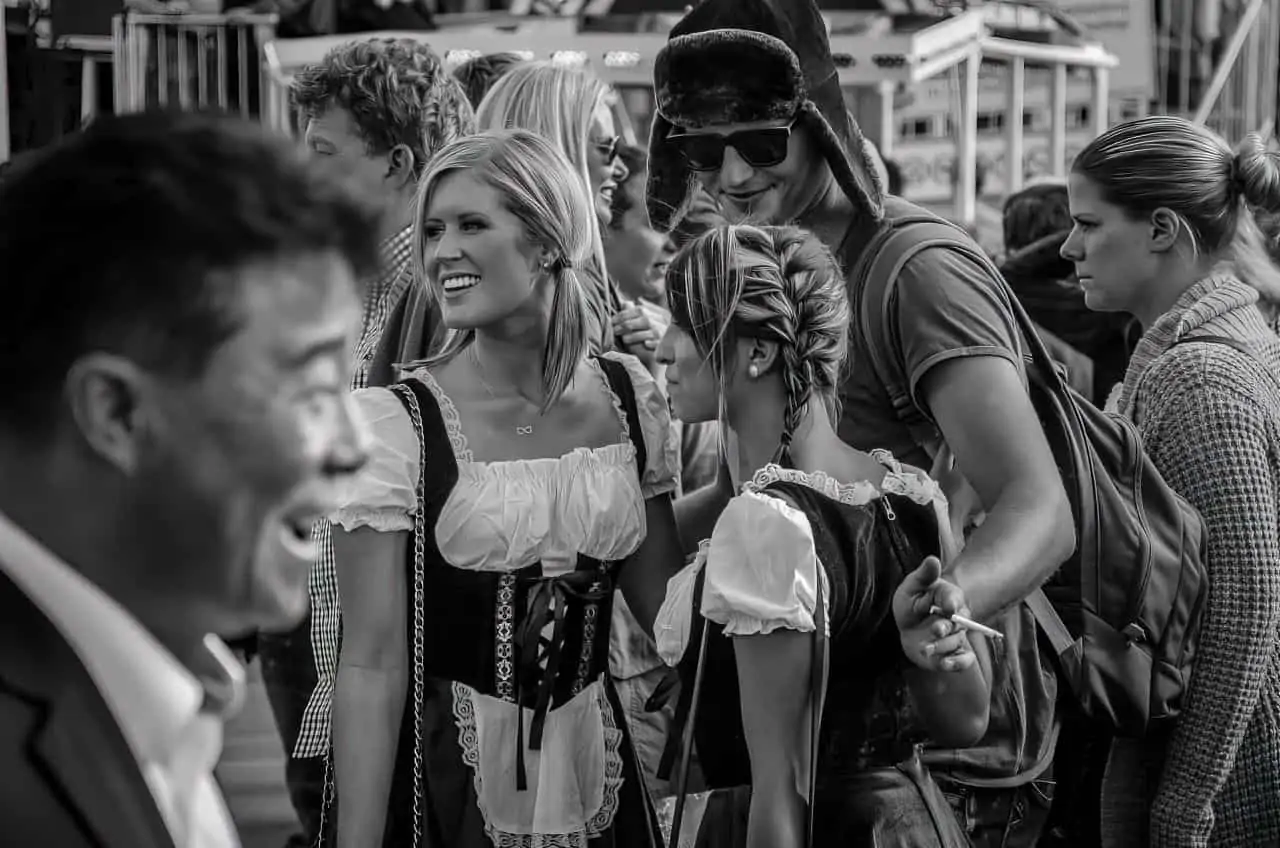 I've always been intrigued by the appeal of Oktoberfest girls – those traditional, extremely attractive women who come in bright dirndls, thrilled to celebrate the Bavarian holiday. From their stunningly colored dresses and perfectly coiffed hair down to the white bow-topped shoes they wear, Oktoberfest girls seem to ooze a special brand of beauty and mystique.
So why are they so hot? First and foremost, what you're seeing is a time-honored tradition. Bavarian women have donned these types of dresses during Oktoberfest celebrations for centuries. It's certainly part of their allure – who can resist such authenticity?
Oktoberfest girls also tend to be dressed according to age-old edicts about how clothing should fit – tight in all the right places without showing too much skin. It adds to their mystique – what secrets could be hiding behind those tiny buttoned aprons? Plus, most of their clothing choices vary from simple but conservative fashion statements. The result is a unique combination of femininity, sexiness, and class that sets them apart from other women at the festival – and captures everyone's attention.
Alluring yet understated at the same time – it's no wonder why Oktoberfest girls are considered some of the hottest women around!
The Traditional Outfit
I've always been fascinated by the traditional costumes of the girls at Oktoberfest. These attractive waitresses and other female employees at Oktoberfest wear a traditional dress known as Dirndl, which consists of a blouse, bodice, skirt, and apron. The skirt usually reaches knee length and is made of cotton or wool. Dirndl accentuates the female figure and is often accessorized with a necklace or scarf. It definitely gives off an alluring vibe and is a trademark of Oktoberfest.
The Dirndl Dress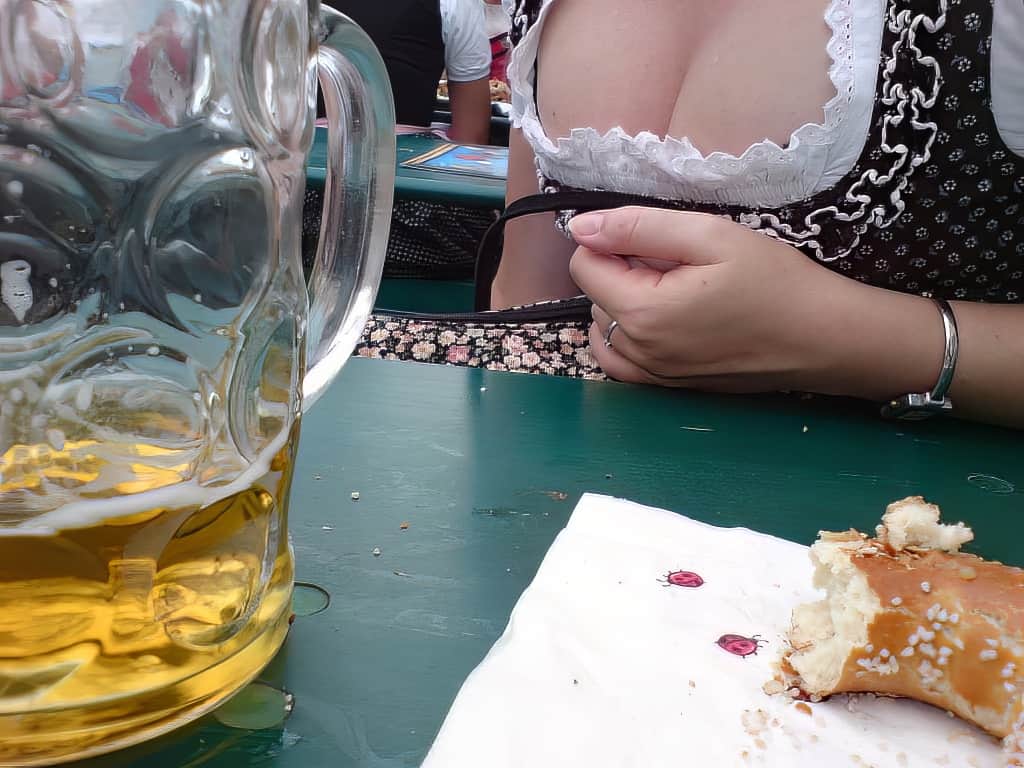 As a bavarian, the dirndl dress is an age-old custom that I have grown up with ever since I was a child. It symbolizes my cultural heritage, and when you see a dirndl dress, it exudes femininity which is why it's so popular during Oktoberfest!
A dirndl dress consists of three major components: a bodice, skirt, and blouse or "jupe" for a classic look. The bodice is typically made from wool or velvet and usually comes in dark tones like black, grey, brown, green, or red. This is worn over either a white blouse with embroidered organdy edging at the collar and sleeves or a 'sausage' style blouse referred to as 'Brusthauben.' The skirt typically extends to just above the ankles with detailed pleating called "Vollegufs." For more glamorous looks, you might find it made of satin with some added accessories such as tulle aprons and flowers pinned at the shoulder.
The beauty of dirndls is that there are endless variations so that you can mix and match elements for unique looks on different occasions!
The Apron
The apron is usually the first thing that comes to mind when we think of Oktoberfest girls. The iconic traditional garment is believed to have originated in Bavaria, and its sexy yet demure silhouette has constituted a mainstay of Oktoberfest fashion ever since. The bold and fun designs, usually featuring floral or abstract patterns, help assemble the whole look.
Most aprons are made of white or blue gingham cotton and have red accents on the edges. The apron usually ties behind the neck, while some styles incorporate suspenders for added flair. In addition to being aesthetically pleasing, aprons offer an analog to modesty which many consider essential for what is, at heart, still a celebration of German heritage and culture.
The Shoes
The shoes definitely play an important role in the traditional Oktoberfest outfit. To give you that classic German look, you should opt for a pair of low-heeled brown or black leather shoes. Avoid any open-toe styles or chunky designs – these will completely ruin your authentic Oktoberfest look. Try some cute Mary Jane's or a classic pair of Oxford brogues for the complete "lederhosen effect."
It's always nice to accessorize with fun socks and tasseled laces, so feel free to express yourself and push the style boundaries with these! Gaudy details can take your ensemble from 0 to dirndl real quickly, so make sure to find the right balance between traditional and whimsical when it comes to picking out your footwear.
Variations of the Outfit
As someone who has been to Oktoberfest and witnessed the gorgeous Oktoberfest girls, I often wonder what makes them so hot. After doing some research, I found out that there are different variations of the Oktoberfest outfit. The most popular are the dirndls and lederhosen, which female and male workers wear, respectively.
Let's take a closer look at these outfits and see all the available variations:
Modernized Dirndl Dresses
The modernized versions of the classic Dirndl dress (a traditional Bavarian-style dress) are much more flattering for the female figure. The dresses are made to follow a woman's curves more and come in different necklines, such as halter, V-neck, and even sweetheart-style. Also, modernized Dirndl skirts are often shorter than traditional dirndls, starting at mid-thigh length. They also come in various patterns and designs to suit various tastes. Depending on where you go, you may find Dirndls tailored to flatter a wider range of body types.
No matter which style or pattern you choose, one thing is certain – Dirndl dresses will give you an undeniable Oktoberfest look that will make heads turn!
Unique Accessories
You don't have to stick with the traditional Bavarian outfit when getting dressed for an Oktoberfest celebration. Instead, you can add unique accessories to give your look a fresh and modern feel. Sure, there are classic dirndls and lederhosen to choose from, but the fun begins when you start thinking outside the box.
Adding a few different touches can completely transform your look and make it unique and special. Here are some great options that you should consider when it comes to picking out accessories:
Hats & Headwear: Nothing says Oktoberfest like a classic Bavarian hat or feather headband. Top off your outfit with traditional headpieces for a true Bavarian-inspired look!
Jewelry: You can dress up your folk costume with some small pieces of jewelry like one-of-a-kind German earrings or necklaces featuring beer mugs and pretzels – perfect for celebrating the culture in style!
Scarves & Shawls: Scarves and shawls are great for keeping warm during cooler weather (or just adding an extra layer of warmth!). There are so many fun patterns and colors out there that can put the perfect finishing touches on your ensemble. Choose from plaids, florals, solids, stripes – whatever suits your individual style!
Suspenders/Braces: Feel like dressing up even more? Add a pair of suspenders or braces for an extra splash of Bavarian flair. Straps come in various styles and fabrics, including leather straps and even LED lighted braces; whatever you pick will be sure to make a statement!
The Appeal of the Outfit
Going to Oktoberfest is always an exciting time for me. I love the outfits that all of the girls wear, especially the traditional dirndl style. It's such an iconic look that is distinctively German, and I love how it draws attention to women's beauty. There's something so captivating and attractive about the Oktoberfest outfit that can't be denied. I'm always wondering what it is that makes these women look so stunning while wearing this outfit.
Let's take a closer look at what makes the Oktoberfest girl so special.
The Feminine Appeal
There is something undeniably captivating about the feminine appeal of the traditional ensemble worn by Oktoberfest ladies. The combination of the dirndl dress and white blouse, with suspenders and an apron, all topped off with a bavarian hat, creates an attractive look that other offbeat ensembles can't replicate.
The uniqueness of the German dress elevates it above other traditional attire from around Europe. Variations like bodice shortening, fabric patterning, and ruffle trimming can easily customize the look to flatter any figure and taste. Moreover, finding a designer or tailor around Munich that can tailor-make a full costume or individual pieces to suit one perfectly is easier than ever. There are plenty of beautiful dirndls available to suit any budget if altering isn't an option.
A combination of factors makes this German fashion so attractive – the bright traditional colors, unique patterns, and eye-catching stitching create a picture-perfect look that is easily modified according to personal taste while remaining true to its cultural roots. When accessorized with flowers in hair, pearl necklaces, or smart shoes, it combines confidence with femininity. It's no wonder women flock from all over for their own piece of Oktoberfest magic!
The Historical Significance
I am fascinated by the historical significance of what makes the Oktoberfest girls so attractive. The traditional outfit worn by many ladies in attendance at Germany's annual beer festival dates back to the 1800s. At that time, dirndls were popular clothing items worn by working-class women. The national dress of Bavaria consists of an apron dress with a matching blouse, and when accessorized with a bright belt and dark stockings, it became synonymous with beauty and femininity in Germany.
In addition to being considered fashionable for hundreds of years, dirndls are also well-suited for carrying items such as beer mugs around the festival grounds without having to worry about accidentally spilling your drink! As any good host knows, it pays to be prepared in situations like these – an ideal outfit choice would seem to be one that allows you freedom of movement while still looking good. The legendary appeal of Oktoberfest girls continues to draw attention even today – their flamboyant style has become part of the festival's allure!
The Comfort Factor
Regarding Oktoberfest, I think most guys agree that the girls are a major draw. From the dirndl dresses to the dirndl skirts and the accompanying accessories, there's something irresistible about German girl style. But what makes this particular look so attractive?
One factor is definitely comfort. The traditional costume is simple yet flattering, with natural fabrics that make it comfortable to wear in any weather (hey, it gets chilly during Oktoberfest!). With a white blouse, an embroidered dress or skirt, sensible shoes, and an apron-like sash to tie everything together, you can feel pretty and feminine without sacrificing comfort.
Another part of the appeal is that it's easy for everyone at Oktoberfest to identify with each other in their traditional outfits –even tourists who are trying out their best Deutsch! All of us girls wearing dirndls get to bond over our shared appreciation for this classic style while having lots of fun throughout the celebration.
In addition, traditional German garb gives women of all body shapes a chance to emphasize different parts of their bodies through various layers or accessories. Women with particularly curvaceous hips might want to show them off in longer dresses, or if they have smaller waists, they may opt for an empire waistline which gives them more definition! Everyone looks great wearing these incredibly versatile ensembles, no matter what shape or size!
Conclusion
I have always been fascinated by the girls at Oktoberfest. With their traditional German outfits and catchy beer-mugs of beer, they add a great charm to the already vibrant atmosphere. They are the liveliness of Oktoberfest and are probably one of the biggest attractions.
After observing them up close and personal, I can certainly say that they have an undeniable charisma and sex appeal that is hard to come by.
The Appeal of Oktoberfest Girls
The attraction of Oktoberfest girls boils down to many things. Everyone has their own preferences regarding women, but there are some common denominators – beautiful smiles, lively personalities, and the ability to dress up for the occasion. Along with this, Oktoberfest girls have a bit of an old-school vibe, which never fails to attract attention.
Nothing screams "Oktoberfest!" like a heartfelt Dirndl (traditional German dress). Every season comes different designs and styles of dresses that have been tailored specifically with Oktoberfest in mind – something which goes beyond the classic Bavarian décor. From ruffled "Short Lederhosen" (leather breeches) to simple bodices with painted or appliquéd flowers, Oktoberfest girls know how to make the most out of their look.
When coupled with a nice pair of stylish white socks or knee-high stockings and an overwhelming smile, there's no question as to why so many people can't help but appreciate them as they roam around Theresienwiese (the fairgrounds).
So why should you imagine that Oktoberfest girls are so hot? There's probably more than one answer to this question. Still, it's easy to get pulled away from the facts: good looks, an enthusiastic attitude, and an eye for fashion give them just enough charm and definition for any event.
How to Recreate the Look
So after learning more about the traditional outfit of an Oktoberfest girl and what goes into making this striking style, you may be keen to recreate the look yourself.
The ensemble is surprisingly simple yet effective: determined by the blouse, dirndl dress, apron, and hairdo. Starting with the traditional Dirndl dress colors and neckline shape – low cut with delicate edging – you can express your own individuality by choosing unique patterns and palettes that best capture your personality and sense of style.
An apron is optional but can add another layer of charm as well as loosen up the overall look. The German girls typically pin cute versions of pastel-colored aprons (or lace ones for the evening) around their waists for fun. As for shoes, it's all about the comfy yet stylish choice that reflects your own taste— choose whatever makes you feel at ease while busting out those Oomph-town moves at the Beergarden!
Finally- a classic half-up hairdo will complete this stunning Oktoberfest look. Just make sure that it's firmly pinned up but isn't too tight!
Final Thoughts
When I finally entered Oktoberfest with my friends, it was hard not to notice how magnificent the Bavarian girls were. They had such a delightful charm about them that set them apart from any other girl at the festival. Whether it was their combination of traditional and modern style or their infectious energy, these ladies had a captivating effect on all those around them.
In conclusion, I believe that the Bavarian girls can reflect the true beauty of Oktoberfest by radiating their genuine warmth and happiness in traditional dress that evokes both nostalgia and an appreciation for modern culture. Their unique appeal makes Oktoberfest so special and memorable for all who experience it firsthand.