We live in a digital world filled with gadgets, constantly demanding our attention. These digital gadgets and gears are made for today. What does that mean? It means most gadgets, whether the latest phone, a tablet, a computer, or other fancy toys, go after what the customer is looking for TODAY, and most have similar features. These gadgets are outdated in a year or two, as can be seen by the phone in your pocket right now. I bet it's not older than two years.
But all hope is not lost; there are still things that are not digital and people who appreciate these analog items. One such item is a man's wristwatch, which may not seem practical because your phone, computer, car, and even a microwave oven can tell you what time it is. But a watch is more than a piece of gear that tells you the current time; it's a men's fashion accessory, an heirloom that can be passed down to children or grandchildren, and it's also practical.
A men's watch is the perfect way to complete any outfit. Whether wearing a suit or jeans, a watch adds a touch of class and sophistication. It can dress up a casual outfit or add a touch of class to a formal ensemble. A well-chosen watch says a lot about a man's style and taste. A watch is also a great conversation starter. When you are out and about, people will notice your watch and strike up a conversation with you about it. If you take care of your watch, it should last decades and can be passed down to your loved ones who will remember you wearing it.
A watch is practical. In today's world, it's easy to get lost in the digital age and forget what time it is. A watch is a constant reminder of the value of time. It's also valuable for keeping track of appointments, meetings, and deadlines.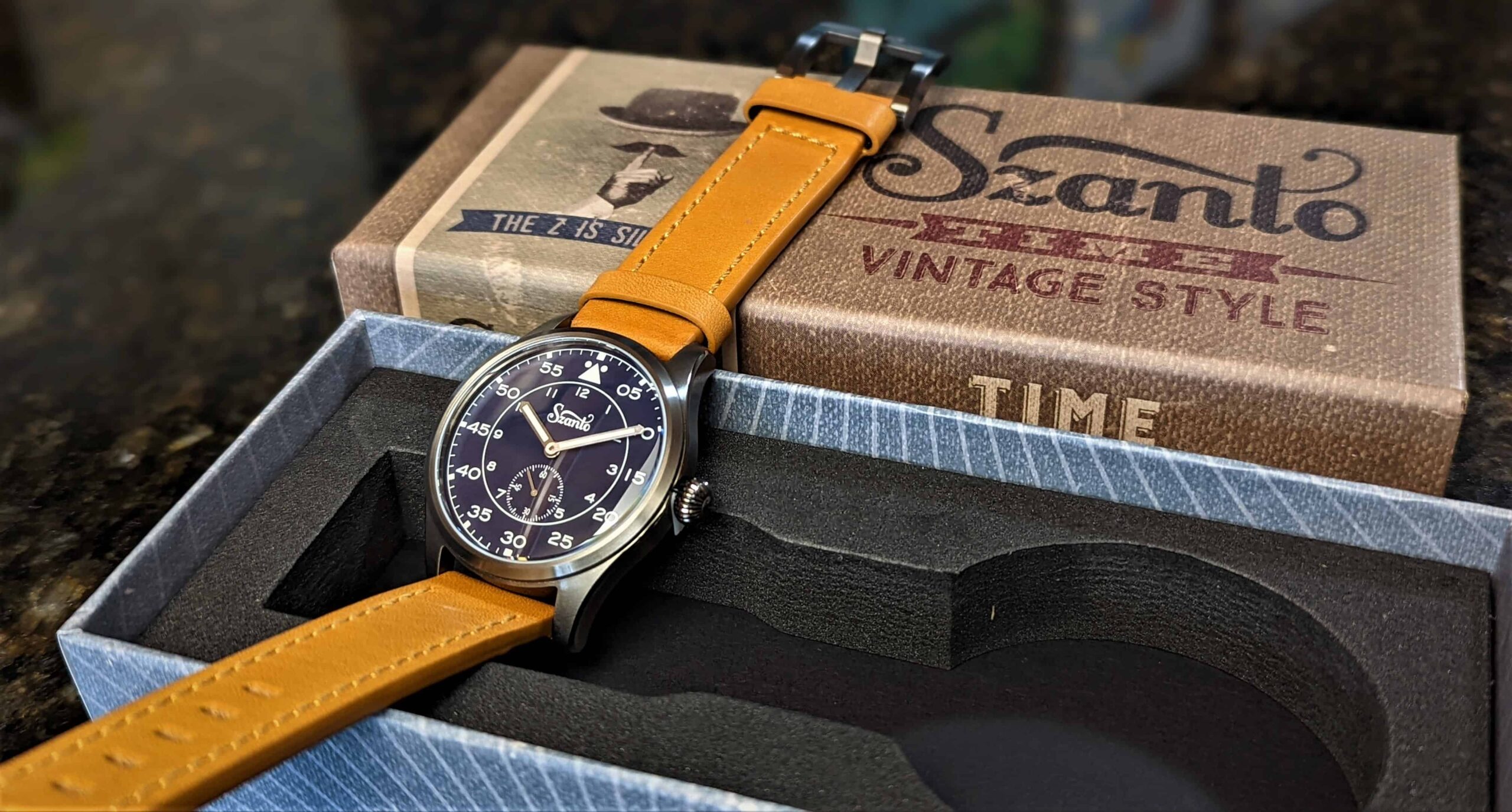 There are many different styles and brands if you are looking for a men's watch. You can find a men's watch to fit any budget. Whether you are looking for a luxurious gold watch or a simple yet elegant leather band watch, there is a men's watch for you.
If you're looking for a watch in the $200 range, may we suggest the Szanto Heritage Aviator Small Seconds watch, priced at $225. Szanto, the z is silent in the name, pronounced "Santo," also has watches in higher price ranges, including quartz and automatics.
Check out our review of the Szanto Automatic Officer Coin Cushion watch.
We recently received their newly released model, the Szanto Heritage Aviator Small Seconds. The Heritage Aviator Small Seconds watch collection features a combination of six watches. The series consists of four dial colors, two case finishes, and three leather strap colors. The dial colors include black, blue, military green, and sand. The cases come in either brushed stainless steel or brushed stainless steel with IP gray plating. The leather straps come in black, brown, and tan colors.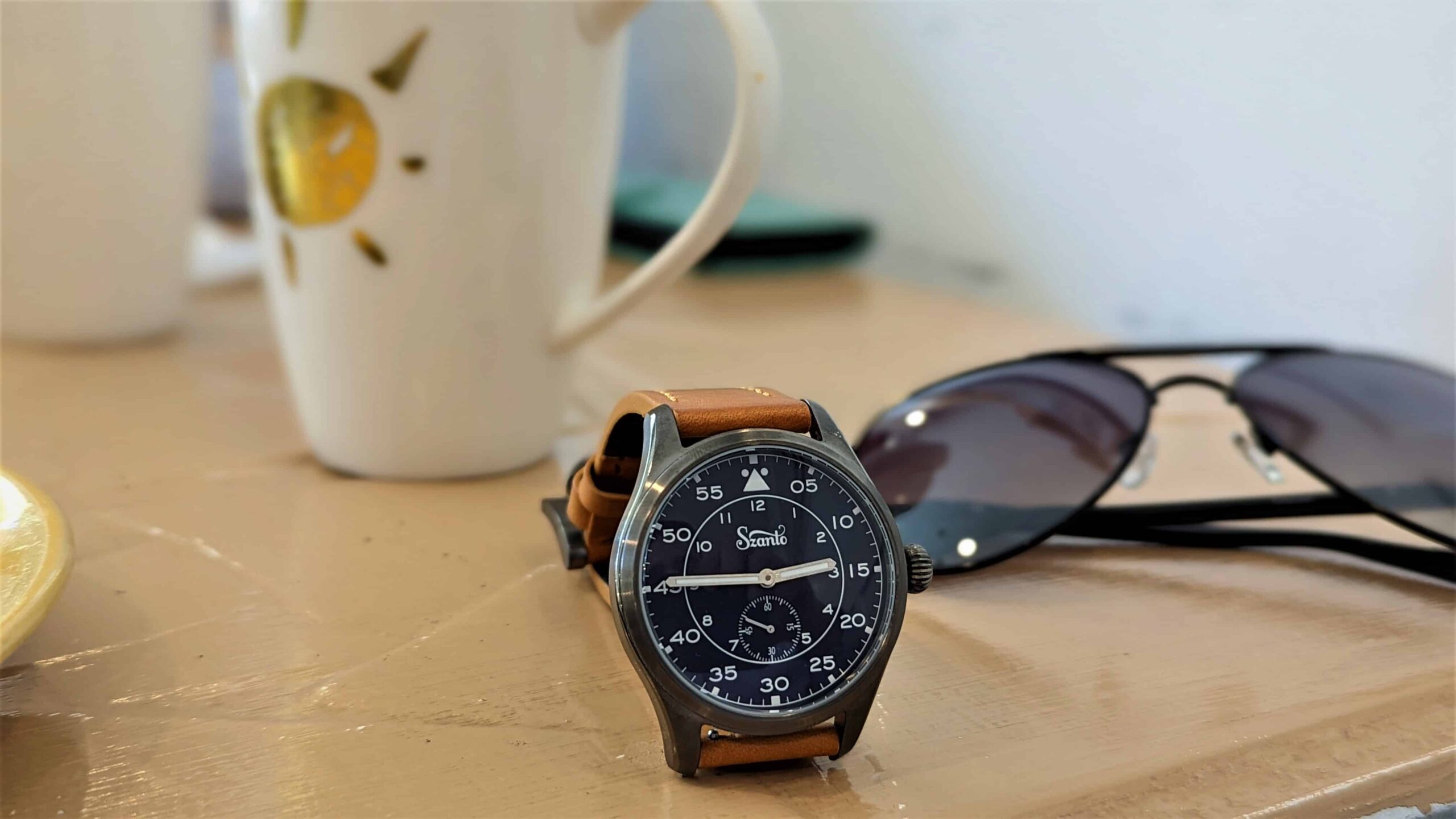 Szanto watches are known for their vintage designs, and the Heritage Aviator series is no exception. Featuring a design that's sure to bring back memories of the old. Our review watch came with the IP gray plated brushed stainless-steel case, with a blue dial and tan leather. It is a fantastic-looking combination, and the tan leather makes the watch stand out. I got quite a few compliments on the watch over the past three weeks.
The Szanto Heritage Aviator Small Seconds watch comes in a 41 mm case and features a hardened mineral crystal. The dial features large minute markers in Arabic numerals in 5-minute increments. The inner dial features the hour markers in Arabic numerals. The small seconds sub-dial is placed between the 5 and 7 o'clock markers. The two hands and 12 indices feature thick Swiss SuperLuminova lume, making it relatively easy to see the time at night. The watch is powered by a Miyota 1L45 quartz movement and is water resistant to 100 meters.
The case features a "half onion" crown, and the soft leather strap comes with a matching gray IP-coated buckle featuring the Szanto logo.
The Szanto Heritage Aviator Small Seconds watch is quite comfortable to wear. It has a nice weight, making it feel quite substantial, but it's not too heavy to make it uncomfortable. The 41 mm case size is also quite nice; it's not too big and fits my small wrist nicely.
Overall, I think the Szanto Heritage Aviator Small Seconds watch is an excellent watch in the $200 price range. It has an attractive design, feels high quality, and is comfortable to wear daily. This is going to be my new daily watch. If you're looking for a watch in this price range, check out the Heritage Aviator watch by Szanto; for more information, visit their website.