I love watches. It's not yet a hobby (I don't know much more than the most popular brand names), but I compulsively purchase every watch that catches my fancy at yard sales or while shopping. I've slowly built up a sizeable collection of watches with quirky and interesting designs, bands, or watch faces, but I don't have any watches of real value. Along the line, I decided to start collecting watches that are a bit more mainstream and have some value.
I didn't commit to my search totally, so I couldn't find anything helpful on my first try, which was probably a half-assed Google search for "Watch collecting tips" at 2 A.M. that ended with me scrolling through Pinterest looking at pictures of watches. I wanted a collection that would serve as a store of wealth. I needed watches that would retain value as the years passed; watches I could pass down to my yet-to-be-born children (I still need to find a woman too).
You can imagine my delight when I got an email about a company called Watch Gang, the World's Number One Watch Club according to their website. The text blurb that welcomes you to the site says they don't deliver good watches – no, they're amazing watches. Going through the site, I discovered the concept of mystery watch clubs.
How it works is simple. You sign up for their service, tell them about yourself, then for a monthly membership fee, they ship quality watches to you. They have quite a few brand partnerships, which is how they can offset the costs and get such a large number of watches.
I was fascinated with the idea. They have a few tiers of subscriptions. The more money you pay, the better the watches you get, of course. Watch Gang's lowest tier costs $50 per month, and they claim that every watch will be worth more than you pay for the subscription. The $50 Original Tier entitles you to receive watches worth up to $150, members of the Black Tier receive watches worth up to $500 for $100 a month, while the most premium Platinum Tier entitles you to watches worth up to $1,500 for $300 a month.
Watch Gang's brand collaboration also includes a deal with Tag Heuer, Seiko, and Rolex to provide a watch giveaway for every member, no matter their subscription plan.
I was intrigued to try the service, the PR person said they'll send me a couple of watches, and as the website describes its service as "mystery watch club", they wouldn't tell me which watches I was getting. Upon opening the box, I was greeted with two boxes. One box included a watch called Spinnaker and the other one had a watch called Chronofixe. I may not be the most knowledgeable watch enthusiast in the world, but I had never heard of these watches and had to look them up.
Watches We Received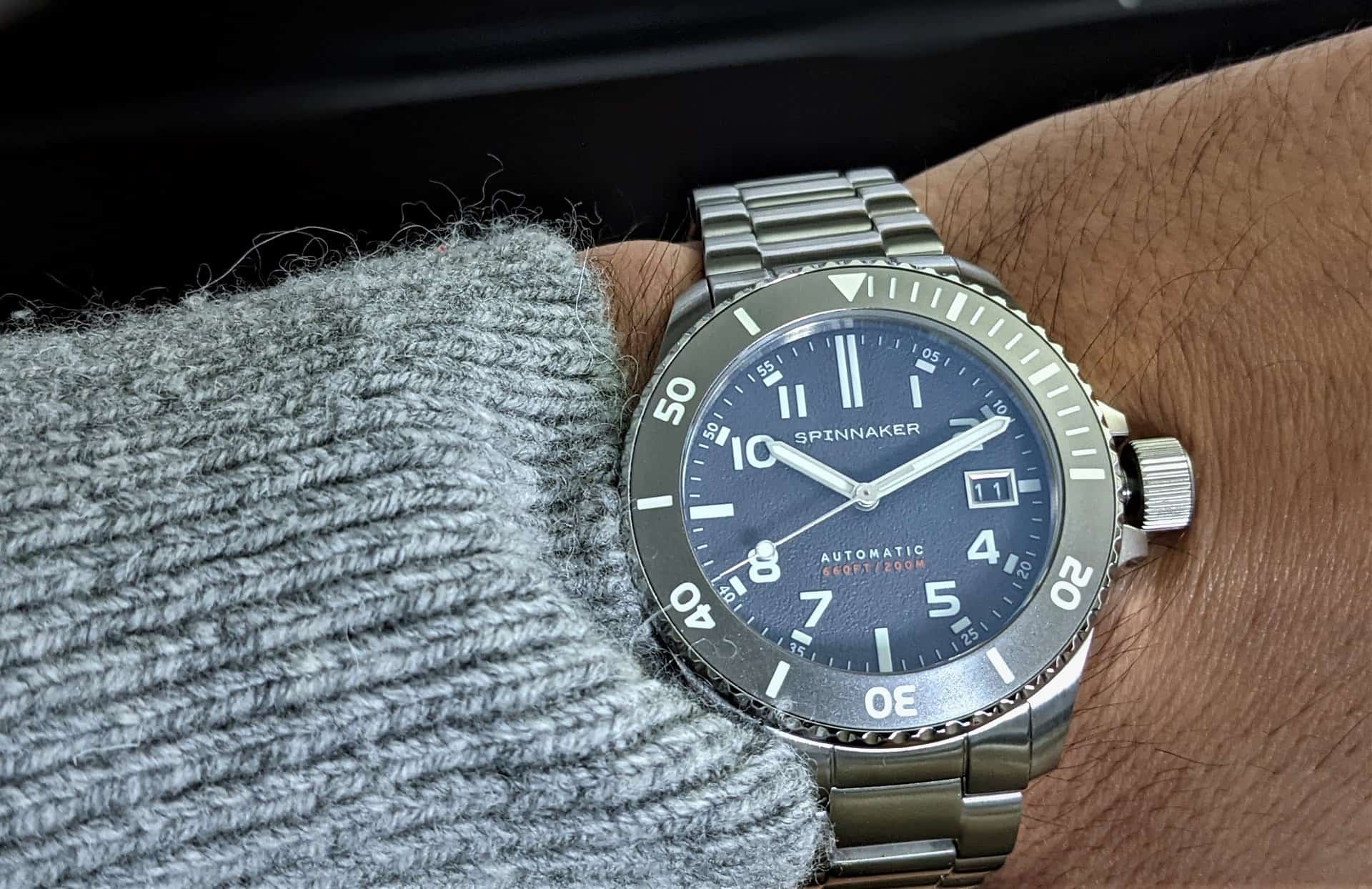 Spinnaker makes watches for those that like to play in the water. The company has a wide range of diving watches, producing some eye-catching designs. The watch we received was a Spinnaker Hunley Silver Charcoal. The watch features a clean design with charcoal dial, a grey uni-directional rotating bezel, and a sapphire crystal with AR coating. The watch is powered by a Japanese NH35 TMI automatic movement and comes in a 41.5 mm wide case with an exhibition caseback. The watch is rated at 200-meter water resistance. The Spinnaker Hunley Charcoal watch is priced at $305.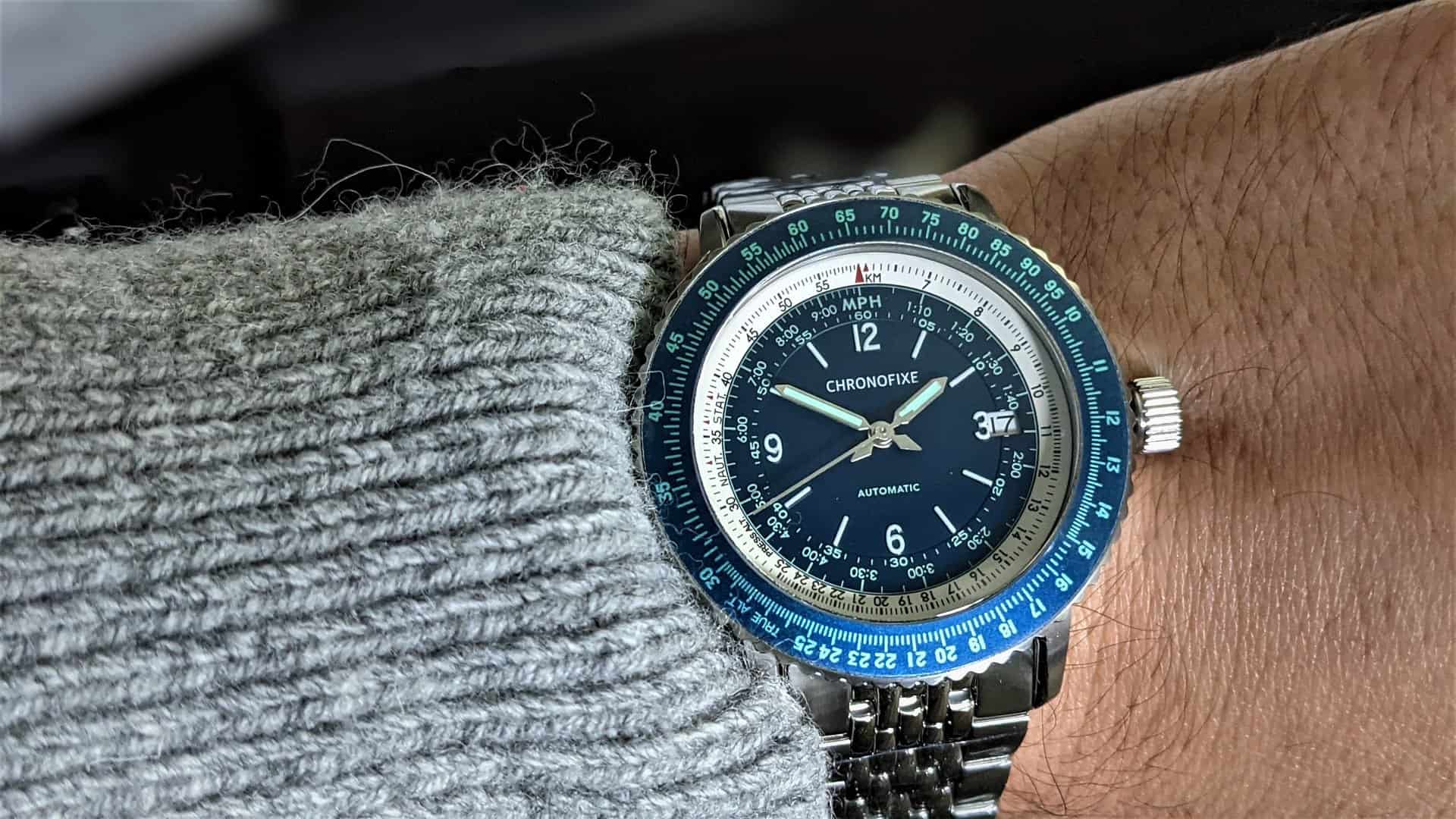 Going from the depths of the ocean to the wide-open skies, our second watch is a Chronofixe, a French watchmaker, originally launched in 1857. The company specializes in aviation watches. The watch I received was the Chronofixe Flight 1952 (CFX-009) in blue. The watch is powered by a Japanese automatic Cal. 9015 movement and comes in 40 mm 316L stainless steel case. The watch features a slide rule bezel, sapphire crystal with AR coating, and a exhibition caseback. According to the watch's website, this watch is priced at $850 US, however, the tag on the watch says $850 HK (Hong Kong dollars), which roughly translates to $110 USD. So, I'm not 100% sure which price to go by, although the watch does feel like a much higher quality watch than the 850 HKD price would suggest.
Some Things to Consider
One problem I could immediately see with the entire arrangement was that there was no way to choose what watch you get and you give them a vague self-description telling them what type of watches you like. I would have liked there to be a more through questionnaire, so Watch Gang can get a better understanding of the types of watches you like. The company also says on their site that if they send you a watch that you don't like, you can't return it.
The policy of no returns does makes sense, since it's a "mystery watch club", there won't be much mystery to it if you can return the watches and then ask for something different. Of course, you're not going to like every single watch you get, but the ones you like will probably more than make up for the ones you don't like. The watches are premium, so you should be able to sell the ones you don't want online on craigslist, kijiji, Facebook market place or even watch forums.
Conclusion
If you are also a watch enthusiast, you can likely already see the value of this club. Watches are a significant investment, so the potential opportunity to get the best quality watches for a third of the price probably already has you scrambling for the Watch Gang site. Like Forbes' Magazine wrote, if you are a watch enthusiast looking for a way to begin building your collection or shore up a budding collection, then sign up for Watch Gang.
The membership is not for everyone though. You probably aren't ready to pay $300 per month for watches if you're the type of person that has used the same trusty rubber-armed watch since you were in school. If you are a collector who only wants a certain type of watch for their collection, you should probably look elsewhere, as well.