Over the last couple of years we've shown you some very unique places to stay at while you're traveling around the world and today we would like to introduce you to Tubo Hotel, located in Tepoztlan, Mexico, just outside of Mexico City.
The Tubo Hotel is designed by T3arc Architecture and is a hotel where guests sleep in recycled concrete drainage pipes.  To keep construction costs low, drainage pipes that didn't meet the required specs to be used as drainage pipes were bought and converted into hotel rooms.  To make better use of the available land, the concrete pipes were placed in a pyramid format, two at the bottom and one on top of them.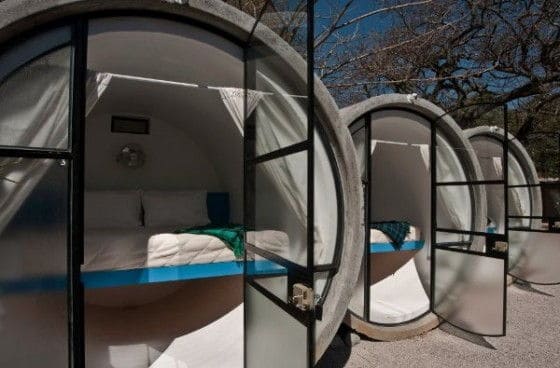 Each of the rooms at the Tubo Hotel measure 2.44 meters in diameter and 3.5 meters in length. The rooms feature a queen size bed, lights, a fan, electric plugs, free wireless internet, a glass door/window, and curtains for when you need privacy. Because of the material used in the drainage pipes, the rooms keep consistent temperature day and night.  Outside, visitors can enjoy the picnic tables, swimming pool, and rental barbecue units.
The Tubo Hotel is located on a hilltop giving guests a panoramic view of the Sierra del Tepozteco.  This unique hotel/camp ground is yet another cool place to put on our list of places to visit around the world.
Tubo Hotel in Tepoztlan, Mexico
This looks a bit like a lunar facility, don't you think? If someone were to edit the background and insert a giant picture of earth, one could probably pretend they were on the moon. The whole "being able to breath" thing probably makes this a much better option than an actual hotel on the moon.
If you're looking for cheap accommodation at someplace a little more conventional in Mexico (and many other places), check out our sponsors HostelBookers Summer Sale 2012; they have accommodation deals with up to 40% discounts. Unfortunately you probably won't be sleeping in a drainage pipe, but I don't think that's necessarily a bad thing. After a long flight to Mexico, a nice clean, regular room could be rather enticing.