I recently wrote an introductory post about our participation in the Trail Trek Tour in Las Vegas; I briefly explained what this tour is about, have a look here for a bit more details on the tour and the people that made it possible.
One of the main sponsors of the event was Toyota, with their TRD Pro vehicles, which are Toyota's most capable off-road vehicles. Toyota's part of the event consisted of two days, day one was a trip to the SEMA show and day two was spent off-roading in TRD Pro versions of the 4Runner, Tacoma, and Tundra. We were provided with two of each of these vehicles, painted in the newly released color of Voodoo Blue, which is exclusive to the TRD Pro line.
Day one started with a trip to the SEMA show, which is one of the biggest, if not the biggest after market car shows on the planet. As big of a car enthusiast as I am, surprisingly I've never been to this show prior to this visit. It really is a spectacle to see, I have never seen so many custom cars in my life.
MKV Toyota Supra Announcement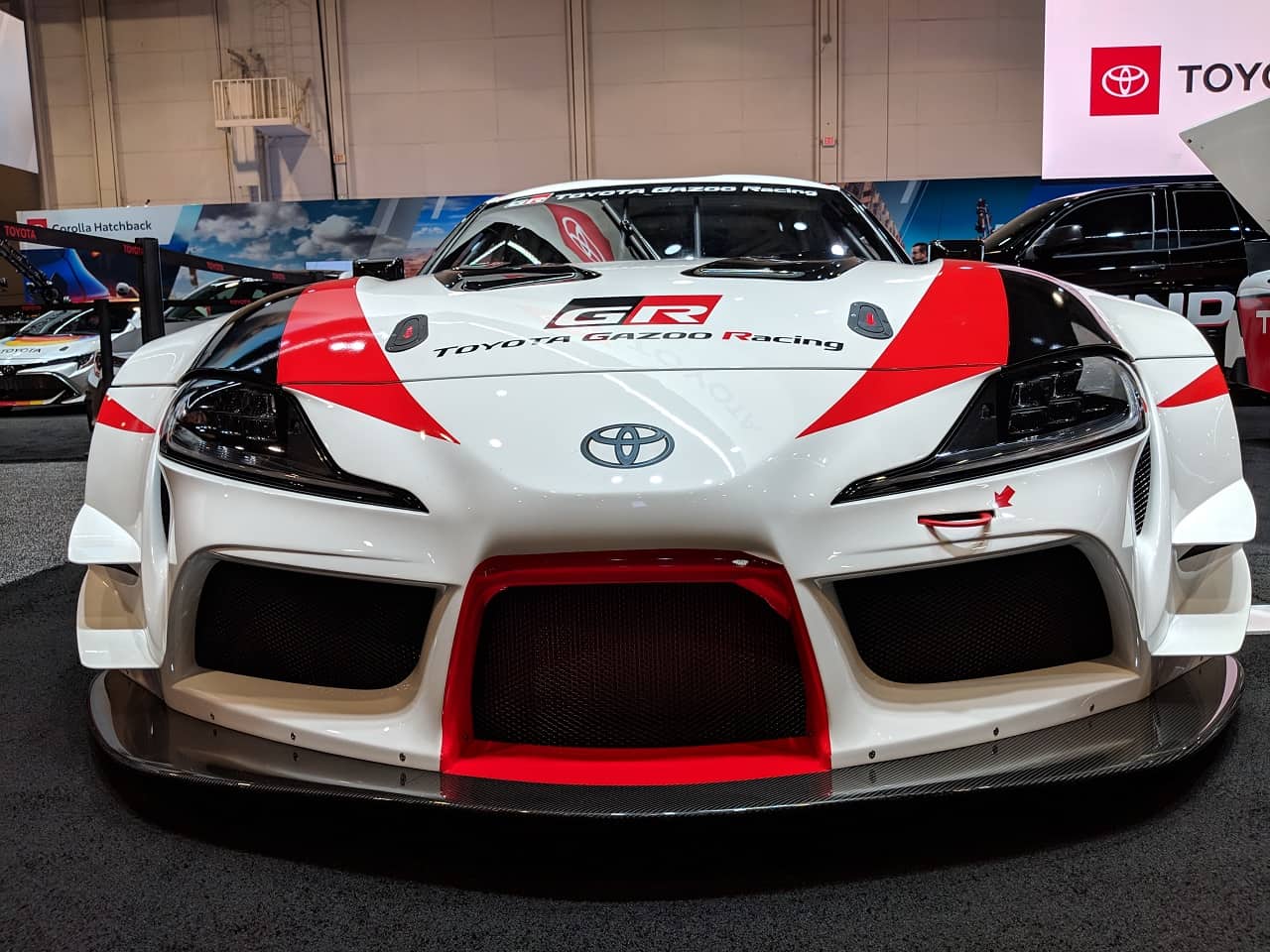 Toyota had a big booth at the show where some big announcements were made, especially about the new Supra. Of course, the Supra has nothing to do with off-roading or the Trail Trek Tour, but to me it was big news. The announcement that I have been waiting for so long was… when we'll finally get to see the production version of the all-new MKV (5th generation) Supra, which will be showcased at the Detroit Auto Show on January 14, 2019. The first production Supra will be auctioned, and the proceeds will go to charity.
Toyota did bring a Gazoo Racing version of the Supra, but of course the street legal version will be much tamer than what you see below. But judging by what was shown in the racing version, I think the street version shouldn't disappoint, the new Supra might be making itself a home in my garage in the near future.
Toyota Tundra Pizza Truck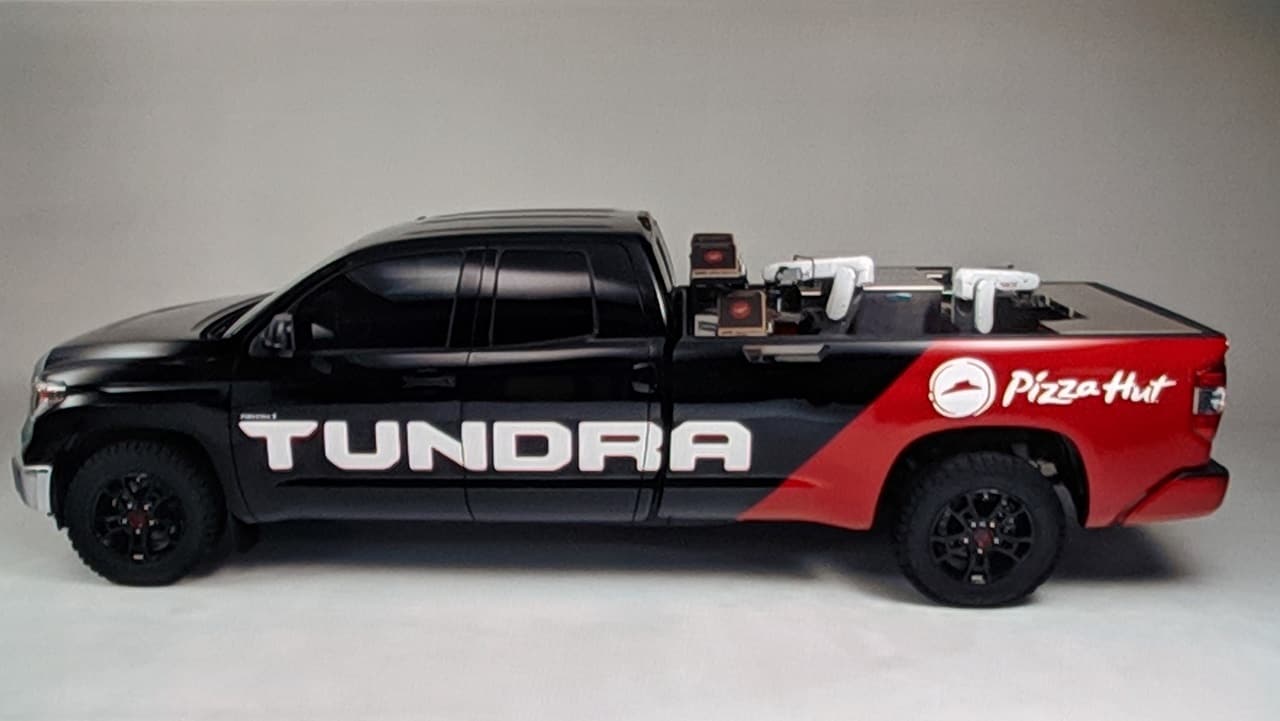 Toyota's booth also consisted of a pizza truck, but not just your average pizza truck. The Toyota Pizza truck (in collaboration with Pizza Hut) was custom made on top of a Toyota Mirai hydrogen fuel cell car with the body of a Tundra truck. The Tundra Pizza truck was equipped with a fridge, oven, and a robot that made a pizza, cut it into pieces, and even boxed it, all at the push of a button. Pretty cool. All this with zero tailpipe emissions.
Don't go running to your Toyota dealership for a deposit on this truck, like many things at SEMA, this truck was a one-off custom that probably cost hundreds of thousands of dollars (if not more).
Kevin Costner's Custom Toyota Tundra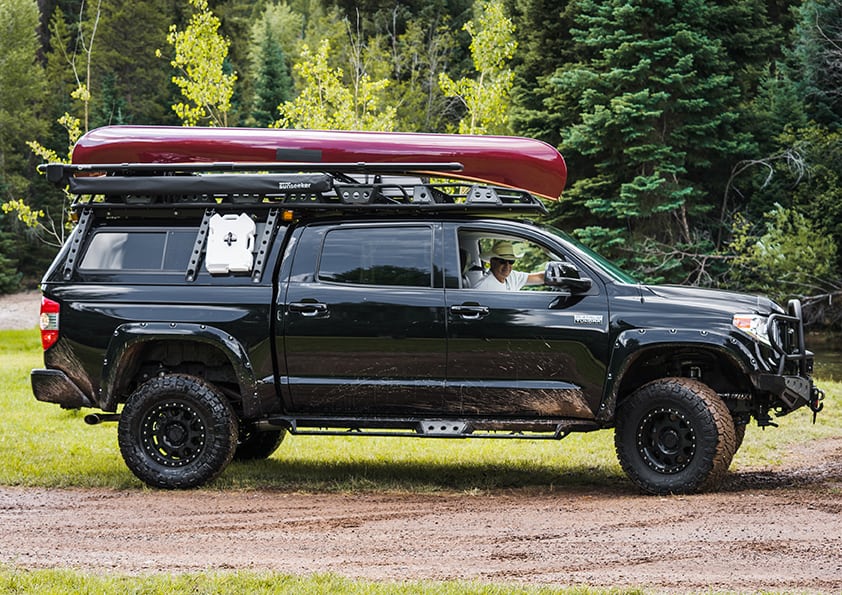 Toyota's booth at the SEMA show also displayed the "Kevin Costner Custom Tundra" pick up truck, this truck wasn't a build for the SEMA show that is only going to be used to show different aftermarket parts. Kevin Costner uses his Tundra on a daily basis on his 165 acre ranch in Aspen, Colorado.
Kevin was involved in the design process of the truck, he wanted something that he can use on his ranch, something that would also work for his three kids and wife. Some of the highlights of the upgrades on the truck include heavy duty front and rear bumpers, heavy duty winch, LED lights, 4.5 inch suspension lift, 35" tires, roof rack and much more. Check out the video below with Kevin's explanation of the truck.
Toyota Corolla Hatchback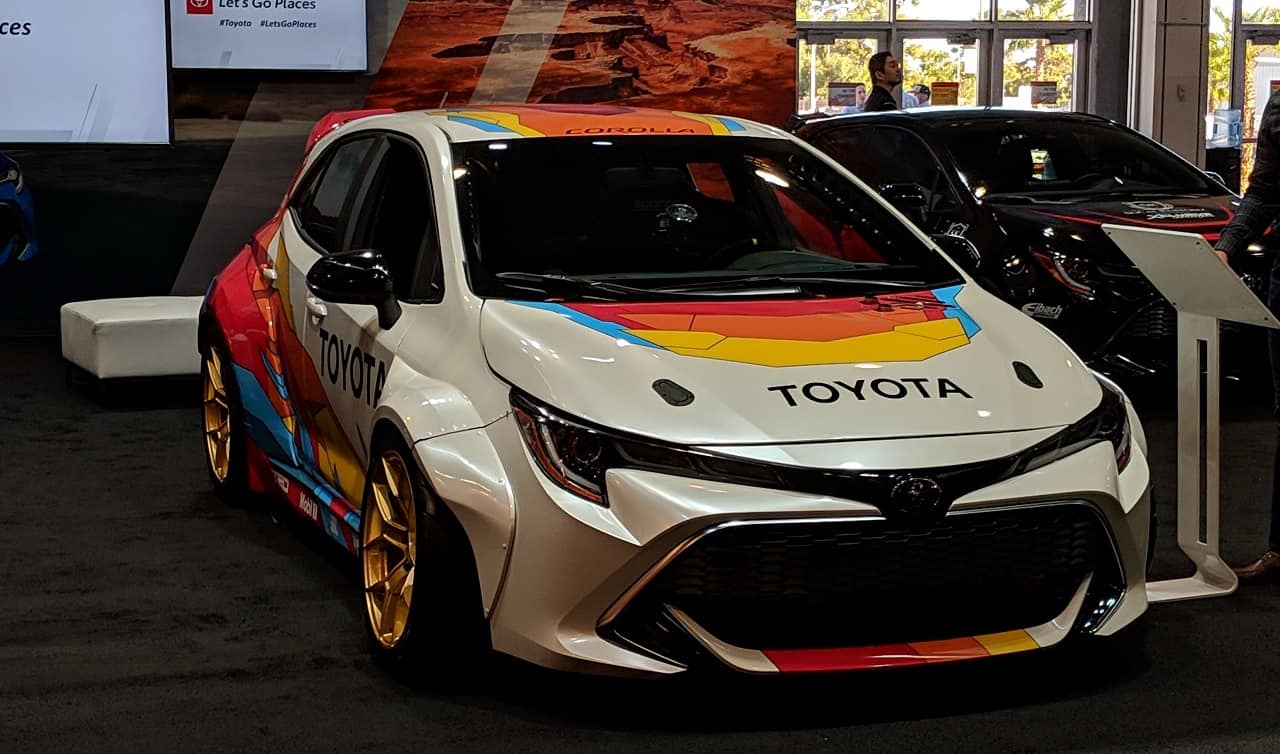 Hatchbacks are quite popular in Canada, maybe not as popular in the United States. But maybe that trend is changing, as there are quite a few hatchbacks available in the marketplace. You can now add another to that list, the 2019 Toyota Corolla hatchback.
Toyota brought quite a few tuned examples of the new Corolla Hatchback, these looked pretty cool. There should be a pretty good selection of aftermarket parts to the Corolla hatchback, judging by what was brought to the show. Toyota even brought a rear-wheel drive drift Corolla hatchback.
The stock Toyota Corolla Hatchback is a pretty good looking car, it has an aggressive front that's not offensive, this should appeal to people looking for a sporty hatchback, and in my opinion it is the best looking hatchback you can currently buy.
The 2019 Corolla Hatchback is offered in two trims: the SE and XSE. The SE has a starting price of $19,990 for the 6-speed manual and $21,090 for the CVT, and the XSE starts at $22,990 for the 6-speed manual and $24,090 for the CVT equipped cars. It's great to see a manual option, these types of cars are a lot of fun with manual transmissions.
All trims of the Corolla Hatchback are equipped with 2.0 liter 4-cylinder engines, producing 168 horsepower at 6,600 rpm and 155 horsepower at 4,800 rpm.
BFGoodrich Tires Booth at SEMA/Baja 1000 Qualifying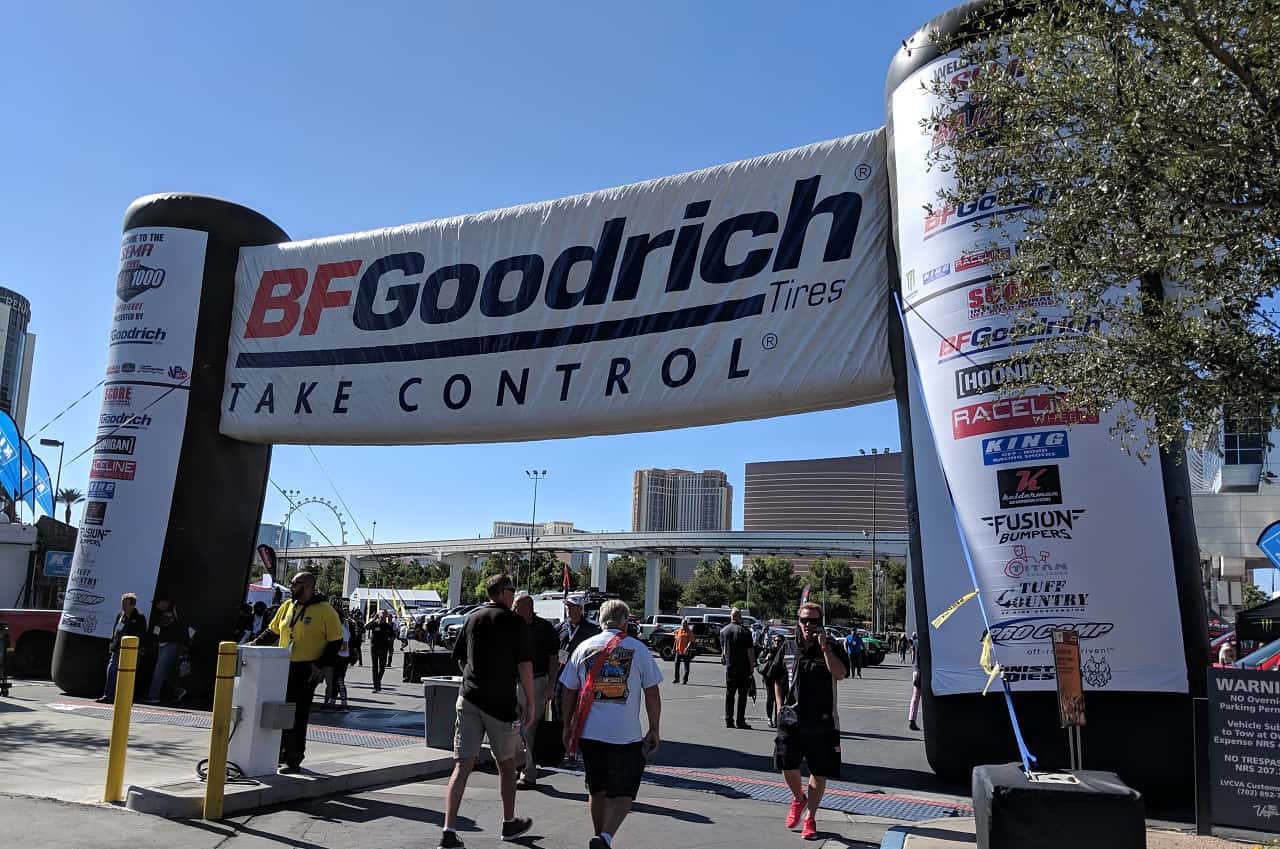 Next we visited the BFGoodrich tires booth, where they announced the winners of the 2018 Outstanding Trails Program. The Outstanding Trails Program encourages better use of and maintenance of off-road trails. Each year, off-roading clubs in the United States pick trails to receive $5,000 grants; $4,000 is provided by BFGoodrich and $1,000 by Jeep Jamboree USA. The four winners for this year's grant were:
Wild Rose Trail, Valders, Wisconsin
Elwood Pass, Rio Grande County, Colorado
North Fork Trail, American Fork Canyon, Utah
Swamp Lake Trail, Fresno County, California
Later in the evening we were invited to the BFGoodrich hospitality area at the Baja 1000 qualifying at the Las Vegas Motor Speedway. We witnessed some amazing off-road action, as the drivers tried to qualify as fast as they could in their 900+ horsepower custom built off road trucks. These same trucks will be raced at the Baja 1000 race in Mexico from November 14th to 18th.
After this very long day of walking and exploring, we went back to our hotel, the Park MGM (more on that in another post).
This concluded our day one adventures, stay tuned for more from day two.