If you're the type who finds solace in lifting weights, thrills in rock climbing, or simply love to lose yourself in your favorite songs, then TOZO Open Buds are just right for you.
These lightweight and long-lasting wireless earbuds artistically marry style with performance. With their unique open-ear dual-axis design, these earbuds aren't going anywhere – no matter how intense your workouts get.
Keen to hear more? Well, beyond their sleek exterior lies immersive stereo sound effects and a powerful bass that amplifies every beat. The TOZO Open Buds truly add a rhythmic soundtrack to each day of yours.
Key Takeaways
TOZO Open Buds fit well in any ear thanks to a special dual-axis design.
You can use two devices at once with them for music or calls.
They give you up to 42 hours of sound.
The TOZO App has five EQ settings for different sound styles.
Table of Contents
Design and Aesthetic of Tozo Open Buds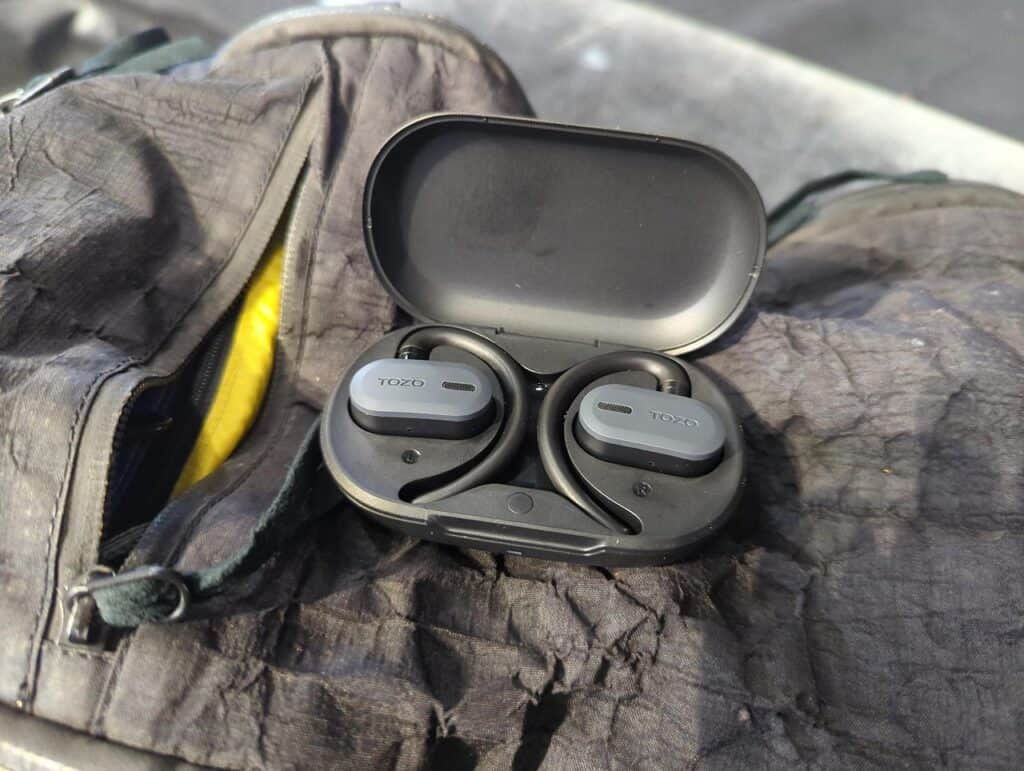 The TOZO Open Buds boast a sleek and modern design, featuring an open ear concept that sits comfortably outside the ear – perfect for those who desire comfort alongside their music.
With a bi-axial rotation mechanism, these buds provide flexibility in fitting to different ear shapes and sizes for long-lasting comfort.
Open ear design
Open ear design is one of the best things about TOZO Open Buds. These buds don't block your ears like usual ones do. The sound comes out in a way that feels open to the world around you.
This doesn't mean they are not loud, though! You can hear every beat and note clearly even if you're in a busy place, like a gym or on a crowded street. Plus, it's great that you can still be aware of what's going on around you while rocking out to your favorite songs.
Safety is key when wearing them while driving, too, because they let you hear important sounds like sirens or horns from other cars.
Biaxial rotation for fitting
The TOZO Open Buds have a cool feature. They use a biaxial rotation design. This means you can move the earbuds up and down or side to side. It's like they have two axes, hence the name "biaxial."
This helps you find the best fit for your ears.
Different people have different shapes and sizes of ears. The biaxial rotation lets you adjust the open-ear headphones to suit your own ears. No more discomfort! You can enjoy your music in comfort all day long with these true wireless earbuds.
Plus, this is something that sets TOZO Open Buds apart from other buds out there.
Key Features of Tozo Open Buds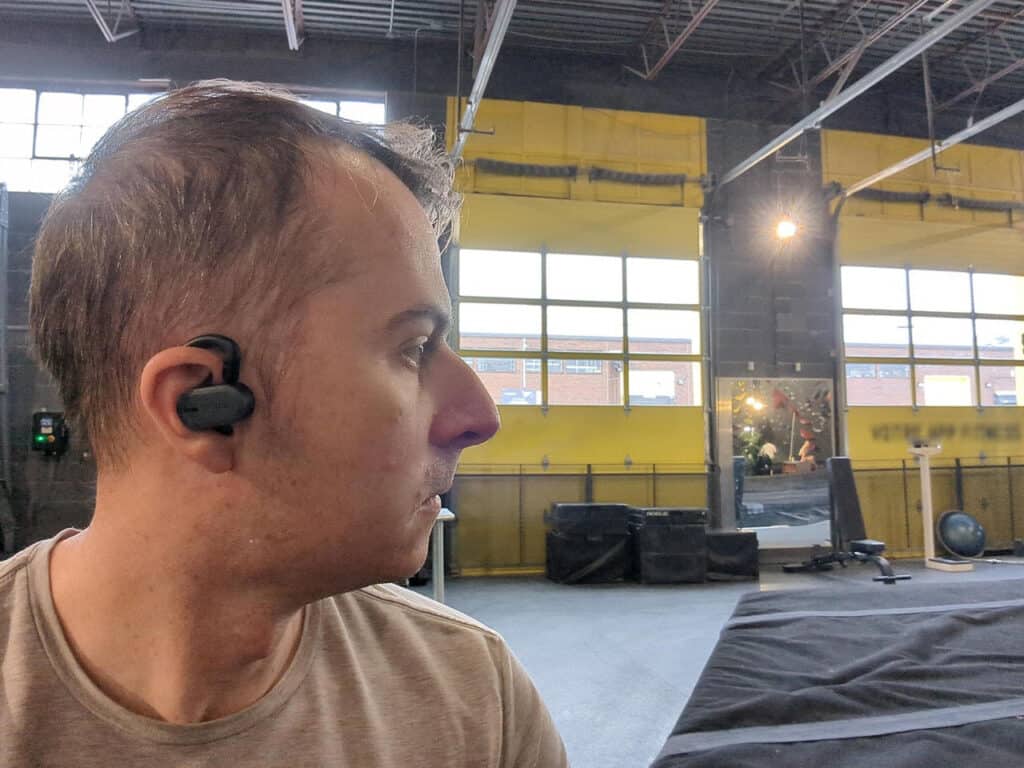 The TOZO Open Buds boast a variety of impressive features. With an astonishing 42-hour battery life, you can enjoy music all day without worrying about charging. The TOZO APP with 5 Preset EQs lets you tailor your sound experience to your liking, whether that's ramping up the powerful bass or enjoying balanced musical tones.
These buds offer enhanced privacy with their open-ear design, ensuring nobody else can hear what you're listening to. Plus, they have a dual-device connection feature for multitasking between devices without hassle.
42-hour battery life
The TOZO Open Buds offer a whopping 42-hour battery life. You can listen to your favorite songs or take calls all day without worry. The slim charging case brings the buds back to full power in no time.
This long-lasting battery life means less time charging and more time enjoying your music or podcasts.
TOZO APP with 5 Preset EQs
The TOZO Open Buds use a special app. This app is called the TOZO APP. It lets you pick from 5 preset EQs. You can change how your music sounds with this option. Your songs can sound just as you like!
Powerful Bass
The TOZO Open Buds make your music sound great. They use air conduction technology to give you powerful bass. You will feel the beat in your heart, not just in your ears! This is not a normal part of most earbuds.
With these, every song has deep and rich sounds.
In the TOZO App, you can change how deep the bass is. There are preset EQs that let you pick what sounds best to you. The Bass + preset pumps up low notes for a big sound. Rock songs hit hard, and dance beats ripple through your body with power and grace.
The Standard preset keeps things even and clear for daily listening needs.
Enhanced privacy
TOZO Open Buds are great for keeping your music to yourself. With air conduction technology, the buds give you a private sound bubble. Your favorite tunes stay with you, and don't bother others around you.
This feature is top-notch if privacy matters to you while enjoying your music or calls.
Dual-device connection
The TOZO Open Buds offer a cool feature called dual-device connection. This means you can link your earbuds to two devices at the same time. Switching between your phone and laptop, for example, is easy and quick with this feature.
You can listen to music on one device and then take a call from the other without any stress. It gives you lots of freedom as it saves time and effort!
Performance and Sound Quality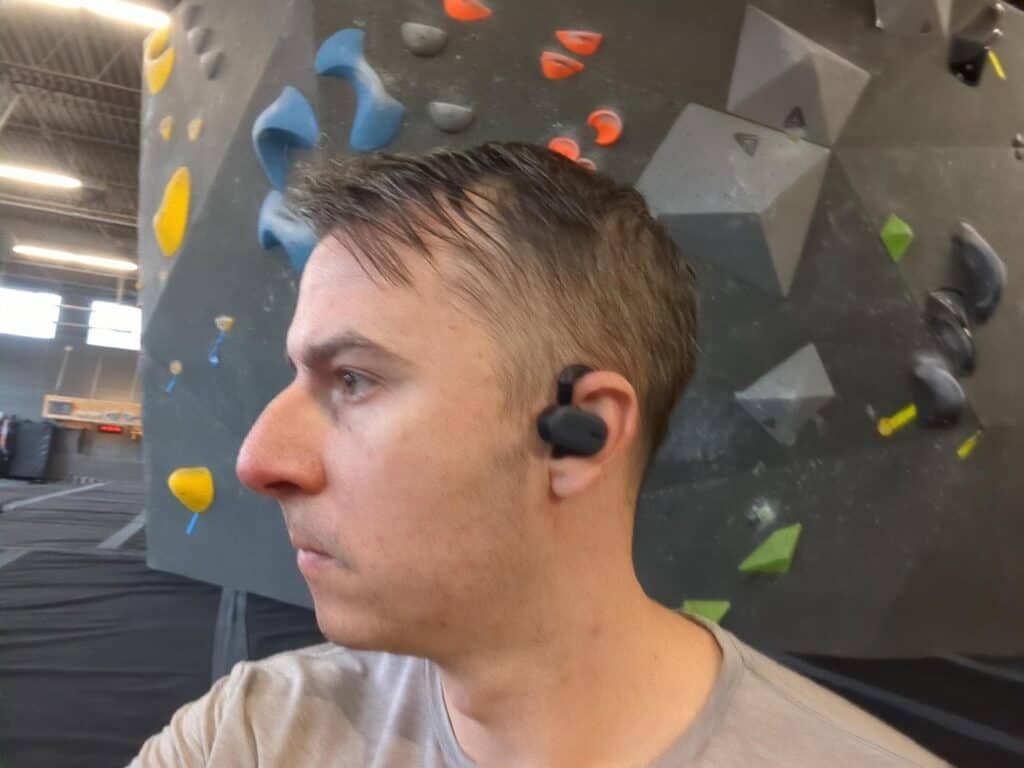 The performance and sound quality of the TOZO Open Buds are impressive, with a 14.2mm dynamic driver delivering powerful bass and immersive stereo sound effects. Honestly, these earbuds offer an audio experience that is superior to the SHOKZ bone-conduction headphones I've used before.
14.2mm Dynamic Driver
The TOZO Open Buds are not just all show. They come with a 14.2mm dynamic driver. This is what makes the sound big and bold! The driver pumps out powerful bass that you can feel in your chest.
This isn't about basic sound quality. It's about top-notch performance each time you plug into your music or podcasts! The action of this dynamic driver is what sets these earbuds apart from others.
It gives you an awesome sound experience every single time!
Immersive Stereo Sound Effects
You get to hear deep sound with TOZO Open Buds. The stereo effects are rich and take you into the song. You feel like you are right there with the band. Their TOZO ORIGX system gives this clear, loud sound.
It keeps noise out, too! With 14.2mm drivers and air coming through, the bass is strong but not too much. Music lovers who enjoy bass will love it! These earbuds give a real feel of being in a live show or concert!
Connectivity of Tozo Open Buds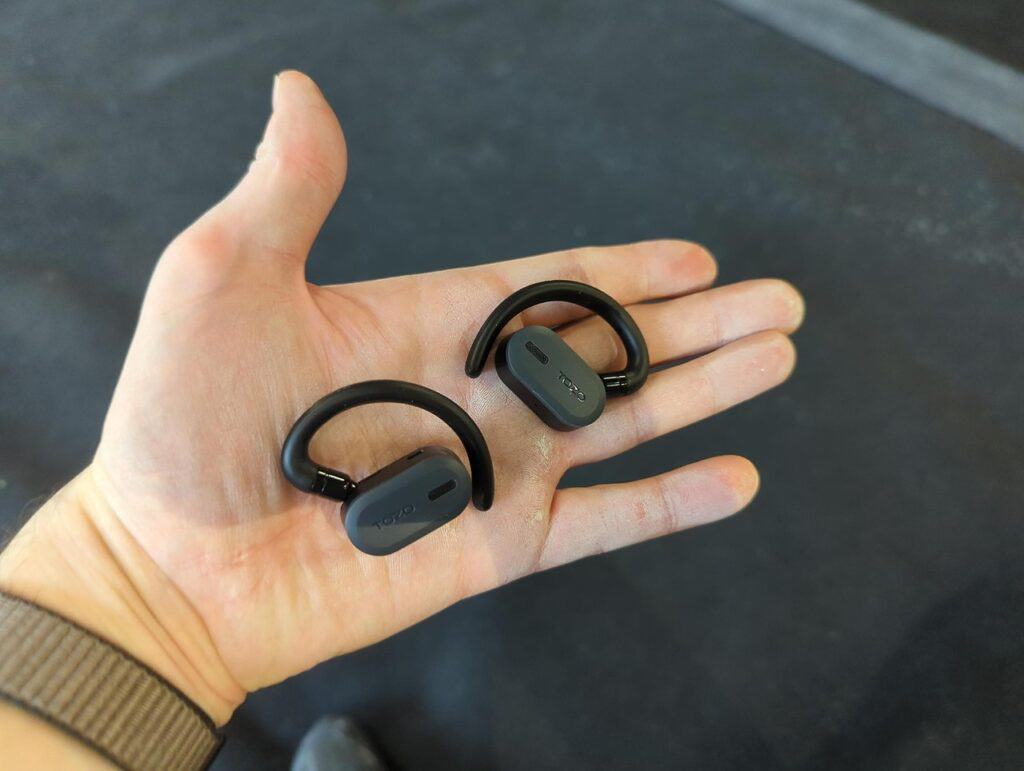 Featuring the latest Bluetooth 5.3 technology, TOZO Open Buds ensure seamless, stable wireless connection for uninterrupted music playback or phone conversations. Be it a smartphone, tablet, or laptop – these earbuds easily pair with multiple devices concurrently.
Bluetooth 5.3 Technology
The TOZO Open Buds use a cool technology called Bluetooth 5.3. It is what lets the earbuds talk to your phone or other device without any wires. This tech is strong and stable. You won't lose your music when you walk away from your device! Plus, it makes sure that all of your calls sound great, too.
With Bluetooth 5.3, these buds give a smooth wireless experience that's top-notch!
Communication Capabilities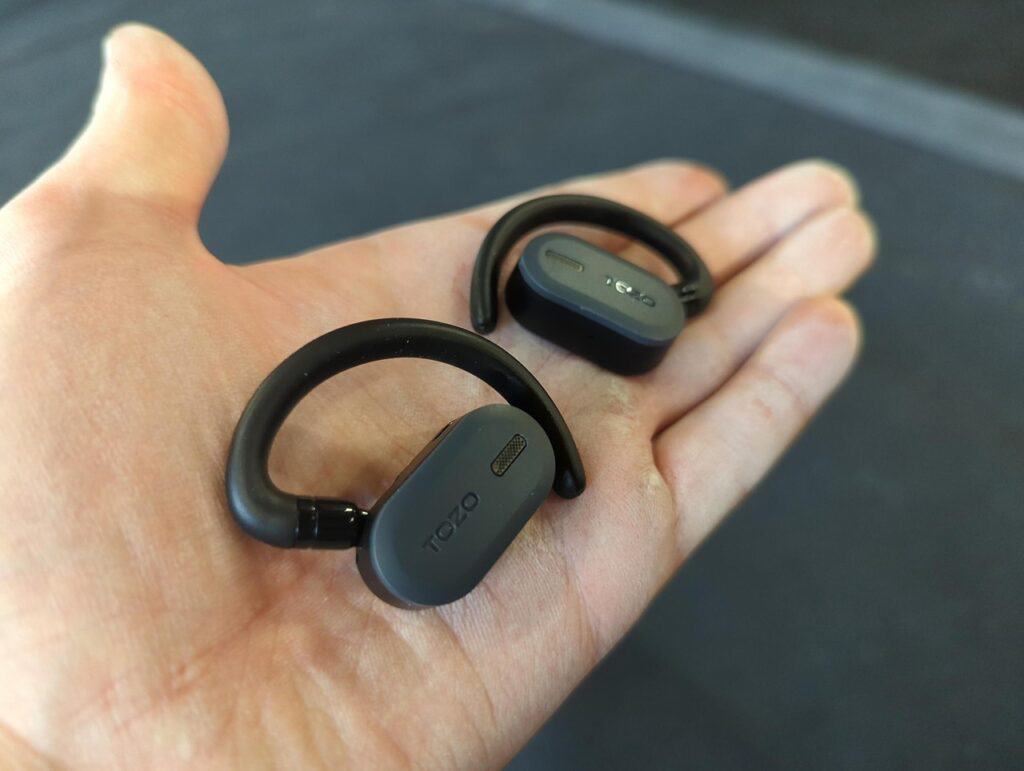 The TOZO Open Buds host an impressive array of communication capabilities, including seamless connectivity and advanced DSP call noise cancellation for clear, uninterrupted conversations.
Excited to know more? Dive right in!
Seamless Communication
TOZO Open Buds make chatting easy. They let you switch between two phones without a hitch. Their noise-canceling call feature gives you clear talk anywhere—no need to worry about loud places anymore.
You can focus on your chats, and the buds take care of the rest.
DSP Call Noise Cancellation
I love the DSP Call Noise Cancellation in TOZO Open Buds. It's so good! This feature takes away all the noise around me when I'm on a call. Even if I am in a loud place, my calls are always clear.
The person on the other end hears only my voice, not the noises around me. It's like having a quiet chat room just for my phone calls! With these buds, there's no need to worry about background sounds messing up my talks anymore.
Battery Life and Charging
The battery life of TOZO Open Buds is great. You get 12 hours of use at half sound level. The charging case adds another 30 hours. This means you get a total of 42 hours before you need to plug in again.
The slim, easy-to-carry case charges fully in just an hour and a half. After playing music non-stop for three hours, the power levels were still above 45% on both buds. With this kind of power, you can enjoy music all day long without worrying about finding a charger.
Pros and Cons of Tozo Open Buds
When it comes to the TOZO Open Buds, there's much to love, but they're not without their shortcomings. Below is a quick rundown of the pros and cons of these open-ear headphones.
| Pros | Cons |
| --- | --- |
| The open-ear design enhances situational awareness as it allows for the perception of ambient sounds. | Their design can lead to noticeable sound leakage and less immersive bass. |
| They are made from plastic with a matte finish, giving them a sleek, modern look. | The matte finish easily shows smudges, requiring frequent cleaning. |
| With an IPX6 water resistance rating, they are suitable for outdoor use, even in wet conditions. | |
| The ear hooks are connected to the buds via a metal hinge mechanism with seven-stage adjustment, ensuring a secure and comfortable fit. | |
| Bluetooth 5.3 connectivity and dual-device connection are supported, providing seamless connection with devices. | |
| They offer an impressive battery life of 11 hours of playback, which extends to 33 hours with the charging case. | |
Final Verdict
TOZO Open Buds are winners, no doubt. They have a slick look and feel great in your ears. The dual-axis design lets them adjust to your ears for super comfort. The open-ear design helps you hear what's around you but still enjoy clear sound.
These buds last long with their 42-hour battery life. No worry about the music stopping mid-jog! The TOZO App even has five EQ settings to switch things up. You can use two phones at once and pick which one you want to listen from without hassle.
I think TOZO Open Buds are worth it for any guy out there who loves good tunes and hates wires getting in the way! With their low weight of just 5.3 ounces, these buds won't wear you down while working out or resting at home!
FAQs About the Tozo Open Buds
What are the Tozo Open Buds?
The TOZO Open Buds are true wireless earbuds that offer high-quality sound by using 14.2mm dynamic drivers and allow a dual device connection.
How long do the Tozo Open Bud's battery last?
TOZO Open Buds have a long-lasting battery life, with up to 42 hours of playtime on a single charge.
Is it easy to wear the Tozo Earbuds?
Yes, you can adjust these open-ear headphones to fit your ears well, thanks to their multi-angle adjustment feature.
Are Tozo Open Buds resistant to water?
Yes, they come with an IPX6 water-resistant rating making them good for workouts or light rain conditions.
How does the warranty on these earbuds work?
With Asurion Tech Unlimited Protection plan bought from Amazon.com, parts and labor needed for repair due to mechanical malfunctions beyond the manufacturer's warranty will be covered, including fast drop and spill solutions.
Can I connect my TOZO earbuds with two devices at once?
Indeed! The TOZO open buds support multipoint pairing, allowing them to link with multiple Bluetooth devices, such as computers or tablets, simultaneously.