Going from one iconic FCA (Fiat Chrysler Automobiles) vehicle to another… life is hard! The above mentioned vehicles are the Italian icon Fiat 500 and the American icon Jeep Wrangler. We reviewed the Fiat 500 1957 Edition a couple of weeks ago, and last week we got behind the wheels of a 2016 Jeep Wrangler Sport S.
I reviewed another Jeep Wrangler last year, which was the 4-door Unlimited Sahara version. Last week's Wrangler was the two-door short wheelbase, soft-top version of this tough little off-roader.
The Jeep Wrangler has been around for a very long time, the Wrangler is a descendant of of the Willy's CJ (Civilian Jeep) from the 1940's, these Wranglers/CJ's can be found in pretty much any country in the world. Some of the original CJ's are still being used to transport people in places where there are no paved roads, I've seen this first hand in some third world countries. CJ's are loved for their tough nature and simplicity, which makes working on them very easy and affordable.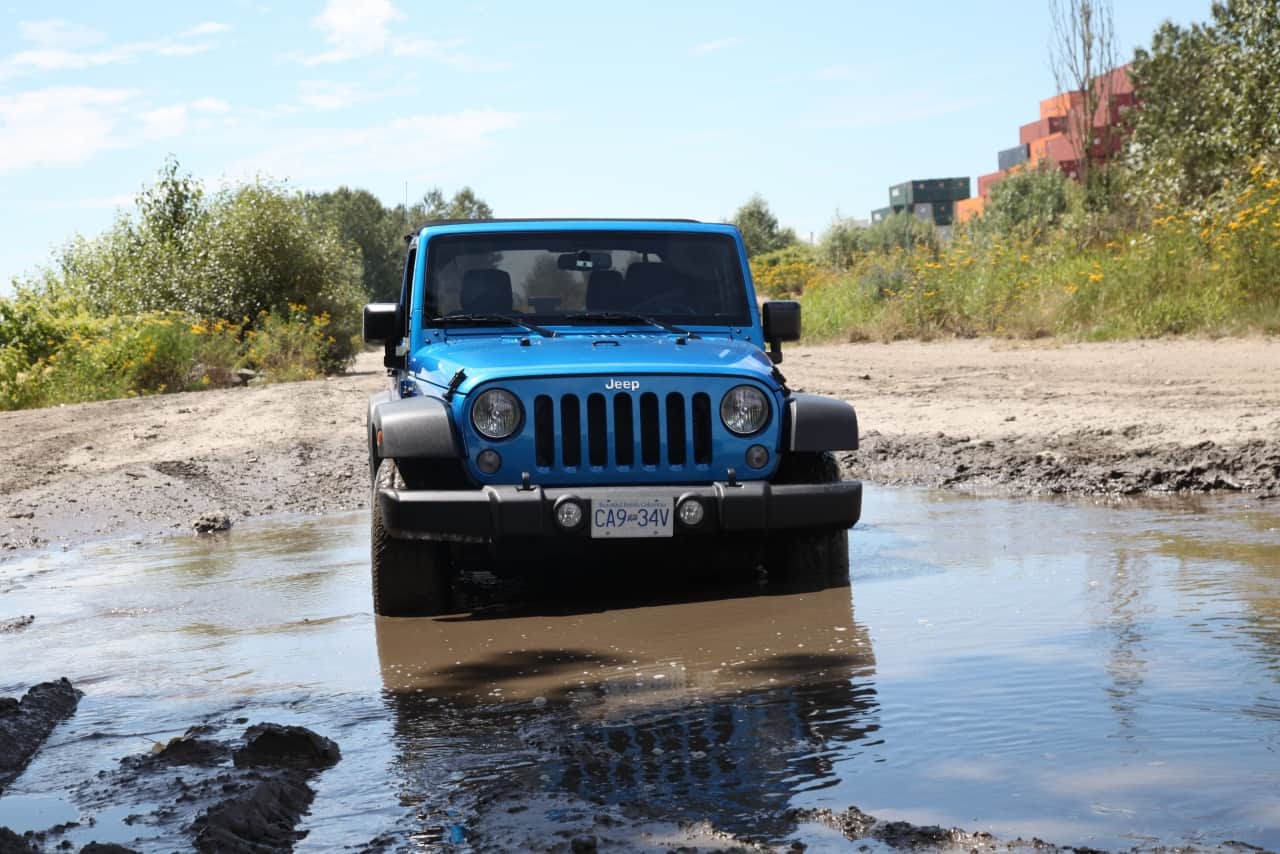 Modern day Jeep Wranglers may resemble the looks of the original Jeep on the outside, but under the skin they are much more advanced and the interiors are very comfortable and much kinder on your kidneys.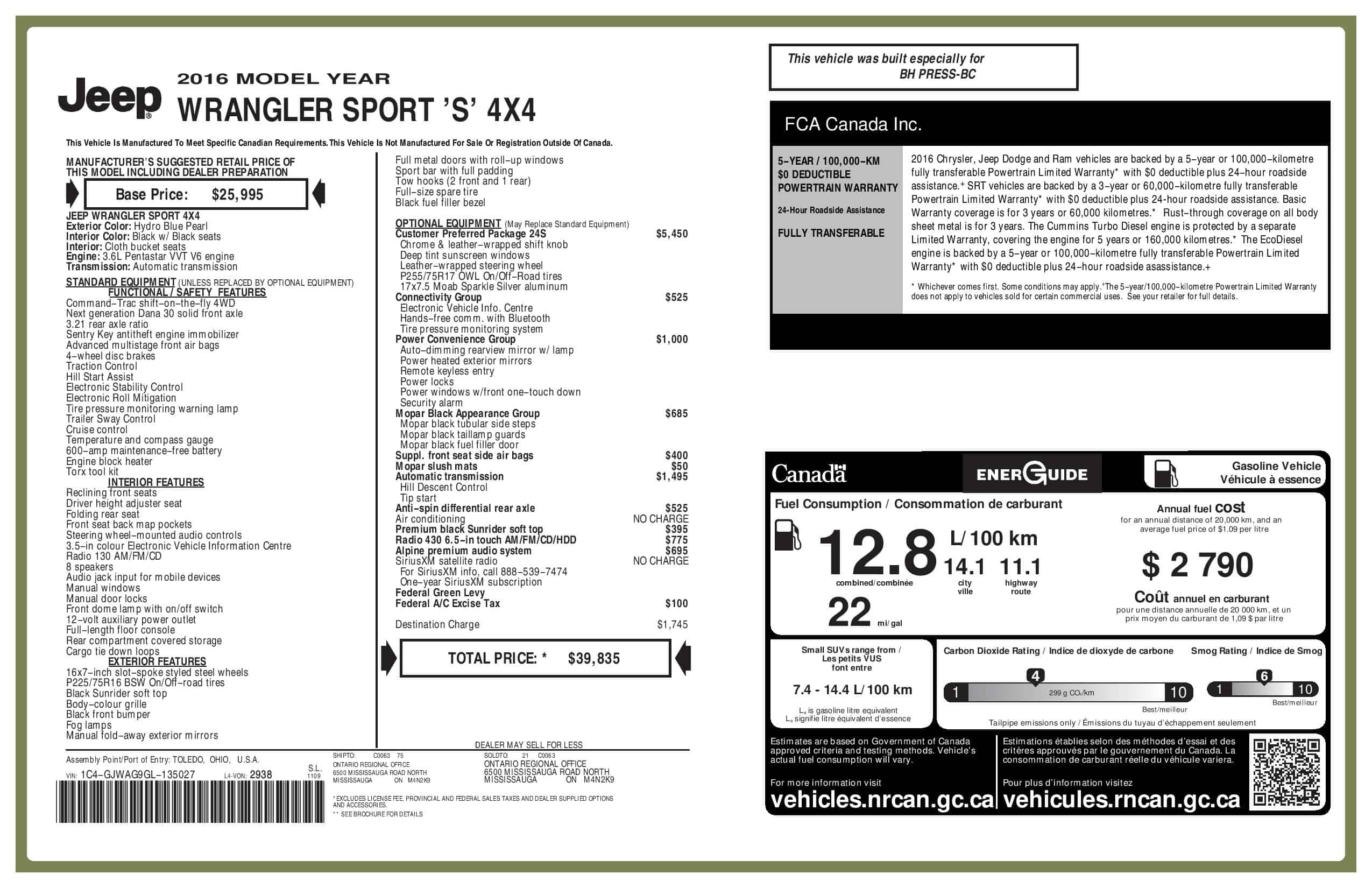 The 2016 Jeep Wrangler Sport has a starting price of $27,695 for the base model with a manual transmission, prices can go quite a bit higher for the top of the line Wrangler Unlimited 75th Anniversary Edition, which has a starting price of $44,690, these prices do not include destination charges. There are also a lot of different models available between the base and top of the line, there is a Jeep Wrangler for pretty much any budget. Our Jeep Wrangler Sport S had a sticker price of $39,835, see attached image for all included options.
The Jeep Wrangler is powered by a 3.6 liter V6 engine, producing 285 horsepower and 260 pound-feet of torque, mated to a 6-speed manual or an optional 5-speed automatic transmission. According to Jeep, the Wrangler Sport should consume 14.1/11.1/12.8 liter/100 kilometers in city/highway/combined driving. In our week long drive of the Wrangler Sport S, we averaged 12.9 L/100 km in 60/40 city/highway driving, according to the trip computer.
Last year's review of the Wrangler Sahara was the first time I had driven this legendary off-road vehicle, I was really impressed with the way it handled on and off-road. Last week's Wrangler was a little different, but those differences were expected.
The main difference between the two review vehicles was the shorter wheelbase on our Wrangler Sport. I was expecting the ride quality to suffer a lot because of the shorter wheelbase, but it wasn't as bad as I expected it. The Wrangler is not a luxury vehicle nor a sports car, so obviously it isn't going to ride like that, but keeping that in mind, the road manners are not bad. The ride is a little bit bouncier than the 4-door version, but I can still see myself driving the 2-door Wrangler daily. I did feel a bigger difference when it comes to driving off-road. I took the 2-door Wrangler on the same light off-road track where I had taken the 4-door version, the ride was considerably bumpier and I had to drive much slower to avoid being tossed from side to side.
But the shorter wheelbase does have its benefits, the Wrangler Sport can go over bigger obstacles because of the shorter distance between the wheels, not that the 4-door Wrangler is a slouch, it has 10" of ground clearance. It's also easier to maneuver the smaller Wrangler in tight spots off and on the road, and has a much tighter turning radius.
I liked driving the Wrangler Sport on the roads because of its high seating position, which gives you great view of the road like a pick up truck, but without having to drive a large vehicle, the Wrangler's smaller size also comes in handy when parking.
The other main difference is the soft-top on our review Wrangler versus the removable hard-top, also known as "Freedom Top" on last year's review Wrangler. The interior is noisier with the soft-top, which is to be expected, but I didn't realize how hot the interior gets on sunny summer days, because of the black fabric and less insulation.
But that same soft-top on those same sunny days is also great for some top-down driving. Unlike the hard-top, the soft-top is relatively easy to put up and down, and it stores right at the back of the vehicle. For the hard top, you have to unbolt and will need a safe spot to store it while you're driving top down.
Taking down the soft-top was a little more challenging than I thought, at least at first. The main problem was caused by the previous reviewer not zipping up the rear "glass" properly, which I couldn't take off, to put the roof down. However, after watching a few YouTube videos, I realized I could just fold the rear "glass", and then it only took me 4 minutes to take down the convertible top. Putting up the roof is a little more time consuming, and after getting familiar with the mechanism, I was able to put it up in 8 minutes. The most time consuming part of putting the top back up was zipping up the rear side windows. Overall, it's not that much work, but I would prefer to see an easier mechanism that takes less time to take off and put back on.
As I mentioned above, driving the Wrangler Sport S in the city is very easy and the ride is pretty comfortable. With the top down, it's a lot of fun and you get approving looks from others on the road. The Pentastar V6 engine has plenty of power for normal city/highway driving and plenty of low end torque to get you over off-road obstacles. The 5-speed automatic transmission does a good job of delivering power smoothly.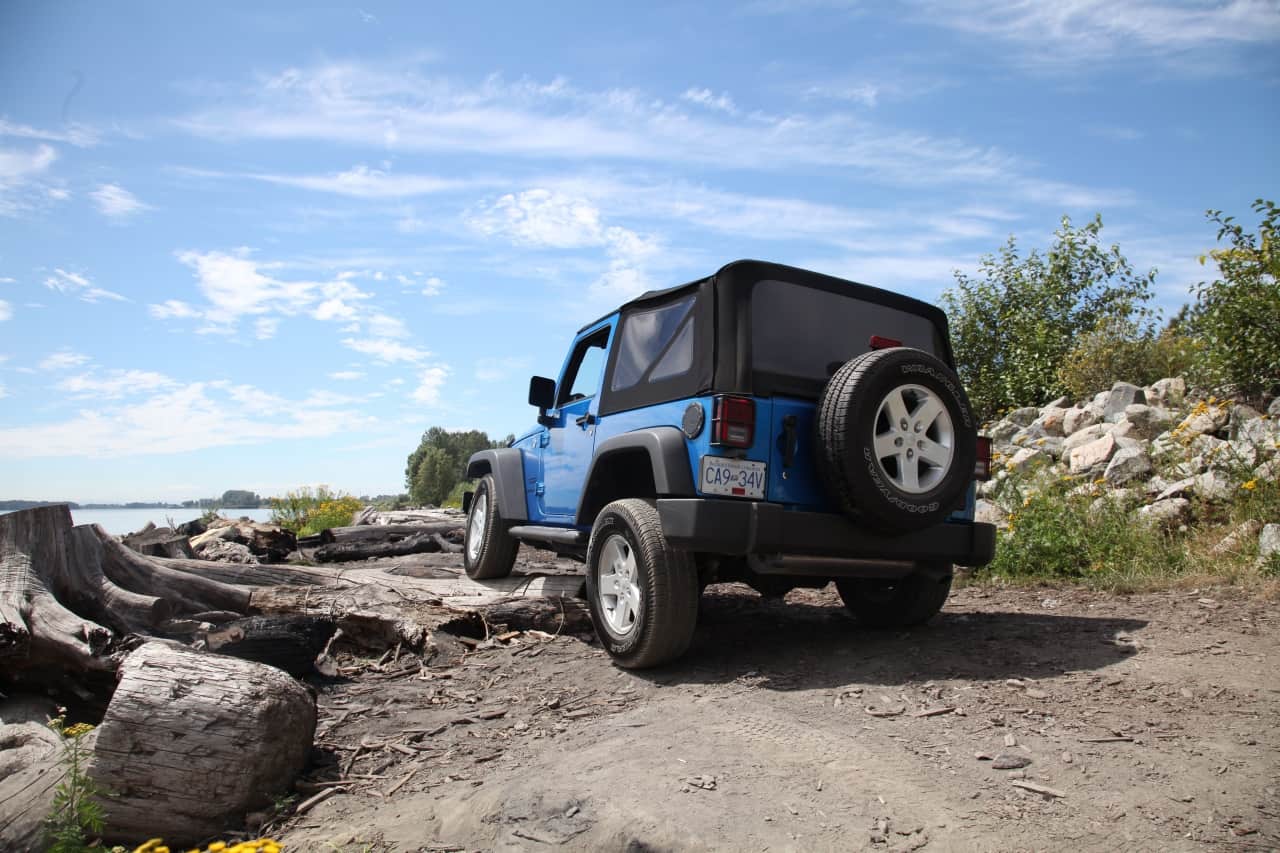 Off-road driving is what this Jeep is meant for and it is very capable of climbing over large rocks, going through muddy marshes, and everything else you can put it through. There aren't many off-road trails where I live and I'm no expert on off-roading, but I did take it through some mild off-road obstacles and the Wrangler Sport performed like a champ. I've seen people take these Jeeps through some pretty crazy looking obstacles, so I believe it when Jeep says it's "Trail Rated".
Wranglers are taken off-road more than the average SUV, but still they spend a majority of their lives on the paved road and people use these vehicles as daily drivers. So interior comfort is very important, the interior on the Wrangler has a simple yet functional design. The interior has lots of hard plastic, but in this vehicle it makes perfect sense, because if/when these Wranglers are taken off-road, they will get dirty and abused. These hard hard surfaces make it easy to clean and can withstand a lot of abuse.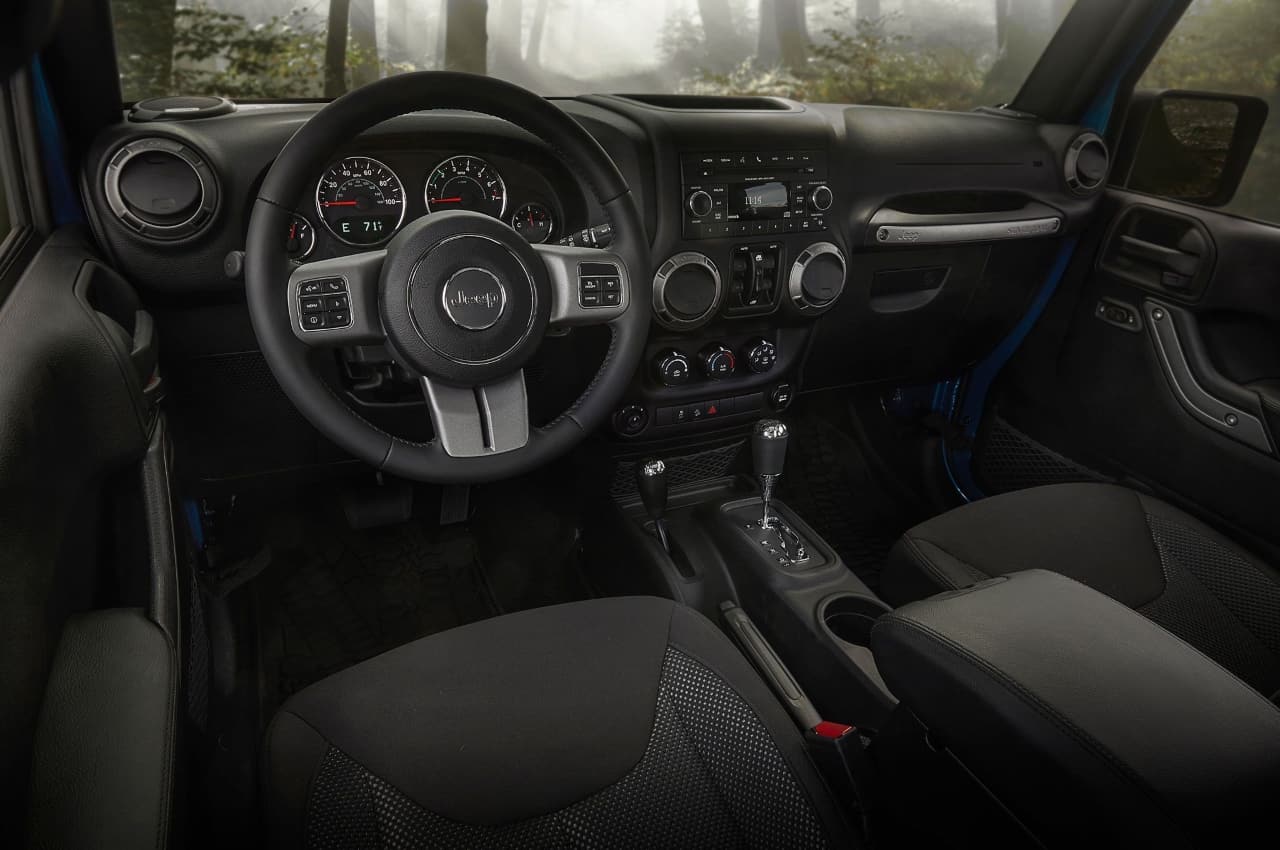 I found the interior to have ample room for me and my passengers. The front seats provide a good amount of support and are comfortable. The rear seats also had acceptable amount of room and getting in and out of the back seat wasn't too hard, these seats are accessed by sliding the front seat forward, which also moves up a little to make the opening to the rear seat just a little bigger. However, when you put the front seat back, it doesn't go back to the original position, which becomes a bit of a hassle having to find the correct seating position all over again. Also, since the doors can be taken off, there are no door swing stops, which means you'll need to be careful when parked on an angle, the doors will fling open, which can hit cars parked next to you.
Overall Impressions
The Jeep Wrangler might not be the most refined, most comfortable, most fuel efficient, or many other things, but it doesn't pretend to do any of these. It sells because it's a very capable off-road vehicle that's still relatively affordable, it's also not too bad as a daily driver and not least of all, it's very cool. And there's nothing else that competes with it.
There are also rumors there might be a diesel Wrangler in the not so distant future, which could bring in a lot of new buyers, I know a couple friends that have been waiting to pull the trigger on a Wrangler for the last few years, but they're holding their breaths until the diesel version is available.
PS, I really want one too!!
For more information on the Wrangler and other Jeep vehicles, check out jeep.ca