I found out about Terra Plana and their VIVOBAREFOOT line of shoes a few months ago after having seen a slew of articles purporting the benefits of barefoot running. I found many brands claiming to offer a minimalist running shoe, but I felt that many of the shoes were either ugly, bulky, or both. It wasn't until I finally tried the VIVOBAREFOOTS that I felt satisfied with both the qualities of the shoe, and the aesthetics.
I started wearing the Evo II line of running shoes, and when the Neos came out, I just had to give them a try. Below is a list of why I feel the Neos are not only a significant improvement on the Evo IIs, but amazing minimalist running shoes in general.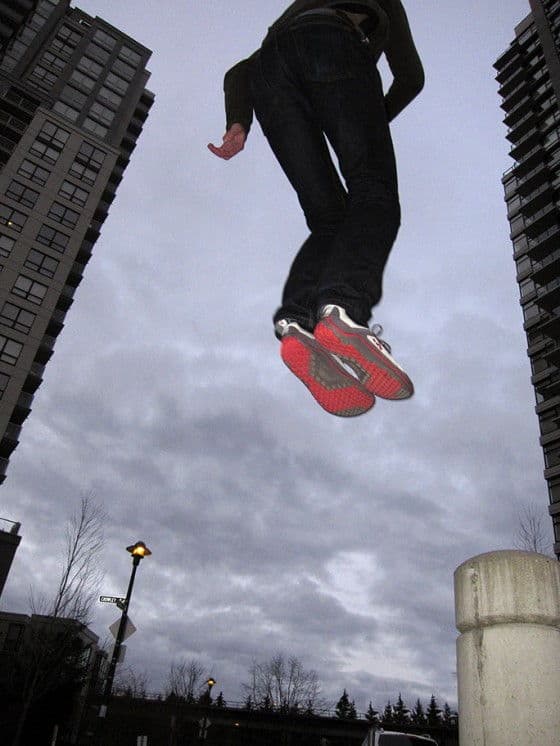 What I like about the VIVOBAREFOOT Neo
I like the styling and color-ways of the Neos, especially the red on white. This is a color scheme that I really liked on the original Evo line, and I'm happy to see it make its way to the Neos.
The area where the shoes "trim" meets the upper has a small v-shaped notch at exactly the spot where a person's toe flexes when running. I've found that, because I run on my toes, the trim on my shoes usually becomes detached in short order, and this small addition makes that almost impossible.
The rear of the shoe has a looped pull-on tab, which is a favorite feature of mine. I find that I really rake my cuticle when using my fingers to force my heel into shoes that don't have the pull-on tab.
The shoes are incredibly light, weighing in at just 9.5oz with the soles in. I often spend my time training Parkour, and having a shoe that won't weigh me down is ideal for moving around like a graceful gazelle.
The shoes are flexible enough that I can curl and wrap my toes around most edges. This is especially useful for balancing along metal railings.
The upper seems very breathable, but able to repel at least light rain and moisture. I live in a city where it's almost always raining, and I've found that the Neos hold up quite well. I'm yet to get soggy feet.
The Neos have a box toe, which allows the wearers toes to spread out naturally. It wasn't until I started wearing Terra Plana shoes that I realized just how cramped the toe area is on most shoes.
The Neos won't allow you to dodge bullets, but just about everything else is fair game. I was able to run, jump, and climb as if I were barefoot, but with the protection offered from a tough puncture resistant sole. At $120 dollars, the Neos aren't cheap, but given their tough (thin) soles, and handsome styling, I found the cost easily justified. If you're a seasoned minimalist runner, or simply a person who wants to wear less bulky padded shoes, the Neos are versatile enough for almost any activity.
The shoes are incredibly flexible, making climbing, crouching, and any activity requiring fine toe control as easy as if you were barefoot. You can also clearly see the v-shaped notch in action. This little addition is probably my favorite improvement over the Evo line of running shoes.
The mesh uppers allow your feet to breathe, while repelling light rain.  The only time my feet have gotten wet in these is after a drunk stomped in a large puddle beside me.
The soles are tough, tactile, and pretty damn cool looking. The soles remind me of the honey combs in a beehive.
You can purchase the Neos for $120 USD through the official VIVOBAREFOOT website.