They say that photography is a way of feeling, of touching, of loving and what you catch on film is captured forever. Well, consumers are about to feel, touch, and love even more thanks to the introduction of the world's first light field camera for the masses.
Stanford University graduate and owner of LYTRO, Ren Ng, developed the camera over the course of eight-years.  So you may be asking what in the world a light field camera is. Unlike all of the imaging devices on the market today, light field sensor, created by Stanford University researches over 15 years, captures every possible source of light within a shot, traveling at every direction and every point in space. Is having this capability really a big deal?
Yes, it is. With so much imaging data available in each and every single shot, photographers are able to focus in on any point within the image taken. Ren Ng calls this "Living Picture" which allows you to create an instant depth of field. So if you take a picture and accidentally focused on your girlfriend's chest rather than her pretty face, you can easily fix it. You are able to focus in on any object within the picture even if it is way in the background. This is the beauty of the Lytro light field camera! This feature gives the user endless editing possibilities for the images you capture. Click Here to see for yourself how the refocusing feature works on the Lytro camera.
What the inside of the Lytro Light Field Camera looks like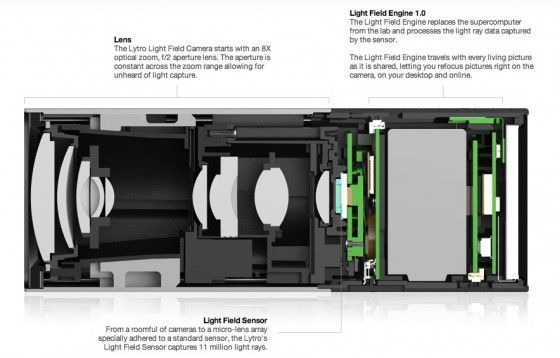 Another amazing feature accomplished by Ren Ng and his team is the camera's form factor. This is the rendering process which took a room sized computer to do a little over a decade ago, but now can be completed by a device that fits in your hand. The Light Field Camera features an 8X optical zoom, 1.46-inch touch screen LCD, and f/2 lens. The device is very simple to use only needing buttons for power, shutter, and zoom slider. LYTRO is offering two variants of the camera at the moment with an 8GB (350 pictures) for $399 and a 16GB (750 pictures) for $499. The camera is available in Electric Blue, Red Hot, and Graphite. For more details, check out LYTRO.