Want to know what's hot in hairstyles in 2023? Do you want to be trendy when it comes to hairstyles in 2023? In the following article, you'll find out which men's hairstyles will be in next year and will go down well with women. Cool, trendy, and with a certain casualness.
What criteria did we use? Well, we asked 10 popular hairdressers throughout Germany which men's hairstyles they wanted. We also looked at which cuts are in demand among the stars. Musicians, Hollywood stars, and footballers are a good indicator of which hairstyles are particularly popular. The result is a list of men's hairstyles, some of which have been in for years – but will still be in 2023. Whether short or long hair, curly or straight – these are the trend hairstyles for next year.
At the end of the article, you will know which 10 hairstyles will be worn by men in 2023, what features they have, how to style and maintain them, which celebrities wear the hairstyle, and what you have to pay for it at the hairdresser. You'll be hard-pressed to find another article that covers men's hair trends so comprehensively. Our ultimate guide shows you what's in demand in 2023. Are you curious which men's hairstyles are included? Have fun reading!
Table of Contents
Bro Flow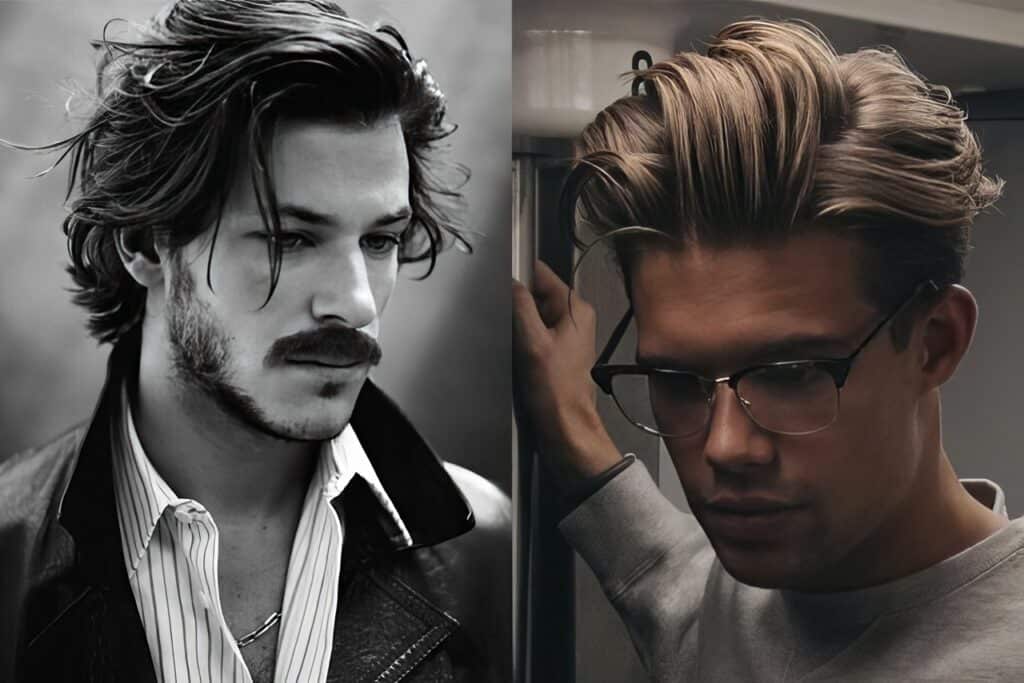 The Bro Flow, also known as the Bro Cut or Grungy Hair, is a hairstyle for medium-length hair that is styled casually back with texture and slight waves. Compared to other men's hairstyles, the sides of the Bro Flow are significantly longer so that they can be laid back. You could also simply say, "All long and to the back" – or "Bro Flow" in English.
What you won't find at all is a so-called fade (transition from slightly longer to short shaved hair on the sides). There is no need to shave with this hairstyle. Men with a bro flow look a bit daring, very cool, and still well-groomed.
Which stars wear the Bro Flow?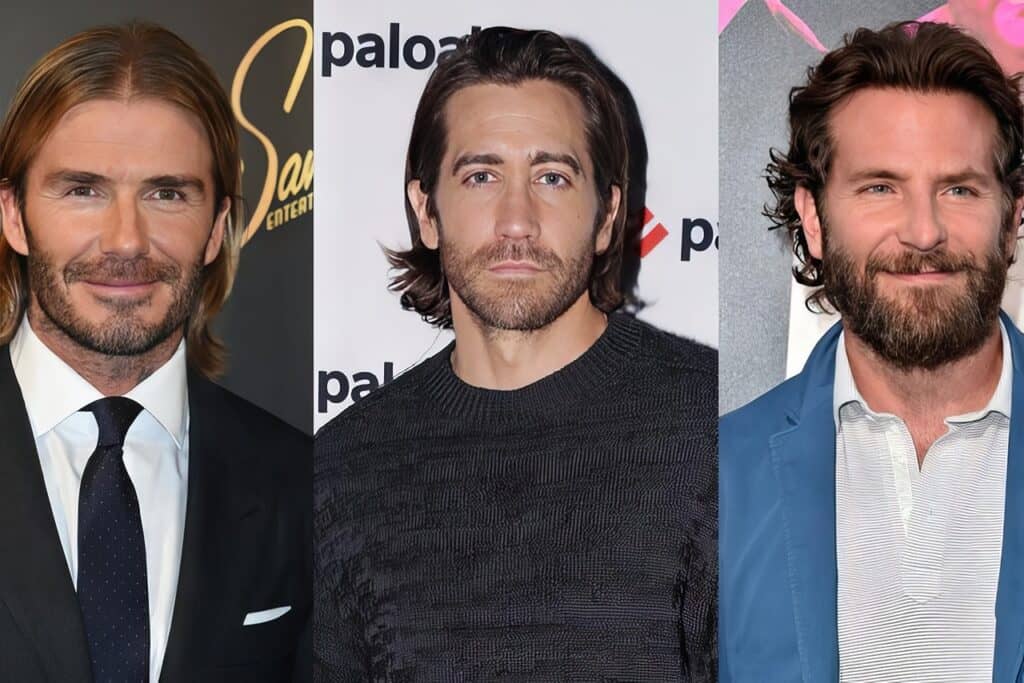 Jake Gyllenhaal, Orlando Bloom, Bradley Cooper – any questions? The crème de la crème has embraced the Bro Flow and made it socially acceptable in Hollywood. What's more, the stars show that this look also works well with different beard lengths. While Gyllenhaal shows off a casual three-day beard, Bradley Cooper likes to let his beard grow longer, and Waldelbe Bloom goes completely clean-shaven. So, the bro flow shows how versatile it is and that it is the most casual male hairstyle for medium to long hair.
Who does the Bro Flow suit?
Simply put, everyone! However, the hair must be dense and long enough for the hairstyle to come across as casual and for the styling to work. If your hair is fine and thin or your receding hairline is too deep, it will be difficult to pull off the Bro Flow in such a way that it looks as cool as the stars'. But very thick hair also makes it difficult to style the hair properly. Your hairdresser should thin out the hair a bit. Your top hair should also be long enough because, without the necessary length, the Bro Flow will be a mess. The Flo Brow looks good on everyone, regardless of face shape, beard growth, or hair colour. If you have naturally wavy hair – jackpot! It's much easier to style, and you'll spend less time in the bathroom in the morning.
There is no age limit for bro flow. Young men can wear the casual look just as well as more mature men. While the hairstyle makes young men more mature, it gives the older generation something daring and makes them look a whole lot younger.
What do you need for bro flow?
One thing above all: patience! You first have to let your hair grow to the required length. Only then can your hairdresser shape it according to your wishes. Make sure that your hair is cut downwards and shorter, especially at the nape of your neck. Otherwise, there's a danger of a mullet – and no one really wants that.
How to style the Bro Flow perfectly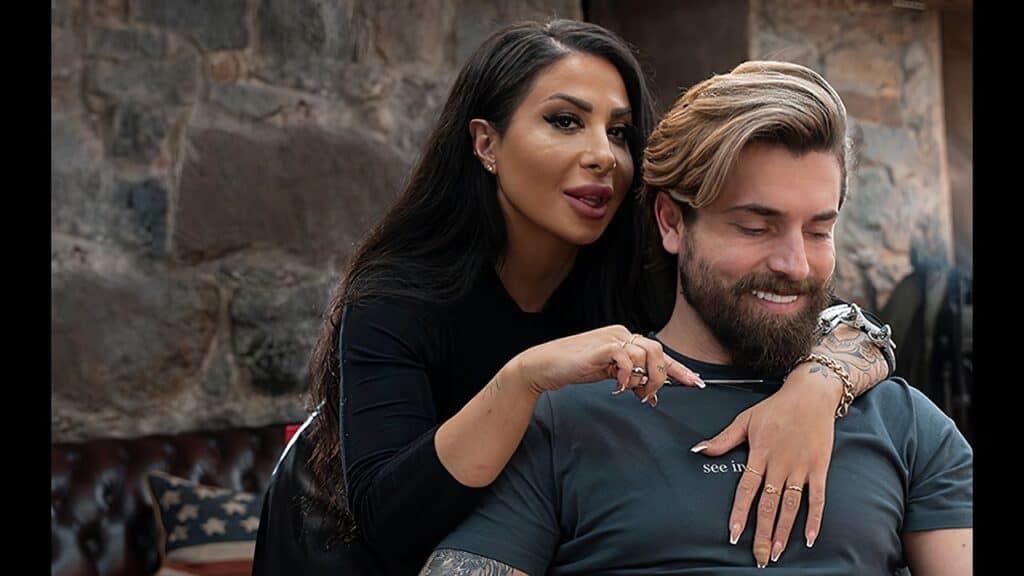 Let's start by saying: the Bro Flow means work and care. The following steps will help you style it to perfection:
Shampoo: Wash all styling products out of your hair thoroughly, even a second time if necessary.
Conditioner: After washing, leave a conditioner on for one to two minutes so that the hair falls casually later, and then rinse it out.
Hair treatment: To strengthen your hair and prevent split ends, use a hair treatment every one to two weeks. Simply massage it into slightly damp hair and leave it on for five minutes. Then rinse thoroughly.
Styling cream: Apply some cream evenly to your hair. This makes the hair fall back softer and gives it more grip.
Salt spray: Use this spray to give your hair structure and hold. If you have naturally wavy hair, you can skip this step.
Hair wax: To achieve the perfect bro flow, you need a little hair wax. Rub a hazelnut-sized portion in your hands and spread it on your head. Make sure that you get every strand of hair. Otherwise, the style will go bye-bye after a short while.
Finishing: For the icing on the cake, define individual strands with a little hair wax, wrap them around your finger, and give them structure. The light quiff gives you a trendy look. Add a touch of hairspray, and you're done.
The best care for bro flow
Especially when you have thick hair and texture, the scalp often gets dry. This is where your hair needs moisture and nourishment. Shampoo, conditioner, and every other week hair treatment is the optimal care for the bro flow.
The longer your hair is, the more care it needs. A conditioning treatment seals the cuticle so that your hair not only looks healthy but is also protected from breakage. Your hairdresser can tell you which care products are best for you.
If your hair is too dry, you should change your care routine anyway.
If your hair quickly becomes greasy again, you should change to a lighter care product.
If your hair and scalp need particularly intensive care, use a special scalp serum.
Advantages of the Bro Flow
The Bro Flow makes you look casual and daring and has a magnetic effect on women. It can also be styled effortlessly with both curly and straight hair.
Disadvantages of the Bro Flow
The Bro Flow needs care, and not too little. It takes a lot of effort to keep it looking good, sometimes several times a day.
This is what the Bro Flow costs you
The Bro Flow is the ideal men's hairstyle for medium to long hair, but it still needs a cut every two months.
The trendy hairstyle lives from its liveliness and movement. If the hair grows out over time, the look looks unkempt. So go to the hairdresser every eight weeks and have it trimmed. He will shorten the tips and bring the look back into shape. He can also give you a few styling tips so that your look never gets boring.
The recut (dry) takes about 10 to 15 minutes and costs 10 to 18 dollars.
A recut with wash/dry for 20 minutes costs 22 to 30 dollars, whereas the blow-dry is more of a blow-dry.
In hairdressing salons, the bro flow is on the rise. It takes up the trend for longer hair, looks cool, and is easy to style. The stars are showing the way – and by 2023 at the latest, the bro flow will be at the forefront of men's hairstyles.
French Crop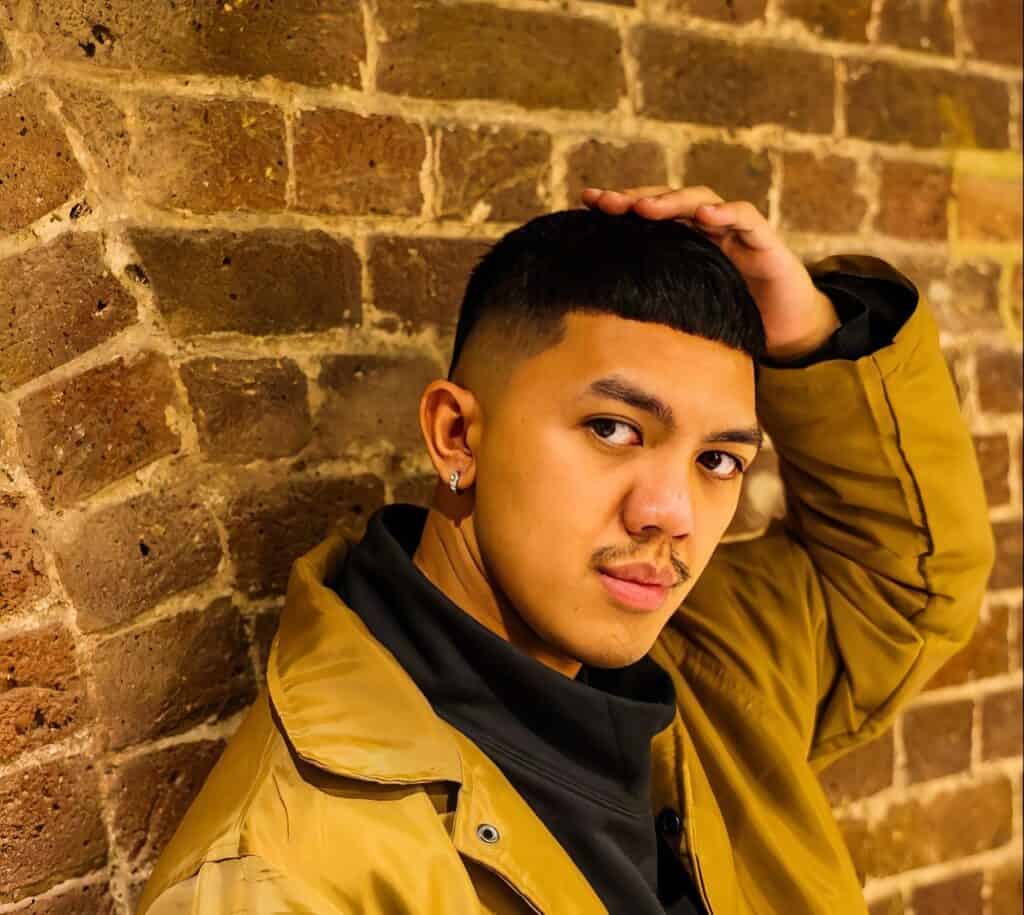 The French Crop has relatively little to do with France but is one of the trendiest men's hairstyles – also in 2023. It is the modern interpretation of the undercut and is very popular with young men.
The men's hairstyle is characterized by two features: Firstly, the top coat is slightly longer, while the sides and nape are shaved very short. The different lengths create a beautiful contrast that will definitely make you stand out. The transition from the top coat to the sides or nape of the neck is usually smooth and often has a slight fade.
You are completely free to style the top coat. In the classic version, it is simply laid forward, which keeps the maintenance effort within limits. Other variations are much more unusual and combine other men's hairstyles. It is precisely this fact that you have complete freedom of interpretation that makes this hairstyle so versatile and popular.
Which stars wear the French Crop?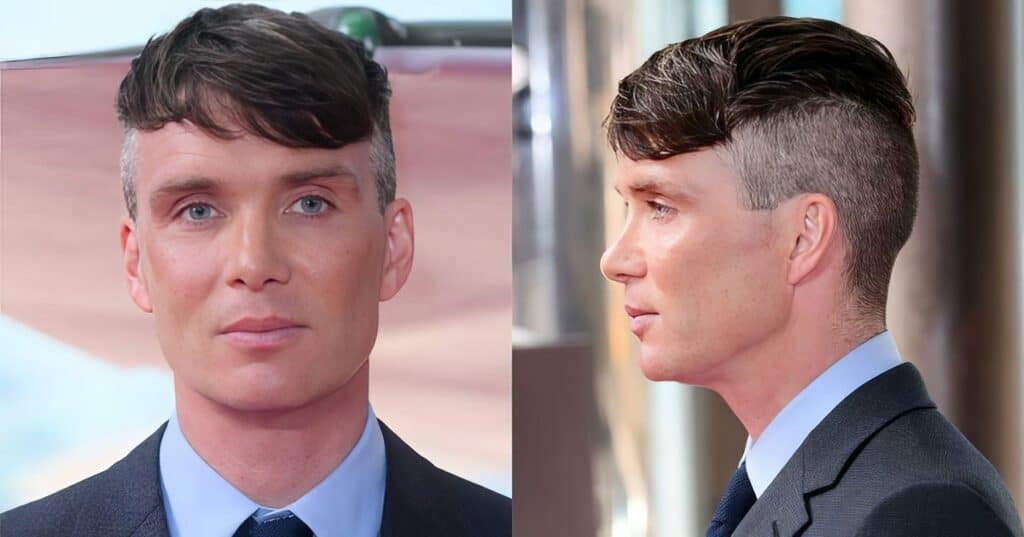 First and foremost would certainly be Liam Gallagher, ex-frontman of the British band Oasis, who already demonstrated it in the 90s. But fellow singer and actor Nick Jonas is also a convinced French Crop wearer. However, the trend hairstyle really got a push from "Peaky Blinders" star Cillian Murphy. As Thomas Shelby, he and his hairstyle became famous beyond the borders of England. By the way, such hairstyles are chosen not only by famous personalities but also by popular characters in modern slot games. You can explore these characters and their styles in various slot games using Richard casino promo code.
Who does the French Crop suit?
The sides and nape of the neck should maintain a length not exceeding eight millimeters. As for the top hair, you have more flexibility. Short, precise cuts are as achievable as longer, more relaxed styles. This versatility offers a range of French Crop styles to suit your face and overall look. The secret? The French Crop complements everyone! With the right styling and care products, you'll undoubtedly turn heads.
However, it's true that the French Crop sets you apart. If you opt for this hairstyle, embrace the attention it brings.
When it comes to the classic French Crop, consider the shape of your head. The sides are short, and the top hair and fringe are combed forward, potentially giving your head a boxy appearance. If you have an oval head shape, you might want to explore other variations. You can let the hair fall to the sides or style it slightly upwards to soften the head's contours. Additionally, having thick hair is advantageous. Thin hair or receding hairlines are not ideal for the French Crop.
This trendy hairstyle is predominantly popular among younger men. However, it's worth noting that older, extroverted men also embrace the French Crop to deliberately stand out in a crowd.
Styling the French Crop
Compared to the Bro Flow, the French Crop is much less work. The following steps will help you get the style right:
Shampoo: Wash your hair so thoroughly that all the care products are really out.
Conditioner: For good care, leave the conditioner on for one to two minutes and then rinse out again.
Curls or perm: Use mousse or curl cream to define your curls. Use a moisturizing conditioner to give your curls that extra dose of moisture, as they are naturally dry.
Gel or wax: Short hair is best styled with a little gel or wax. Rub a hazelnut-sized portion between your fingers and then work it into your hair.
Hairspray: A quick spray of the spray and your French Crop is ready.
If you want to wear the French Crop with medium-length hair, it is best to use wax with a slightly shiny finish and a styling cream. This way, you can care for your hair and give it the necessary structure at the same time.
Variants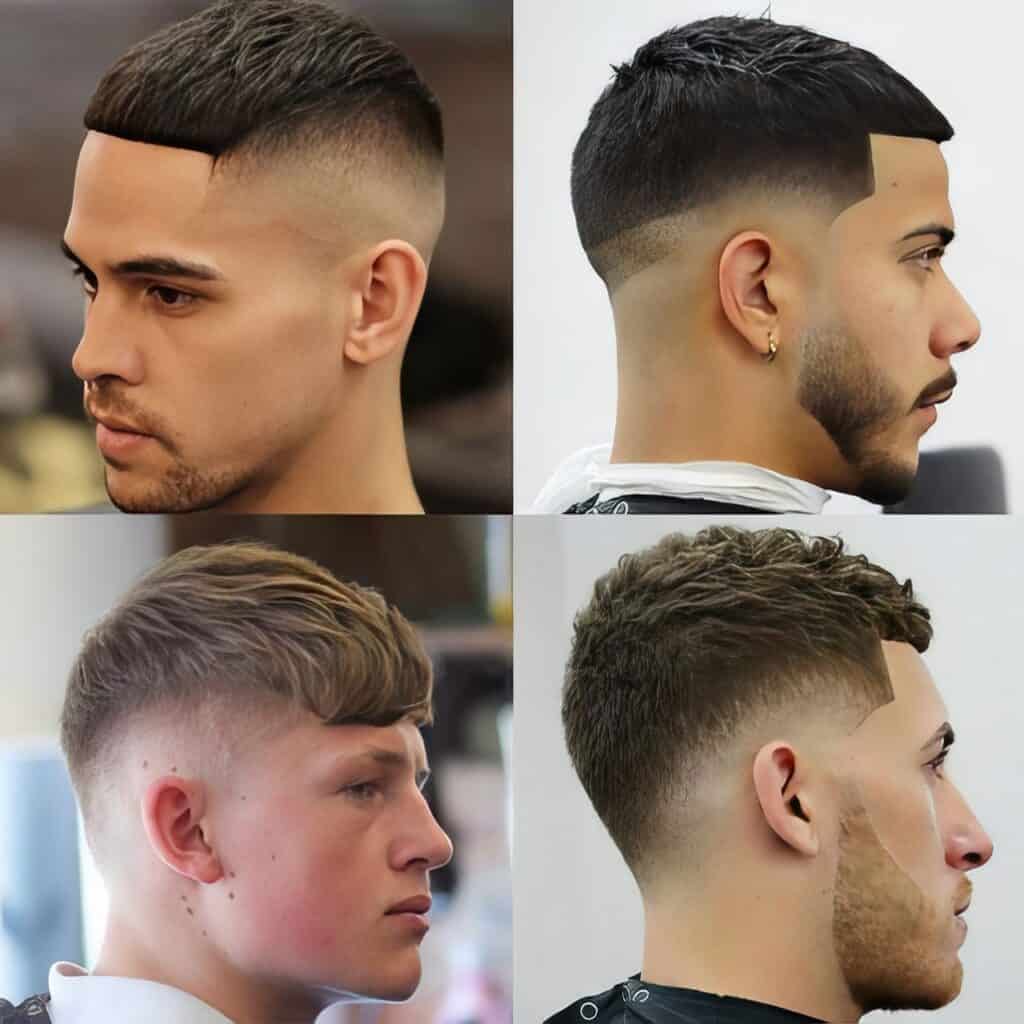 Basically, the French Crop is one of the men's hairstyles that is suitable for all hair structures, no matter whether curly or straight. Let your creativity run free and be inspired by the following three variations.
Straight hair combed down: In the classic version, the styling is also kept simple by simply combing your fringe downwards. It looks best with a bit of texture and volume, so they don't lie completely flat on your forehead.
Hair styled upwards: For a cooler, more casual look, style your hair upwards. Make sure that the sides are cut regularly; otherwise, the look will look sloppy. Curly hair is particularly suitable for this style, which is especially popular with the younger generation.
Hair pulled back: Does this styling look familiar to you? No less than Elvis Presley made the look famous in the 50s. The slicked-back hair fits the clean, bad-boy image – are you one?
How to Care for the French Crop
Compared to other men's hairstyles, the French Crop is easy to maintain and shouldn't take too much time. After all, the hairstyle stands and falls with a good cut – styling it is then quite easy.
Trim the hair: The characteristic look lives from the contrast between the top and the short neck and sides. For this reason, you should have your hair trimmed regularly to give the look its shape.
Wash and blow-dry: Your hair should be washed regularly. Make sure you use a mild shampoo that doesn't damage the protective layer of skin and hair too much and prevents dry skin.
Styling: Less is more when it comes to styling products. Curly hair, in particular, needs a little moisture. Otherwise, gel, wax, or hairspray should only be used in small doses.
Advantages of the French Crop
The French Crop is the ideal hairstyle for all men who prefer a stylish and easy-to-care-for short haircut. In addition, a longer fringe can conceal receding hairlines and a high forehead very well. Another advantage is that it goes well with any head shape.
Disadvantages of the French Crop
If you have a receding hairline or thin hair at the back of your head, the French Crop is suboptimal. For older men, the haircut can look extroverted.
The price of the French Crop
Even though the French Crop gives you a lot of freedom when it comes to styling, it still needs a regular cut. Your hairdresser will trim the sides and nape of the neck to the right length and make sure the top hair has the right shape.
A dry trim takes about 10 to 15 minutes and costs between 10 and 18 dollars.
A 20-minute trim with wash and blow-dry will cost you about 25 dollars.
The French Crop will still be one of the most popular hairstyles for men in 2023 and should, therefore, also be interesting for you. It's distinctive, casual, and easy to style – enough reasons why the men's cut will also be trendy next year.