A month ago, I came to the depressing realization that I would need to buy a new wallet. I felt frustrated, not because my old wallet had damaged a few of my credit cards beyond repair – while I was traveling, no less – but because I would have to put in the massive amount of research needed to find a new wallet.
If you've ever looked at any of the popular gear and "everyday carry" (EDC) websites, then perhaps you've noticed that they're full of wallets. I swear that wallet manufacturing must be one of the most popular businesses on the planet, and these wallets almost all share a few common qualities: they're boring, they're chunky, and they're made of some pointlessly exotic material, like hairless cat leather impregnated with nanofilaments for enhanced ballistic strength when you're dodging enemy raiders on your way to the grocery store.
Even if you find a slender wallet or card holder, you know it's going to be annoying in some yet unidentified way. Such as my extremely expensive, made-in San Francisco wallet grinding the chip and magnetic strip off of my cards after a few months.
But I digress.
Trying to find a unicorn…
Since my cards were ruined and I needed a new wallet anyway, I decided to focus on cardholders, since I've long since stopped carrying cash.
I'll spare you my tale of woe, browsing around Reddit and the various EDC sites trying to find something that struck my fancy, and instead, jump ahead and say that what I finally settled on was the Fantom X wallet.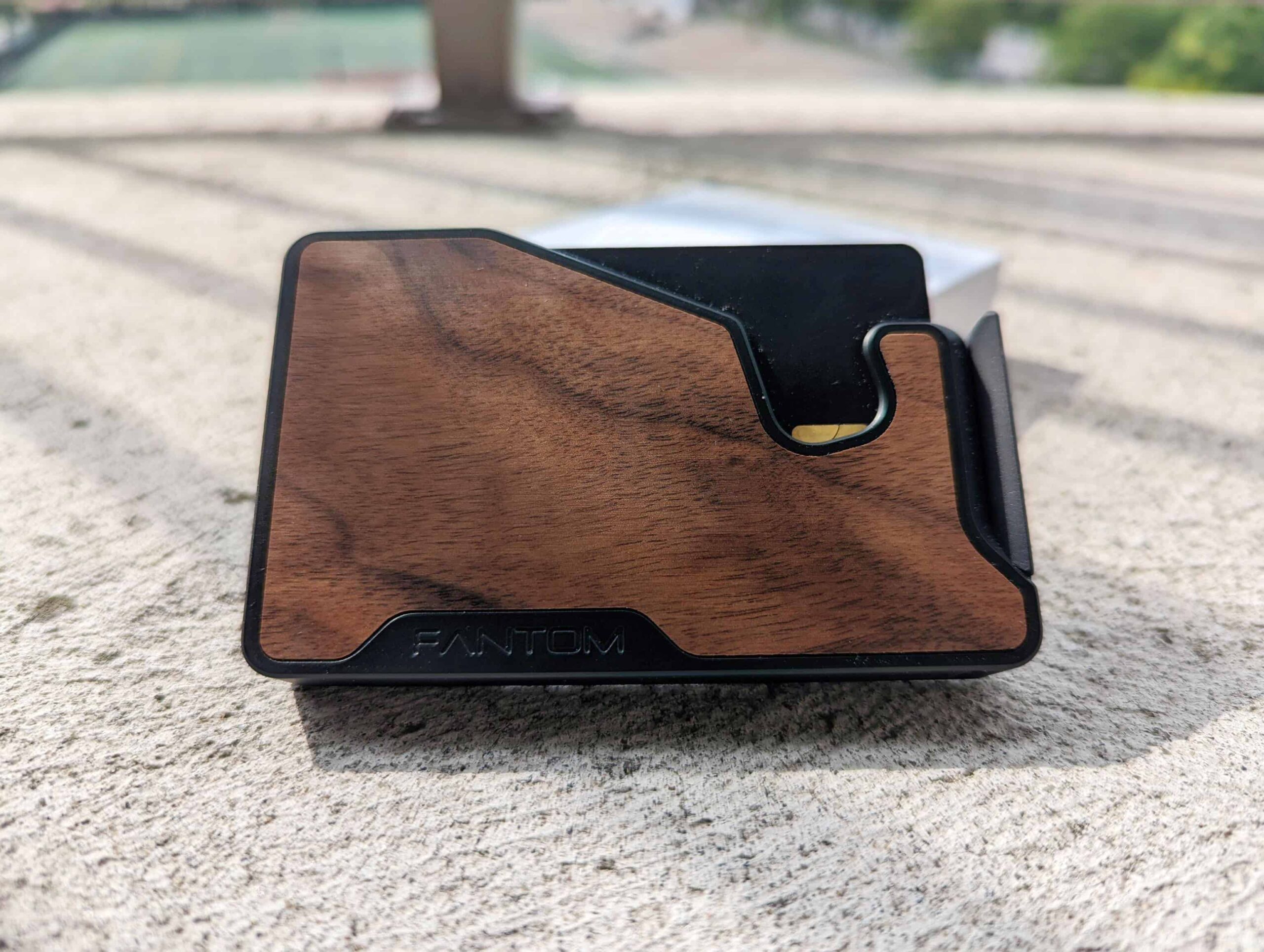 Remember all those bad qualities I mentioned a minute ago? The Fantom X is the opposite of that.
What's the deal with the Fantom X wallet?
This is usually the part of the review where reviewers list off a bunch of facts that they copied directly from the product page. But I've never liked that very much, so instead I'm going to give you the broad strokes, tell you why I like (love, actually) this wallet, and send you on your way to their website so you can browse the product specifications to your heart's content.
The short version…
The Fantom X wallet is a cardholder-style wallet made of anodized aluminum, and uses a unique card fanning mechanism that I'll show you in a moment. It holds between 4-13 cards, depending on the size you choose and comes in 3 finishes: walnut, bamboo, and carbon fiber. I chose the walnut finish because it reminds me of Deckard's Blaster from Blade Runner.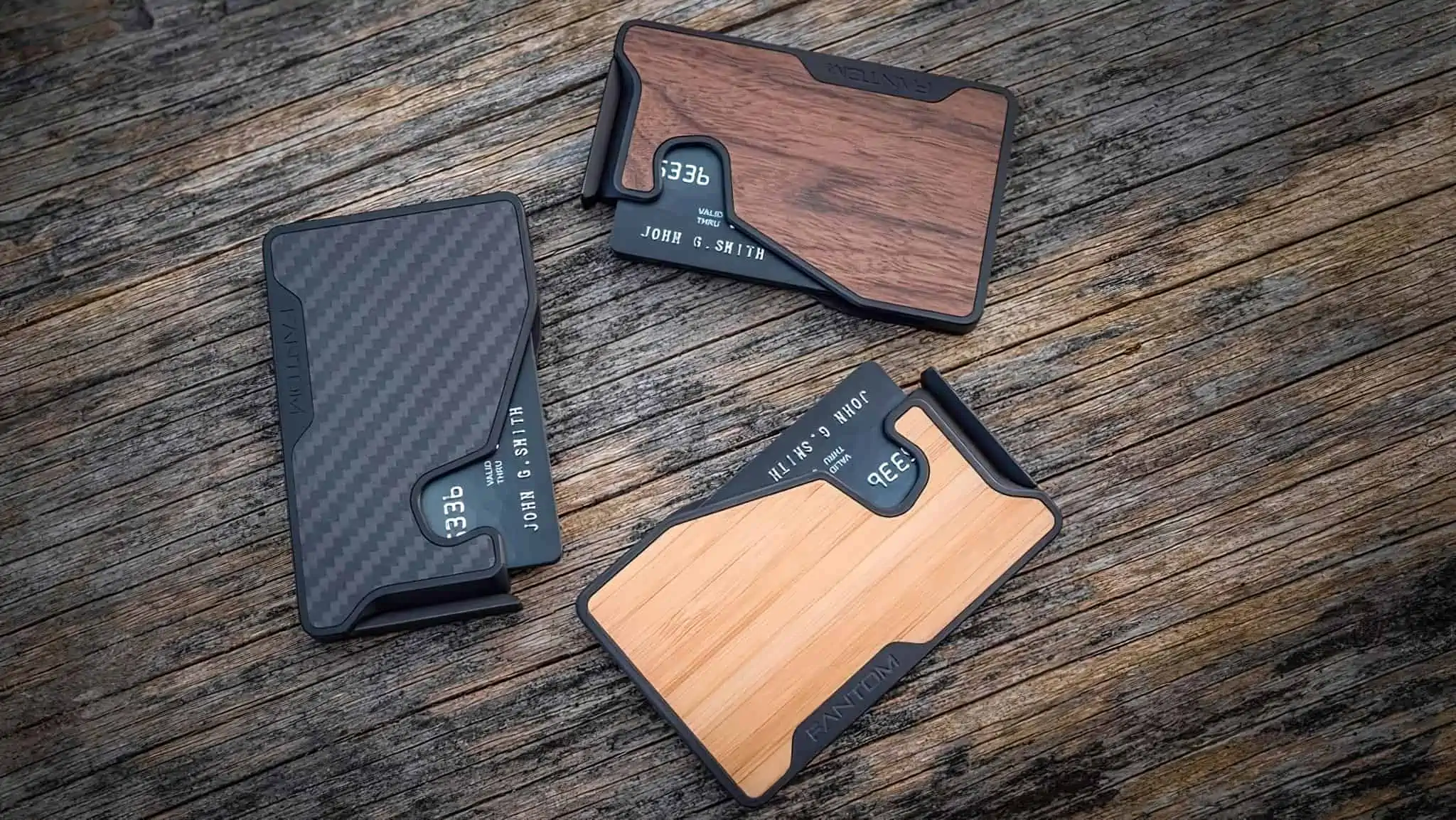 The wallet was designed and manufactured in Canada, which is exciting because I was also born in Canada, which means that the wallet and I have a lot (maybe a little) in common.
But no, seriously… kudos to the team for running such a successful business in Canada. It's a real challenge, to be sure.
Here's why I love this wallet…
It's slim and light enough that I barely even notice it in my pocket, yet it's strong enough that I'm not worried about it breaking. The locking mechanisms are very solid, and I've never had a problem with my cards falling out or getting bent.
And speaking of the card fanning and locking mechanism, I'll just show you an animation instead of trying to explain it: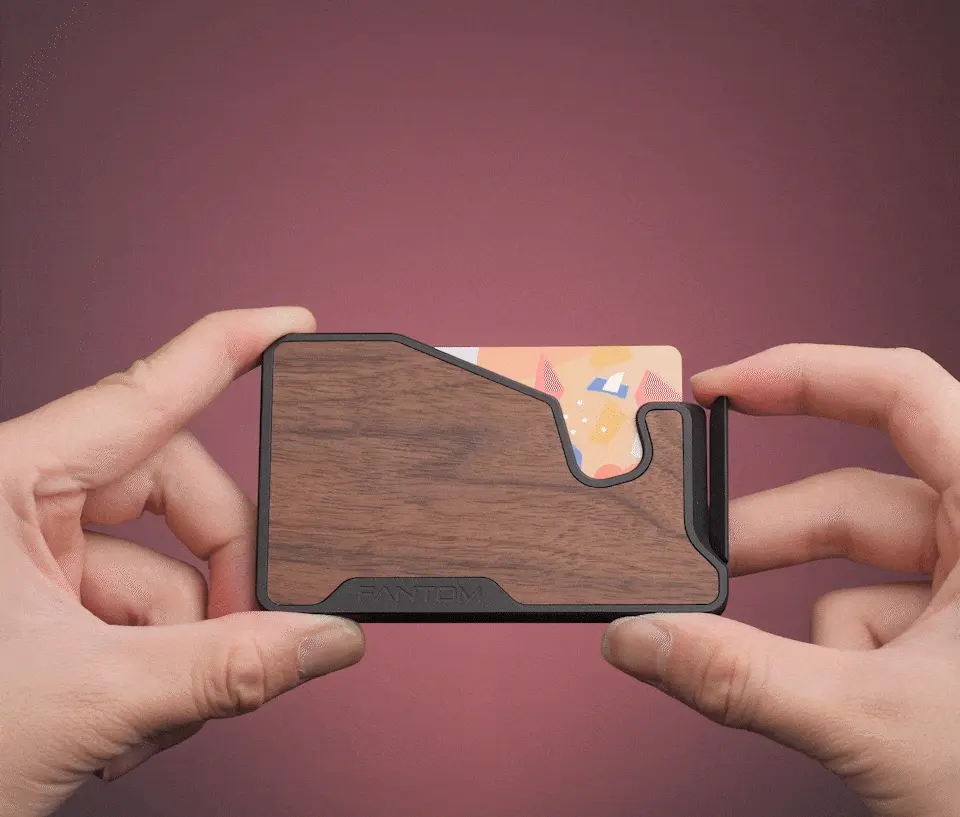 Do you see that little lever? It's super strong, and though I wouldn't actually hang weights on it as they did in some of the promo videos, I fully believe it's possible. And more importantly, the lever-action feels great each time you use it. For whatever reason, it has a very satisfying feel to it.
You pull that lever, the cards fan out, and you're ready to go.
The Fantom X wallet is also RFID-blocking, which means that your credit cards are safe from electronic pickpockets. This is a feature that I didn't even know I wanted in a wallet, but now that I have it I wouldn't want to be without it.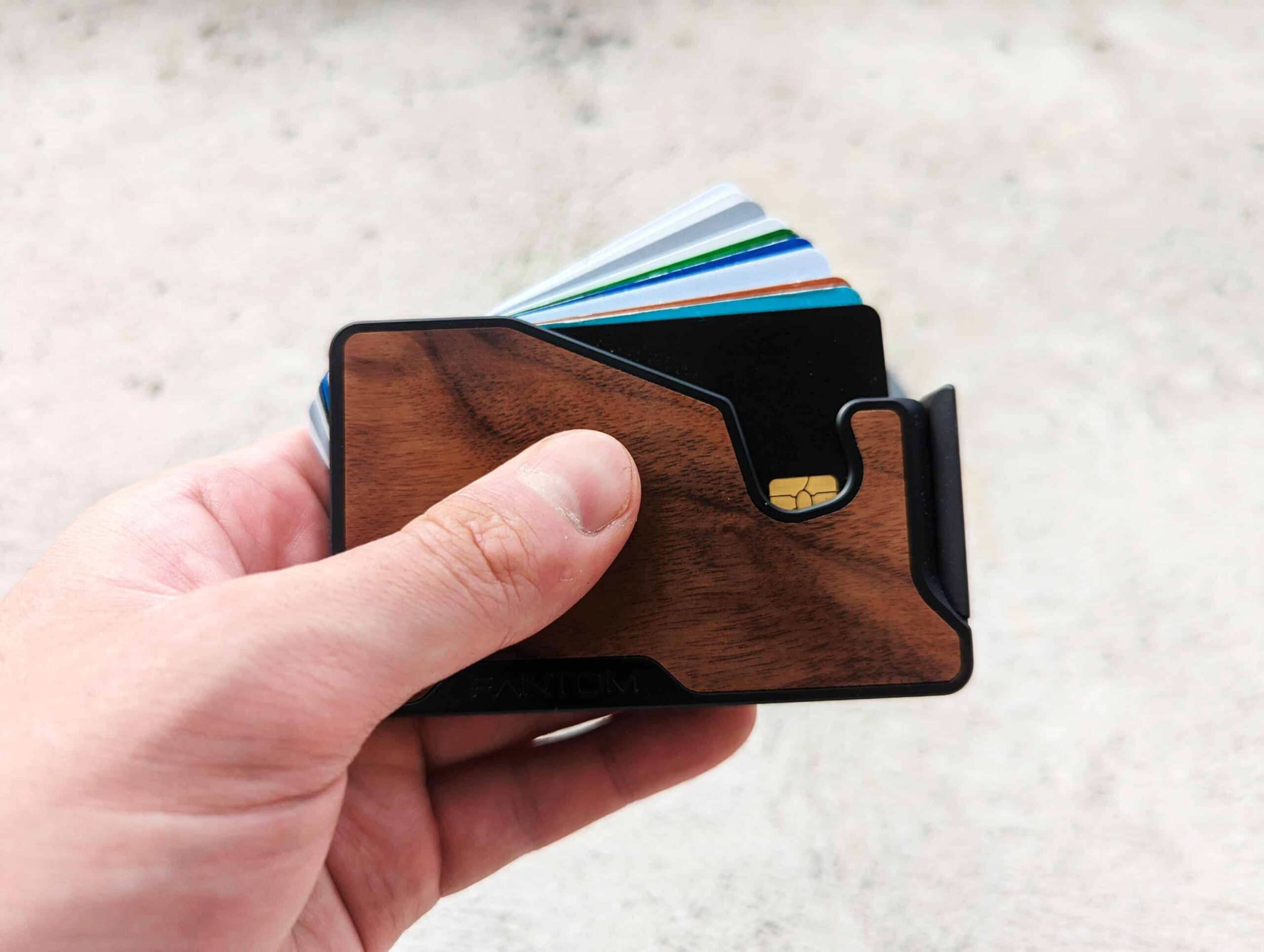 And lastly, the walnut finish looks stunning. I'll be interested to see if it picks up some of the natural oils from being handled over time, and develops a patina. But in any case, it looks great straight out of the box.
So…
If you're looking for a slim, light, and strong cardholder wallet, then I highly recommend the Fantom X. It's well made, it looks great, and it's very reasonably priced when you consider that it's made from aluminum and other premium materials, and also designed and manufactured in Canada.
I do not doubt that this wallet will last me a lifetime.
Where can you get one?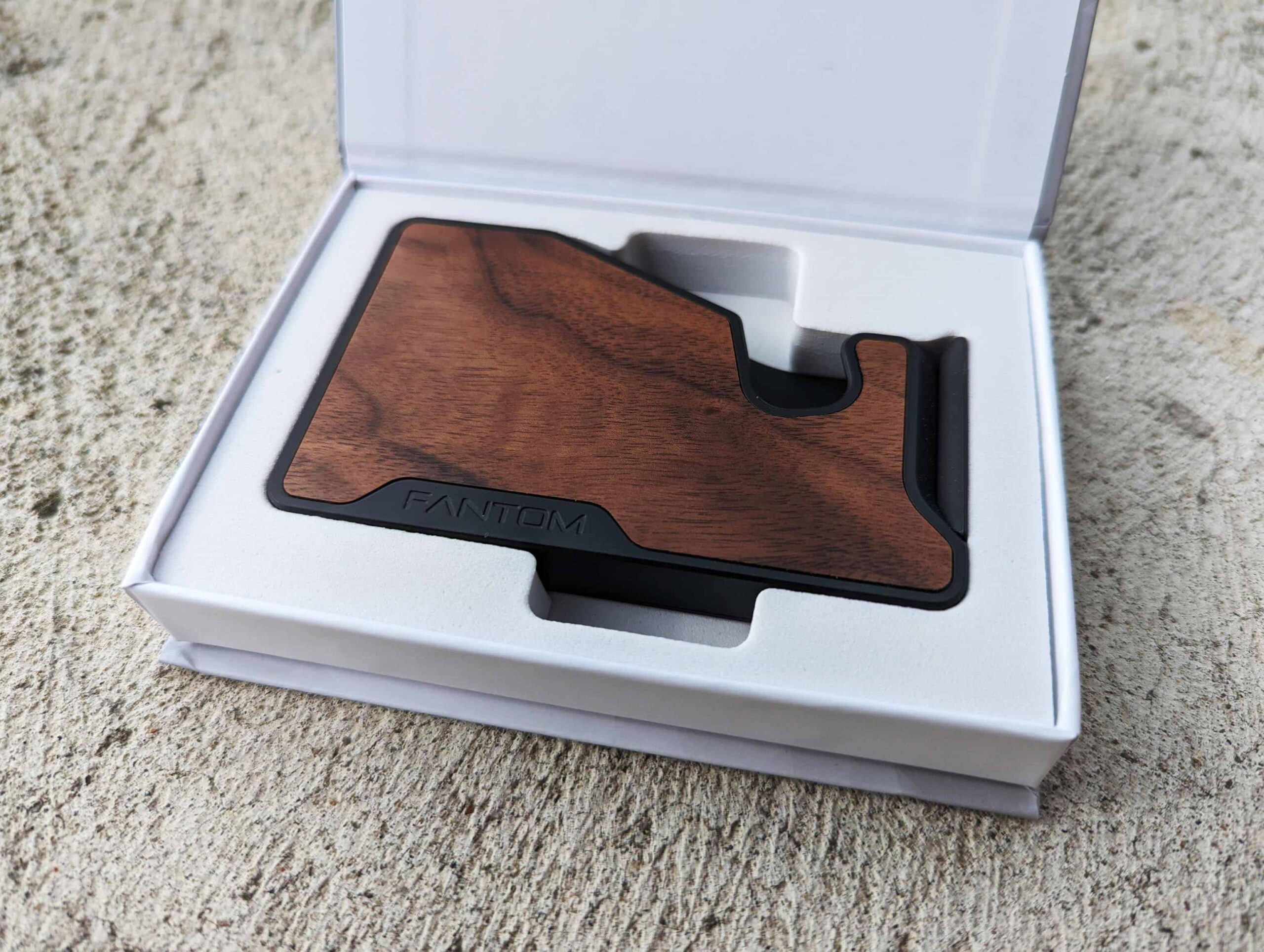 You can purchase the Fantom X wallet directly from their website. Prices start at $139.00, depending on the finish and "modular attachments" (addons).
They offer free shipping to the United States, and they have a "no questions asked" return policy, so you can always return it if you're not happy with it. Though I'm confident you're going to love it.
I hope you found this review helpful. If you have any questions, please feel free to leave a comment below and I'll do my best to answer them.
Thanks for reading!