One way or another, all of us have checked craigslist before. Be it to check some items, buy unnecessary objects for cheap, advertise your unnecessary items, look for a job, offer a job, or have a good chuckle at the horny people trying to turn craigslist into Tinder. The great thing about craigslist is that it does not cost anything to post or reply to anything. Probably, that is also the reason why scammers litter the site.
Another downside of craigslist is the website seems to be stuck in the nineties. It did try to make searching easier by categorizing the ads per location, but it also made it also limited the search results. If only there was a way of searching all of craigslist in one go. Oh, wait. There is. This is when Allofcraigs will make its entrance.
What is Allofcraigs?
Allofcraigs is an interesting search interface for craigslist, our popular classifieds site. Since craigslist only allows you to search one location at a time, Allofcraigs gives you a wider and broader option. You will still be inputting your search term and the system will still search at craigslist. However, instead of being limited to one location per search, you are given the option to select entire regions instead.
If you think that the generated results are then too broad, there are specific categories that can further break down the search result. This will lead to a narrower list of results so that you may find the specific product you are looking for. The website itself is not much better than craigslist. However, the function and features are what truly matters, especially when you're on the lookout for a difficult to find item.
Why can't I search all of Craigslist?
This is complete speculation on my part, but I believe it's simply because the point of Craigslist was to facilitate local buying and selling, not buying from other cities and state entirely. In that context it makes a lot of sense, but as you know, there are many reasons for wanting to search the entirety of Craigslist, such as comparing prices and seeing what's available outside your local area.
A few tips to avoid scammers on Allofcraigs…
The search results provided by Allofcraigs are still original advertisements posted on craigslist. Unfortunately, Allofcraigs does not have the feature to identify and block possible scam classifieds. Hopefully they decide to make some improvements, but in the meantime…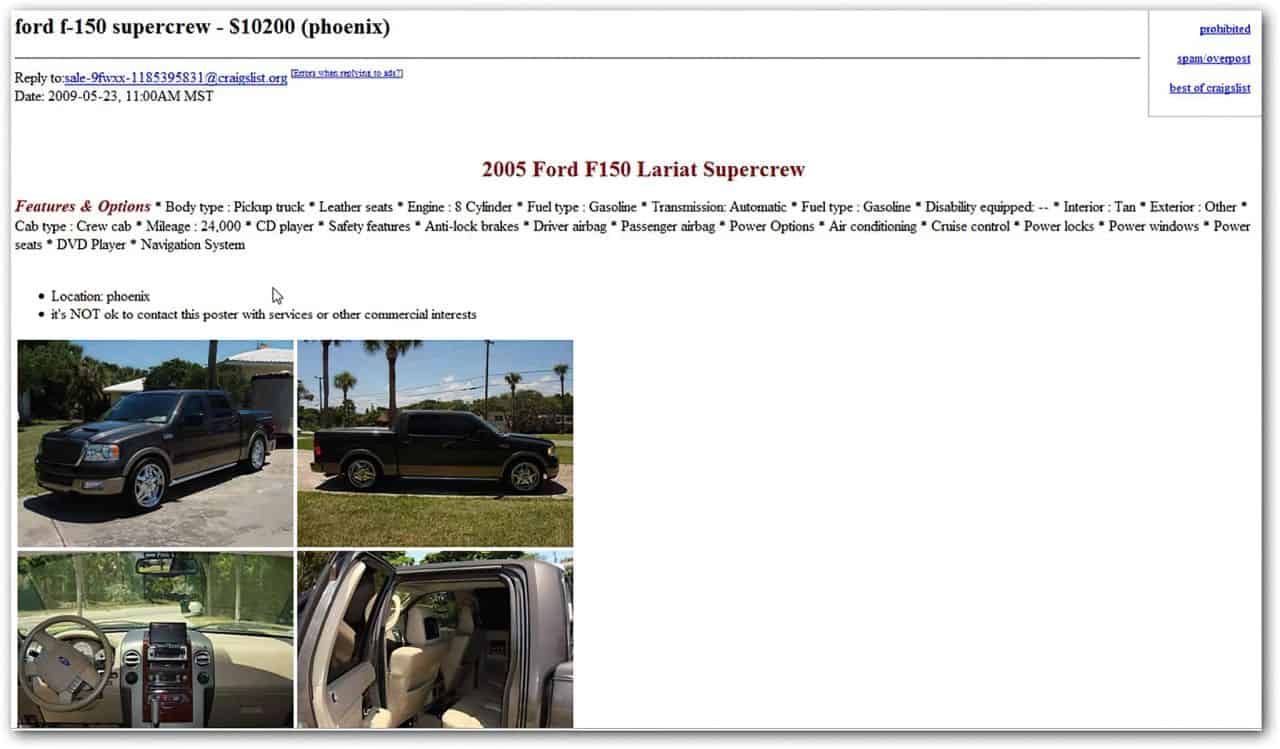 To avoid getting scammed and losing money, we have gathered a few tips for you.
Do not engage with offers that are too good to be true
The rule of thumb states that offers that seem too good to be true are highly likely too good to be true. Rule 1 of a scammer's playbook is to entice possible victims with exaggerated offers. Be cautious and avoid any advert or offer like this. This is especially relevant if the seller is trying to have you pay in advance, or online, as I'll explain below.
Do not send any payments in advance
Keep in mind that craigslist is originally a localized website. This means that sellers expect to meet their customers to deliver the product, as well as to receive the payment. If an offer or a seller explicitly asks for advance payment, that seller or offer is a scam. Do not engage further and hide in your fort blanket.
Check for extensive grammar mistakes
It is normal to spot a few grammar mistakes in a typical craigslist ad that you've found through Allofcraigs. It is, however, not typical for an ad to have at least three grammar, spelling, or punctuation errors in every sentence. If a seller cannot even spell properly and offers big discounts, they're probably trying to scam you. This is especially prevalent with car ads, for some reason.
If they try and lowball you when you meet up
If the person changes their mind when they meet you, and says something like, "actually, I can only pay $100 instead of $200", then politely tell them no and disengage. This is a common scam that buyers use. They're hoping that you'll accept their low price because of the sunk cost of having wasted time meeting up with them in the first place.
This is always super annoying, but better to leave and not waste any further time on them.
Don't offer to ship items out of town
Something I've come across a handful of times is people from other cities request that I ship them whatever it is I'm selling on Craigslist. Though this isn't a hard and fast rule, I would be skeptical of anyone requesting this. If you decide to go through with it, I highly recommend requiring payment in advance in a form that they can't charge back after receiving the shipment from you.
If the person asks for a serial number, don't reply
When a person asks you for the serial number to verify that the product is genuine, they're usually trying to scam you by going online and registering that product in your name. I don't think I need to explain how this could cause you all kinds of problems.
Any other tips?
If you have any of your own tips for making sure that all your transactions through Allofcraigs go smoothly, please leave me a comment below! It seems like everyone has their own crazy experience with the platform, and I would love to draw from your experiences.