I'm one of those people who obsesses over finding the "best" product in any given category. William Gibson likes to call us "Mall Ninjas". I like to have the best, even if it means paying a bit more. It's not about the cost, it's about the quality. I would rather spend extra and have something that lasts, instead of buying the same item over and over again because it breaks or wears out. Shoes are no exception, and after having heard a lot about the benefits of barefoot running, I decided to start doing some research.
I've worn (relatively) thin soled shoes for years now, but had never considered myself a part of the so-called barefoot movement. I simply bought the shoes because they seemed practical. Having trained Parkour for several years, I quickly realized that clunky, heavily padded shoes didn't make sense for training. As a traceur, being able to feel every groove and contour of a wall, railing, or any other number of surfaces is paramount. So what I ended up finding was a company named Terra Plana (now known as VIVOBAREFOOT), and while I wouldn't go so far as to say that these shoes changed my life, I will say that in terms of function, the other shoe companies have a lot of catching up to do.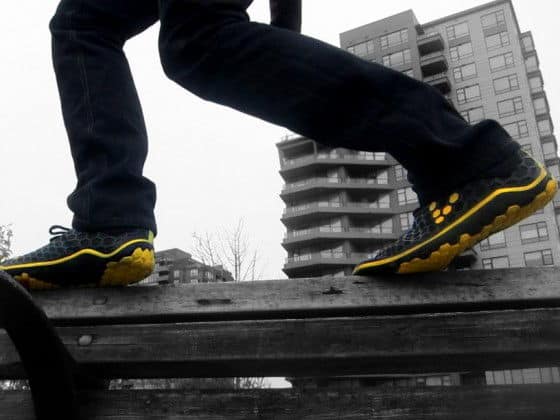 Here's what I like about the Evo line of running shoes:
Evo IIs are very light, weighing in at just 8 ounces with the insole inserted. To put things in context for you, my Onitsukas weigh in at 10 ounces, which is already quite light.
Evos are very flexible – so flexible, in fact, that I can completely curl them into a ball. This allows for the wearer's foot to conform to many surfaces that would be impossible wearing a traditional thick-soled running shoe.
The sole seems very durable, and sports a rather tactile tread. I found that the tread actually improved after a few days of wearing the rubber in.
The shoes feature a box toe, which allows for natural toe spread. After having worn the Evo IIs for a few days, I realized how badly my toes were getting compressed by regular shoes.
I find the shoes very comfortable. I've read that it generally takes a person about a month to get used to wearing barefoot style running shoes, but I didn't find that at all. I actually worked through a whole weight training session with these shoes one day after they arrived.
Unlike Vibram Five Finger shoes, Evos can easily be worn with socks. My favorite socks are the Injinji Performance Series Mini-Crews. The Mini-Crews have a fitted heel, and separated toes which, combined with Evos, allow for maximum toe movement within the shoes.
Evo II running shoes are light, flexible (very) and sport a surprisingly thin sole – a mere 4mms thick. My biggest gripe is the lack of color-ways available, and that's a problem that's easily corrected. I would love to see the white and red color-way from the original Evo shoe makes its way to the Evo II.
Whether you're a veteran barefoot runner, a traceur, or even an office worker, there's a place for the Evos in your shoe rack, and on your feet. I keep hearing that we're supposed to "ease into" wearing the Evos, and I say… rubbish; you're a man with big strong feet, and heavily padded shoes are for wussies.