If you've never been drunk enough to spend a few hours contemplating how to build a magical machine that will cool and deliver booze directly to your mouth, you should probably keep trying.
If you have, you probably know that despite the ridiculous amount of gears, pulleys, small animals and freeze rays you've worked into your design, it just isn't going to work.
Luckily for your crushed spirit of whimsy, these fantastical devices do exist, and they're called Ice Luges. You see them in movies and on TV, or maybe you've even been to a wedding where rum rains down upon you like the blessings bestowed upon that awesome couple for springing for an open bar. However, if you really want to have a party at home, you have to pay someone to carve you one of these magnificent alcohol delivery systems out of ice into a swan or a race car or maybe even a giant bust of yourself; this is expensive, and drastically effects the amount of booze you can buy to actually use on the damn thing. Unfinished Man figures that every guy should be able to fling ice cold liquids into his friends' faces whenever he so pleases, so we've found a few reusable Luges you can make at home, whenever the need strikes you.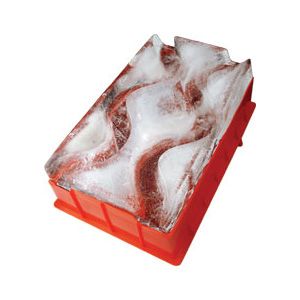 The standard Ice Luge is just about the same size as your freezer, and once solidified, is flipped upside down in its mold to create the tilted luge hill. This is a pretty simple design, and handles the issue of melting water by effectively catching it in the plastic basin. I don't really know why I mention cleanliness aspects as your friends will be taking face loads of booze, splashing and spluttering everywhere, and that's provided whomever is pouring is mentally sound enough to actually get it into the tracks in the first place.
The Light Up Party Cyclone is pretty freakin' awesome, and we're relatively certain that it won't cause you to instantly morph into a douchebag either, despite photographic evidence. This Luge is meant to be a party centerpiece,  with two mouth spouts, tubing so you can configure the track however you please, and a wicked light panel that fits under the entire thing that can make seven different solid colours or strobe your guests into unconsciousness.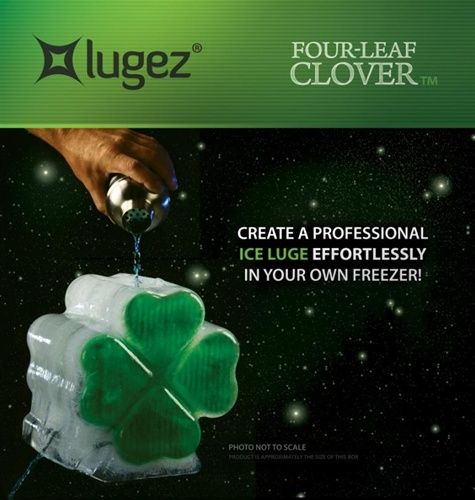 There's actually a company entirely dedicated to easy to make, small custom Ice Luges in all sorts of shapes; Lugez makes milestone birthday numbers, shooting stars, a clover, and a pierced heart (which drinking fixes, incidentally.) If centering every foreseeable mildly special day in the future around heavy drinking couched in harmless cartoon shapes is wrong, I never want to be right.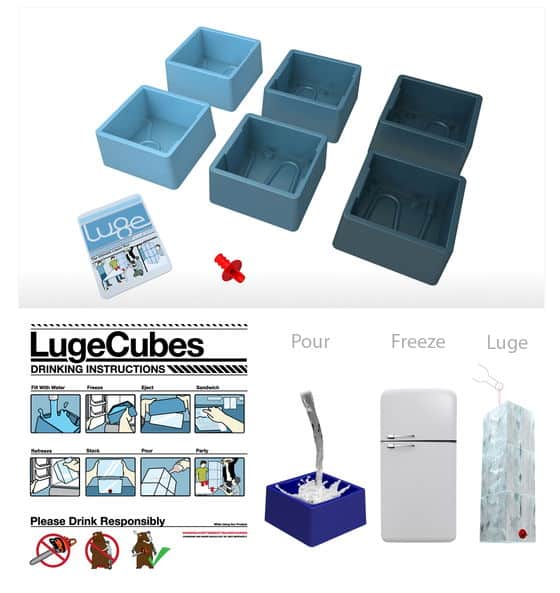 Quirky has a number of great products, but I really love the idea of these modular Stacking Luge Cubes. Outside of the hilarious visual instruction guide included, I think their summary of the product covers all the major concerns posed to a thoughtful young man about to buy his first Ice Luge:
– Durable ice luge molding system lets you customize your own ice luge design.
– Carefully-crafted tubular luge design allows the drinker to watch the liquor as it travels through the ice (read: easier to imbibe when intoxicated).
– Compact cube trays are split into two halves to save storage room in your freezer.
– Removable, reusable drinking spout allows you to give it a quick clean between drinks. Mom may not be proud of your drinking habits, but she'll be happy to know you aren't spreading H1N1 around your frat house.
Your set comes equipped with an all-photo assembly instruction booklet — no reading required!
This item is still in the pre-order stage,  and is just about to tip over into production. Get in on the ground floor and be one of the first to snag this cool set. If you don't know how Quirky works, check it out here.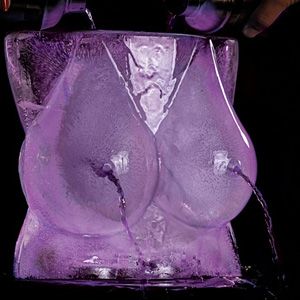 And finally, The Boob Luge.  I feel no need to type anything to mar the perfect beauty of this combination of all the best things in a man's life.