A few months ago I wrote a guide to creating what I believe is the ultimate budget Home Theater PC (HTPC) using a Raspberry Pi and the free XBMC software. The article was a smash hit around the globe, and I received thousands of fan letters containing nude photos of gratitude, and the occasional kind word as well.
Since then I've added a single new element to the mix, but one that's so awesome, I just had to write about it. I'm actually ashamed that I hadn't tried it out earlier, and for that I'm sorry. This wonderful gadget I'm talking about is the Synology Disk Station DS212J.
It's Time to Get NAS-ty
For those of you who have no idea what a NAS is, it can be summed up quite simply: a hard drive, or set of hard drives, that you can access through a network. It's basically a little Linux server that houses a few hard drives allowing you to access files at all times, even if one or more of your computers aren't turned on. Why is this great? Let me count the ways…
Store all your video and audio in one place, and access it from any machine. If you and the misses have a bunch of movies and television shows, you can form a pact to store them on the NAS instead of your individual computers. Why is this a good idea? Well…
When you fire up your Raspberry Pi to watch a movie, you won't have to turn on your computer to stream over media. The NAS is always on, and dead silent. You'll even save money on electricity since the NAS uses a lot less than your power guzzling gaming computer.
If you're the type of person who collects Linux ISOs, then guess what… using Transmission (a Linux Bittorent client available for Synology NAS'), you can download directly to the NAS while you sleep. Download, seed… the whole works. No more having to leave your computer on overnight.
In addition, if you're forced to use a wireless network to avoid running CAT5 around the house, you can simply hook the DS212J right up to your Raspberry Pi to achieve awesome speeds. This was the main reason that I started researching NAS' – there's so much interference in my building that even with Wireless N I couldn't hit consistent 1080p streaming without buffering. Completely unacceptable!
My Own Linux Server?
As I mentioned earlier, the Synology Disk Station DS212J is essentially a micro Linux server with all the bells and whistles that entails. Want to tweak the hell out of it? As long as you're comfortable working with Linux, go nuts. And for those of you that just don't to use it as a simple media server like I described, that's no problem either. The default interface is pretty straightforward: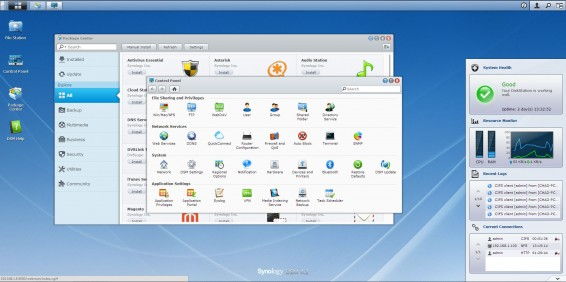 Even as a relative Linux newbie, I had no trouble setting up IPKG to install extra useful apps like Lynx! Just… don't ask.
Worth It?
So… so worth it. If you're a media junky, then you've got absolutely no reason not to pick one of these bad boys up. For about $199 and the cost of a few terabytes of hard drive storage, well… you'll never have to see that dreaded buffering monster ever again. Finally, your giant nudie collection will be available for all your friends to see, right from the comfort of your couch. I mean, if that's what you wanted. It's creepy to watch with friends, but that's cool. That's cool…