I've never been much of a water person, and that's partly due to the fact that I'm an extremely terrible swimmer. One near drowning experience was enough to scar me for life, so I usually sit back and people watch as they go about their business in the ocean waters. Even during my own Mexico vacation a few years back, I missed out on some amazing Mayan Riviera swimming.
Although I'm not a fan the water, beaches are still in my good books. They feature beautiful people, beautiful sand, and beautiful surrounding views, and I'm always excited to hear about new beach lounging hot-spots like Menorca, Spain. I had actually never heard of the place until a friend mentioned it the other day since we were talking about beaches. Here's what I know, and this is why I'm so excited to go visit.
Beaches of Menorca, Spain
My friend explained that the beaches in Menorca are probably one of the few places in the world where you can go beach to beach with each one offering completely different views. She said that while some of the beaches are packed to the brim, others are virtually absent of tourists. Now that… sounds awesome. Being recently engaged, Menorca is the perfect location for a honeymoon, while you explore the various beaches, and their beautiful scenery.
Warm water? Check. Beautiful scenery? Check. Lack of beach douchbags? Double check.
Arenal d'en Castell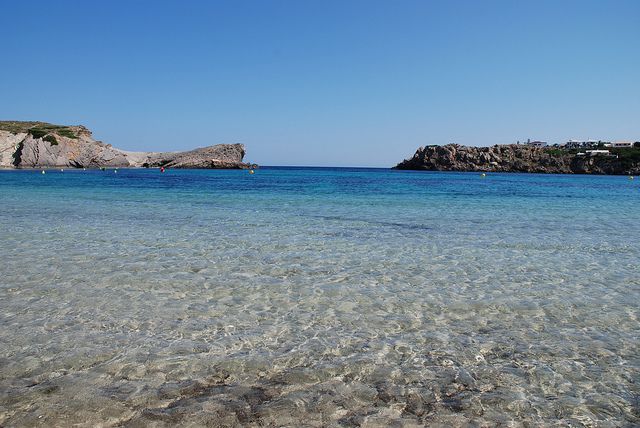 It's okay, you don't have to know how to pronounce Arenal d'en Castell to enjoy the beautiful views in this area of the island. The semi-circular bay is actually one of the beaches that happens to have many tourists around but it's too nice looking not to list. The beach features fine sand and very calm and very blue waters. This beach would be ideal for families who want to be near amenities, entertainment, and fine dining.
Cala Pregonda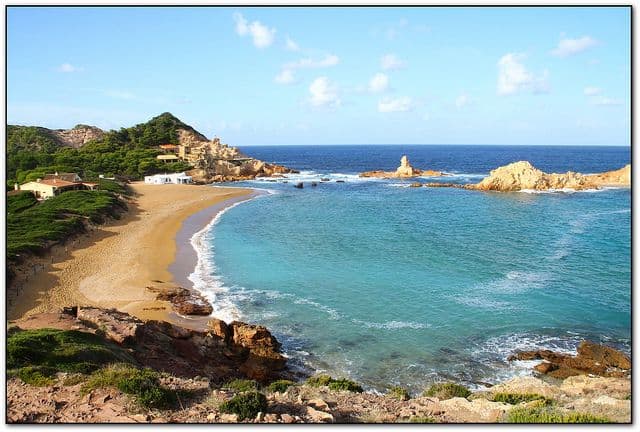 The Cala Pregonda beach is not quite empty but pretty close. This beach features a few villas which were built before strict restrictions were put in place regarding construction. The sand, clear waters, and trees in the background make for an excellent view and a great place to relax, sunbathe, and picnic. To get these views here, you have to work for it as the access to this beach is not so simple.
My trip to the Mayan Riviera in Mexico was amazing, but the scenery had nothing on this place.
Cala Macarella
Here is a perfect example of having a private beach to yourself! If you don't mind going for a long walk, then the walk to Cala Macarella is calling your name. This particular beach is situated on the south west coast of Menorca and the hike here can be difficult in some areas. Markers have been placed in the ground in recent years to avoid people from going off trail. I really like how the beach is walled in by cliffs on both sides and there is beautiful greenery as the backdrop. The perfect getaway for a couple. It would be quite fun to bring a tent and camp in this spot for the night.
These were just a few examples of the beaches of Menorca in Spain but there are literally dozens upon dozens of great beaches to see on this island, and an incredible Biosphere reserve as well. If nature isn't your thing, there are other great tourist attractions to check out, such as monuments, museums, and festivals. Menorca is absolutely packed with awesome stuff to spend your time doing.