Hey girls, are you looking for ways to spice up your relationship? Also, want to see what it's like when your partner gets a little bit naughty?
Well then, meet Srirachas yoga pants, a perfect spice to add some excitement to your sex life. With a secret opening in the crotch, you can unleash the naughty side and be super sexy in the bed. Your partner is going to love it, that's for sure.
Say goodbye to your lingerie and say hello to these yoga pants. These sexy leggings will make you and him both feel more comfortable during intimacy. So there's no need to worry about anything getting in the way of your special moment together.
Not only are these yoga pants are hot, but they're super comfortable too.
Is that all? Of course not! Srirachas pants come with more secrets you'd love to hear. We will unlock all the features and unleash these yoga pants' secrets throughout our full article.
Before purchasing, let's check out everything you need to know about these sexy AF hot yoga pants.
The uniqueness of Srirachas Yoga Pants
Get ready to feel sexy, hot-looking, and be cozy simultaneously. And Sriracha's Yoga Pants specialty is those characteristics that will drive your partner to spice up the relationship with you.
First of all, Srirachas yoga pants are made of a smooth, sleek rayon that gives you a sexy appearance.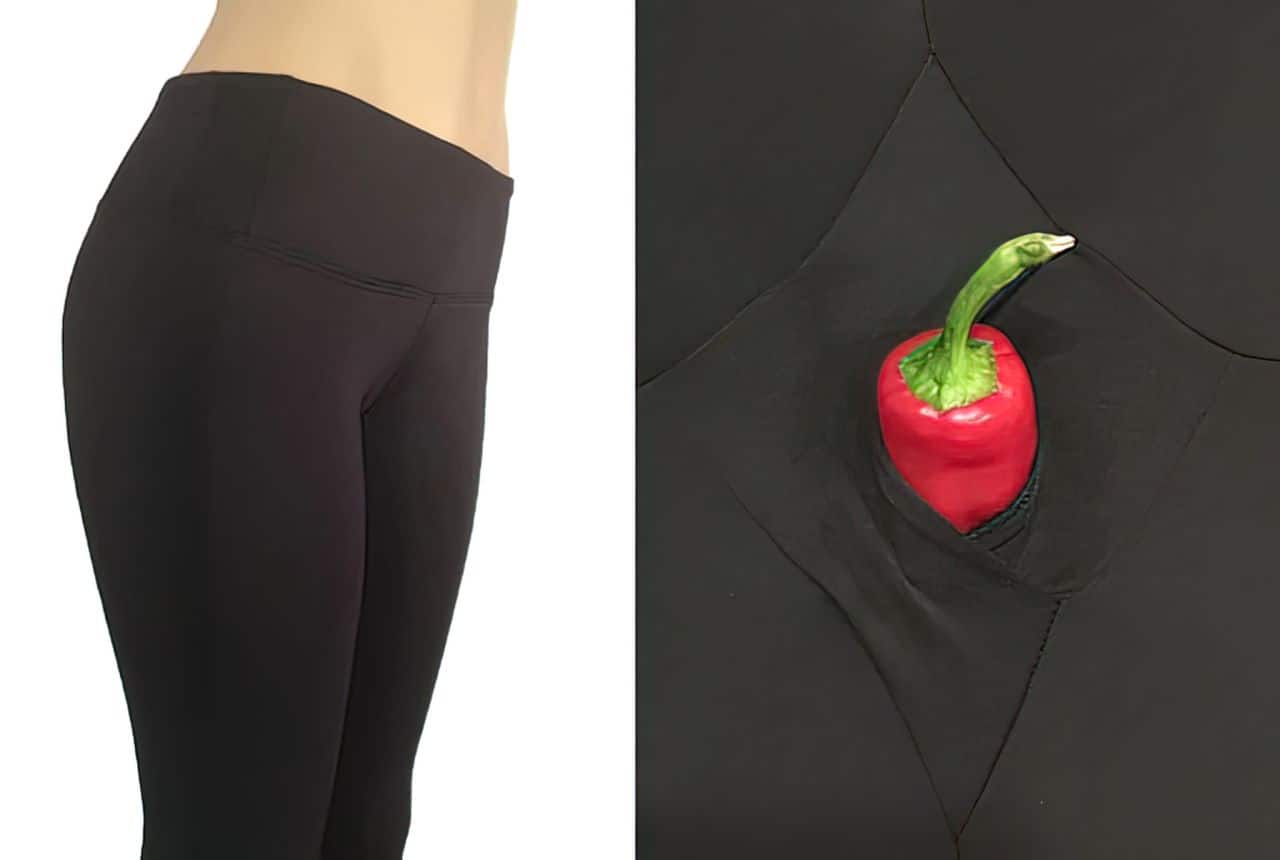 They also have a hidden pocket inside the waistband for your license, credit card, or anything else you might need, like a condom, I guess.
Also, the legging style is perfect for everyday wear, and the wide waistband helps to smooth and flatter your tummy. The fleece-lined fabric keeps you cozy and soft on the inside, while on the outside, these sexy yoga pants will make you look and feel amazing.
You will feel like relaxing in style after wearing these yoga pants.
When your boyfriend wants to go out dancing or invite you to the date night bar after class, these yoga pants are perfect for that occasion because of their wide waistband. You can wear these sexy pants up high on your abdomen, so there's no muffin top hanging over the top of the legging.
Variations
Srirachas yoga pants are available in two different sexy styles.
You can choose between legging and bootcut styles. The legging style is tighter and more form-fitting, while the boot cut style is a bit looser. Also, you can choose between a wide range of sizes, from extra small to double XL. These yoga pants are made in the USA with 8% spandex and 92% polyester.
So you don't have to worry about the quality of these yoga pants and comfortably wear them every day at work. Even after returning from work, you man will definitely like you and have fun with you at home.
Overall, Srirachas yoga pants are a great spicy addition to your wardrobe. They're perfect for wearing in the bedroom, but you can also wear them everywhere too.
Also, no one will know about your spicy secret, and you can have some fun with your beloved one while wearing these yoga pants.
So why not add a pair of Srirachas yoga pants to your wardrobe today? To learn more about Srirachas, check out their site.
Yoga Pants for Sex
Sriracha yoga pants are primarily made for sex and the perfect way to spice up your relationship.
Women always look love to feel super hot and super sexy. And after wearing Srirachas yoga pants, they will love the way their husband or boyfriend looks at her.
Man always loves how their girlfriends look hot in yoga pants.
With Srirachas, now men can lay down in the bed with their women without removing the pants. They're made for sex because women love to feel attractive in them, and men love how they look.
Plus, Srirachas yoga pants come with a secret opening around your crotch, and your man will only know this secret. The heat of Sriracha sauce brings out the passion in both partners, whether at home or in other places.
So why not give them a try? You may be surprised at how much fun you will have with your partner.
Gift of Happiness – Buy a Pair of Srirachas Yoga Pants today
If you'd thought that yoga pants are only for specific reasons, well, Srirachas yoga pants make you dead wrong.
They're made for sex because they make women feel hot while helping men appreciate their curves. These yoga pants give her more freedom and help unleash her naughty side.
One more thing, Sriracha's Yoga pants are 100% Boyfriend and Husband approved.
So If you're looking for a way to spice up your relationship or want to feel more confident and sexy, then I recommend buying a pair of Sriracha's yoga pants.
And if this sounds like something you want to try out, order now because Srirachas don't sell forever at $69.69.
Also, don't forget to use discount code "unfinished" to get FREE Priority Mail shipping on your next order of sriracha pants. Should help make these sweet pants a little sweeter.