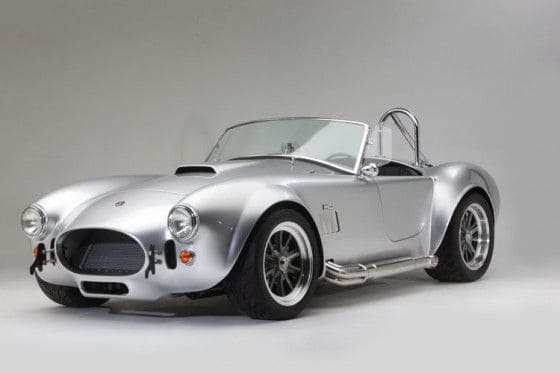 The iconic Shelby Cobra combined British styling with American muscle, the little roadster is one of the most famous cars in the world and if you were to ask any man to name their top 5 classic cars; 90% of the time the Cobra will be on that list.  Unfortunately for 99.9% of those men, they'll never own a real Shelby Cobra, fortunately for them (and us), there is the Factory Five MK4 Roadster – Cobra replica.
Factory Five has been manufacturing Cobra replicas since 1995 and this latest version is the company's fourth generation of the Cobra roadster replica.  The MK4 Roadster comes in two options; the basic kit ($12,900) requires a donor '87 to '93 model year Ford Mustang or the complete kit ($19,995).  The "complete kit" isn't really complete as it still requires powertrain, paint, wheels and tires.  Still not a bad price, in my opinion, for a very sweet ride that'll surely get you laid on demand ;).
What makes the Factory Five MK4 Roadster different from other replica cars is the attention to detail, high quality materials, and strict quality control.  The cars are track tested and the company has sold more than 7,000 MK4 Roadsters.
The MK4 Roadster is not for the impatient, the kit requires over 200 man-hours to complete but there is plenty of help available online and a 3 day build course is also available from Factory Five.
[Source: Factory Five]