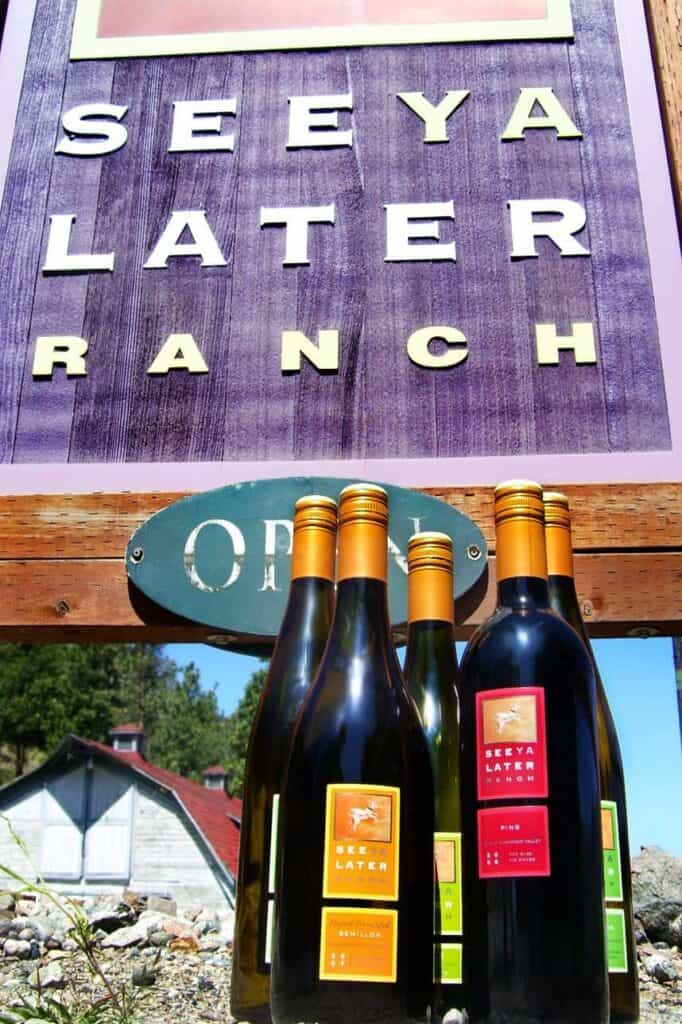 Let me preface this by saying that last year, I didn't know much about wine. Me and the Unfinished Men usually pound through a few litres of vodka a weekend, but I always wondered what it would be like to look all adult and classy by having a glass of wine to wave about knowingly. I love to drink… a lot. Like,  a lot. But after countless nights spent quaffing sugary crap out of plastic safety cups in clubs, I yearned to get a little bit cultured and have a glass with dinner, or to swirl a goblet under my nose and actually know why the hell I was doing that. I tried a number of wines, hoping to dip my toe into a pool of ambrosia- unfortunately, because I am not a big spender, most of the wines I was trying were more like splashing around in a vat of acid. In fact, I was beginning to think I was going to become a staunchly anti-wine advocate. One night at dinner in Whistler, BC, I came upon See Ya Later wines…there's a quirky dead dog on the label, the price was right (starting at about $15 a pop,) and upon extensive investigation of several dozen bottles of Pinot Gris, I realized I was in love. Since I realized there's a lot of you guys who probably also don't know a lot about wine, can't find a bottle that you like, and don't want to sell all your mint in box action figures in the hopes of getting something decent, I figured what the hell- I went straight to the source for your recommendation pleasure.
I've never been to a winery. I've never wanted to go to a winery. But in the last six months, I went from drinking no wine at all to going through bottles of See Ya Later each week, with no exaggeration. Suddenly, visiting SYL Ranch was beginning to look like a magical pilgrimage of epic proportions, and I realized that there was no way I was going to be able to tell you guys what I thought about the wines without getting up there and checking it out. What I found was a down to earth, gorgeous estate hidden away in a remote part of the only desert in Canada- See Ya Later is all about good friends, good booze, and loyal pets. We ended up staying for lunch, exploring the property, and checking out lots of delicious alcohol. Enjoy some of the pictures we took while out and about, or scroll down for more information on some of the wines we tasted guzzled.
My personal favorites are the Reisling: a light white that's not too sweet, and the Nelly: a rose wine that is a great stepping stone to learning to like reds. That being said, I'm also drinking the Pinot Gris and the Gewurztraminer at alarming rates. If you want bang for your buck and a wine that's actually a pleasure to drink, then you're doing yourself a major favour in picking up some SYL. If you're looking to find See Ya Later Wines to try out (and you really, really should) check the Canadian wine section in your local liquor store, or use this Wine Searcher link to order online. And if you ever make a trip to the interior of BC, make sure you hit this winery up for a dose of relaxation and some phenomenal alcoholic bevvies.