Though I wouldn't exactly call the Splinter Cell franchise realistic, with its sonar goggles, and Sam Fisher's uncanny ability to decimate entire legions of enemy soldiers, it is obvious that Ubisoft Toronto has done their homework in the weapons department for their latest game, Splinter Cell: Blacklist. Take for example Sam Fisher's Karambit knife..
Gone is Sam's drop point combat knife, and in its place he's now wielding a brand new hooked blade Karambit. If you haven't heard of it before, don't feel too bad. It's not exactly the type of knife you would use to say, open your mail, or cut down a cardboard box. No, the Karambit is designed for one thing, and one thing only: killing people.
The Real Sam Fisher Karambit
Originally designed as an agricultural tool, the Karambit (or Kerambit) was quickly weaponized, with the hook becoming more and more prominent. Today, the fixed blade variant often looks like this one from knife manufacturer Cold Steel.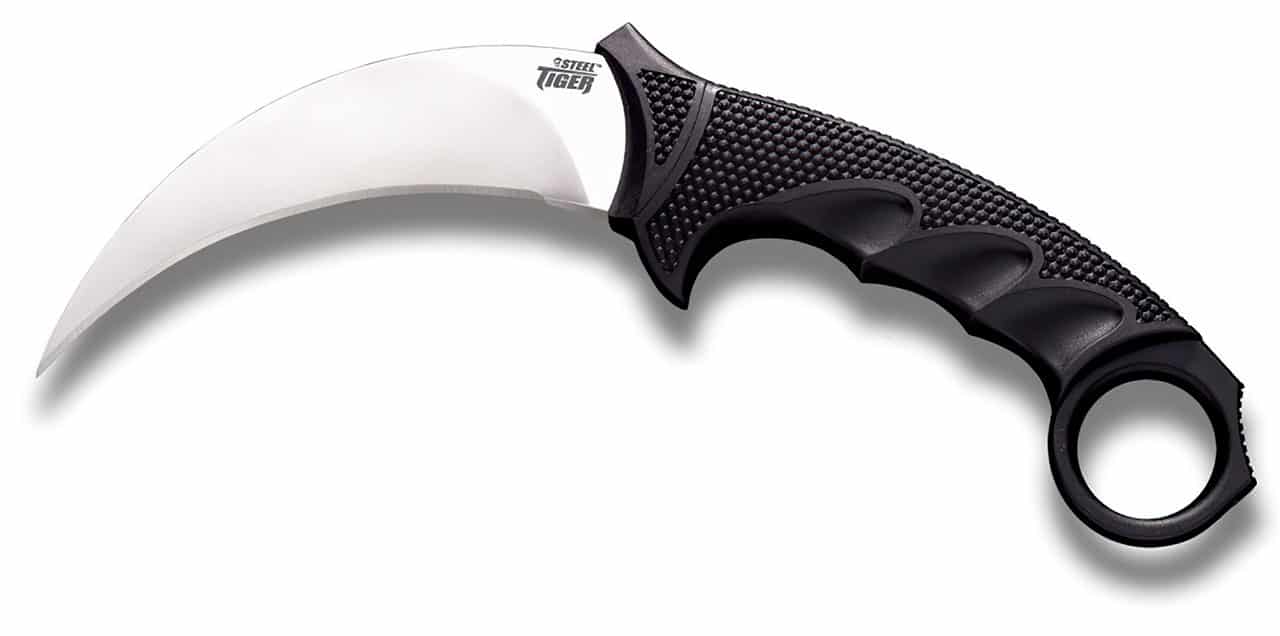 Now, I'll spare you a further history lesson, as sites like this have a far more detailed account of the Karambit's evolution, and instead pose the following question: why did Ubisoft decide to go with a hooked knife instead of a drop or chisel point blade? Though I'll fully admit that I'm not a knife fighter by any stretch of the imagination, straight blades have always seemed more practical to me. The curvature of the Karambit makes it better suited to a reverse knife grip, and from my understanding, there's a lot less power and reach in that type of motion. If I'm wrong, feel free to ream me out in the comments below. It may look cool, but would a real life Sam Fisher really use a karambit? The military certainly doesn't.
Kerambit Techniques
In a recent Splinter Cell: Blacklist video, we saw Sam taking down enemies in a wide range of stabby ways. Though I'm guessing Ubisoft won't implement *all* of the technices that are possible with this type of knife, this video should give you a pretty good idea of what they look like being carried out in real life. I apologize in advance for the lack of English in the video, but this is what's available.
Extreme Realism, the Future of Military Games?
I always find it interesting to research where development studios draw inspiration from, and I have a feeling that military games will continue to become more violent and feature more and more realistic fighting techniques and equipment.
In Splinter Cell: Conviction, Ubisoft introduced many to Krav Maga, a "little known" martial art, as well as Center Axis Relock – a shooting system that works with a shooter's natural instinct to draw inwards. These are both real world examples of very specific fighting techniques. In addition, the level of violence in Splinter Cell: Conviction is… a little bit disturbing. I love shooters of every sort, but seeing a mini-game that centers around digging a knife around in a person's shoulder? It's a bit much for me, and I'll be interested to see if my predictions are correct.