You know, I eat a lot of flavorful and spicy food. The food is great going down but it's a completely different story when it's time for the food to come out the other end. I feel sorry for the poor schmuck that has to use the bathroom after I have destroyed it whether it is at home, school, work, or some public place. But there have also been times where I have been a victim of someone else poisoning the bathroom.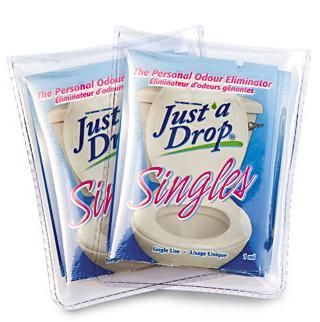 While some people including a couple of my friends would be proud of the death trap they have created in the bathroom, most people feel embarrassed about it. I was at Wal-Mart a few weeks ago and accidentally ran into a product called Just a Drop. The product is supposed to eliminate 98% of the odor that is created after doing your business (#2, taking a dump, dropping a heavy, etc). You're supposed to pour just one drop of the solution into the toilet bowl before doing your business for it to work properly. The extract in the solution creates a seal on the surface of the water, which helps block odors from escaping. 'Just a Drop' solution is also environmentally friendly as it is biodegradable, safe for all toilets, and even safe for septic systems.
A week after finding this product at Wal-Mart, I actually ended up buying 'Just a Drop' because I was going away for the weekend with three girls and one dude. And I know how girls are when it comes to bathrooms and I didn't want them to embarrass themselves when they end up stinking up the bathroom more than I would. I was not sure if the product would work, so I only ended up buying the ones that are available in singles. Each package contained 10 individually wrapped 'Just a Drop' single use pouches.
I have nothing negative to say about this product. Just a Drop works beautifully, and does an amazing job at keeping the bathroom smelling fresh with no evidence of anybody doing their business. I even had the girls go in the bathroom RIGHT after I did my business for a sniff check and I got thumbs up from them. All of us used 'Just a Drop' and it sure beats using those Air Fresheners which usually have an over powering and harsh smell that leaves me with a headache. The product is available in three scents which include Eucalyptus (what I used), Floral Oasis, and Refreshing Spring. Every trip to the bathroom is now an exciting adventure.
I would HIGHLY recommend this product to everybody. This is perfect to keep around at the office, home, or even on you just in case nature calls. I would love to see this product implemented into public washrooms and restaurants as well. So go ahead and eat as much hot wings, Indian, and Mexican food as you please because Just a Drop has you covered.
If you are located in the USA, you can only order on-line from Just a Drop at the moment as no retailers currently carry the product. If you are located in Canada, check out these retailers. Canadians can also purchase on-line.
Now enjoy the uncensored and very graphic Demo Video  I recorded last night of me using Just a Drop!