If you've never heard of a small watchmaker called Ressence, you're not alone.  The company was founded in 2010 by a Belgian industrial designer, Benoit Mintiens, and they've just released their third watch, called the Ressence Type 3.
This watch is a doozey; first of all, it has no traditional hands but it's not a digital watch, in fact it uses a mechanical movement; the case is filled with liquid, and there is no crown to adjust the time.  The watch does have second, minute, and hour hands but they're painted onto various discs.  The liquid in the case is used to suspend the dial between the movement and sapphire crystal, more on that later.
We'll begin by looking at the dial of the Ressence Type 3 watch and explain what is what.  The numbers on the outer edges of the dial represent the date and they rotate daily, with the current date always at the 6 o'clock position, indicated by the orange arrow.  Moving up, the next set of numbers represents the minutes, again the dial rotates and the large minute hand is stationary, pointing at the current minute.  Inside the dial, there are three sub-dials for the hours, seconds, and days.  The day dial has 7 indices, with the hollow ones for the weekends and the filled ones for weekdays; again, none of the hands rotate.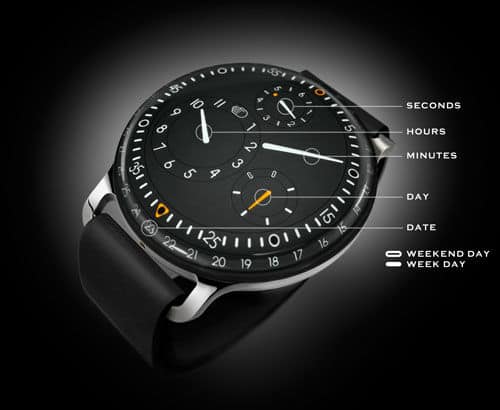 Looking at the dial, ones gets the impression that the numbers are actually printed on the inside of the domed sapphire crystal, but that's only an illusion created by the liquid filled upper half of the case.  The liquid is kept from entering the movement by a 2 mm titanium plate.  The movement is housed inside a Faraday cage (an anti-magnetic case) because the energy to move the various dials is transmitted via magnets, which would otherwise interfere with the mechanical movement.  This watch comes with some very complicated and interesting technology.
Another cool feature of this watch is the lack of a visible crown to change time and wind the movement.  This is done by flipping the watch upside down; there is a dial on the case back, which is rotated to wind the movement.  When the dial is facing up, time and date is adjusted using the dials on the case back.
The Ressence Type 3 watch comes in a 44 mm case and is powered by a heavily modified ETA 2824-2 mechanical movement.  Only 50 pieces will be produced with a price tag of €23,000 or about $29,500 US at today's exchange rate.  Via:  Ressence