Whether or not you're a Watchmen fan, this awesome real Rorschach mask is enough to make any guy cackle with glee over its potential. What the picture above is showing you is that it's a well made, good looking Rorschach replica mask that you DIDN'T have to jury rig yourself out of pantyhose and children's paint- what it's not showing you is that breathing inside the mask activates a special ink that fades in and out and "changes" the inkblot randomly. How freaking cool is that?
Real Rorschach Mask With Moving Inkblots- I See a Butterfly, or Maybe a Serial Killer
http://www.youtube.com/watch?v=soyZZ_liN38
The post title is a quote from The Watchmen graphic novel/movie (whatever your flavour of choice may be), but if you wandered around in this thing breathing heavily in a trench coat, I'd be willing to bet that it would be a self fulfilling prophecy. If you're not a big comic buff, or you somehow managed to miss what was a pretty huge production, whatever magical voodoo that makes this thing work is pretty great even without the context. As a huge fan of both of those things, having one of these masks to do mundane tasks in would be a dream come true. Talk like Yoda and Christian Bale as Batman's retarded love child while dusting the house or cooking bacon. Conduct all your own completely invalid, subjective analyses of people's inner workings while discussing the weather with them. Make sure you tell people that it's "very interesting" that they think your face looks like a spider or a cup and scribble both furiously and mysteriously on a notepad to make them extra uncomfortable. The possibilities are endless!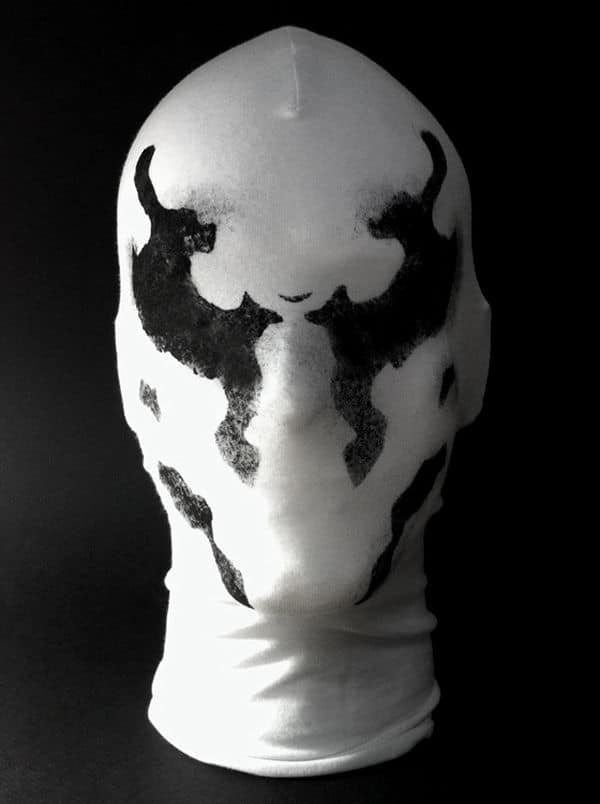 There are five mask designs, based off some of the most recognizable facial states of Rorschach, and although they're currently sold out, keep an eye on the website so you can buy them…because they're only $35 each. That's a steal for something that has the potential to both terrify pretty much anyone encountering you any time after dusk and elevate your Comicon costume to the loftiest of heights. Reading through customer reviews of these things, they're easy to wear and see out of, look even better than the video, and actually conform to your face so you don't look like you had a Chinese reseller on Ebay model your head after a malformed pumpkin. One of you guys has to get one of these things, just because I can't see myself doing Sexy Rorschach for Halloween any time soon… unless you can invent me a body suit that will change in accordance to my blood alcohol levels. LIVING THE DREAM.