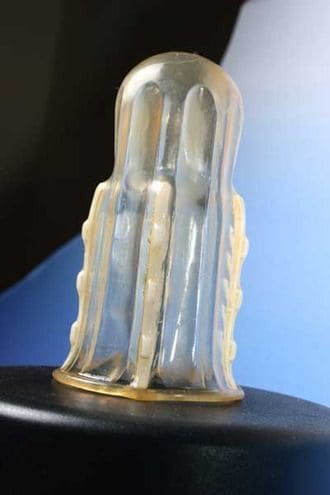 I had heard about the anti-rape "condom" (read: bear trap) ages ago but never actually saw a picture of what it looks like. I figured it would be a little device that gives the man a small jolt and says something along the lines of "don't rape, it's bad!", or hits his ding dong with a little rubber hammer. Unfortunately for anyone in the business of rape, this thing looks to pack a wallop.
The device was created by Dr. Sonnet Ehlers of South Africa, and is being called "Rape-aXe," an "anti-rape condom". The device is intended to be worn like a tampon and attaches to a mans penis upon unwanted penetration. According to Dr. Sonnet, the person would then be unable to walk or pee without intense pain.
I can see how this would be an effective rape deterrent, especially once the device gains greater adoption by women (in women?). I can't imagine most men taking the chance of having their penis skewered by a tube full of needles and stabby things, not to mention the fact that the device can only be removed by a doctor. Talk about awkward.
(Source: Flashnews)