Since we looked at birds and said, "Pffft, I can do that," humankind has been obsessed with flight. I'm not talking about airplanes or helicopters, either. I'm talking about full-on, unassisted, Superman-style gliding. However, almost all those attempts have failed, like Icarus or those old 1900s videos of dudes with mustaches building flying machines. There is, however, one extreme sport that allows mere mortals the closest we will ever get to self-propelled flight: a zip line.
The Extreme Zip Line Adventure from Vallarta Adventures starts by picking you up in a full-scale Unimog war vehicle, which is one of those bizarre vehicles which makes you feel like more of a badass for simply being near it. After a short trek into the Sierra Madre wilderness outside of Puerto Vallarta, you're greeted with a trail of adventure, starting with the initial introductory zip line, followed by an ATV off-road track.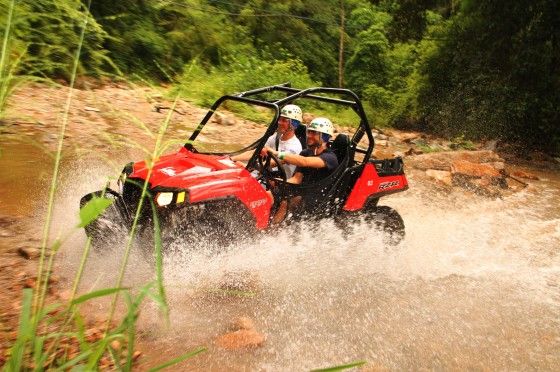 I uhh… I have mentioned that I don't drive. The Polaris RZR UTVS allows you to haul some serious ass up steep hills and muddy riverbanks on the five-mile course up to the zip lining base camp.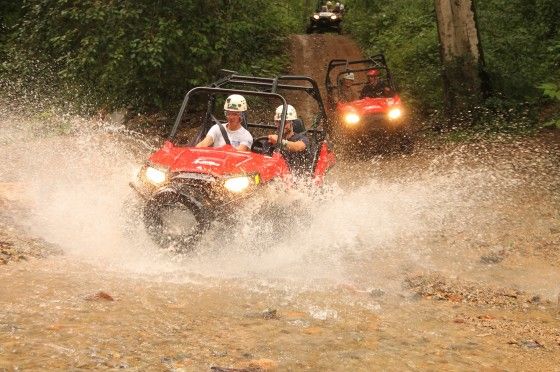 The ATV trail brings you to a series of Tarzan-like tree bases, which you access through a routine of ladder climbing, rope scaling, and rappelling out of trees, TWICE. I felt like Indiana Jones, except he had a remarkable fedora, and I had a dorky GoPro helmet cam.
First, you climb up the Crazy Ladder, a fifty-foot climb into a tree, straight up. The rope ladder itself is secured to the ground, and the top base, and… that's it. The ladder is just dangling in the air, and you can feel the breeze rocking you back and forth.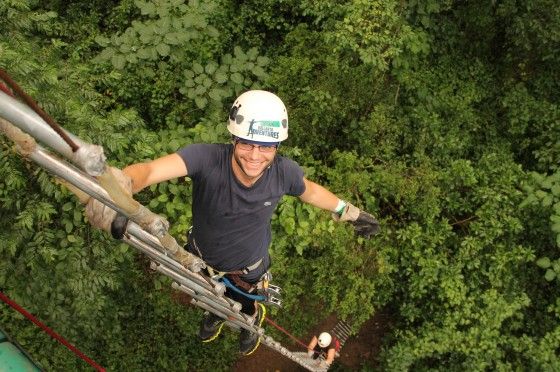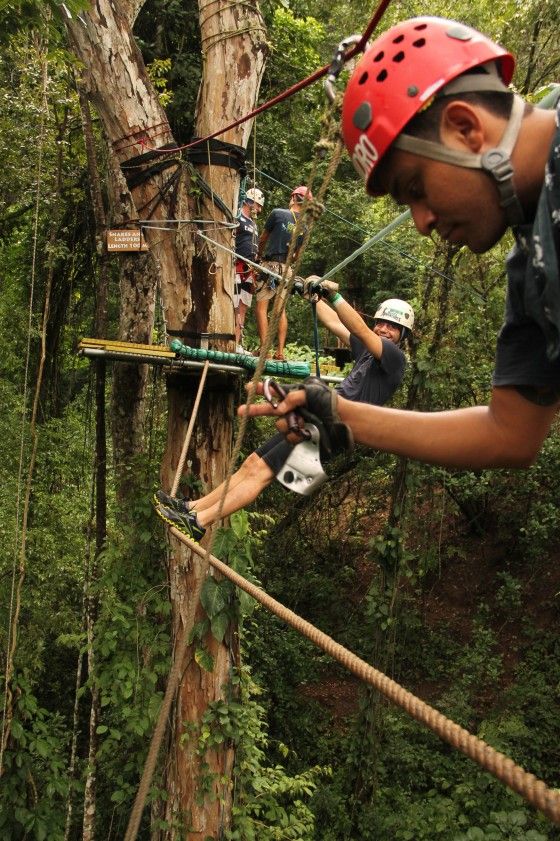 Even though Vallarta Adventures makes safety their top priority and have you safely secured with TWO different security ropes, the guides still like to make jokes about Wile E. Coyote walking off a cliff in the cartoons. Right around this point in the suspended walkway, I began wondering how many thousands of times they've made that same joke. Maybe it's taught to them during safety training.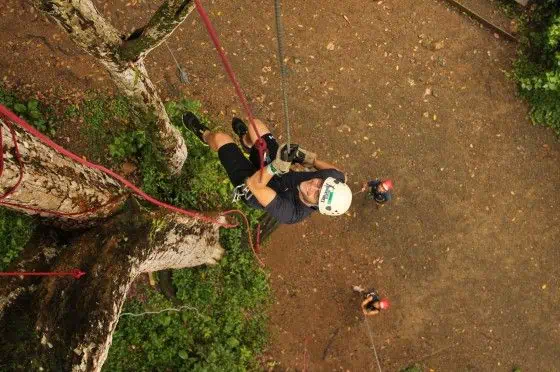 When you reach the longest and fastest zip line, they wrap you in a safety harness, sort of like a giant baby carrier. The safety equipment is checked and inspected beforehand by guides with over 200 hours of training so that you can feel secure. You get to enjoy the view of the canopy of trees at what feels like a reasonable speed for a few seconds immediately before gravity does its thing, and you drop into 60 MPH forward motion. This is flying, folks. It is flying over 4,000 feet on the longest and fastest zip line in Mexico.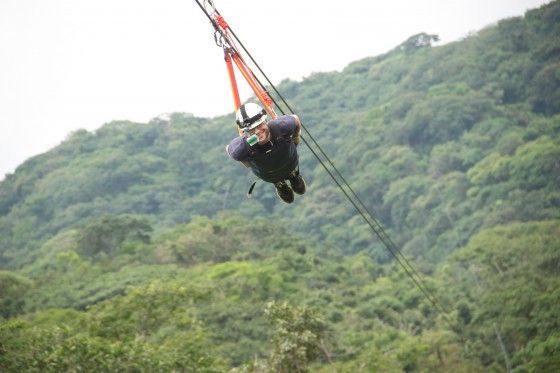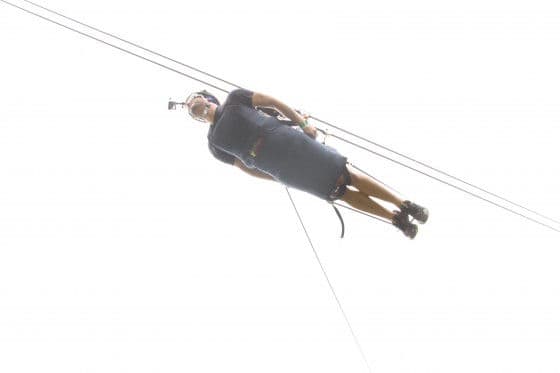 I may have started playing the Superman theme on my iPod.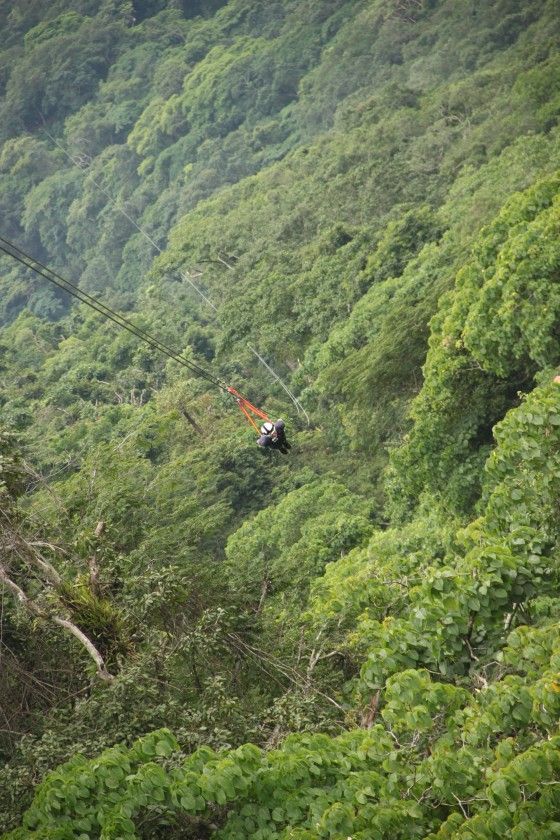 "Wow, Jason!" You may ask. "Weren't you scared?" No. No, I wasn't. I had already done lots of adventurous shit in the Riviera Maya and Veracruz. Do you know what I was scared of? The freakin' water slide you go down at the end. I could have skipped it because the most extreme parts of the tour are optional for the whole family. But I thought, "I just flew across a jungle 1000 feet in the air. How scary can a water slide be?"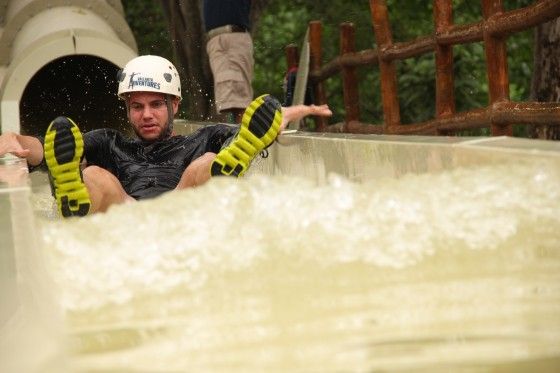 I am not kidding. That thing is pitch black and fast. I got sprayed in the face. It was scary. It's not funny, guys.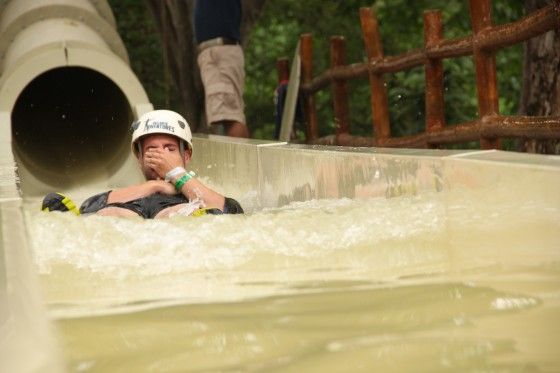 Terrifying water slides aside, Vallarta Adventures provides an experience you can't get anywhere else. There are tons of ziplining companies in North America. Still, none offers the full range of adventure that this tour does, making it a must for all expeditionists and exhibitionists (considering the water slide is fast enough to strip your pants off). Look, evolution, Mother Nature, and the law of gravity tell you all the time that you can't fly. These guys have been laughing at that idea for over ten years. The way I see it if you're going to escape the bounds of Earth, why not do it with the best?