Pokémon Go is an attractive and popular computer game that has garnered myriads of devotees across the continents. It is a location-based game. Movements are key to a scintillating playing experience. If your location is starved of rare Pokémon species or you simply want to enjoy more raids and other unique Pokémon Go events, you need a Pokémon Go walking hack. This way, you flawlessly move from one point to another at the comfort of your home.
While this is the case, it is essential to note that Pokémon Go game developers do not allow players to fake locations. If suspicious movements are spotted, you will be flagged and your account risks suspension or even permanent closure. This means you have to make intelligent movements or else find yourself on the wrong side of Niantic. Fortunately, the right location spoofer tool will make it a plain-sailing task. This article gives you the best guide on how to walk in Pokémon Go without moving.
Pokémon Go Walking Hack Methods
Here are ways how to move in Pokémon Go without walking 2021.
Dr.Fone – Virtual Location (iOS)
Dr.Fone – Virtual Location (iOS) is by far the best Pokémon Go walking hack. This amazing application is furnished with several excellent features that help transform the way you spoof and play location-based games. Ranging from the intuitive and elegant interface, an array of spoofing options, and ease of use, Dr.Fone – Virtual Location (iOS) is undoubtedly the best app to play Pokémon Go without moving. The good thing with Dr.Fone – Virtual Location (iOS)) is that you don't have to jailbreak your device to fake your GPS location. With the assortment of intelligent location spoofing options, be sure to make Dr.Fone – Virtual Location (iOS) your indispensable tool.
Leverage these intelligent teleporting options to move anywhere in the world without being noticed. Just drag the slider button at the bottom to mimic natural movements like cycling, walking, or driving speed. Move between two or multiple points on predefined paths or sketch desired paths. If you are tired and don't want to spend your time on the map, you can hit the space bar and let the automatic marching option take over.
Features of Dr.Fone – Virtual Location (iOS)
This program allows users to teleport movements across existing roads or draw the paths themselves.
Joystick support makes GPS movements seamless and full of fun.
This tool supports up to 5 different devices at the same time.
With this tool, users can import or export the GPX file to explore outdoor paths seamlessly.
It supports 360-degree movements. Therefore, users can turn and move in any direction.
How to Teleport with Dr.Fone – Virtual Location (iOS)
Step 1. The first step on how to walk in Pokémon Go without moving is to launch Dr.Fone – Virtual Location (iOS) on your computer. Ignore other options on the primary page and select "Virtual Location."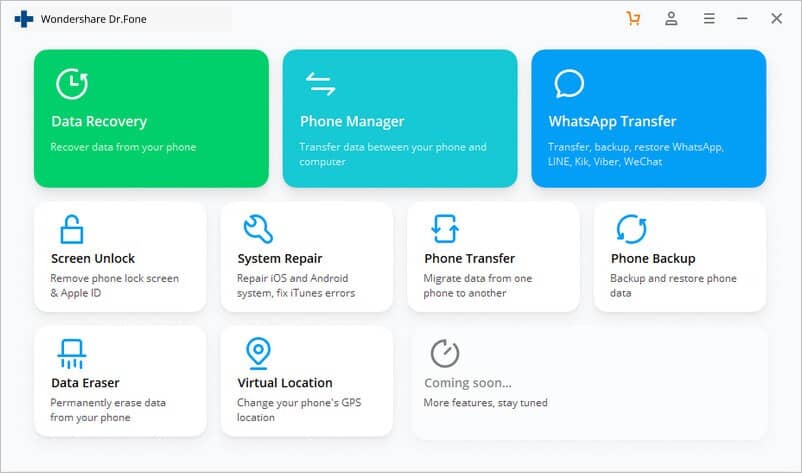 Step 2. Now connect your iOS device to the computer using a suitable lightning cable. When the iOS device is detected, hit the "Get Started" button and then choose your device to proceed.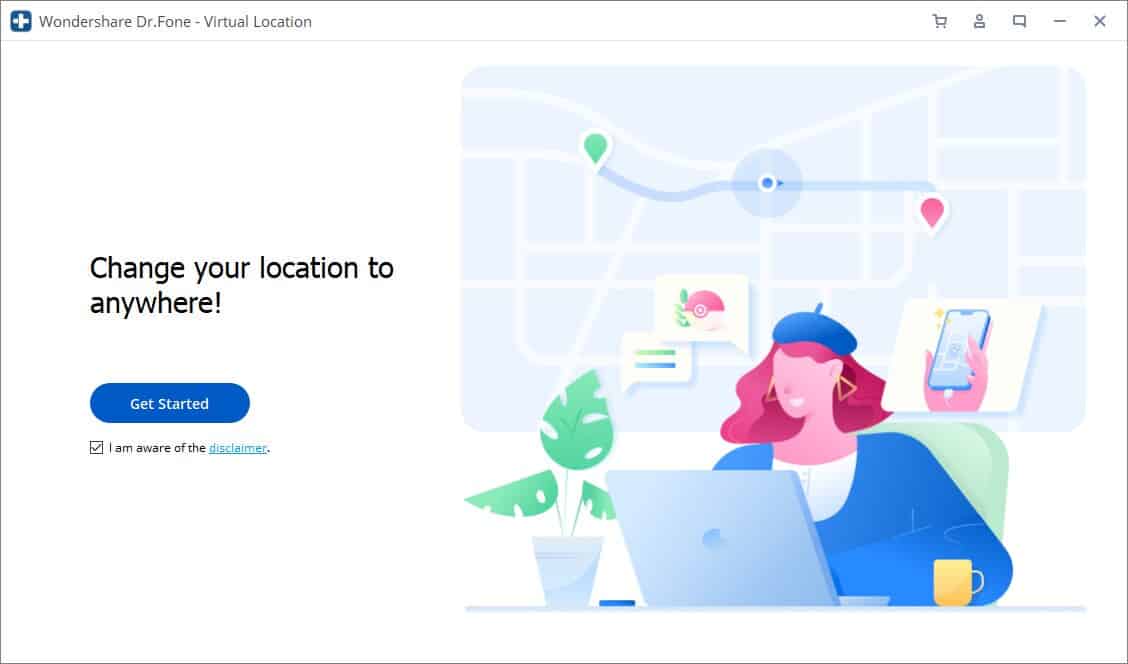 Step 3. The program should now display the Virtual Location interface and your current location. To teleport on Pokémon, Go, you need to activate the teleport mode by clicking the third icon on the top-right.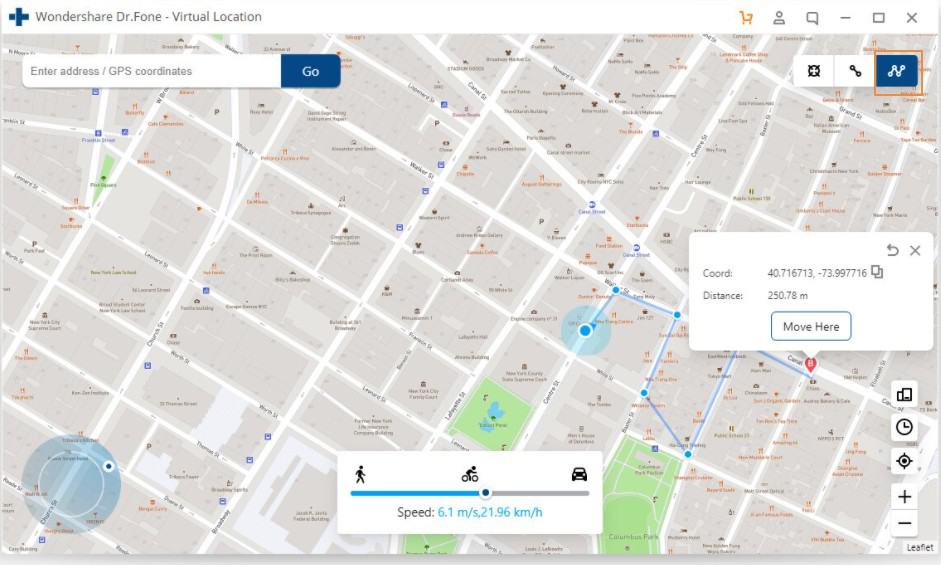 Step 4. Now enter the desired destination or respective GPS in the search bar and press "Go." When the search is successful, click "Move Here," and the program will change your GPS location to correspond to your queried one.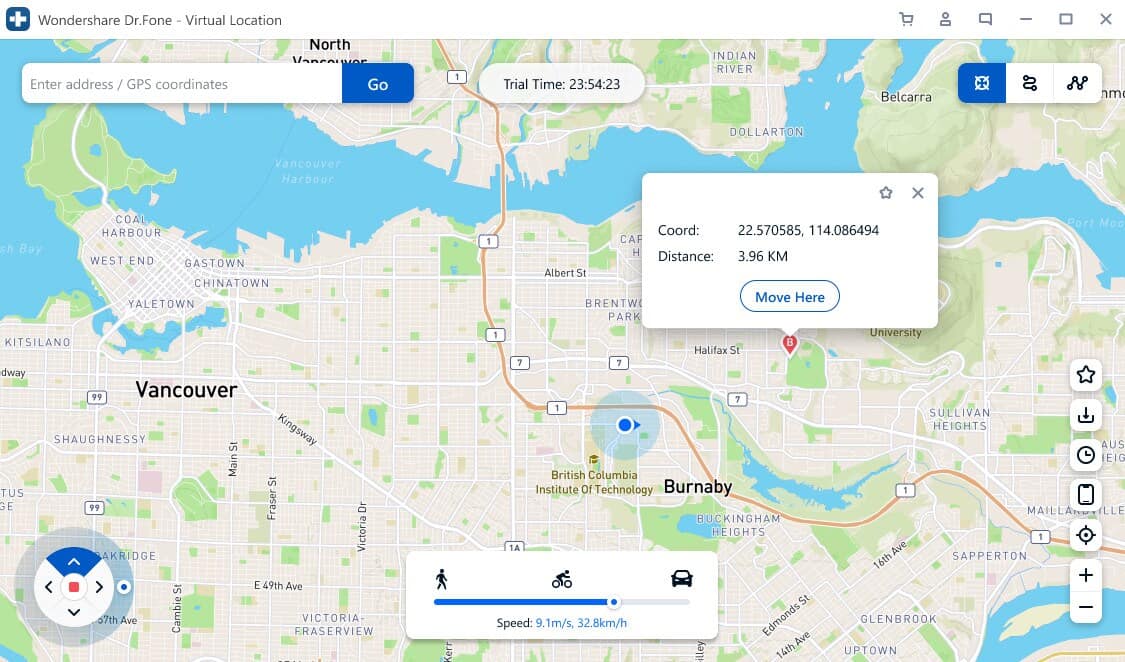 iTools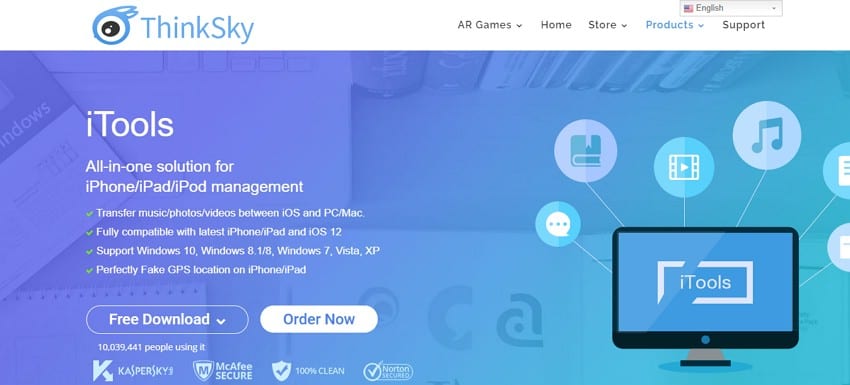 iTools is another good tool for the Pokémon Go walking hack. This tool lets you simulate your movements and fake iPhone location. iTools location spoofer has a desktop application with an interface that resembles a map. Here, you simply search for the desired location and teleport to that point with ease. While iTools doesn't offer myriads of features, the basic features make how to walk in Pokémon Go without moving relatively easier.
Furthermore, users can simulate movements by tweaking the teleport speed. Another drawback of this tool is that newer devices need jailbreaking before using iTools. Although it is not as top-notch as tools like Dr.Fone – Virtual Location (iOS), you can still give it a try.
GFaker Location Spoofer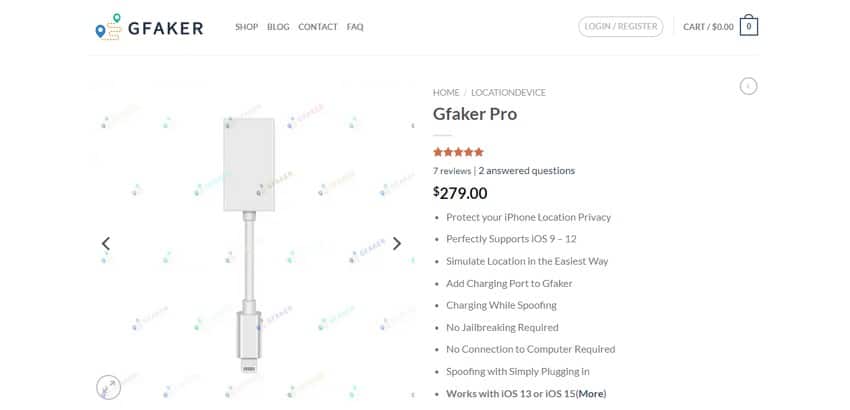 If you are looking for an iPhone app for the Pokémon Go walking hack, GFaker is worth trying. This application works well across all iPhone models ranging from iOS 9 to iOS 12. The good thing with GFaker is that it is easy to use. Therefore, no expertise is required. The program is available in two different versions.
However, you need to chuck out $259 for each of them. This looks pricey considering the few features it offers. Anyway, if you are willing to spare some cash for an iPhone location spoofer tool, then it is not off to try GFaker location spoofer.
iSpoofer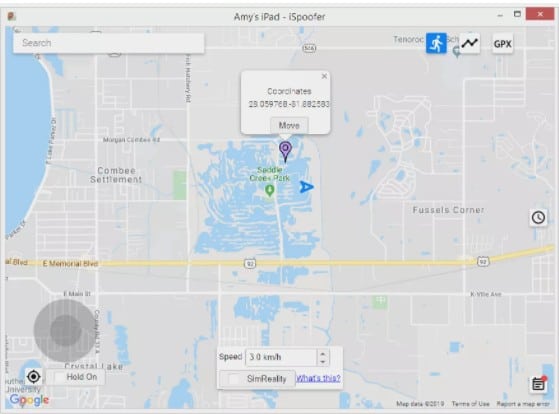 iSpoofer is another good location spoofer tool that offers a simple way on how to walk in Pokémon Go without moving. The good thing with iSpoofer is that you don't need to jailbreak your iOS device to change your GPS location. This program is available for Mac/ Windows and gives a free trial period of three days. If you are using iOS 8 through iOS 13, then iSpoofer will work on your device.
This program is easy to use and doesn't require that you hire an expert. Just launch the program and plug in your device. Choose the "Spoof" option followed by "Continue Trial" if this option appears. Search for the desired location on the map and then hit "Move" to teleport to that point.
Bottom Line
From this guide, it is no secret that Dr.Fone – Virtual Location (iOS) is the cherry on top Pokémon Go walking hack. If you are out there and looking for how to get pokeballs in Pokémon Go without moving, then pull a trigger and get yourself Dr.Fone – Virtual Location (iOS). Indeed, millions of people leveraging this tool can't be wrong. Try it today and take the way you play Pokémon Go to another level.