Professional and amateur photographers alike always have to carry a ton of gear to capture the perfect picture. They have to lug around heavy equipment bags and, on top of that, the dreaded heavy DSLR camera, which can weigh up to a few pounds with a lens. Thanks to the innovative people at Peak Design who have come up with a Capture Camera Clip System, it can now be a little bit easier to lug around your DSLR.
The camera clip system is a very easy to use.  It's a self explanatory system that can attach to the belt around your waist or the strap of your backpack.  With a push of a button, your camera is simply taken out of the clip to quickly capture the perfect image.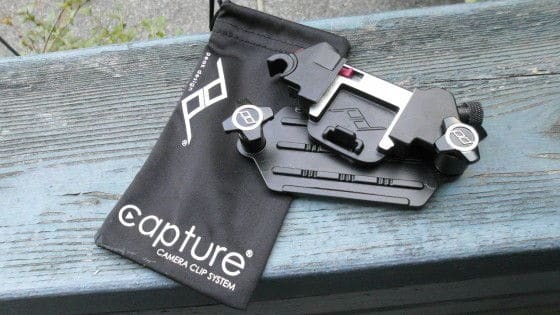 The Capture Camera Clip is a simple 3 piece system that includes: a quick-release plate, a back plate and a clip which attaches to the back plate. The quick-release plate attaches to the bottom of the camera, which then slides into the clip. To attach the back plate to your belt or backpack strap, simply loosen the two screws and the clip will swivel out so you can put your belt or backpack strap inside and re-secure it. Once the clip in secured, you can slide the camera into the clip and walk around without having to carry your DSLR over your shoulder or in your hands.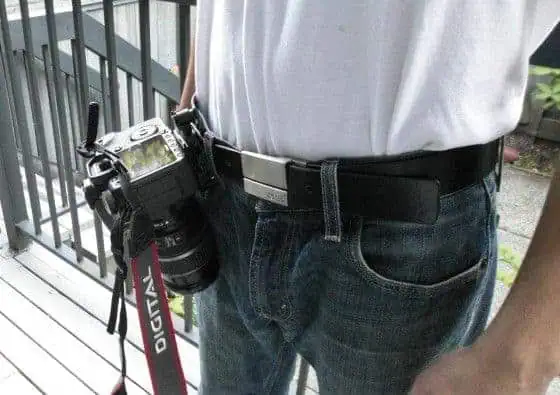 This is a very innovative system but when I was testing it out, I found that when the clip and camera are attached to your belt, it is very awkward to walk around. You feel as if your pants are going to fall down with the sheer weight of the camera. If you wear your jeans slightly loose, it's not a very good idea to have this clip on your belt. As for using the strap of a backpack, it's excellent and secure and very comfortable to walk around with. The one thing you really have to get used to is trying to pull the camera out of the clip as it sometimes does not come out smoothly.
This innovative clip system is a quality built product with a clean design.  Its small form-factor allows it to fit in your pocket.  You don't really even need to read the 3 step instructions; it's very easy to use as-is. I like the fact that you can use it on your backpack strap or your belt, but I much prefer to use it on a backpack strap.  The Peak Design Capture Camera Clip System is priced at $79.99 and can be ordered at Peak Design's website.
Video Explaining the Capture Camera Clip System
http://vimeo.com/31179502