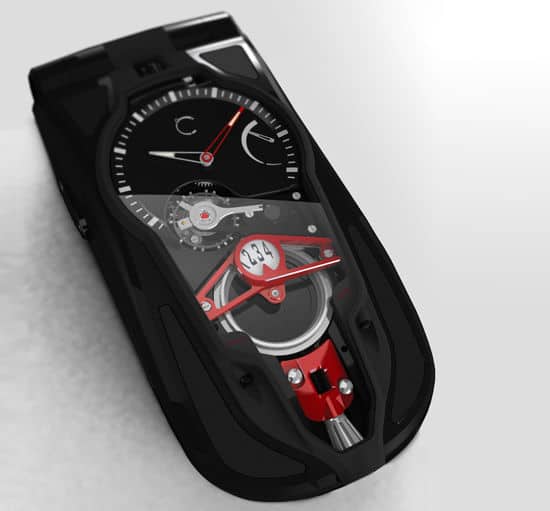 Unlike other watches that will be auctioned at the 2011 Only Watch charity event, the Celsius X VI II can't be worn on the wrist, instead, it'll feel right at home in your pocket but it isn't a traditional pocket watch.  The timepiece combines what used to be a modern gadget, a hundred years ago, with one of the most popular gadgets of the current time, a cell phone.
The Celsius X VI II watch phone was released earlier in the year (priced at approximately $300,000) but the one that will be presented at the charity event is a one-off with a unique date feature.  The date window showcases the date in the middle of the phone and at first glance, the date seems to come out of nowhere thanks to some visual trickery; the glass used to display magnifies the top part of the date wheel giving the illusion that there is no wheel.
The watch is encased in a standard looking black flip-phone and unlike the traditional watches found on cell phones, this one uses an old-fashioned mechanical movement with a 72 hour power reserve.
For a list of all 40 watches that will be auctioned off at the charity event, please refer to our Only Watch 2011 post.