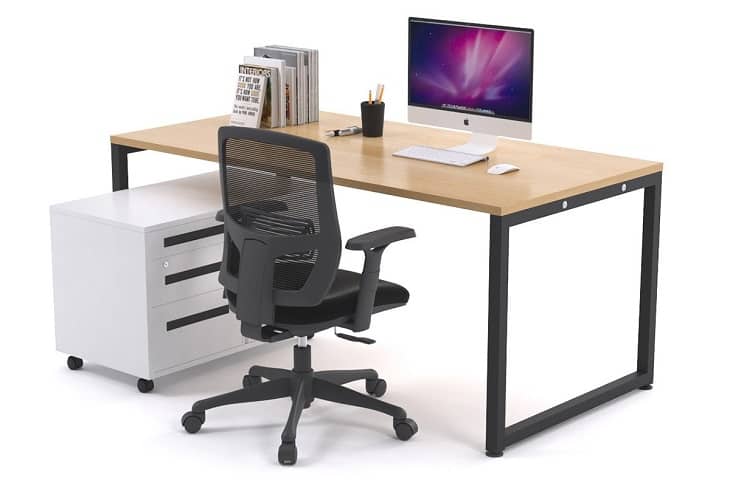 Office desks for home or work are often one and the same in our modern telecommuting world. What is the best choice? Jason L offers some really good examples of just how much choice you now have. Take your time when planning your office. A well designed work-space will pay huge dividends overall well-being in the years ahead.
First of all, consider this – if you work in any kind of office environment, including a home office, the right desk is an important choice.
For many years, a desk has been a glorified table with drawers hung below it, and a space for a seated person's legs. The focus for many when choosing a desk, if given a choice at all, was more focused on the status afforded by the desk, rather than how user friendly it was.
Men preferred a solid oak or other even more exotic wood. Often times the more exotic the wood appeared to be, the greater the status of the man sitting behind the desk. Only junior partners used melamine topped metal desks!
Desk chairs were long another piece affording very limited choices. Again, more emphasis was put on the way they looked than on their comfort, and often the seats were little more than flat varnished wood, sometimes slightly contoured, but with no padding of any kind.
Today, we know that sitting in the same cramped position behind a desk all day long is very unhealthy. According to the Mayo Clinic, the latest research indicates that sitting for long periods of time is linked to several major health concerns, such as obesity and something called "metabolic syndrome," which covers a large number of medical conditions, including high blood pressure, high blood sugar levels, excess fat around the waistline and unbalanced cholesterol levels. Furthermore, the evidence seems to point at an increased risk of death from cardiovascular disease and cancer. Some studies show that the risk to heart health increases by 147% for someone who sits all day. Worse, an hour of exercise may not be enough to counteract the effects of sitting all day. None of this is good news if your work requires you to sit at a desk all day!
Your career might require a lot of time in front of a computer, but thanks to the latest technology in office furniture, there's no need for you to sit in the same position all day behind a traditional desk. Today's work-space organization includes many options for mobility and comfort while you work.
Chairs are now adjustable, meaning you can raise or lower your seat, allowing a new position for both your legs and arms from time to time. There are also adjustable back and arm rests, and different levels of materials and padding to choose from, giving you many choices depending on your particular comfort preferences.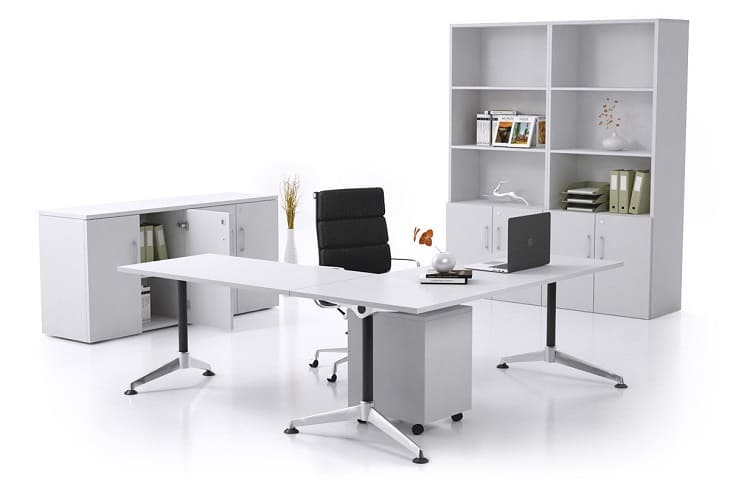 Desks today don't need to be the traditional single big boxy rectangle. From elegant minimalist designs on legs to roomy L-shaped designs with tons of room underneath to move your legs and even roll around a bit, the choices keep coming. There are even desks available on adjustable pedestals, providing even more leg room. Even better, these desks finally recognize the fact that not everybody is the same height. Being able to adjust the height of your desk with ease to your frame is a fantastic innovation.
But today, your choice in office desks for home or work has gotten a lot better. Personally, I like to be able to both stand or sit while I work. The challenge has been the problem of moving from sitting to standing and back, while still having full, comfortable access to things like the computer keyboard and work-surface, as well as a good view of the monitor.
With new innovations and better understanding of health and the importance of ergonomic design, "SitStand" setups such as those offered by Jason L are now becoming popular. These allow the user to go from sitting down to standing up while working, while keeping everything at the same comfortable working level.
There are various options available in modern desks for home or office. Some can be raised relatively easily using a manual crank, while some of these SitStand units now offer the added convenience of push button electrically operated systems, making it possible to adjust them with just a touch.
Furthermore, there's no need for staff to sit hunched into tiny little sit down only cubicles in a small office. Almost any desk configuration, including L-shaped desks, SitStand meeting tables and multiperson adjustable standup stations like this gorgeous 6 person electrically adjusted workstation from Jason L. Now everybody on your team can work comfortably at the level that works best for him or her and maintain optimal health at the same time.
Whatever your office needs, there are many configurations to choose from among office desks for home or work. Even for a large office space with many employees, setting up the entire office with comfortable, spacious, yet space saving work-spaces is simple, economical and healthy, with readily available single sided electric T sit stand work stations that install in no time and pay back again and again with better production and healthier workers.
Everybody's preferences are a little different. My personal choice for my one person office is a desktop mounted design that lets me pop it up with everything I want on it, with little to no effort when I want to stand, then lower it down again when I want to sit. This is the kind of setup I use every day, and I love it.
The good designs in this configuration allow you to place your monitor and keyboard on the unit, then raise or lower it easily, without having the frustration of having to clear everything off each time you move from sitting to standing and back.
Whatever you choose, remember that you will likely be using it for a long time, so choose your office desk for home or work wisely! Your comments are welcome!