Honda is really stepping up their game in the electrification/hybridization field, with some very compelling vehicles. Giving us choices like the new Honda Accord Hybrid, the Clarity Plug-in Hybrid, and soon to be released Insight. Last week we had the opportunity to spend some quality time with a 2018 Honda Clarity, below are my thoughts on the experience after driving the car for 275 kilometers.
The 2018 Honda Clarity is the second-generation Clarity, the first-generation car was a hydrogen fuel vehicle and was called FCX Clarity, it was available in only a small number of markets. The 2018 Clarity is available in all markets in Canada and the United States, however that only applies to the plug-in hybrid model. The second-generation Clarity is also offered as a hydrogen fuel vehicle (only available in California) and fully electric version (only available in California and Oregon).
Pricing
In Canada, the 2018 Honda Clarity has a starting price of $39,900 for the base trim and $43,900 for the Touring trim. There are no additional options, other than $300 for paint and some accessories. The additional $4,000 for the Touring trim gets you Navigation, leather seats, and satellite radio. I find the Touring trim kind of pricey for what you get, as the base trim has quite a bit of standard equipment, more on that later.
In the provinces of British Columbia, Ontario, and Quebec there are government incentive programs for electric vehicles, ranging from $5,000 to $13,000, making the Clarity quite a reasonably priced car.
Engine/Motor
The 2018 Clarity Plug-in Hybrid is powered by an electric motor and a gasoline engine, the electric motor produces 181 horsepower between 5,000 and 6,000 rpm and 232 pound-feet of torque between 0 – 2,000 rpm. The gasoline engine is a 1.5 liter 4-cylinder, producing 103 horsepower at 5,500 rpm and 99 pound-feet of torque at 5,000 rpm. The combined horsepower is rated at 212 HP at 5,500 rpm. Power is sent to the front wheels via an E-Continuously Variable Transmission (E-CVT).
Electric power is stored in a 17-kWh lithium-ion battery, which can be fully charged in approximately 2.5 hours on a 240-volt outlet and 12 hours on a standard 120-volt outlet. According to Honda, the Clarity can travel up to 76 kilometers on a fully charged battery. The fuel consumption rating for the gasoline engine is 5.3/5.9/5.6 L/100 km in city/highway/combined driving and combined electric/gasoline consumption is 2.1 Le/100 km.
Driving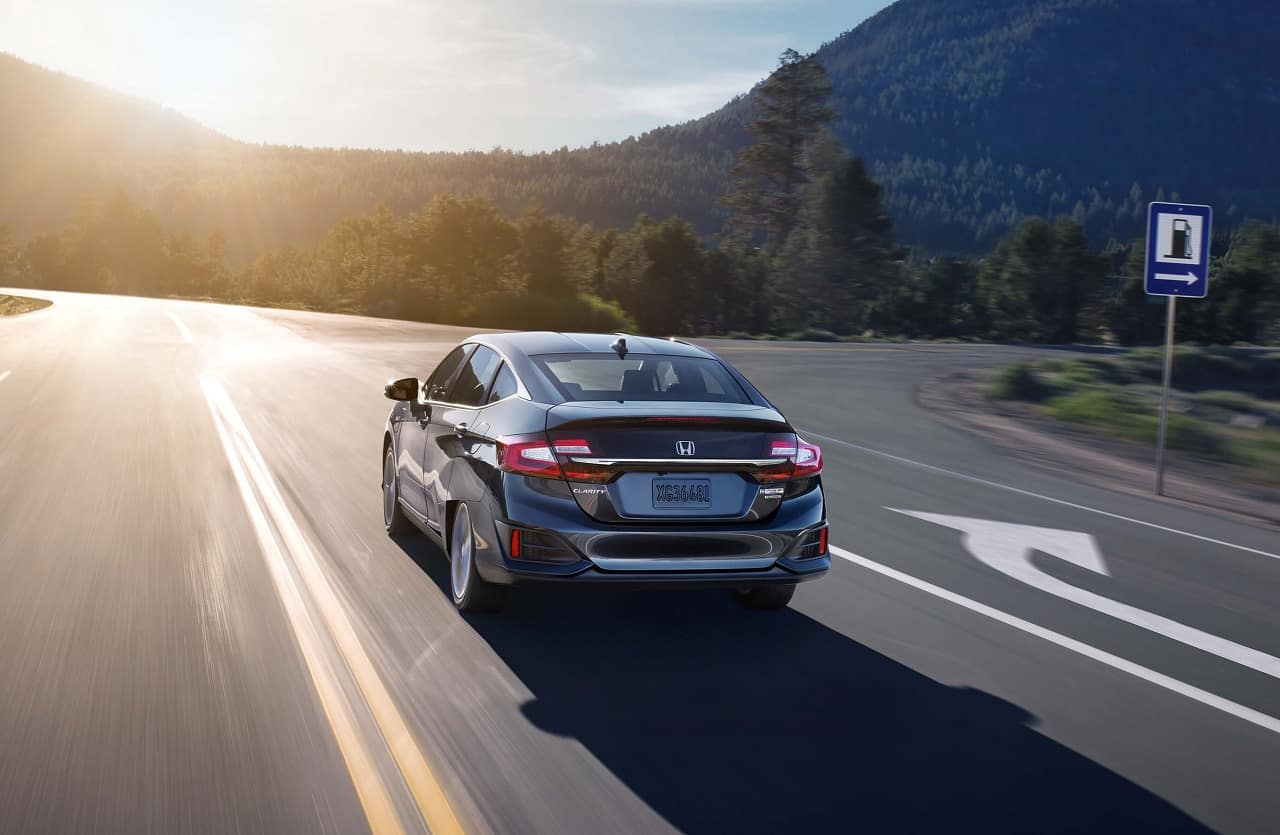 As I mentioned above, I drove the Clarity for 275 kilometers in our weeklong review, and I barely used any fuel, maybe a couple of drops? The engine turned on once for some reason, maybe it was just warming up or some other reason, as the electric battery was fully charged. I normally don't drive this much in a week, as I live in a very central location and most of my trips are short, but I wanted to see how much I could drive without having to fuel up.
With the claimed 76 kilometers of range, even though I saw 90 km available after fully charging the battery, I think the Clarity is a great choice. Personally, I think I'll use one or two fill ups in a year. Even on the day I drove the longest, I still had about 20 km of electric range left. This leaves me to wonder why I would buy a fully electric vehicle? You do get more electric range with an all-electric vehicle, but you're also paying a much higher price and the range is still not that great and then you have to think about finding a place to recharge the batteries. With the Clarity, you can drive for over 70 kilometers and then you're on your merry way with the power of gasoline, the car then acting as a normal hybrid car.
When the battery is drained, the gasoline engine turns on to charge the battery, so you're still on electric power, when you need a lot of power, that's when the gasoline comes online to drive the wheels.
The Clarity comes with three driving modes, "Econ", "Sport", and "HV". Econ and Sport are self-explanatory, and HV is for "Hybrid Vehicle". HV mode is better suited for highway driving where the gasoline motor is the most efficient and save the Econ (battery juice) for city driving. I mostly drove the vehicle in Econ mode and it wasn't bad at all and the car didn't feel slow, thanks to the available torque at 0 rpm. In Sport mode, the Clarity is very fast, maybe not Tesla fast, but fast enough, it felt like a V6. The Sport mode is quite enjoyable in straight lines, in corners, the limiting factor is the low rolling-resistance tires, which are great for fuel saving but not so great at giving you grip in high speed corners. The Sport mode will also reduce the number of kilometers you can go on a full charge.
As you'd expect in a plug-in hybrid, there's barely any noise coming from the motor. At low speed you can hear a musical hum coming from the electric motor, I've noticed the same sound from all of Honda/Acura electric motors. When the gasoline engine is on, it sounds more like a generator than a car engine.
Styling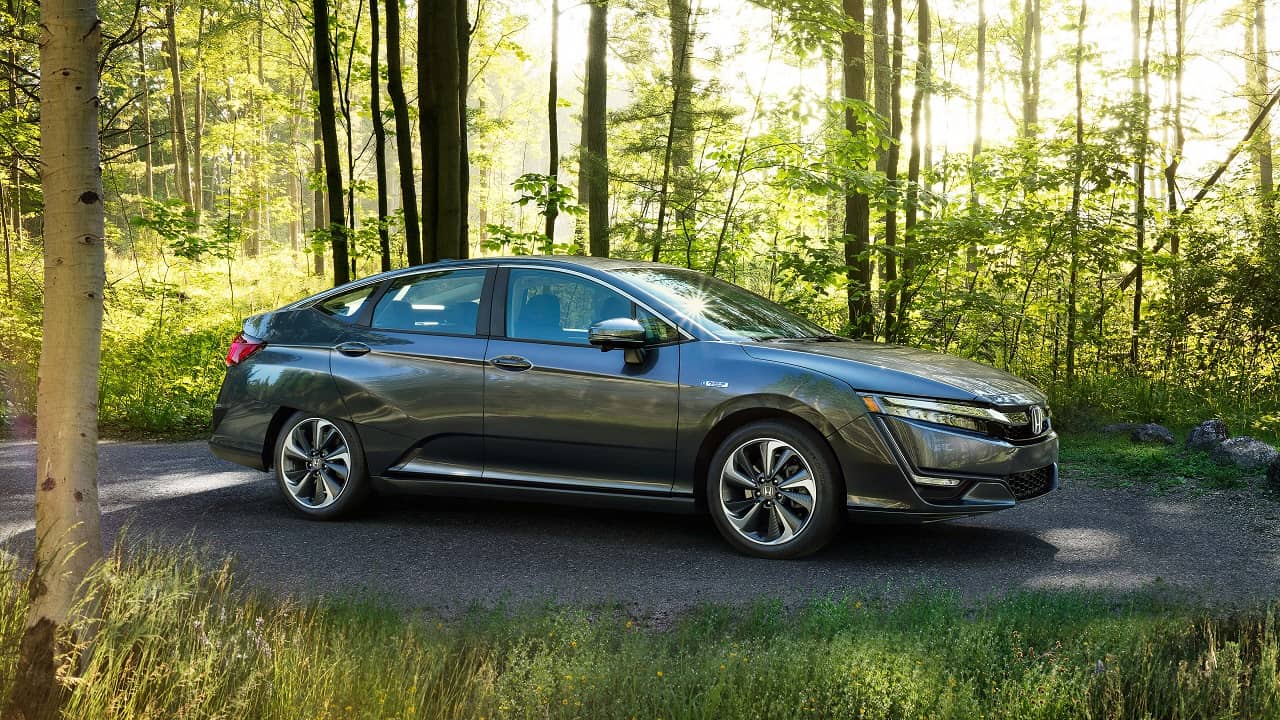 Styling is the most controversial thing about the Clarity. It's a futuristic looking car, but maybe a future that was thought out in the 1980's. Personally I did not like the look of the Clarity at all, the front is not bad looking, but the side and rear three-quarter views are not very attractive to me. The worst part of the design is the side with the weird looking rear wheel arch, that just kills it for me. I absolutely loved driving the car (as much as one can love an eco-friendly car) but the looks of it might be a deal breaker for me personally.
The yet to be available Honda Insight is a much better looking car, unfortunately that doesn't come as a plug-in hybrid.
Interior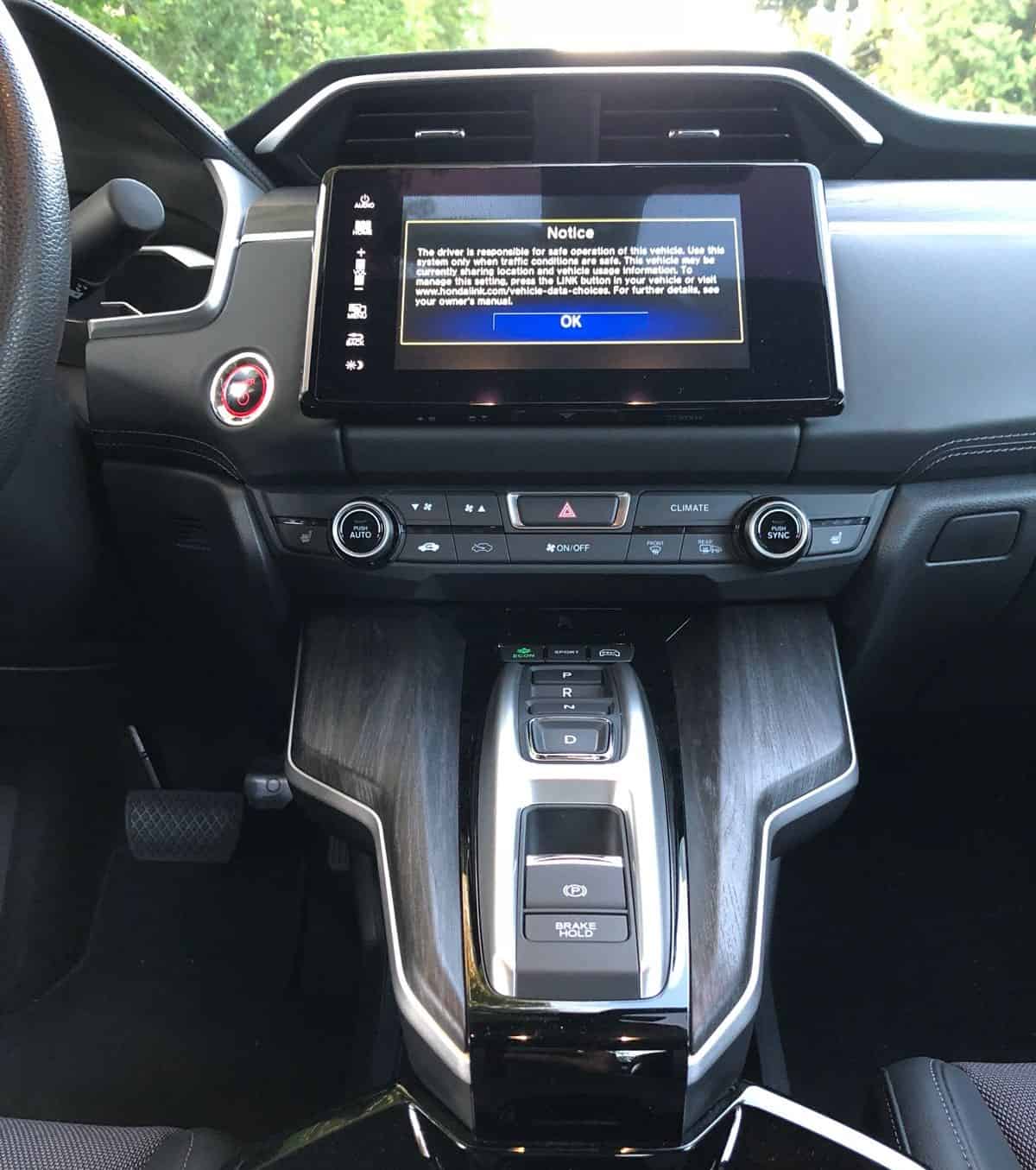 The Honda Clarity is the biggest car in the plug-in hybrid segment, competing against cars like the Chevy Volt, Toyota Prius Prime, and Hyundai Ioniq. The interior is very roomy with lots of room for the front and rear occupants and there are lots of small areas to put your stuff in. I especially liked the area under the gear selector, perfect for storing your cellphone or ladies' purses. This area also houses the USB chargers, which are a little awkward to reach at first but after using them a few times, I got used to them.
The interior is quiet, as you'd expect from an electric car. In city driving there isn't much sound entering the cabin, at highway speeds there is some tire noise and a bit of wind noise at the top of the side windows.
The Clarity also doesn't suffer from a lack of trunk space like in some of it's competitors, as the batteries are placed low in the floor. The trunk is very big, with 439 liters of cargo volume. I could store my kid's stroller, our weekly groceries, and still had room for few other items.
Technology/Features
As I mentioned earlier, there are only two trims offered on the Clarity plug-in hybrid, the base and the Touring. The base Clarity is not really a "base" trim, it's offered with quite a bit tech/features that would be offered on higher trims on other cars, Honda decided to keep it simple. The Clarity base comes with the following tech and convenience features (the Touring adds the items I mentioned above):
Collision Mitigation Braking system
Forward Collision Warning system
Hill start assist
Lane departure warning
Road departure mitigation system
Adaptive cruise control
Honda LaneWatch blind spot display
Lane keeping assist system
Proximity key entry with push button start
8" touchscreen display with Android Auto and Apple CarPlay (navigation system on Touring trim)
Active noise control
Dual zone climate control
Walk-away door locks
Heated front seats
Overall Impressions
I didn't think I'd be saying this about an eco-friendly car, but here it is: I really enjoyed my time in the 2018 Honda Clarity. I loved the fact that I didn't have to fill up; with gas prices hovering at around $1.60 CAD this summer, there's quite a bit of money to be saved if you can mostly drive the Clarity in electric mode, like I did. Electricity isn't too expensive where I live, so filling up the battery only cost a couple of dollars. In the long run this should save you a decent amount of money and you can also say you're doing your part in saving the planet (or at least not polluting it as much as you otherwise would).
Styling of the Clarity is a big issue for me, but for people that are looking at the Clarity purely from an electric car point of view, it might not be as big of an issue. The Clarity is also the biggest car in this segment, so if you need a lot of space for your passengers and cargo, the Clarity is a great choice.
2018 Honda Clarity PHEV Review Photo Gallery
For more information on the Honda Clarity Plug-In Hybrid and other Honda hybrid vehicles, please visit honda.ca.