South Korean automaker, Kia, has given its European customers a sneak peak of the new GT trim which will be available on the Kia pro_cee'd GT and cee'd GT. The new Kia vehicles are scheduled to make their world premiere at the 2013 Geneva Motor Show in March. The differences between the GT and regular models are not yet known but we do know that the cars will be equipped with a turbocharged 1.6-liter GDI petrol engine which will product 201bhp and 195 lb-ft of peak torque. Those are some pretty decent numbers for a 1.6-liter motor.
The Kia pro_cee'd GT and cee'd GT will only be available in a six-speed manual gearbox and will be capable of performing the 0-100km/h in 7.9 seconds. Not the fastest time out there for a vehicle of this size but considering it's a relatively small motor, I can forgive it.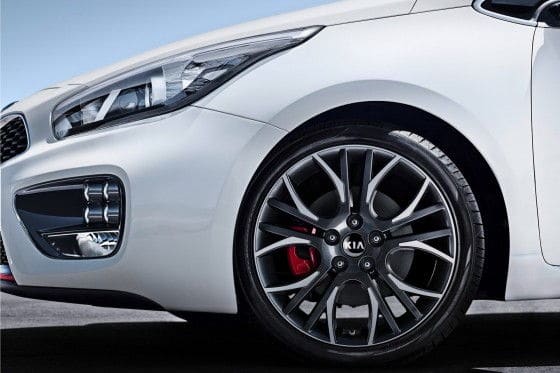 These GT models are Kia's most "performance oriented" vehicles to date and will feature enhanced looks compared to lower trims. For starters, both cars will feature a more aggressive front bumper and daytime running LED lights. Both the Kia pro_cee'd GT and cee'd GT will ride on 18-inch alloy wheels, feature a rear diffuser, and have a dual-exhaust tail pipes.
On the interior, the vehicle will feature the GT logo on the steering wheel, Recaro front seats, and black piano trim inserts. I don't think these vehicles will make it to North America but they certainly have sex appeal for a small compact car and would likely be popular here. The vehicles are expected to go on sale middle of this year but no details are available on the pricing. Maybe Kia can use the pro_cee'ds from this car and use it towards a true performance-focused vehicle. See what I did there? I know, that was terrible.
Kia pro_cee'd GT & cee'd GT Photo Gallery