As the title states, here's the all-new 3rd generation Audi TT, the quirky little sports car that's surprisingly still in production.  The change from generation one to two was noticeable enough, but this 3rd generation TT is mostly the same.
There are plenty of changes, but I don't know if they're significant enough to call it a new model.  The front gets re-design with more crisp lines in the bumper, air intakes, and the grill.  The car also gets new headlights (xenon or optional LED) and taillights.  Overall, there are more crisp lines in the car, but it's mostly the same.  Kind of a lazy effort in my opinion, I guess Audi is trying to do what Porsche does with the 911.  It works for Porsche; I don't think it'll work for Audi.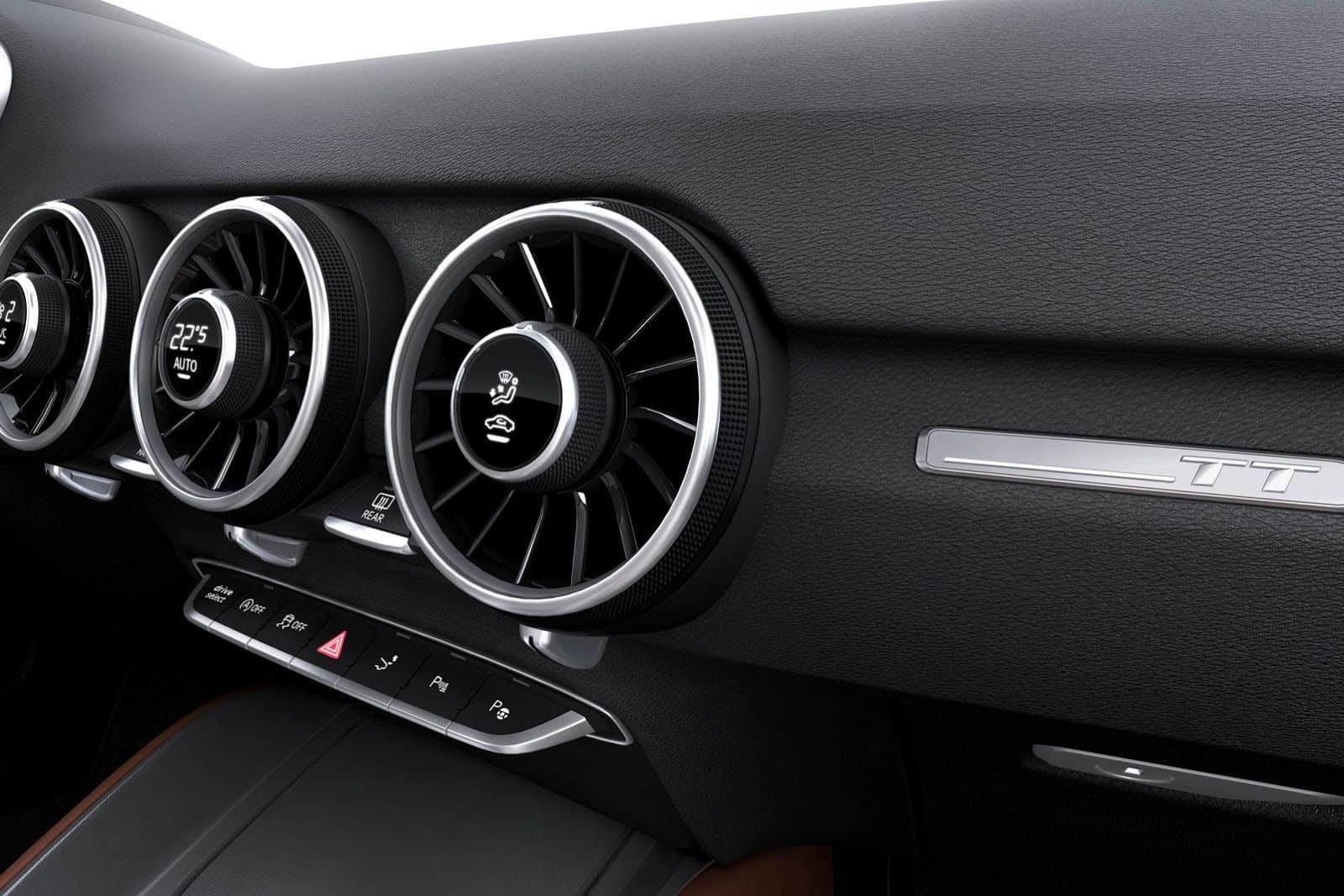 The interior on the other hand is a different story, it's all-new and looks quite good.  Unlike most new cars, there is no touchscreen in the center console; Audi actually has real buttons to control the various functions in the interior, which is quite refreshing.  I really like the placement of the climate control buttons and display screens on the circular vents, pictured at the right.  There is also a large digital display screen behind the steering wheel to display the gauges and other vehicle information.
Under the hood, the 2015 Audi TT can be equipped with a variety of engine options, gasoline and diesel (diesel probably not available in North America).  The diesel engine is the 2.0 liter TDI from the Golf GTD, it produces 180 horsepower and does the 0 – 62 mph (100 km/h) sprint in 7.2 seconds.
The gasoline engine offered in the TT is the 4-cylinder 2.0 liter TFSI that produces 227 HP and 273 pound-feet of torque.  This helps the TT reach 62 mph in 6.0 seconds or 5.3 seconds with Quattro all-wheel drive and S-Tronic 6-speed automatic transmission.
The other gasoline engine is also a 2.0 liter 4-cylinder, only offered on the TTS, it produces 310 PS (305.75 HP) and 280 lb-ft of torque.  The 2015 Audi TTS sprints to 62 mph in 4.7 seconds with an electronically limited top speed of 155 mph (250 km/h).
The Audi TT has always been a niche car that you won't see very often.  I've probably seen less than 10 of these cars since their introduction, and I live in a fairly large city.  Personally, I would've liked Audi to try harder, but then again, most of their new cars are just seeing small design changes and Audi is call them "all-new".  Via: Audi
2015 Audi TT & TTS Photo Gallery