I'm not too big of a fan of surprises, mostly surprises tend to be on the "oh no" side, but recently I was pleasantly surprised to find out that a little sports car, that I really like, just got a small boost of horsepower. Said car is the all-new 2019 Mazda MX-5, formerly known as the Miata.
It's only been a few weeks since I drove the 2018 MX-5, in my review I mentioned that I missed the 2019 model just by a week, bad timing, and was supposed to review the new car at the end of October, but another pleasant surprise was the availability of the car much earlier than anticipated. It seems I'm on a roll lately with good surprises.
The Mazda MX-5 is the world's best selling sports car/roadster, with over 1 million units sold since it was introduced way back in 1989. The Mazda MX-5 has never been about pure horsepower, it's a car that utilizes light weight and small engines, making it a perfect car for taking on twisty roads and even race tracks. The Mazda MX-5 is probably the most tracked car in the world.
In addition to an increase in power, the MX-5 also gets a few upgrades that make life a little easier. The upgrades include the inclusion of a rear camera, which you might not think is needed but I personally think this is a great addition. Even though the MX-5 is a very small car and it's easy to park, it's still a little hard to see behind you when you're backing up because the seating position is so low and the MX-5 does have some nice wide hips on it.
Another improvement is the addition of telescoping steering wheel, the cabin on the MX-5 is pretty tight, with the addition of the telescoping wheel, it makes finding a good driving position just a little easier.
Prices
For the 2019 model year, the MX-5 is offered in three trims like the years before (except for 2018, which included the special 50th anniversary model) but the GX trim has been dropped. The three trims are GS, starting at $33,020, GS-P starting at $37,020, and the GT trim starts at $40,020. Prices have inched up slightly, only $700 more on the GT trim than 2018, which is actually a great deal because you're getting more equipment and quite a bit of more power for only $700 extra.
Engine/Driving
Here's the big news that no one expected but everyone appreciated. The engine remains the same sweet little 2.0 liter SKYACTIV-G 4-cylinder, but now it produces 181 horsepower (instead of 155, 17% increase in power) at 7,000 rpm and 151 pound-feet of torque (up from 148) at 4,000 rpm, max torque is available 600 rpm earlier than before. The redline has increased from 6,800 rpm to 7,500 rpm. Power is sent to the rear wheels via a 6-speed manual or automatic transmission.
Mazda engineers did some magic on the engine to get it to produce more power without sacrificing fuel economy or going the turbocharging route. By reducing internal mass and friction, more power was squeezed out of the engine. Each piston and connecting rods have been lightened by 27 and 41 grams respectively. A dual-mass flywheel replaces the old single-mass flywheel, the exhaust system has also been massaged.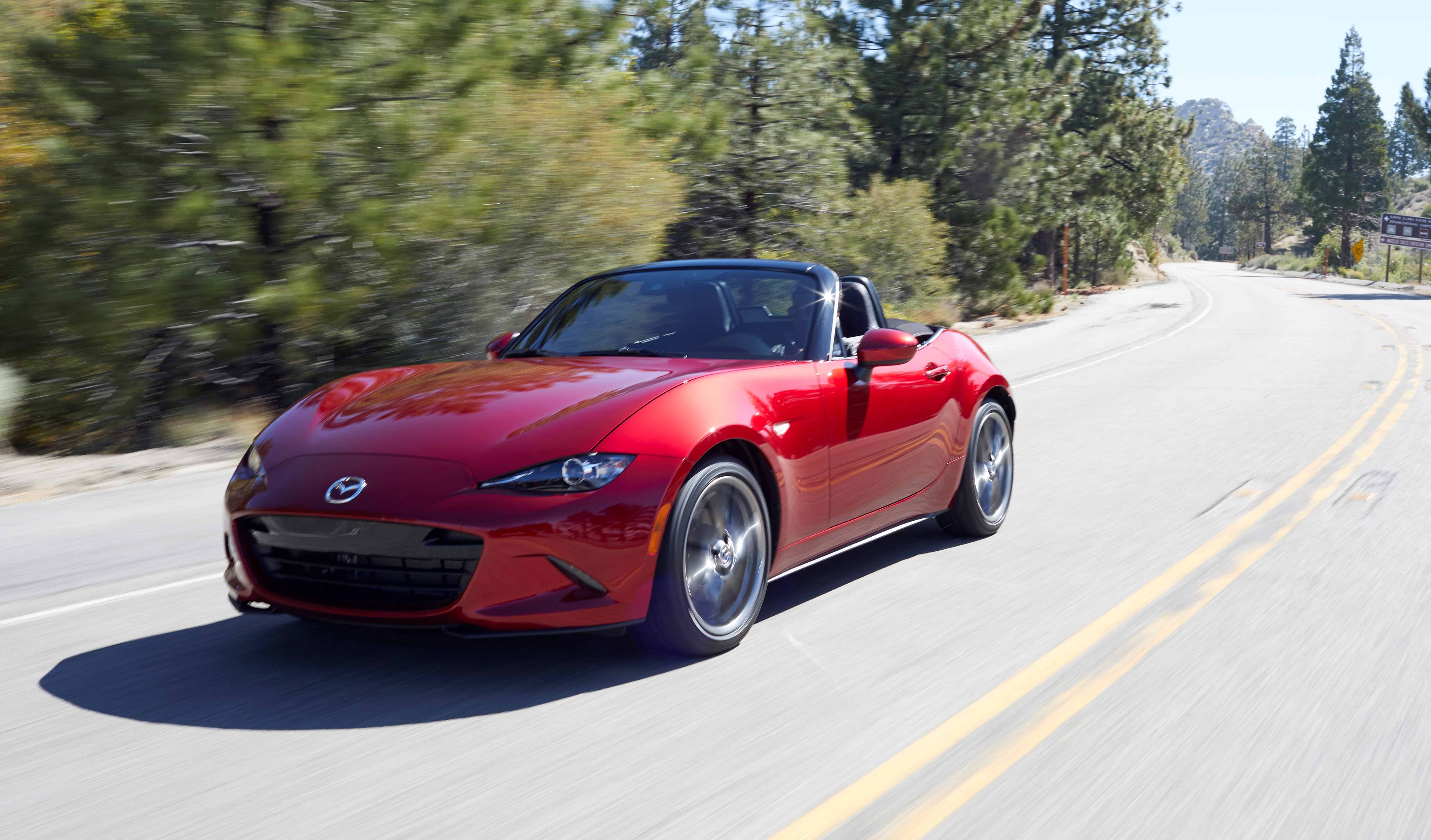 The end result is a car that's even more fun to drive than before. As soon as I got behind the wheel, I noticed an immediate difference between the 2018 and 2019 MX-5, thankfully I had just reviewed the MX-5 a few weeks ago, so I remembered how it felt.
I already enjoyed driving this generation of the Mazda MX-5, which I have driven on three previous occasions, but with the added power it just feels so much better in my opinion. In today's turbocharged world, 181 horsepower may not seem like much, but in a lightweight car like this, it's a lot of power. I think the MX-5 is a much more complete car now, a car that I might even consider picking up now as a summer weekend toy.
The new exhaust system also makes the car's sound a bit louder, which is a good thing in a sports car, maybe not so good in a luxury sedan. I really enjoyed revving the engine and taking it to twisty roads was even more fun than before.

Final Thoughts
I think Mazda has done a great job at improving an already very fun car, the added horsepower completes the recipe. The MX-5 is more usable as a daily driver now, and of course when you take it on some twisty roads, you'll love the added horsepower even more.
The additional equipment at a negligible price increase is also another incentive to pick up this car.
For more information on the MX-5 and other Mazda vehicles, please visit mazda.ca.