In a world that's being taken over by the dreaded SUV/CUV, there's a little sports car that will not go away and will always be there for the enthusiasts that want more than a family car that gets them from point A to B. That mighty little sports car is the Mazda MX-5, formerly known as the Miata, the world's bestselling roadster, with over 1 million units sold since it was first introduced in 1989.
In the early 90's, the SUV segment starting to become more popular and it was the death of the sports car, over the next decade or so, there were way fewer choices for sports car enthusiasts, especially pure sports cars. The MX-5 has survived because it stuck to its roots of light weight with a small engine, and the fans of the car have been faithful in return.
Last week we reviewed the 2018 Mazda MX-5 GT roadster. Unfortunately, I had the car just a week before the 2019 model year was introduced to the press fleet, which see a few changes, but don't worry we'll review that car in a couple of months.
Prices
Normally, the Mazda MX-5 is offered in three trims, but this year marks the 50th anniversary of Mazda in Canada, so there's an additional trim. The trims are GX, starting at $31,900, GS starts at $36,100 and $40,500 with the Sport Package, "50th", the special anniversary version, starts at $37,600 and the top of the line GT starts at $39,300. These prices do not include $1,795 for Freight and PDE.
The Sport Package on the GS trim consists of Brembo brakes at the front with red calipers at the front and back, 17" BBS wheels, and Recaro seats.
The 50th Anniversary edition is based on the GS trim and includes Bose audio system with 9 speakers, and 17" BBS wheels, the 50th Anniversary edition MX-5 is only available in White or Red.
Our review car for the week was the 2018 Mazda MX-5 GT with the newly introduced Dark Cherry convertible top ($400) and was finished in Machine Grey Metallic paint ($300), for a total price of $41,795 (price includes $1,795 for Freight & PDE).
Engine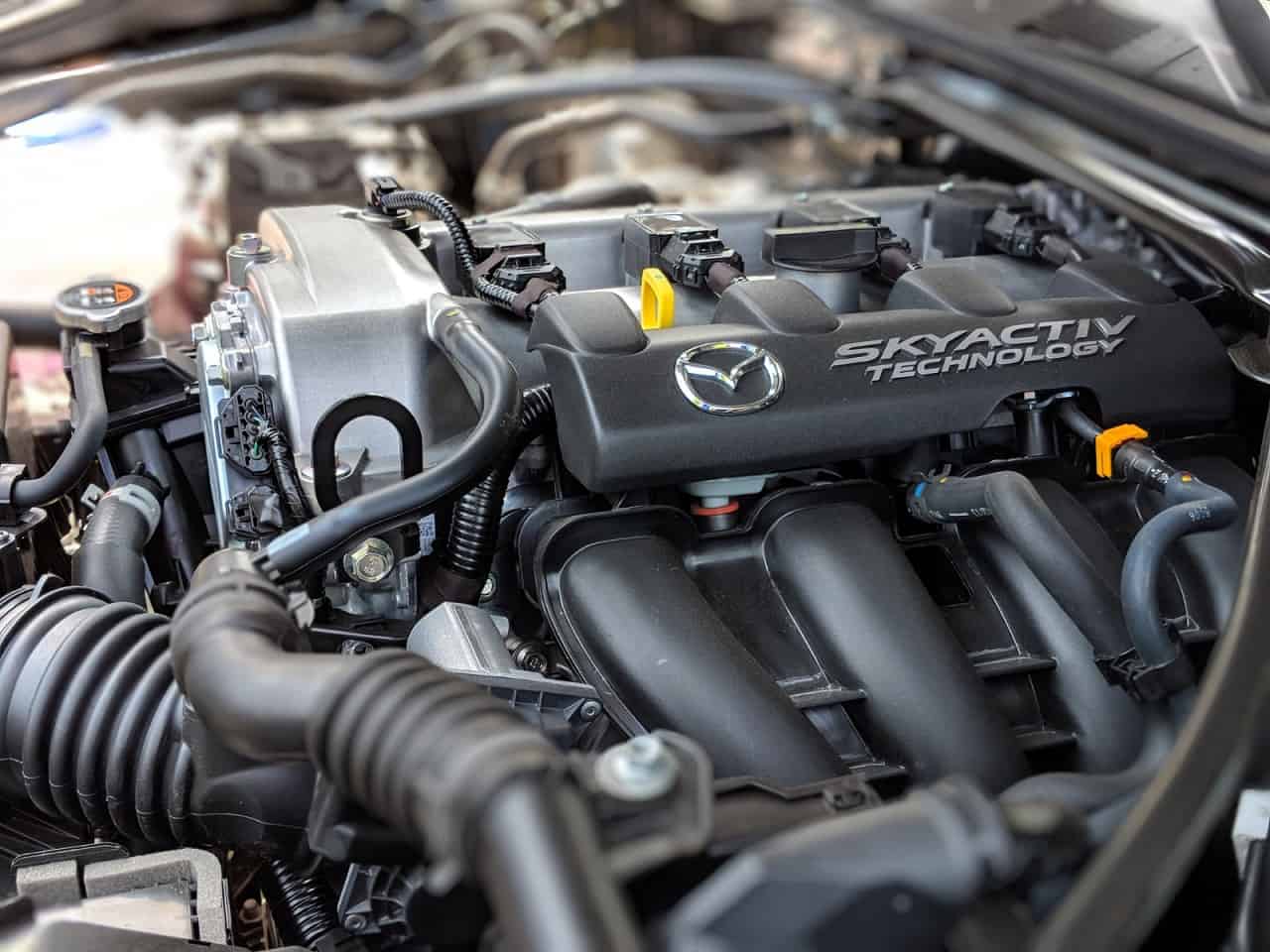 All trims are equipped with 2.0 liter SKYACTIV 4-cylinder engines, producing 155 horsepower at 6,000 rpm and 148 pound-feet of torque at 4,600 rpm. 6-speed manual and 6-speed automatic (no extra charge) transmissions are available; the automatic transmission on the GS and GT trims come with steering wheel mounted paddle shifters, I personally wouldn't want to get the automatic transmission, as the 6-speed manual is so much fun.
The 2019 MX-5, which we will review at a later date, comes with an additional 26 horsepower and 3 more pound-feet of torque, it also redlines at 7,500 rpm instead of 6,800 rpm, I can't wait to drive it!
Sports cars are not known for their fuel efficiency, but the Mazda MX-5 is no ordinary sports car. It is actually very fuel efficient, even when driven hard, it consumes surprisingly low amounts of premium fuel. The 2018 Mazda MX-5 is rated at 8.9 L/100 km in city driving and 7.1 L/100 km on the highway, on premium fuel. For our week-long review, we averaged 7.0 L/100k on the highway and 8.5 in city driving, beating Mazda's claimed numbers. I'm pretty impressed with these numbers, I only wish it was on regular gasoline.
Driving
The entire reason the Mazda MX-5 is still around after almost 30 years in production, is the way it drives. Sure, it's not the most powerful sports car you can buy, but is it ever fun to drive. I've had the opportunity to drive the fourth generation MX-5 ND a couple of times, roadster and hard-top convertible, and also the third generation MX-5. Every time I have had this little sports car, I've loved every moment of driving it.
The MX-5 is a happy little car, that just wants to be driven. Because of its low weight and low power, you don't really have go that fast to feel like a hero. Taking tight corners at 40 km/h feels more exhilarating than going 100 km/h in other cars. The car has a softer suspension, which really leans the car into corners, this suspension setup is also good because it soaks up the bumps very nicely on rougher roads. The low seating position makes you feel like you're in a go kart.
The 155 horsepower is sufficient for having lots of fun, I can't wait to experience the extra horsepower offered on the 2019 MX-5, which is also supposedly a little lighter and even more fuel efficient, but we'll talk more about that in the future.
The transmission has very short throws and the clutch is neither too heavy nor light, it feels perfect. The steering has good feedback and you can actually feel what the front wheels are doing.
Styling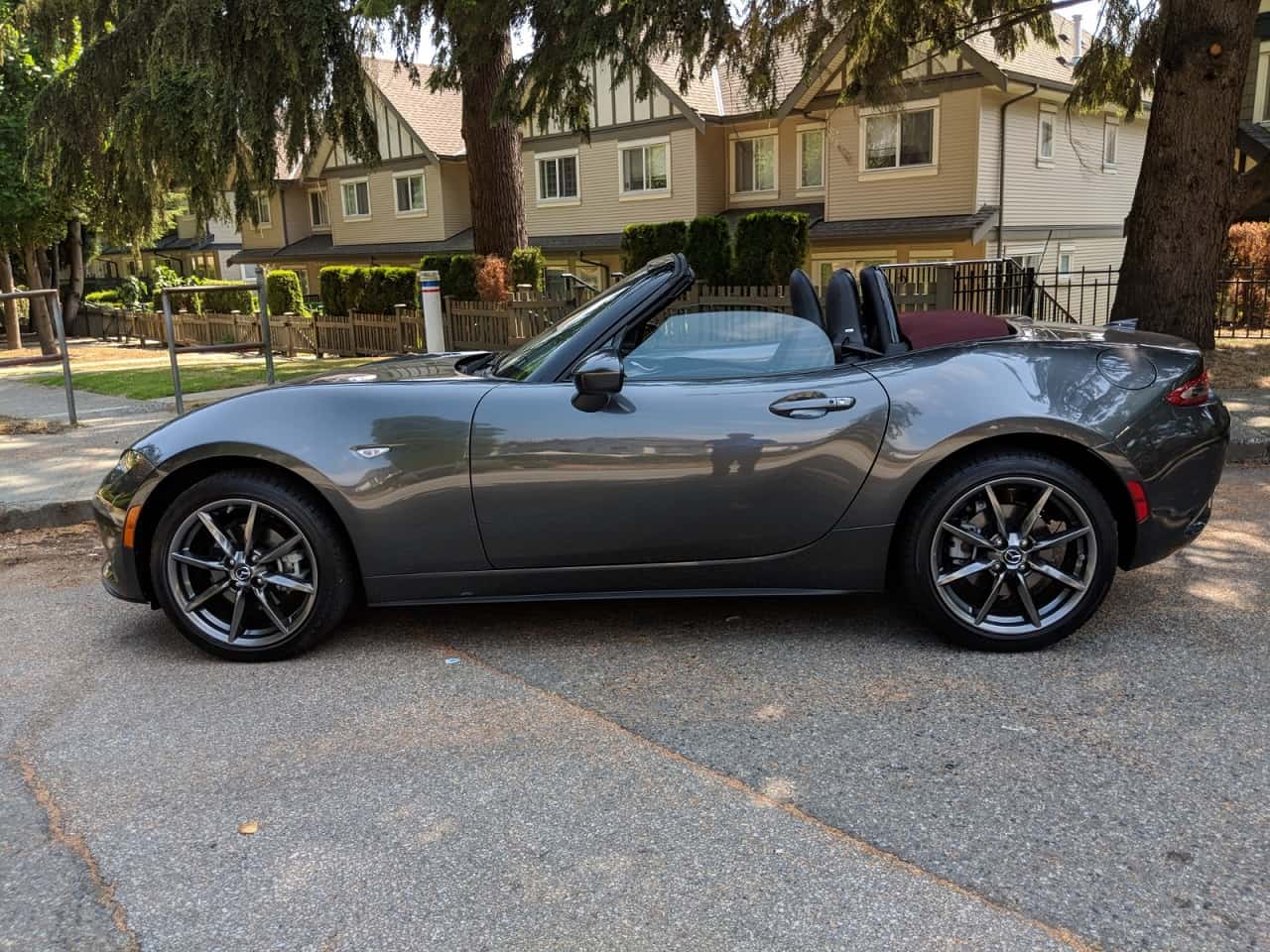 Like I say in all my car reviews, styling is subjective and people's tastes vary. Personally, I really like the way the 4th generation Mazda MX-5 looks. It has sharp lines, the design is very cohesive, and it has the right amount of bulges in the right places. However, I'm still not a big fan of the rear lights, I still think they're a bit too close to each other.
Interior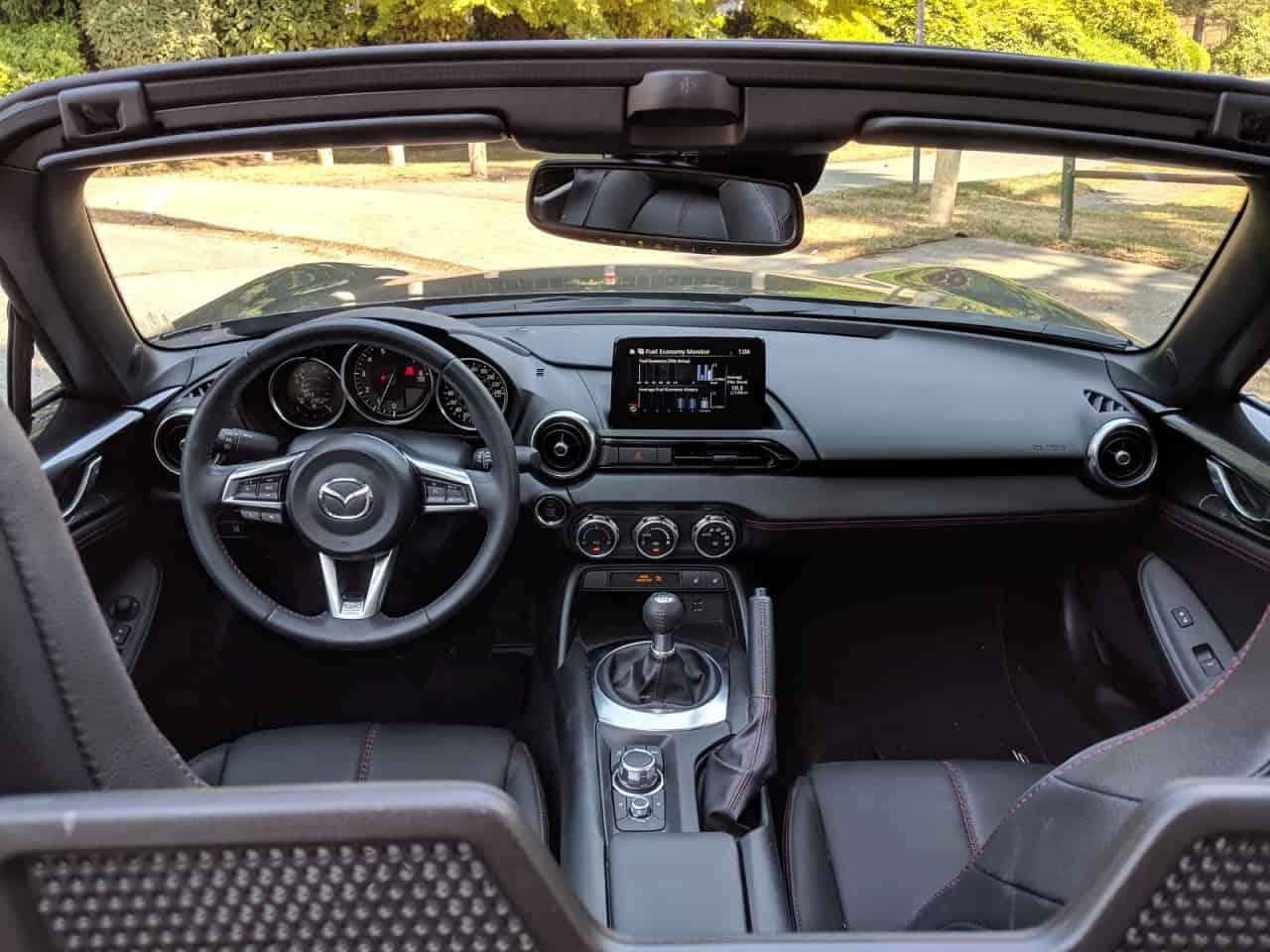 The MX-5 is all about the simple joys of driving, enjoying the sun, and having fun. The interior has been kept simple with no gimmicks to distract you from what the car is really about, but it still offers some features that we've come to expect from modern cars, features like heated seats, navigation, Bose audio system with 9 speakers (with driver and passenger headrest mounted speakers), 2 USB outlets, proximity key with push button start, automatic climate control, and rain sensing wipers.
I would have liked a rear camera, even though this is a small car and parking is easy, it's still hard to see when you're backing up because of the very low seating position and the wide rear fenders. The 2019 MX-5 will come with a backup camera, thanks to government regulations that state all cars must have backup cameras starting in 2019.
Final Thoughts
Like on the previous three occasion I drove the MX-5, this time was no different, I had a blast driving around in this little roadster in the city and even on some highways. The MX-5 makes you want to find some twisty roads and encourages you to driving there all day long, every day.
For more information on the 2018 and the upcoming 2019 Mazda MX-5, check out mazda.ca.
2018 Mazda MX-5 Review Photo Gallery